Clearing the Air About Turkey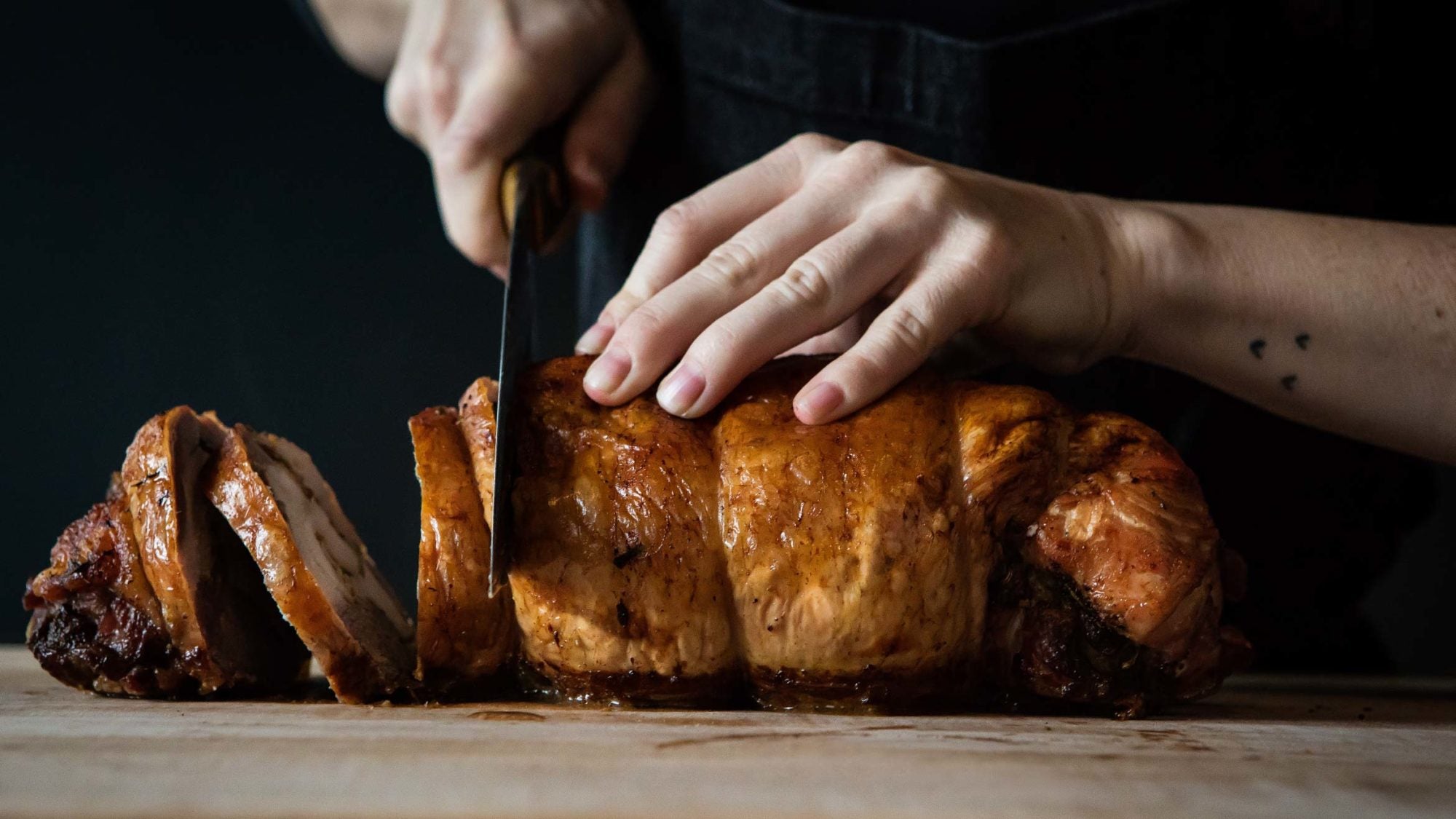 Thanksgiving turkey is best when thought of as a multi-day project, or not thought of at all.
We're on the brink of a very special Thanksgiving, one where the elaborate buffet meal, the helmet sports, and the closing chocolate pecan pie my mom always serves at my childhood home in West Michigan is being hosted for far fewer family members and friends. Uncle Larry won't be there with a case of Robert Sinskey Pinot Noir, and Uncle Jim won't be there with the "pink shit"—Rodbard parlance for Susan Stamberg's cranberry, horseradish, and sour cream relish. And for one time, I am lobbying for another change in the programming: Please, for God's sake, let's cancel the whole roasted turkey. Just this once.
Okay, so I've really, really tried to avoid being the guy who yucks another person's yum. Who am I to banish a traditional foodstuff from the holiday table? Turkey brings joy to millions every November. But when I reached out to several writers and chefs, there was clearly something of a consensus when it comes to cooking the bird whole (and preparing turkey writ large). "Turkey was always dry and pretty flavorless—barely worth any space on the table, let alone being the centerpiece," says Eater staff writer Jenny G. Zhang, noting that her current "almost-kinda" vegetarianism status has saved her from the bird's wrath. 
"I've never been excited to see a turkey," notes my TASTE colleague Anna Hezel, adding that it's one of those arbitrary constraints put on the holiday too early in season. "And now we're stuck in a desperate, never-ending loop, trying to find some way to cook it that doesn't suck." Another colleague, Tatiana Bautista, has simply (and wisely) avoided it. "Given that there hasn't been a turkey on my family's Thanksgiving table in the past 15 years or so, I can confidently say we dislike it," she jokes. "Turkey is always just fine, and that's fine," wrote Alison Roman last week in her great newsletter.
Are we all piling on? Perhaps. My personal beef with this tough, dry, and unfortunately gamy Meleagris is just one more log for the fire. Each year at my family home in Kalamazoo, we typically roast two birds, upward of 15 pounds apiece, and while they are wisely brined and roasted at a low temperature (and, of course, whole), the meat is usually cooked just fine. My issue is with the leftovers—there are always so many leftovers, and nothing really to do with them. Ask yourself: Do you really enjoy opening the fridge and reaching beneath the tinfoil for a pinch of chilled breast meat? Do you like eating that hulking turkey leg that was zapped in the microwave on Black Friday? No and no? 
For Los Angeles chef Akira Akuto, the leftovers are much more than an afterthought. Akuto has been doing the exact same turkey for the past four years, and his philosophy is pretty straightforward. "I'm not doing the full show bird—fuck that," he says with a laugh when I called him at his restaurant, Konbi. Akuto echoes what many chefs have told me over the years about the bird's variation among leaner breast meat and fattier legs, thighs, and wings. "Scientifically, they are cooking at different times," he says. "They are physically different muscles, and they have vastly different cooking times." His solution is to think about cooking turkey as a multiday project. Break down the bird, separating the appendages from the breast.
Akuto tackles the dark meat first, searing and then braising it in a bath of fifty-fifty stock and milk with leeks, mushrooms, thyme, and garlic for a couple hours. The legs cool, and he pulls the meat off the bone and stashes it away (after sneaking in the best turkey sandwich you'll ever have in the days leading up to Thanksgiving). This leaves the breast, which is cooked on Thursday after a 48-hour dry brine in salt and pepper ("Zuni Café–style," he says), and then roasted and finished with butter, thyme, and garlic, resting for 45 minutes.
Akuto also reminds me that there's another truly excellent way to enjoy turkey—year round, and twice on Sunday: smoked. He's got much love for birds he's had in the Texas Hill Country. Anna confirms that the chef Junior Felix at Mo's Original in Crown Heights, Brooklyn, does an excellent leg special, and this year, he'll be smoking full turkeys. If you're staying local this year, consider calling up your favorite neighborhood barbecue spot to see what they're up to. Chances are, it's something exciting. 
L.A. Taco editor Javier Cabral learned to respect the turkey after traveling to the Yucatán for the first time as a kid and seeing how the oversize poultry was endemic to the food traditions in that part of Mexico, well before the Spanish introduced pigs to the region. "There, it is normal to eat turkey whenever the hell you feel like it, because sometimes you just crave lean (sure, and dry) meat to mix it up with the barrage of unctuous cochinita pibil," he says, noting that his mother rubs their Thanksgiving turkey with a spicy chile paste. "It's somewhere between birria and mole." 
So, what is one to do? Honestly, make the show bird, if that's your thing. Or follow my colleague Talia Baiocchi's lead with her turkey porchetta that's been a smashing success over the years (it adheres to Akuto's philosophy of breaking down the bird before cooking it, by all means necessary). I'm including that recipe, as well as some ideas for the rest of the meal, below—because I think that, while turkey has its friends, frenemies, and foes, nobody should vote focaccia stuffing or cranberry pie off the island. – Matt Rodbard