A Modern Way to Pepper Jelly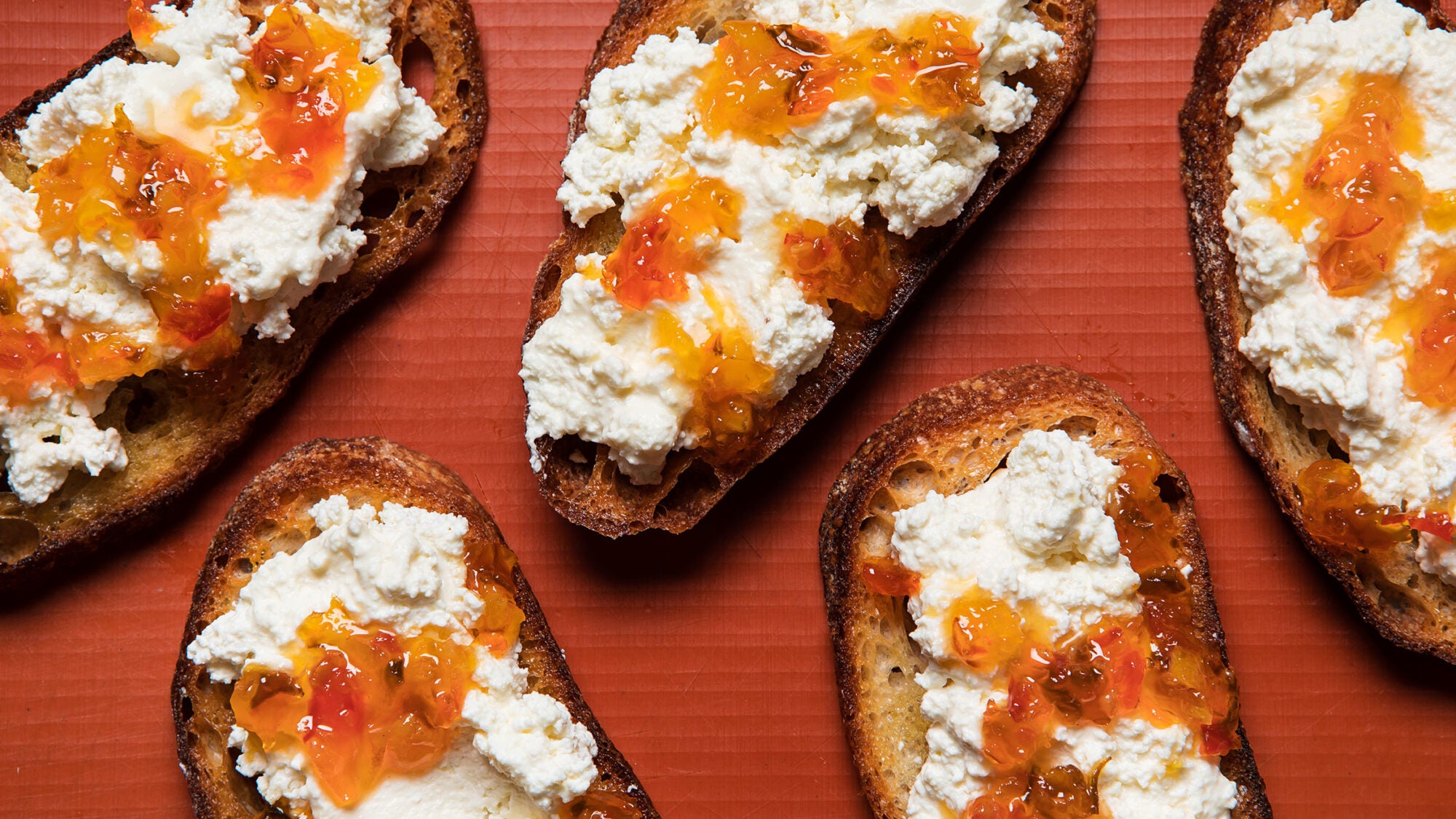 The classic '90s cocktail party snack is back, with some edge.
What cocktail-hour snack has more '90s flair than pepper jelly? Sweet, a little spicy, and punchy, it made a regular appearance at the family parties I attended as a kid, spooned straight from the jar over a softened brick of cream cheese and served alongside a fanned-out row of buttery Ritz crackers. Shatter-crisp cracker, plus creamy Philadelphia, plus a bit of a spicy zing that crept up on you—it was the no-nonsense cocktail snack that fueled countless soirees during the Clinton administration.
This pepper jelly recipe is unlike the classic formula, which requires you to track down powdered pectin at the grocery store, but it has a whole blended orange in it to help set it. That orange not only lends some subtle fruitiness that cuts the heat of the chiles, but it also allows the jelly to rest, thanks to all the naturally occurring pectin in citrus fruits. The result is a soft-set, deep-red jelly with glittery flecks of chile and orange suspended throughout. I use only red bell peppers and chiles (like Fresnos or red jalapeños) because I like that red-on-red look, but feel free to use any shades of the pepper spectrum for more of a confetti effect.
Serving this pepper jelly with the classic cheese-and-cracker setup is hard to beat, but try it in a grilled cheese made with sharp cheddar, on an egg sandwich, or tossed with roasted vegetables, like sweet potatoes or carrots or cauliflower. Or go old-school and tuck it into a brie en croute, and consider yourself invited to all of my future parties. Sometimes I skip the party idea altogether, crack open a cold pilsner, and eat the jelly on wedges of toast fried until crisp in olive oil and topped with whipped ricotta.