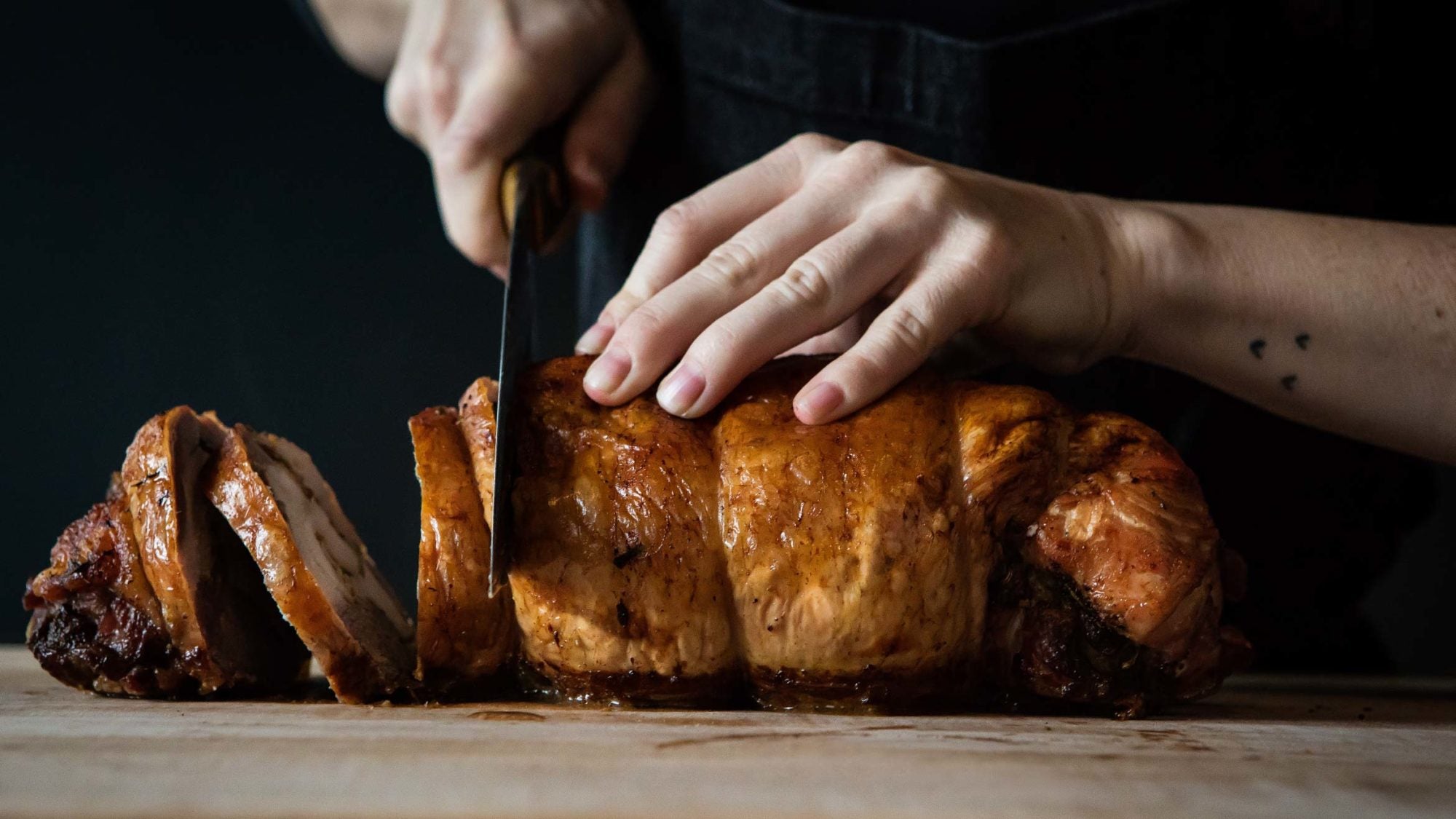 Why, yes—you should rub, roll, tie, and roast your bird.
I'm no statistician, but I'm pretty sure that if you have a pulse, there's at least an 80 percent chance you love porchetta. Aromatic, crunchy, fatty, sandwich-ready, it's one of those heroes of Italian street food, like arancini, that has embedded outside its region of origin (technically Lazio, but try telling that to Umbria) to become not only pan-Italian but as indelibly Italian American as tiramisu. (Roast pork and broccoli rabe grinder, anyone?)
Porchetta is most commonly made by deboning a side of pork, stuffing it with herbs (fennel seeds and pollen, thyme, rosemary), rolling it, tying it off with kitchen twine, and roasting it in the oven (or over a wood fire, if you roll like that) until it's crunchy on the outside, and juicy and herbaceous on the inside. It's then sliced, stuffed between bread, and taken to go.
While there are slight variations in the way it's made and cooked, to suggest that it can be anything other than pork is like saying red sauce needn't be made with tomatoes. It is a self-evident truth that porchetta is made from pork. But really, porchetta is a concept—a verb.
Think of it this way, and you can porchetta everything from lamb to duck to—on the occasion of this national holiday we're all staring down together—turkey. Debone, stuff, roll, roast. The first time I made turkey porchetta, I did it in a smoker to mimic the bouquet of wood fire, but it can also be made in the oven, with a full start-to-finish, prep-to-serve time of about two to three hours. Whip up gravy from the porcini butter and fennel-laced drippings, slice into rounds, smother, and serve. Or do as the Italians do: Skip the whole show, stuff it into bread, and make the next-day leftovers today.