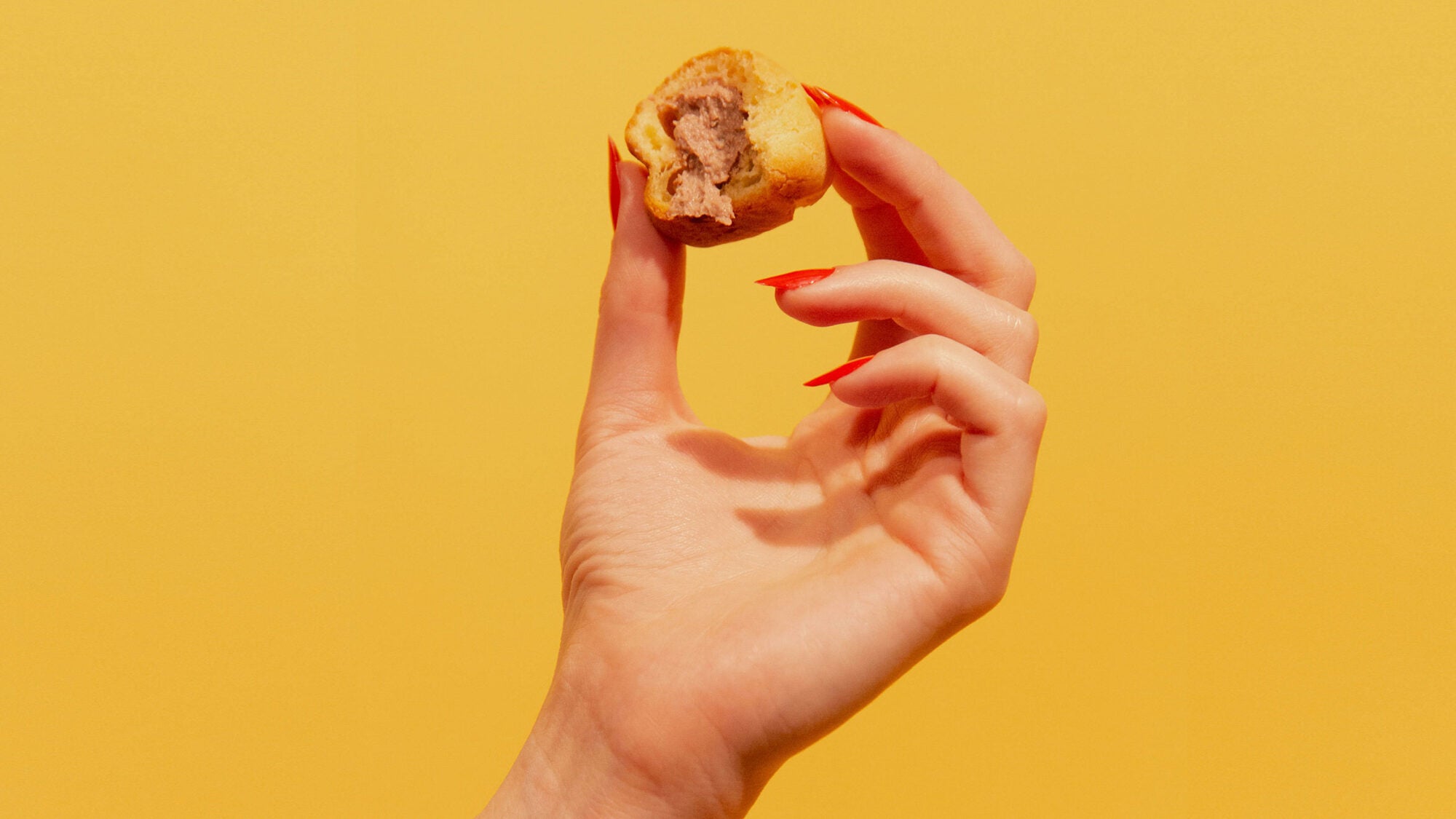 Pipe your puffs with chicken liver mousse and baba ganoush.
"A good canapé shouldn't leave your fingers messy," says chef Lincoln Carson, who serves an array of bite-size snacks at his downtown Los Angeles Cali-French restaurant, Bon Temps. "Don't send out anything too sticky, nothing that's a pain to eat. If it's messy, it should be one bite. Maybe two if your guests are sitting down."
This is how Carson approaches his chicken liver gougères, petite pastry puffs filled with silky mousse and topped with chicken crackling crumbles. The classic pâte à choux is flavored with chicken bouillon for extra umami flavor. For the mousse, fresh chicken livers are soaked overnight in milk to soften the texture and earthiness. Then they're seared lightly and pureed with shallots, cream, and butter until smooth. Once baked and cooled, the velvety mousse is piped into the bottom, and each ball is drizzled with Pedro Ximenez vinegar and sprinkled with cracklings.
"I wanted to build something with layers and multiple depths," the chef adds. "With something small like this, you can be super intense with flavors."
At Bon Temps, most meals start with a little bite like this. Carson makes tarts full of silky sea urchin mousse with a dollop of caviar. There's a tomato confit, chopped super finely and slotted into a flaky pastry tube. Neat balls of sturgeon dauphine—whipped potato and sturgeon fried into spherical golden-brown croquettes—get dusted with bright green ramp powder for a pungent, garlicky kick.
The beauty of gougères is that the pastry puffs are malleable to whims and fillings. To make a vegetarian canapé, leave out the bouillon and add shredded Gruyère or parmesan cheese to the dough. For the liquid, swap in beet or another vegetable juice for color. Fill it with goat cheese, smoked salmon mousse, bacon-tarragon pastry cream—or take a tip from Carson and fill it with store-bought baba ganoush.