The Tart That Launched a Thousand Tarts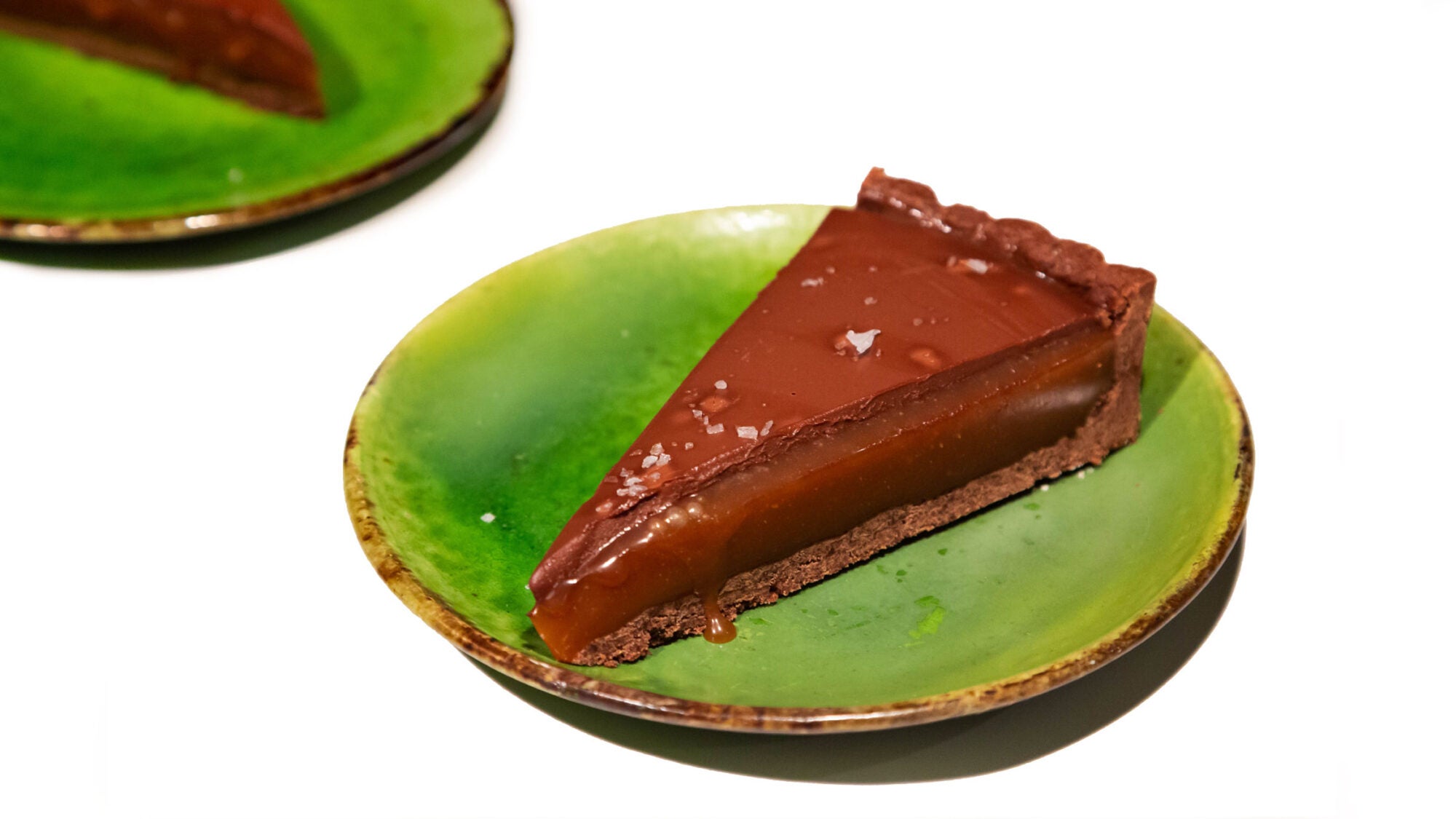 How Claudia Fleming's chocolate caramel tart—and the book that immortalized it—changed pastry forever.
Before Instagram, before the Cronut, before everyone had a camera in their pocket, a recipe went viral. Probably around 1998—she can't remember the exact year—Claudia Fleming, then the pastry chef at New York City's Gramercy Tavern, created a dessert inspired by the old-fashioned conical caramel candies, Rolos. At first glance, it looked like a textbook chocolate tart: a three-inch-round chocolate pastry shell filled with smooth, just-set chocolate ganache. But the tart held two secrets: a thick layer of satiny caramel, and a sprinkling of grey sea salt. "I just love caramel, and I love Rolos, and I thought it would be fun," Fleming recalls.
In 2001, the recipe was published in The Last Course, the cookbook Fleming wrote with a young New York Times reporter named Melissa Clark. Organized by ingredient (for instance, citrus, herbs and flowers, tropical fruits), The Last Course was filled with Fleming's typically intelligent reconsideration of canonical formats—a cloud-like lemon-lime soufflé tart, cool and juicy bing and white cherry napoleons, maple flan in walnut crust, buttermilk panna cotta with strawberry rosé gelée, and, of course, the chocolate caramel tart. The book's introduction features a full-bleed photo of the tart (photographed by Dana Gallagher), missing a forkful, a cascade of caramel edging toward the plate. It's the kind of image that, today, would launch a thousand likes.
No one knew it then, but the tart would take on a life of its own. And Fleming's book—republished last month, nearly two decades later, by Random House—would help push American pastry into a new era while also cementing her as one of New York's most influential chefs.
Melissa Rodriguez, executive chef at Del Posto in New York City, describes The Last Course as "the cookbook I would grab out of a burning house." Bill Yosses, former pastry chef in the Obama White House and owner of Palais by Perfect Pie in New York, says he "couldn't love that book more." Francisco Migoya, in-house chef at Modernist Cuisine and author of Modernist Bread, cites the book as "timeless inspiration." Meredith Kurtzman, former pastry chef at New York's Otto, held an open house sale of her cookbooks in 2017. When I asked if she was selling her copy of The Last Course, she said, "I had two copies. One, I gave to a friend. The other one is never going to be for sale."
However beloved it eventually became, The Last Course's start was inauspicious. Scheduled only months after September 11, Fleming's book tour was effectively canceled. "No one was in a celebratory mood," she recalls. Random House printed 20,000 copies—an average run for a cookbook by a regional restaurant chef. After the book was published, Fleming left Gramercy Tavern to assume a corporate role at the UK-based sandwich chain Pret a Manger. A couple of years later, she returned to Gramercy Tavern as a pastry consultant, but in 2006, she decamped to Long Island and the North Fork Table & Inn with her late husband, the chef Gerry Hayden—and the chocolate tart, which had found a place within the canon of modern classic desserts.
First featured in the New York Times in 2000, the recipe appeared again in Martha Stewart Living and the Los Angeles Times in 2002. In 2003, Bon Appétit printed a walnut-studded spin on it. Home bakers were baking it, food bloggers were blogging it, and riffs appeared on menus from Spago in Beverly Hills to Eleven Madison Park in Manhattan and Marlow & Sons in Brooklyn. A café called the Lovin' Oven in Frenchtown, New Jersey, started serving a version of it topped with pink Himalayan salt. After it was featured on an episode of Food Network's The Best Thing I Ever Ate in 2011, searches for the tart spiked.
Clark started getting emails from Times readers, asking if she had extra copies. She discovered that The Last Course was selling for as much as $250 on eBay.
Despite the tart's mainstream following, The Last Course had quietly gone out of print in 2008. Demand, however, was greater than ever. "Every time Smitten Kitchen wrote about the book, I would get a flurry of emails from people asking if I still had a few copies," Fleming says. In 2014, she ordered a special run of 1,000 copies of the book, which sold out within a couple of months. Clark started getting emails from Times readers, asking if she had extra copies. She discovered that The Last Course was selling for as much as $250 on eBay. "A few years ago, a friend who I knew really, really wanted a copy of the book was getting married, so I splurged on it as a wedding gift for her," Clark says, laughing at how she paid around five times the retail price for her own book.
Around the time The Last Course was published, fine-dining American desserts were being pulled in two different directions: European twee and modernist molecular. The old French standbys—chocolate mousse, charlottes, soufflés—were miniaturized, remodeled, or stacked on top of each other. If the 1980s were awash in crème brûlée, the 1990s were swimming in teensy crème brûlée trios. At Gary Danko, in San Francisco, petit four–size cakes and tarts were served as a tasting. At Le Cirque, Jacques Torres stuffed chocolate mousse into a chocolate moose, complete with chocolate antlers. A lot of what ended up on the plate looked less like food and more like "edible sculptures, little sugar cities with buildings made of angel food cake and towers of strawberry ice cream cones," Ruth Reichl wrote in the Times in 1994. Just a few years later, foams, gels, microwave sponge cakes, and pearls of spherified sauce were imported from Spain, dazzling American chefs and dominating new restaurant concepts in the early aughts.
Fleming's desserts, though, defied either movement. Rather, her recipes—things like raspberry–lemon verbena meringue cake, cherry cheesecake tart with red wine glaze, chestnut soufflés with Armagnac-nutmeg custard, pumpkin clafoutis—hewed to the seasonal, greenmarket-driven ethos of Tom Colicchio's kitchen at Gramercy Tavern, while embroidering subtle invention into classic formats. Unexpected flavor pairings and a playful dialogue between sweet and savory are among Fleming's hallmarks. Today, The Last Course (whose recipes, which Clark translated with Fleming's perfectionist flair, remain unchanged from their original printing) persists in feeling fresh with a touch of comforting nostalgia.
"It wasn't that it was a pastry book, it was that she approached pastry like a cook, thinking of flavors first."
"Here was a pastry chef using savory components in desserts that really made sense. It was a massive idea at the time," says Akira Akuto, co-owner of Japanese-inspired café Konbi in Los Angeles. "There's no barrier. You can make any course sweet or savory, as long as it's memorable." In 2001, Akuto started taking cooking classes on his days off from business school at Columbia and eventually began working in restaurants. "Back then, in kitchens in New York, people talked about that book—it was the book for a while. It wasn't that it was a pastry book, it was that she approached pastry like a cook, thinking of flavors first," Akuto says.
Other pastry chefs experimented with savory flavors, but Fleming approached everything with studied consideration rather than showmanship. She infused custard with fresh bay leaf, scented a pine nut tart with rosemary, poured a whole pint of Guinness into her gingerbread, put fresh goat cheese in a New York–style cheesecake, shaved truffles over rice pudding, and candied fennel to serve with Pernod-orange sorbet. She cooked tomatoes and plums in a dark caramel and served them warm with basil ice cream and mixed pepper cookies. "Her flavor combinations are all pretty commonplace now," Akuto says, "but for cooks like me at the time, these were revolutionary ideas."
Melissa Weller, head baker and pastry chef at New York's High Street on Hudson, was living in San Diego when the book hit stores. Back then, she was working as an engineer and thinking of making a career change. "I used to take [the book] with me to work, and on my lunch break, I would earmark recipes I wanted to make," she recalls. When she landed her first restaurant job at San Diego's WineSellar & Brasserie in 2002, she leaned on the book. "I absolutely put the chocolate caramel tart on my menu," she recalls. "It was one of a trio of chocolate desserts, because that's what we were doing back then."
Brooks Headley bought The Last Course the day it was published in 2001. "At the time, the two dessert books that we all talked about were The Last Course and Albert Adrià's Los Postres de El Bulli," says Headley, who would go on to become the pastry chef at New York's Del Posto before opening the beloved veggie burger and gelato stand Superiority Burger in the East Village. "The last time I looked at the Adrià book was probably sometime around 2002. The last time I looked at Claudia's book was, oh, I don't know, a week ago?" Headley calls The Last Course "the single greatest restaurant dessert cookbook of all time."
Fleming is humbled by all of the praise, which she's heard in bits and pieces over the years. Of course, there are those eager for a follow-up. Upon the reissue, her agent proposed such a project, but Fleming asked him to hold the offer. "It's a time of great change for me," she says, "but will I write another cookbook? Yes. I will." She's simply not one to rush.