It's No-Bake Cheesecake Season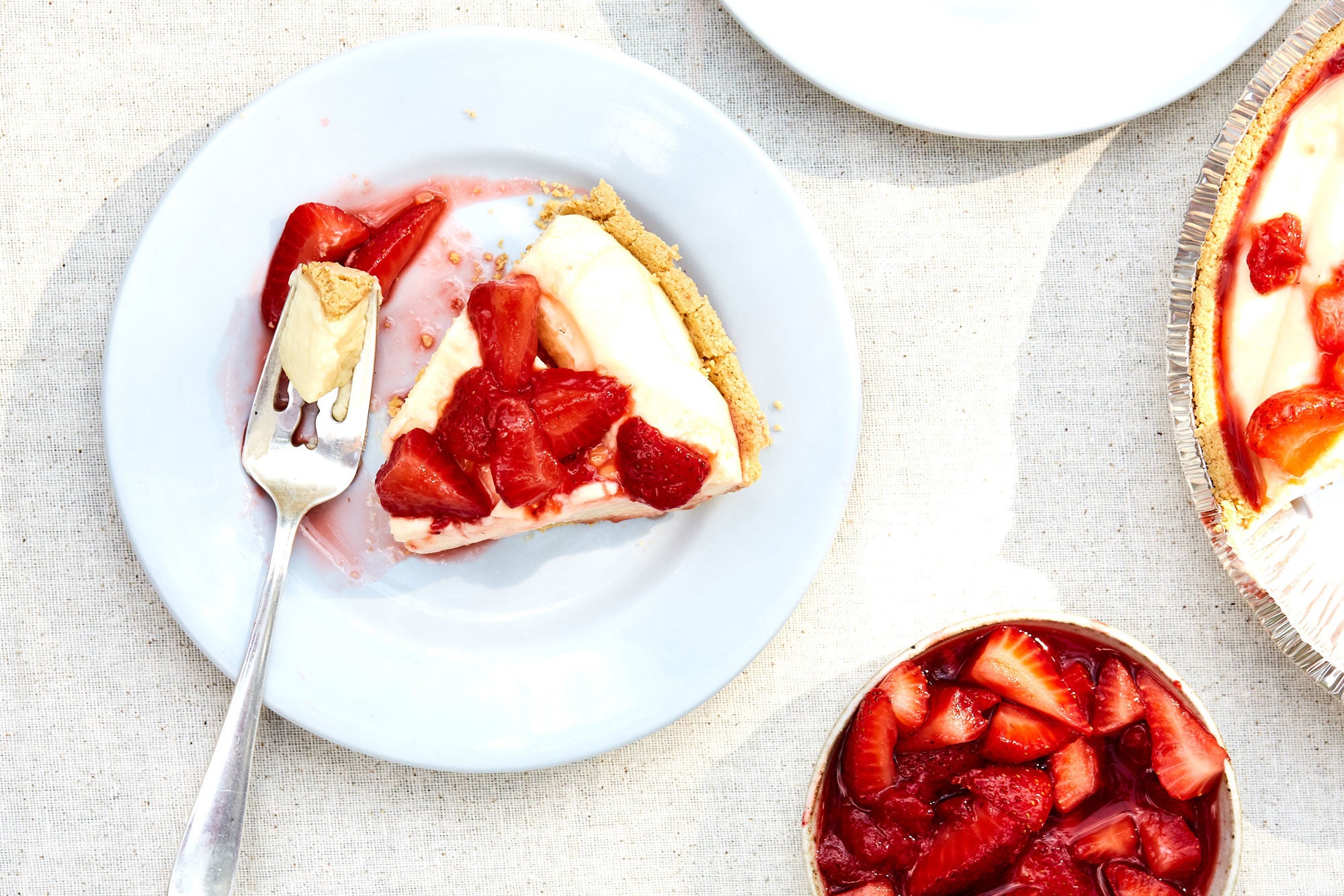 Your oven is off duty with these pies, cornflakes-filled chocolate cakes, strawberry parfaits, and more.
These are the fleeting days of summer. The less-labored days of mid-August through Labor Day, when the CSA box cooking bonanzas—and possibly skipping work to watch the US Open—are top of mind. It's also the time of year when your oven collects dust. Mine, in fact, is straight-up broken, and I'm utterly unruffled by the fact. Baking is the closest thing to culinary alchemy you will find. Mushy, bowl-of-porridge-looking goop is (snaps fingers) transformed into a tasty, yeasty, stretchy food that smells like spices and reminds you of home. We love baking. Just not right now.
Enter no-bake cheesecake season, which is inspired by a recipe Rossi Anastopoulo wrote about a few summers back that still sticks with TASTE readers. It's been trending as of late, and it consists of the miracle union of cream cheese, whole milk, and Jell-O Vanilla Instant Pudding mix. Combine and pour them into a crust (store-bought or not), and chill for an hour. "Essentially foolproof, it's a recipe that works every time and tastes custardy and rich—almost like a pie made from melted ice cream, with a softer, lighter texture than traditional cheesecake," writes Anastopoulo, who is currently the blog editor for King Arthur Baking Company. (She's recently developed a simple, two-ingredient ice cream pie that is based on the two-ingredient no-churn ice cream method.)
On Monday, I emailed Anastopoulo to see if she's still reaching for the gelatin box, and, in fact, she remains on Team No-Bake at this time of year. "I love it made with lemon pudding, and it's wonderful topped with macerated fresh fruit, like raspberries and blackberries, to really embrace summer produce in a bright, fresh way without baking it into a muted, muddled filling," she says.
Allison Robicelli's chocolate cornflake cake has been one of TASTE's most popular recipes this summer. It's a take on the traditional British chocolate biscuit cake—a favorite of the Queen and various HRHs—but with a good ol' American twist to "drop the dowdy digestive biscuits from the biscuit cake," with cornflakes as a worthy substitute.
Lastly, no no-bake recipe roundup would be complete without a mention of the Rice Krispies Treat. My colleague Anna Hezel wrote about "a good and weird cooking trick" that takes the standard crispy treat formula and adds two things we can understand: more butter, and more time. You will see. And here are a few no-bake ideas for the next month or so. – Matt Rodbard