Bring Back the No-Bake Cheesecake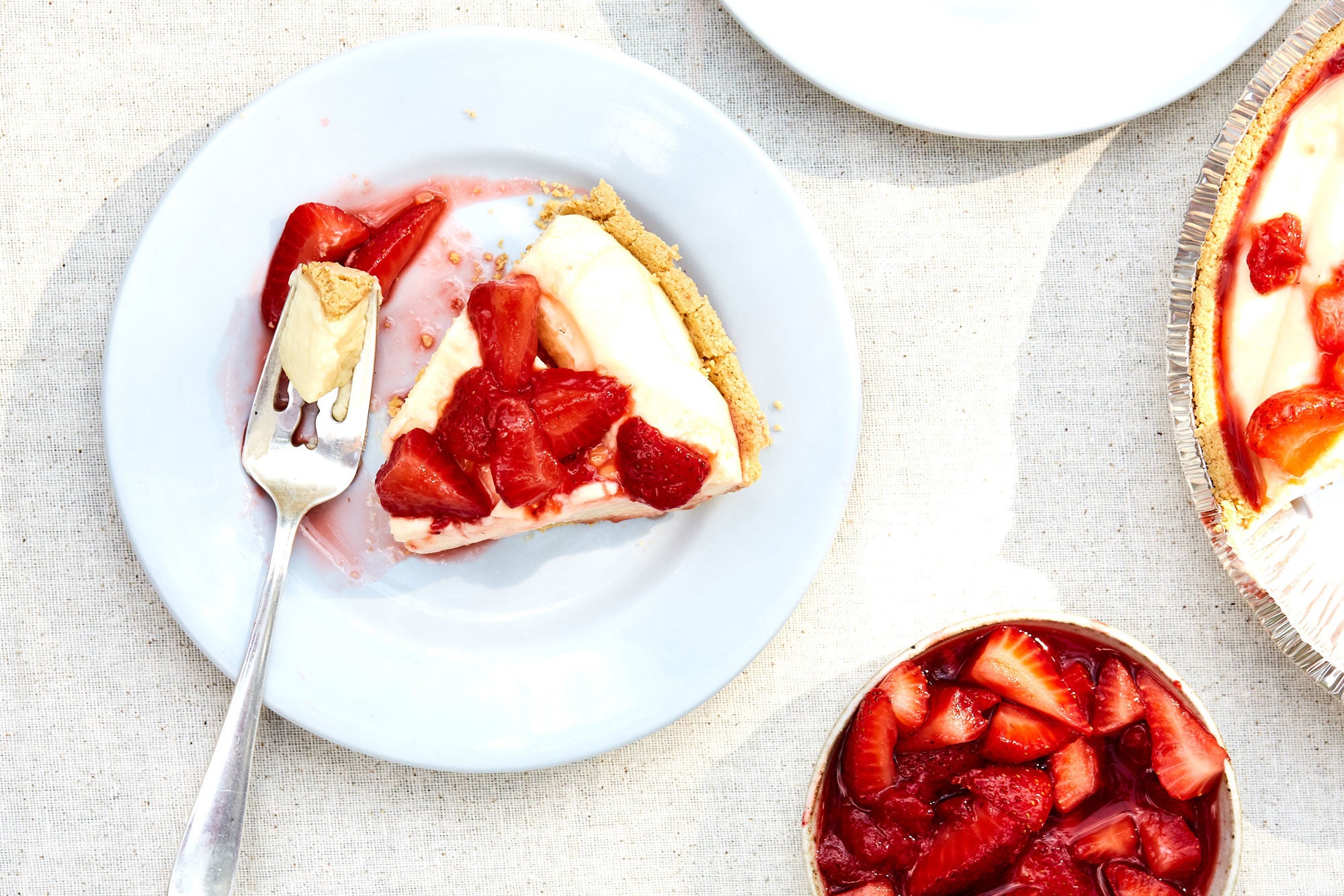 What began as a post-industrial shortcut for busy housewives is still a respectable—even lovable—standby.
Unless you're a pastry chef, the process of making a cheesecake can come with a certain amount of dread. You have to wrap your springform pan in foil to prevent the crust from getting soggy. There's a water bath involved. Then there are the hours of waiting for the finished cheesecake to chill. And even if you check every box, you still risk ending up with a treacherous, craterlike crack running straight through the middle of your otherwise beautiful dessert.
Thankfully, there's an easier, quicker way to cheesecake—and it all relies on Jell-O.
Jell-O originally rose to prominence as part of the packaged-food renaissance of the early 20th century. By combining powdered gelatin, sugar, and flavoring into a product that only required hot water, Jell-O offered an instant way to make popular gelatin desserts, capitalizing on a shift in domestic needs so that home cooks who prioritized efficiency could take a store-bought shortcut. Though commercialized foods already played a significant role in American cooking by the 1940s, they really took off during the changing domestic landscape of the postwar years, when packaged convenience foods started to become even more popular.
Many women were unwilling to give up cooking altogether, or they felt guilty for simply adding water and mixing to create a dish. So to ease the burden of kitchen labor but still enable women to feel they were employing skill and effort, packaged-food companies introduced new recipes using their products. As food historian Laura Shapiro writes in Something From the Oven, "Women could employ such standard shortcuts without damage to their sense of culinary propriety."
Though invented by corporations, these recipes—which included dishes like the Spam 'n' Macaroni Loaf and Campbell's Tomato Soup Spice Cake—caught on among real home cooks, expanding beyond their sterile advertisements to become beloved family favorites. The company printed numerous recipes—such as a Plum Pudding and the (somewhat horrifying) Leftovers Jell-O Salad—but perhaps the most inventive, and the most useful, was the company's spin on a straightforward classic: the No-Bake Cheesecake, a dish that took four ingredients and turned the anxiety-ridden process of making cheesecake into one that consisted mostly of stirring and chilling.
Simply combine cream cheese, whole milk, and Jell-O instant vanilla pudding mix, pour into a (store-bought) crust, and chill for an hour. The pudding mix sweetens and stabilizes the filling with sugar, cornstarch, disodium phosphate, and tetrasodium pyrophosphate. Essentially foolproof, it's a recipe that works every time and tastes custardy and rich—almost like a pie made from melted ice cream, with a softer, lighter texture than traditional cheesecake.
The base recipe for No-Bake Cheesecake has spawned numerous iterations, many of which were popularized by Jell-O itself. These include the tropical Pineapple Cheese Dessert, a recipe published in the early '60s cookbook Joys of Jell-O, described as "a creamy, no-bake cheesecake glazed with pineapple," as well as the Fruit-Glazed Cheese Pie, which was published in the same cookbook and calls for a fruit topping and pastry-shell crust. One frequent iteration simply used lemon pudding mix for a tangy Lemon Cheesecake. Jell-O even offered a version for Ice Cream Pie, which followed a similar format but swapped the cream cheese for ice cream.
Perhaps spurred by the popularity of the pudding cheesecake, Jell-O eventually launched an entire "No-Bake" dessert line in 1966. The new "No-Bake Classic Cheesecake" mix streamlines the baking process even more: Instead of adding cream cheese to make the filling, Jell-O incorporated dried baker's cheese into the powder so that home cooks had only to add milk. What's more, the package includes a mix for both the filling and the crust, and some boxes even include a third packet with a ready-made fruit filling to top different flavored cheesecakes.
But the best part about the original formula is that it creates harmony between industrialized shortcuts and the real thing. If you want to bring dessert to a friend's house swirled with bright red jam, or tiled with concentric circles of nectarine slices, you can do it without sacrificing a whole afternoon. Recipes like the No-Bake Cheesecake offer the same benefits to all sorts of home cooks today as they did to 1950s housewives: the opportunity to enjoy the pleasure of creating in the kitchen, just with a little less time and effort.