Reconsidering the Rice Krispies Treat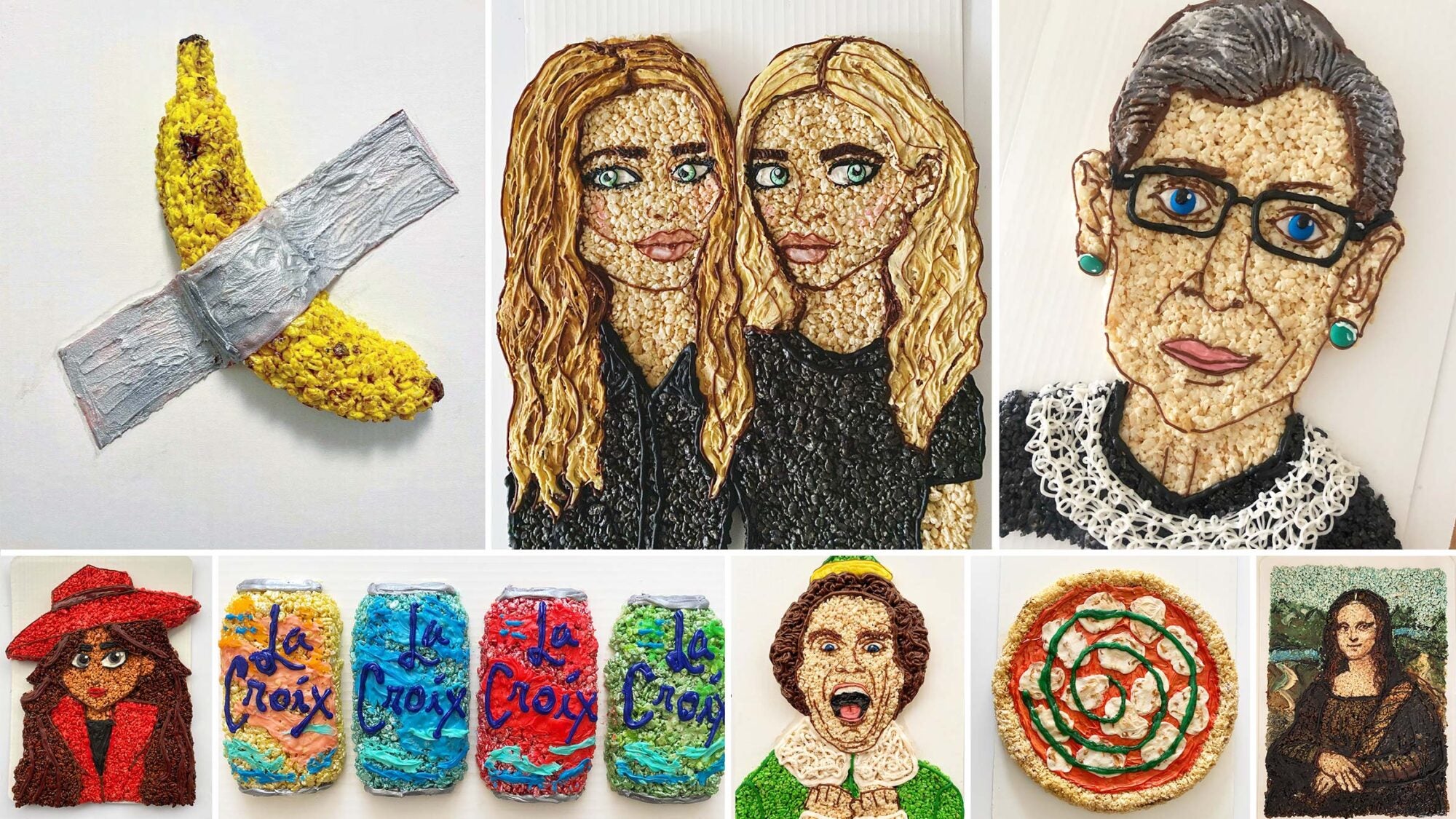 It's not just for kids, doesn't require an oven, and, for some, it's even high art.
The marriage of butter, marshmallows, and crispy rice cereal (aka Rice Krispies™) is a fine, fine union, and the deeply rooted feelings home cooks have for Rice Krispies Treats are difficult to ignore. But it's more than just a one-trick hit of nostalgia—this simple-to-execute snack has a crispy, chewy, gooey texture that is one in a million in the world of desserts. "I love how the Rice Krispies somehow remain airy and crunchy when you take a bite," observes baking blogger and food writer Vallery Lomas. And, more than just a textural modern marvel, this trinity of ingredients has the potential to be turned into a cook's next masterpiece—or a couple of famous sisters.
Kellogg's Rice Krispies cereal made its debut on grocery store shelves nearly a century ago, in 1928. Soon after, an early iteration of a recipe for cereal treats was invented that called for corn syrup, vinegar (!), and molasses instead of the now-standard marshmallows. According to the Awl, it appears that the marshmallow version we know today was invented in 1939 by the Kellogg's Home Economics Department. That recipe was first printed on the side of a cereal box the following year. It has mutated slightly since then, but its essence remains unchanged in the official recipe shared with the world today. And though the brand capitalized on the popularity of the dessert by selling packaged versions beginning in 1995, freshly made versions eaten while still warm are far superior.
For Jessica Siskin, creator of an Instagram account dedicated to RKT interpretations (including the late Ruth Bader Ginsburg) under the pseudonym Misterkrisp, the official recipe is the one she uses most of the time for the thousands upon thousands of treats she's made. (She literally wrote the book about crispy rice treats.) As a cereal treat professional, Siskin has two main tips for people making them at home. "The number-one mistake that people make is they let the butter and marshmallows turn liquidy," she says, advising that you should allow the marshmallows to melt around 70 percent to 80 percent, meaning you can see them melting but you can still identify that they're marshmallows. In addition to using only mini marshmallows, she has a second tip: "Be super generous with cooking spray when it comes to the molding process."
Part of the appeal of cereal treats is that they are a perfect dessert for novice home cooks, as the process doesn't require you to turn on your oven—often a large barrier of entry for beginners. (You can even skip the stove by making them in the microwave.) Simply melt some butter and marshmallows, stir in the cereal, and then transfer to a pan to cool and cut into squares.
"It's something really accessible—in terms of the availability of ingredients, the price of the ingredients, and the ease of obtaining them."
Lomas also likes to follow the original recipe, but she adds that it's sometimes fun to make some adjustments, like browning the butter or adding chocolate chips. Browning the butter is a common upgrade loved by many to add complexity by way of rich nuttiness to the basic treat. And, for those that find them too sweet, a sprinkle of flaky sea salt or a swirl of peanut butter or tahini is the perfect addition to balance out the sugar of the marshmallows. But these seem like amateur moves when compared with the concoctions some people have come up with.
After making, and eating, an entire 9-by-13-inch pan of warm RKTs one night in 2016, the Carbface podcast cohost Chris Thornton realized that it was "not a sustainable lifestyle for me." So he decided to shrink the recipe to an individual serving size and use the dessert "as a framework for experimentation."
It started with changing the cereal. "Cereals I hadn't eaten in years became part of my dessert rotation. Cocoa and Fruity Pebbles were easy leaps, and then I tried Apple Jacks, Cinnamon Toast Crunch, and Cheerios in all their forms, including the newer blueberry and peach flavors," Thornton recalls of the early days of his cereal treat rabbit hole. "Then I got bored, but I still had these boxes of cereal to eat. That's when I started playing with toppings [and spices and herbs]."
From cookie butter to hot pepper jelly, crumbled goat cheese to smoked paprika—nothing in Thornton's kitchen arsenal was off limits for the personal-pan RKTs he started to make and post on Instagram. Some of his favorite combinations include Kellogg's Corn Pops with a dab of grapefruit marmalade and a sprinkling of ground Szechuan pepper, and Maple Cheerios with bacon jam and fresh rosemary. "I've [even] done a dessert bar where I make party guests their own personalized individual treat." When it comes to the different permutations of cereal, marshmallows, and other ingredients, the limit does not exist in Thornton's kitchen.
Going a step further in a slightly different direction, Siskin uses cereal treats as the medium for her art. "I realized how easy it was to make something that felt really special," she says of how she got started making RKT art. "When I first started making them, just making them didn't feel like the end. It felt like a starting point to get creative." In the near decade since she started her Instagram account, Siskin has made pieces in all sorts of shapes, like Buffalo wings, a bass fish, and even a portrait of The Notorious B.I.G.
Regardless of a home cook's intentions—be they simple, sugary snacks or colorful portraits of celebrities—cereal treats are a democratized dessert. "It's something really accessible—in terms of the availability of ingredients, the price of the ingredients, and the ease of obtaining them," Siskin says. And even for those with food restrictions, the customizability of the base recipe means cereal treats can easily be enjoyed by all. Cereal treats for the people!