Not Your Average Ice Cream Sandwich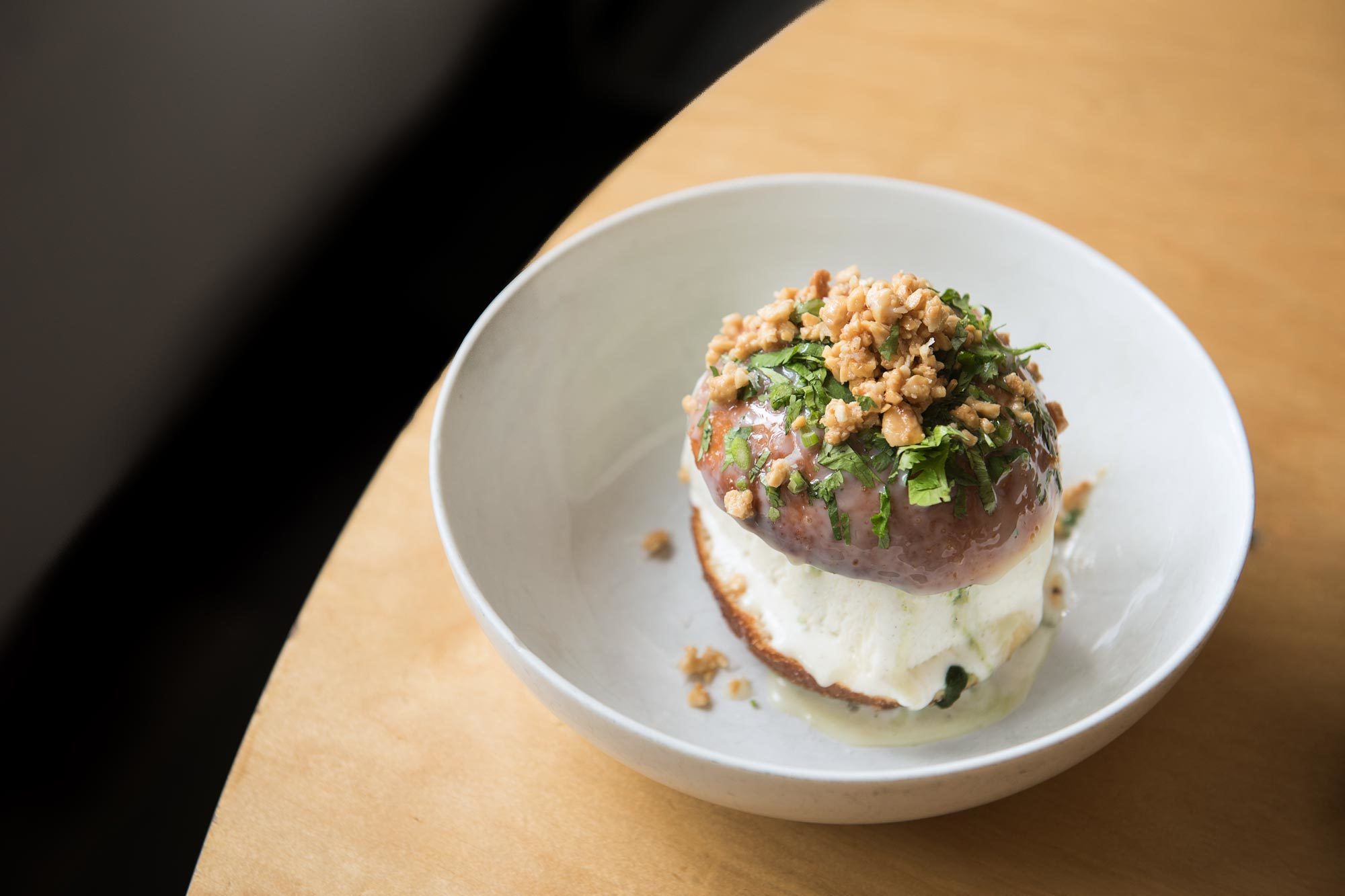 It's a classic Taiwanese combination of butter-fried peanuts, condensed milk, and cilantro (yes, you heard that right).
The toasty crunch of butter-fried peanuts and the springy herbaceousness of cilantro keeps vanilla ice cream from getting, well, too vanilla. That's not always a bad thing, but in this case, it's an unsung trio of flavors. At Brooklyn's Win Son, the seemingly contradictory dessert is a wholeheartedly Taiwanese approach—finished off with a doughnut drenched with condensed milk. Playing with many textures and flavors, it's creamy, yeasty, crunchy, and herbal all at once. It's everything you want in a dessert, even if you didn't know it.
"They say the dessert is so crazy, but people are into it," says Trigg Brown, the restaurant's co-owner. "But it's just cilantro leaves and not that complicated." So why Taiwan?
The herb is abundant in the country's subtropical climate and used in many of its traditional dishes, garnishing tender chunks of braised beef in piping hot bowls of noodle soup and shimmering slices of pork belly tucked into open-faced steamed baos. It's less standard, though nonetheless adaptable, in dessert.
The eating epicenters of Taiwan, night markets, serve up the original inspiration for Win Son's take on it. Stalls from Taipei to Tainan specialize in huasheng runbing—ice cream spiked with cilantro leaves and peanut-caramel brittle shavings that, when rolled up in a crepe-like dough skin, could easily be mistaken for a burrito.
"Obviously, if you don't like cilantro, you're not gonna fuck with this. But if you do, it's a dreamy dessert," says Brown. Forgoing the thinner wrapper used for runbing, Win Son's version starts with miantuan (dough) proofed with a milky roux before puffing up in the fryer to create a light, airy throne for a hefty scoop of vanilla to sit on. From there, it's drizzled in condensed milk, then covered in a dusting of cilantro leaves, cilantro-mint syrup, and peanuts fried in frothy butter until they're golden, rather than brittle. Its components make for a rich, heavy dessert, but the cilantro lifts the one-note milky sweetness of ice cream into something more complex.
Purists will say ice cream should remain unadulterated—and certainly wouldn't suggest cilantro to be the first thing to top it with, but the aromatics of the minced leaves perfumes the entire dessert (with no weird stringiness of the stems involved) while also bringing out a brighter, more savory side otherwise unseen without it. The herb isn't a one-off addition to a single Asian dessert, either—it balances out citrusy counterparts in frozen Mexican desserts, like lime paletas, and enlivens other tropical flavors, like rich coconut cream.
It's unlikely that pints of cilantro ice cream will be hitting store shelves anytime soon. But before that bundle of cilantro wilts away in your fridge's vegetable drawer, and you're sick of turning it into chimichurri, chop some up and throw it on a scoop of vanilla with some flaky sea salt. Who needs rainbow sprinkles, anyway?