A Good and Weird Cooking Trick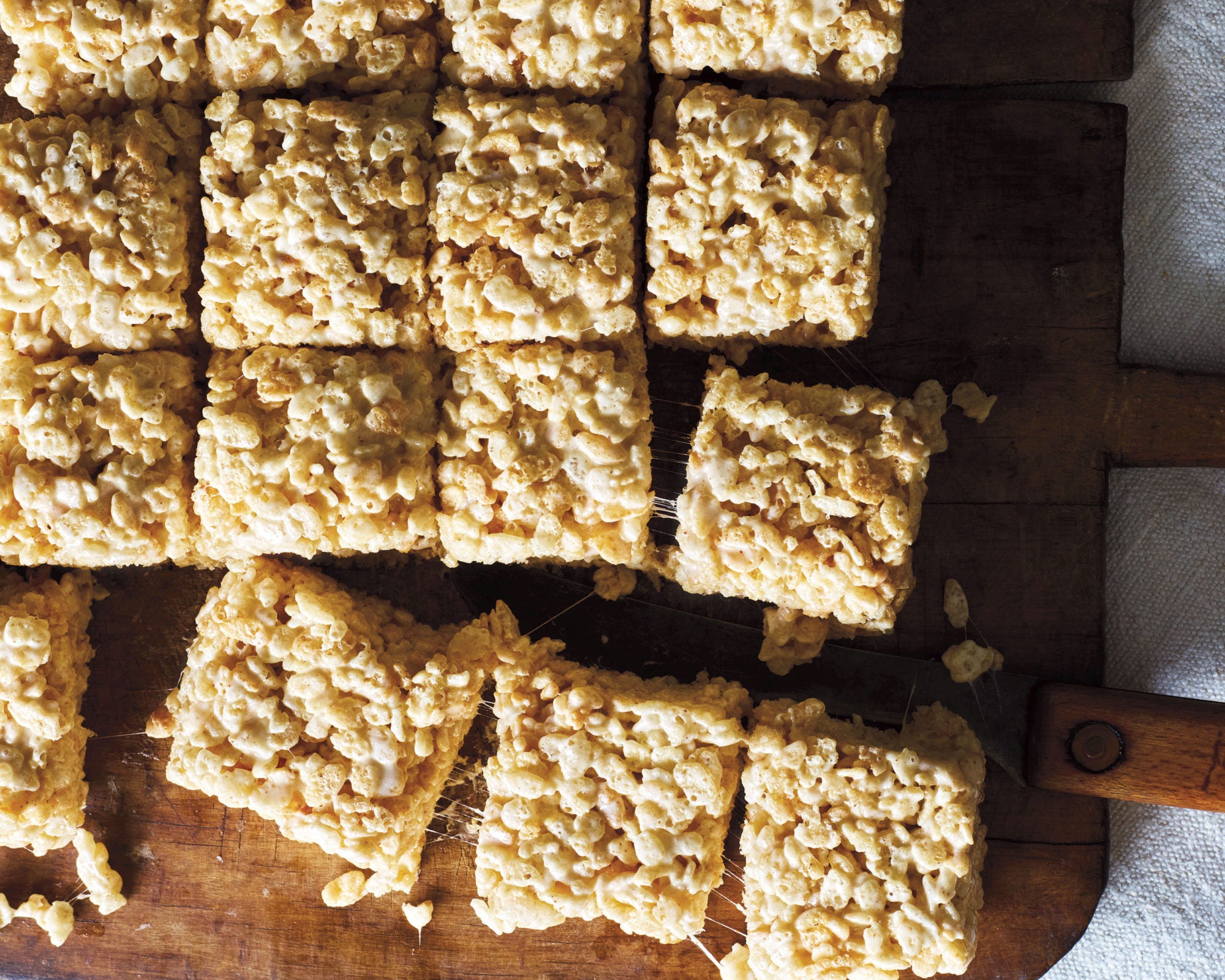 Using the same ingredients from the classic back-of-the-box formula, Smitten Kitchen's Deb Perelman turns the rice crispy treat into something a lot better.
Have you ever noticed that 9 times out of 10, when a recipe professes to contain "one weird trick," it's usually a giant scam designed to get you to click on a link before realizing that the trick is something along the lines of "use eggs" or "put salt on it"? The real, ultimate test of a good and weird trick is not whether you click on the link, but whether it's weird enough that you're tempted to try it—and whether the final product is good enough to make again.
Like many of the recipes in Kristen Miglore's new Food52 Genius Desserts (I've cooked at least six), Deb Perelman's Salted Brown Butter Crispy Treats live up to every lofty expectation that you might have for a good-weird trick: 1) It's something you would never think of on your own. 2) It genuinely improves the final product, rather than just putting an unnecessary spin on it. And 3) If you make them once, you will probably make them many, many times.
The recipe turns the entire "If it ain't broke, don't fix it" aphorism on its head. We've all made and eaten our fair share of rice crispy treats between age six and now. The recipe's easy. It's on the back of the cereal box. It only requires three ingredients—marshmallows, Rice Krispies, and butter. Before trying this recipe, I had complacently eaten enough rice crispy treats to feel absolutely ambivalent about rice crispy treats.
But then came the riff to end all riffs. Using an almost identical ingredient list as the original (plus a little bit of coarse salt), Deb turns the sticky one-note childhood dessert from something that might come out of a plastic package from a vending machine into something that tastes rich and caramelized and labored-over.
The trick is simple: Use more butter (about twice as much as the original formula), and melt it for a little longer, until the milk solids start to darken and smell nutty. Here, you have brown butter. By browning the butter before mixing it into the marshmallows, the rice crispy treats take on toasted flavor without you actually having to turn on your oven to bake—and without sacrificing any of the gooey crunchiness you'd expect from a classic rice crispy treat.
Unlike many of my favorite cookie recipes, which start to taste stale after a few days or melt on especially hot summer days, these will keep their integrity and trademark crispiness over the course of a week, whether you're hauling them to the beach for a picnic or quietly hoarding them in your desk drawer.