It's Never Too Early for Stew Season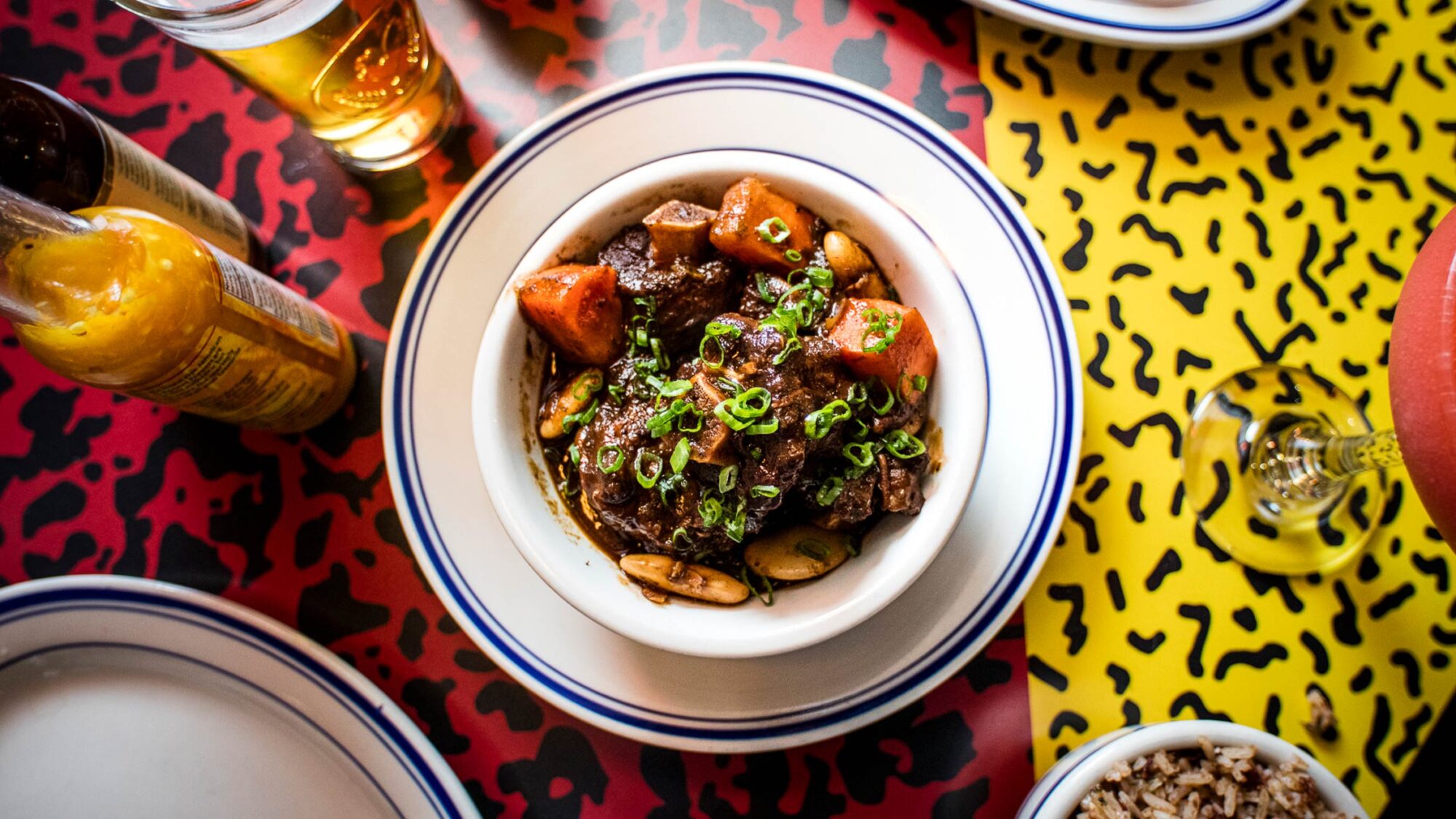 We know it's still hot outside, and we don't care. It's time to braise chickpeas, bourguignon that beef, and maybe gamjatang.
As a shocker to no one, Smitten Kitchen commander in chef Deb Perelman knows absolutely what is up. She's a guiding light and a voice of reason when dissecting the rhythms and rhymes of home cooking. Perelman looked at the calendar (early September) and the thermometer outside her home in New York City (pressing 80), and she hit publish on her recent post—a detailed recipe for an umami-packed vegan chickpea stew with portabello mushrooms (among other vegetables), a generous shower of red wine vinegar, some brown sugar, and a splash of soy sauce. While many of us were out there sweating in our cloth masks and taking in the final moments of a very long summer, Deb was in her kitchen making stew. Because, dammit, it's never too early for stew season.
My friend and writing partner chef Daniel Holzman considers himself a "year-round stew man," and he loves a late-summer cioppino, the San Francisco dockside classic. "Shellfish and tomatoes make an incredible base for braising bass or halibut," he instructs. For meatier stews, Holzman likes adding acid, like lemon or vinegar, to help keep the flavors lighter during the warmer months. The incredible Iranian stew ghormeh sabzi is one of his favorites for lingering summer evenings. Here, lamb shoulder is braised with heaps of chopped herbs and dried Persian limes.
This is hardly my pet theory, and it's one echoed by others on staff, if you were to jump into one of the TASTE editorial Zoom meetings. We've all been talking about stews since the Fourth of July. A Filipino oxtail stew, kare kare, is a favorite of my colleague Tatiana Bautista. Senior editor Anna Hezel has been reaching for this Moroccan stew with chermoula for many years. It's full of warm flavors like fresh ginger and cinnamon, but the herby chermoula contrasts and brightens it in a really interesting way. The recipe, found on a long-inactive zombie food blog, is inspired by a New York City soup cart that parked outside the MetLife Building in Midtown. God, I miss street carts.
And, as for me, I'm reaching for my favorite Korean stew of all: gamjatang. While I first encountered it at two of my favorite NYC Korean restaurants, Hanbat and Myung San—and later at Gam Ja Gol on Olympic Boulevard in Los Angeles—I've also made it at home a number of times. Gamjatang brings together some amazing things—meaty and sweet pork neck meat, boiled potatoes, fermented doenjang, and wild sesame seed powder (sometimes substituted with perilla seed powder), earthy like jet-black compost soil. It's in my stew hall of fame.
Longtime LA restaurant critic and gamjatang fan Jonathan Gold called the dish a Korean version of Oaxacan mole colorado. If you have a little time, visit your local Korean market to pick up some wild sesame seeds, and try the recipe yourself. And if you live in LA, Gam Ja Gol is on Postmates, in case you prefer to leave it to the pros. Stew season is here, baby, and we've got a few more ideas to tuck away for when the weather turns—well, for now. Check out these stories and recipes from TASTE contributors including Tammie Teclemariam, Leslie Pariseau, Aaron Hutcherson, Yi Jun Loh, and Jake Cohen. –Matt Rodbard