To Make Ground Beef Truly Great, Just Add Wine. A Lot of Wine.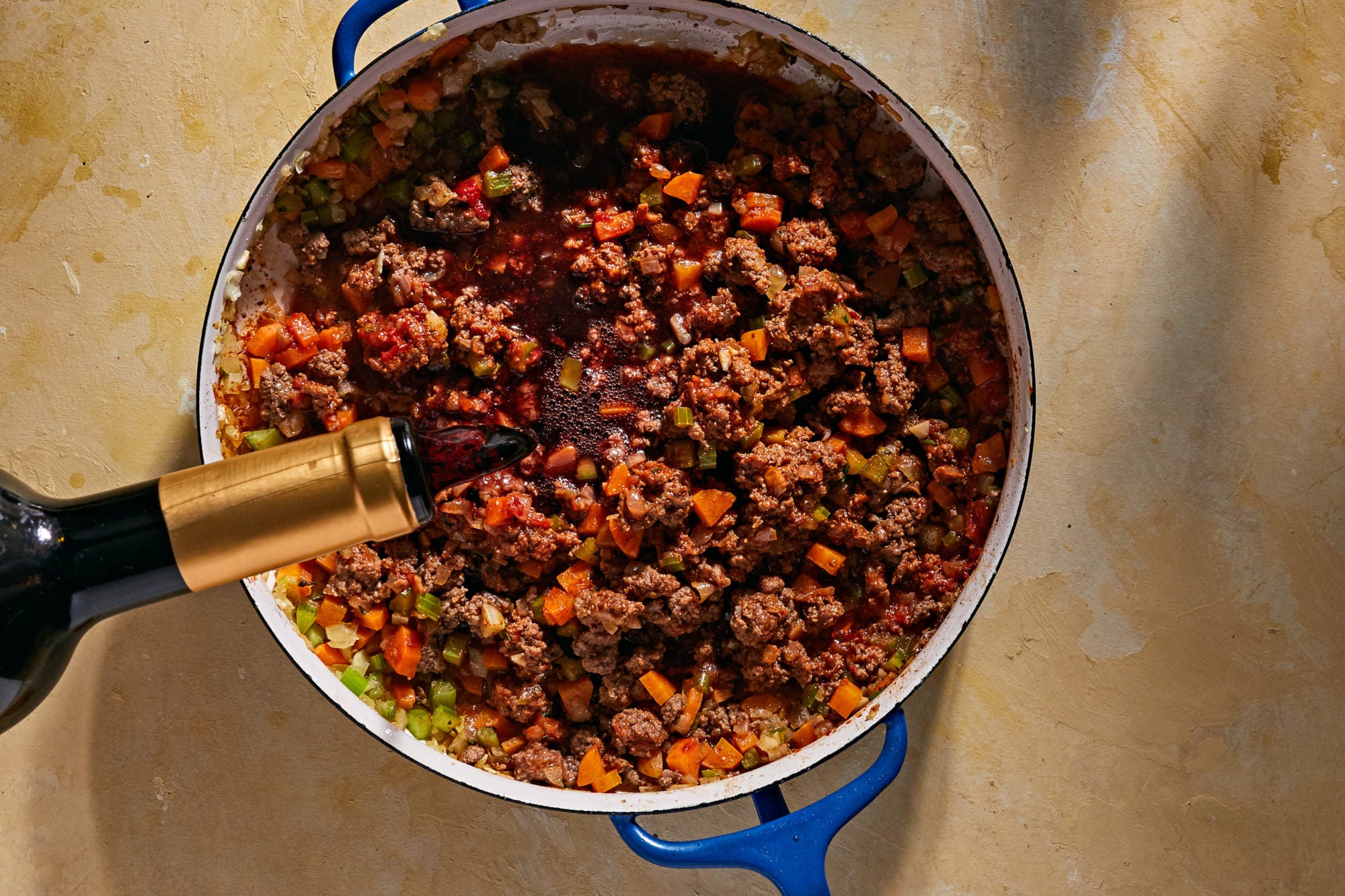 A Swiss stew packs all of the complex flavors of boeuf Bourguignon into a quick ragu. Get excited about g'hacktes mit hörnli.
Almost every meat-centric cuisine in the world has invented a perfect way to cook with ground beef, a recipe that manages to condense the major flavors of that cuisine into an approachable, economical package. Chili, bolognese, picadillo, and shepherd's pie rank among the most famous examples, and if you are a fan of any of those, there's another dish to know about. Let me introduce you to g'hacktes mit hörnli, a stew that combines all the best attributes of a long-cooked boeuf Bourguignon with the modest charm of Hamburger Helper.
G'hacktes mit hörnli, or g'hacktes for short, is a Swiss-German translation for "ground meat with macaroni," but the phrasing doesn't quite do this dish justice. It's best thought of as a beef ragout. Almost always served over plain elbow noodles and accompanied by a palate-refreshing, if  controversial, side of applesauce, g'hacktes mit hörnli is Swiss comfort food par excellence. Even though it remains relatively unknown outside of the region, g'hacktes is the kind of everyday meal that is so popular it warrants its own Maggi seasoning mix in Swiss grocery stores.
Made from beef, wine, root vegetables, and resinous mountain herbs like rosemary, thyme, and marjoram, the components of this beef stew seem like the inevitable outcome of a typical Swiss larder, so it might surprise you that the most Swiss thing about this dish is the elbow macaroni.
As the preferred pasta shape of the region for the past half century, hörnli, as they are exclusively referred to in Swiss German (or cornettes in Swiss French), are a hallmark of the cuisine. Machine-extruded pastas were an innovation of the early 1800s and became common in Switzerland in the second half of the 19th century. In 1872, the first noted mention of hörnli showed up in an ad, on a list of pasta shapes, and by the 1930s it became one of the most popular pastas in Swiss kitchens. Hörnli is the required pasta for Älplermagronen, a stovetop mac and cheese made with caramelized onions and Gruyere, and soupe de chalet, where the noodles are cooked in broth with root vegetables, heavy cream, and cheese.
But the star of this dish is the g'hacktes, a stew so simple and tasty it's worth the 30 minutes of active time to make for a weeknight dinner. The secret is in the red wine, a whole cup of it, that reduces and combines with the browned onions, celery, and carrot into a deep, slightly sweet sauce that tastes more complicated than it is.
For those who think of ground beef strictly as a budget-conscious proposition, cooking some in a third of a bottle of wine might seem like a paradox, but ground beef can't be great if you don't give it the chance. You don't need to spend a ton on wine here, just make sure you don't get something that's too heavy or ripe (you might want to avoid malbec or Shiraz). It's usually good advice to cook with a wine from the same place as your recipe, but Swiss wines are expensive and hard to find, so look for a light or medium-bodied French red. Beaujolais, Cotes du Rhone, and Bordeaux are all good options. Since there's going to be another two-thirds of the bottle left after you make this dish, the most important thing is that you'll want to drink the remainder.
The first time I made this dish, I held true to the original and ladled my g'hacktes over buttered elbows and homemade cinnamon applesauce before covering everything with freshly grated Gruyère. It was simply delicious in a way I didn't expect, a perfect plate of food to dig into whether aprés-ski or after walking home through an icy sidewalk slush.
Think of g'hacktes as an all-purpose stew rather than sauce begging for pasta. It makes for a deeply flavored lasagna when layered with béchamel and noodles, or you could top a batch with mashed potatoes and broil it for cottage pie. Spoon it onto a squishy roll for an Alpine sloppy joe, or just serve it straight from a bowl like the shortcut to boeuf Bourguignon that it is.