It's Not Curry, It's Rendang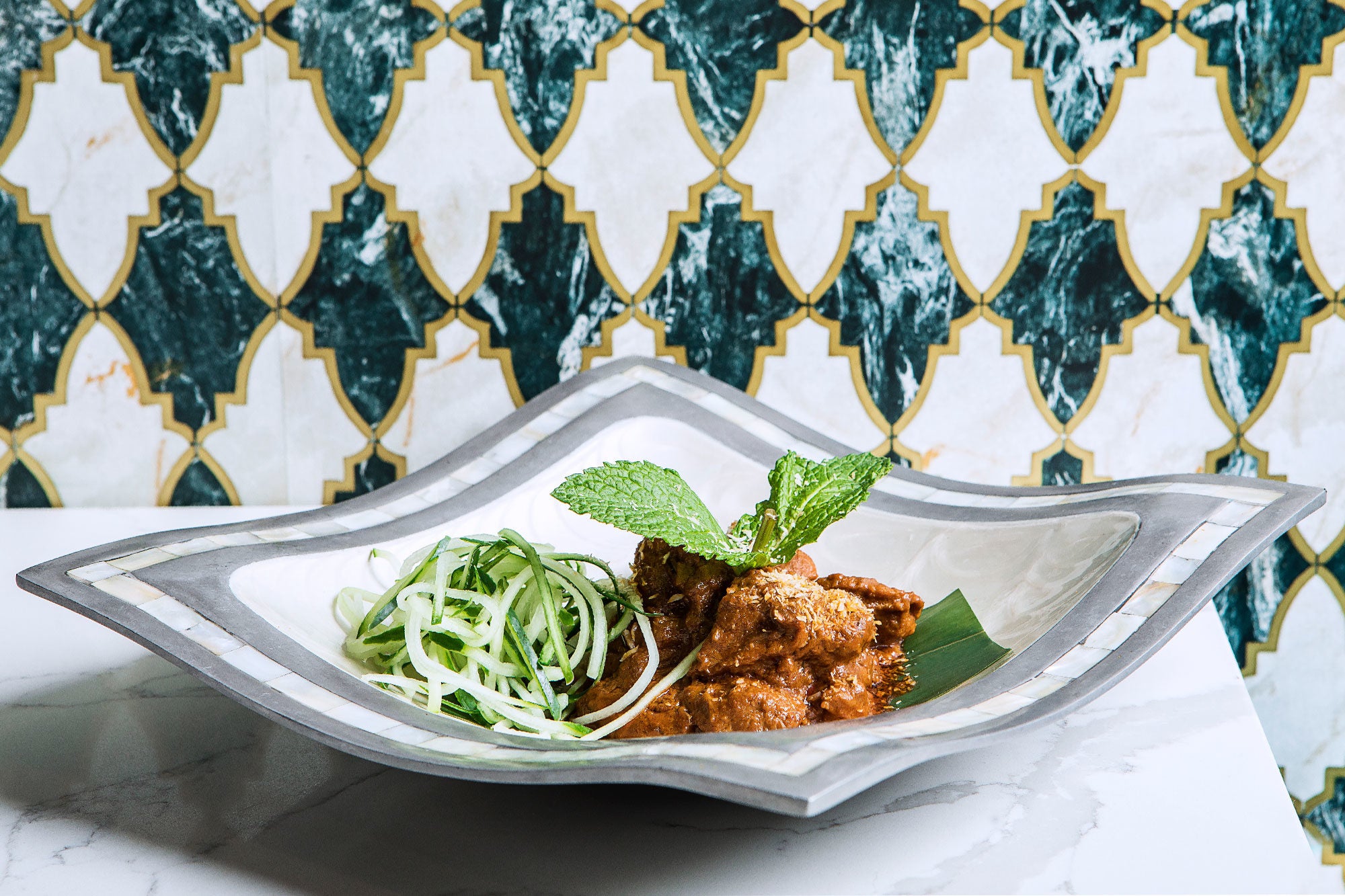 A long, languid simmer in coconut milk, lemongrass, and galangal gives rendang the intensity of five curries packed into one. Here's how to make it.
Rendang slows the world down. And in the Nusantara region—the slice of Southeast Asia made up of Indonesia, Malaysia, and Singapore with a population of over 300 million—it's a way of life. The messy, labor-intensive process of cooking a pot of beef layered with spice, coconut, and chile for hours stands proudly in stark opposition to America's culinary zeitgeist, with its time-saving Instant Pot meals and 30-minute sheet pan dinners prepared with minimal cleanup in mind.
At its heart, rendang is anchored to a creamy coconut-milk base. But don't call this dish a curry. It's a union of alliums, red and bird's-eye chiles, plus spices common to the region—turmeric, lemongrass, galangal, sometimes tamarind and kerisik (coconut toasted and ground into a buttery paste)—which are pounded and cooked down with two cups of coconut milk. Along with sinewy hunks of beef, a low flame gently heats the mixture for two to six hours (and sometimes up to three days, for a near-licorice intensity if you double the amount of coconut milk) until the liquid reduces into a jammy, Skippy-like paste.
With recipes dating back to 16th-century nomadic Minangkabaus of West Sumatra, the original technique indicates that beef chuck and shank should be cooked for "6 to 7 hours at a temperature of 80–95°C (approximately 175–200°F)", documented in the journal Agriculture and Agricultural Science Procedia. Since its first appearance, beef rendang has ingratiated itself into the national cuisines of both Malaysia and Indonesia, with the shared love of thickened sauce being applied to all types of protein, from chicken to lamb to fish, plus off-cuts like lung and tripe.
"Not only do the individual steps require a lot of work—grinding ingredients, making your own coconut butter (kerisik), slow-cooking, and constantly stirring—there's also the aftermath, as the whole process will leave the kitchen with splatters of rendang," says Grace Teo, author and recipe developer of Nyonya Cooking. "But without it, the dish will not be rendang," she points out. Hours of bubbling turns the protein soft and spoon-tender, taking on all the intense tropical aromatics of the coconut, chiles, and spice. And along the way, the coconut milk deepens into a nutty, buttery sweetness.
Rendang slows the world down.
As much as rendang seems an immutable classic in the Nusantara culinary canon, it can take on different guises in the hands of different cooks. At family-run warungs (food stalls) like Jakarta's Rumah Makan Simay, spicy sambal is added, and Aunty Aini's, in Negeri Sembilan, Malaysia, is stirred continuously by hand for hours in a bathtub-size wok.
Stateside, Southeast Asians have been preaching the virtues of their deep, spice-heavy cuisines that still course through the veins of Nusantara. Serving the region's most iconic dishes, chef Salil Mehta of Laut Singapura in New York opts for beef shank over a traditional belly cut that cooks down for four to five hours. In Philadelphia, Saté Kampar insists on simmering their cumin-scented rendang for a minimum of six hours to ensure beef chunks melt into a jelly-like softness. "That's the essence of rendang—it has to be cooked for a very long time so that the Maillard reaction can occur for that sugary—but not overly sweet—depth of flavor between the coconut and protein," says chef-owner Ange Branca.
At San Francisco's Local Kitchen, there's a looser interpretation of the Malay classic, with tropical-tinged coconut turmeric arancini and apricot-ginger chutney alongside their brisket rendang. Auria Abraham, who sells her own line of sambal and kaya in the United States called Auria's Malaysian Kitchen, likes taking an appetizer approach in the form of sloppy-joe-style beef rendang sliders.
Whether traditional or reinterpreted, all are based on the principle of patience, where low-and-slow cooking elevates rendang to its peak, thick intensity. Branca says, "People have tried to associate it with a stew or a braise, but they're starting to understand that rendang has its own identity."