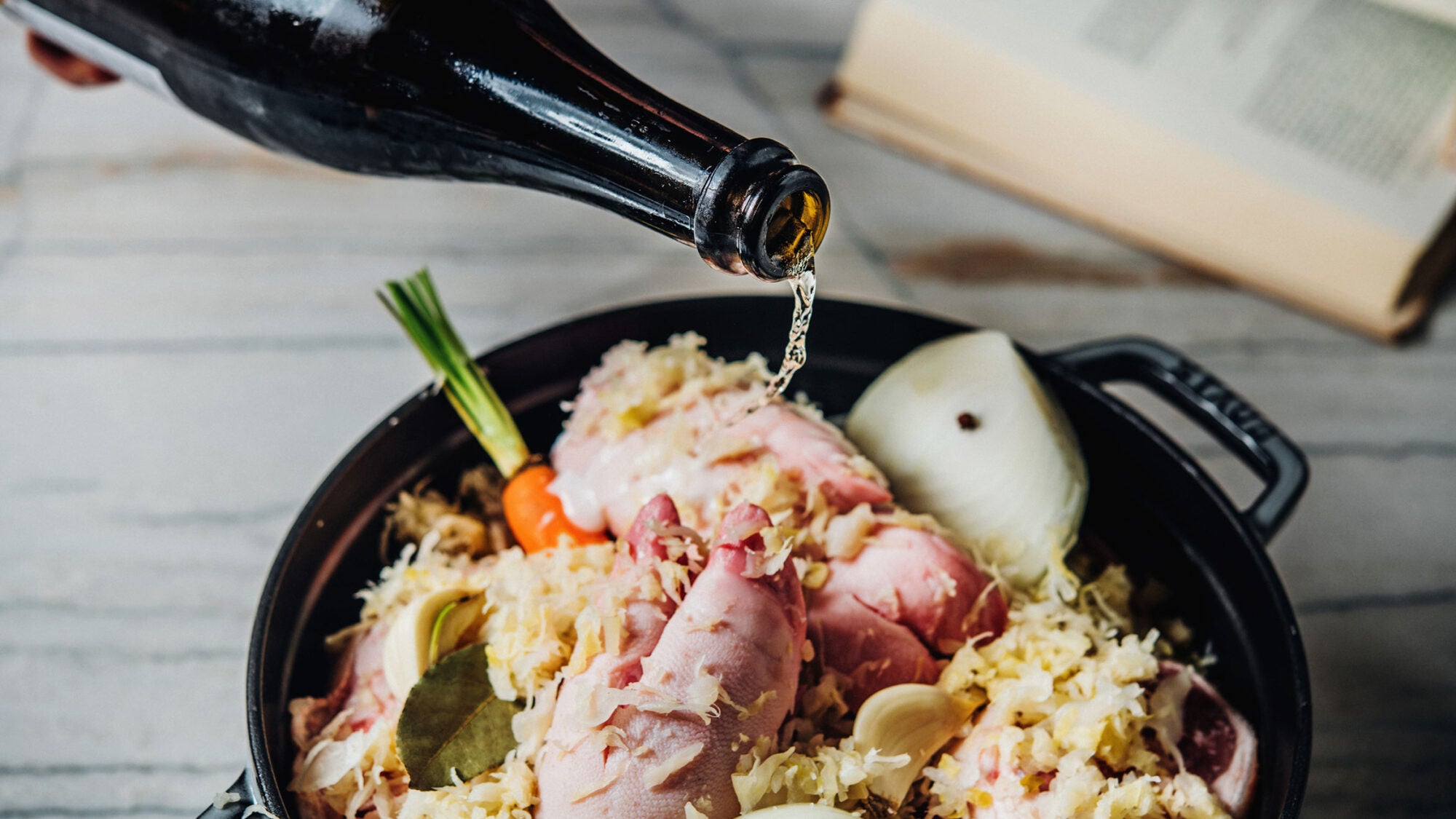 Braise your sauerkraut the Chez Panisse way—with seven types of pork and lots of bubbly.
An admission: If I had realized this recipe was a stew earlier on, I likely would not have undertaken it with as much enthusiasm as I did. Somehow, the combination of Champagne, fermented cabbage, and eight different pork products clouded my vision. But as it stands, Champagne sauerkraut is not just sauerkraut; it is, indeed, a stew. Of course, I should have known. It cooks in a Dutch oven for four hours, and its main components are vegetables, many meats, and potatoes. If this isn't the textbook recipe for a stew, I don't know what is. In fact, it's technically choucroute garnie, that belt-loosening, slow-cooked Alsatian specialty popular along the border of France and Germany.
"The recipe, did it work?" the chef Jean-Pierre Moullé asked when I told him I had recently cooked the dish from the first edition of the Chez Panisse Menu Cookbook from 1982. Moullé worked at Chez Panisse for over 30 years, from the late '70s until 2012, much of the time as its head chef. In the recipe, half a bottle of Champagne gets dumped over a pile of sauerkraut, pig parts, and vegetables. "Probably at the time, we were drinking a lot of Champagne in the kitchen. That might be the connection," said Moullé, attempting to recall exactly how the sparkling wine made its way into the pot.
I assured him the recipe worked. Maybe too well. Two weeks, two pigs' feet, a pound of bacon, a pound of pork loin, a pound of Virginia ham, and many sausages later, I haven't stopped thinking about it. Moullé was pleased to hear it, and he recommended that I not foray into the problematic Blinis à la Russe on page 86.
My copy of the Berkeley restaurant's first cookbook is water-stained and tattered. The cover depicts the restaurant in an Art Nouveau, wood-block-style illustration by David Lance Goines in hues of brown and olive. The whole thing reads as a document of menus—"Jean-Pierre's Birthday," "A Picnic," "A Dinner for Baudelairians"—served in that rebellious first decade of Alice Waters's Chez Panisse, where the menu still changes daily and is dictated by the microseasons of their purveyors. I can't be entirely sure where my edition came from, but I believe an old roommate left it behind while frantically moving out of our South Williamsburg apartment one winter many years ago.
Another admission: I never really noticed it had fallen into my possession until I moved 1,300 miles south to New Orleans and, surrounded by more boxes of books than should be permissible (32 in total), discovered it hiding between Alice B. Toklas and Edna Lewis. Paging through it, I stumbled over this odd combination of words—"Champagne and sauerkraut"—under the entries for seasonal menus.
FALL
Smoked Trout Mousse With Chervil Butter
Warm Salad of Curly Endive and Artichoke Hearts
Champagne Sauerkraut
Pear Tarte Tatin 
Waters, the restaurant's founder and owner, imagines that "people must have unpleasant associations with sauerkraut" because the only way they could entice customers to eat it as a main course on a four-course menu was if they described it as "an Alsatian specialty with sausages and Champagne." This description is partly correct, but again, it leaves out the stew part.
In his book The Man Who Ate Everything, food writer Jeffrey Steingarten dedicates a chapter, "True Choucroute," to his organ-pickling pursuit of the dish, which he describes as including "everything an Alsatian pig can contribute to a man's well-being." In French, choucroute means "sauerkraut," which, in the case of this stew, feels slightly misleading considering the ratio of cabbage to meat. Regardless, the two get roasted together for hours, the shredded, bitter vegetable mellowing and the meats becoming tender—nearly falling apart—suffusing everything with smoke and crackling acidity. During its assembly, the whole thing is usually doused with Alsatian wine, perhaps a Riesling (which can range from dry to sweet, depending on the intention of flavor), and, in this case, Champagne—technically making it a stew royale.
Moullé is from Montbéliard on the eastern side of France in the department of Doubs where choucroute was de rigueur. When he translated the dish to Chez Panisse, it included odds and ends like prosciutto bone ("We were foragers first," he says, recalling the necessity to cure their own prosciutto and house-ferment sauerkraut back then) and ham or bacon rind. In the original recipe, frankfurters are used, but the quality of American hot dogs can vary greatly, so instead, Moullé's version uses garlic sausage and spiced pork and truffle sausages created by Victoria Wise, Chez Panisse's first chef, who had opened a charcutier across the street.
The result of layering shredded cabbage with bacon, onions, spiced sausages, and so much other pork, topped with duck fat, Champagne, and chicken stock is a pot so full of flavor that your dinner guests will likely fall into a hush for several moments or more. Aside from the many high-quality meats (whose collective juices and fats create a sort of hot confit), the secret to the dish lies, of course, in the froth of Champagne (I used an affordable Crémant du Jura, a happy coincidence considering Moullè's region of origin; you can use any Brut sparkling wine, but I recommend one you'd also like to drink), which adds a bracing acidity that cooks off into something more cozy, creamy, and balanced.
The secret also lies in the mood. Moullé calls Champagne sauerkraut a convivial dish. Like cassoulet, it's meant to be served in the middle of the table, where guests can spoon out hunks of meat over a tangle of cabbage, onions, and steaming hot potatoes. It is a stew, after all. I recommend topping it with sour cream or crème fraîche for cooling contrast, plus a dollop of Dijon or whole grain mustard for a spicy, stringent kick. Glasses of Champagne should be served alongside, and it really would do very well with Waters's suggestions of smoked trout mousse and warm frisée with artichokes. For the record, when asked, Waters called it "the best sauerkraut I've ever had." Which, we can all agree, means something.
A final admission: I did not have high expectations for this dish; it seemed so over-the-top as to result in a muddle. And so much bubbly dumped so unceremoniously atop actual hooves and knuckles seemed like a gratuitous mistake. But once I started thinking about it—the strange gilding of such carnivorous excess with something so luxurious—it also seemed like it could be quite satisfying. It turns out, you can drink the rest of the bottle while you await the outcome of the experiment, like a trust fall into an old friend's arms.