Slow Braise the Jamaican Way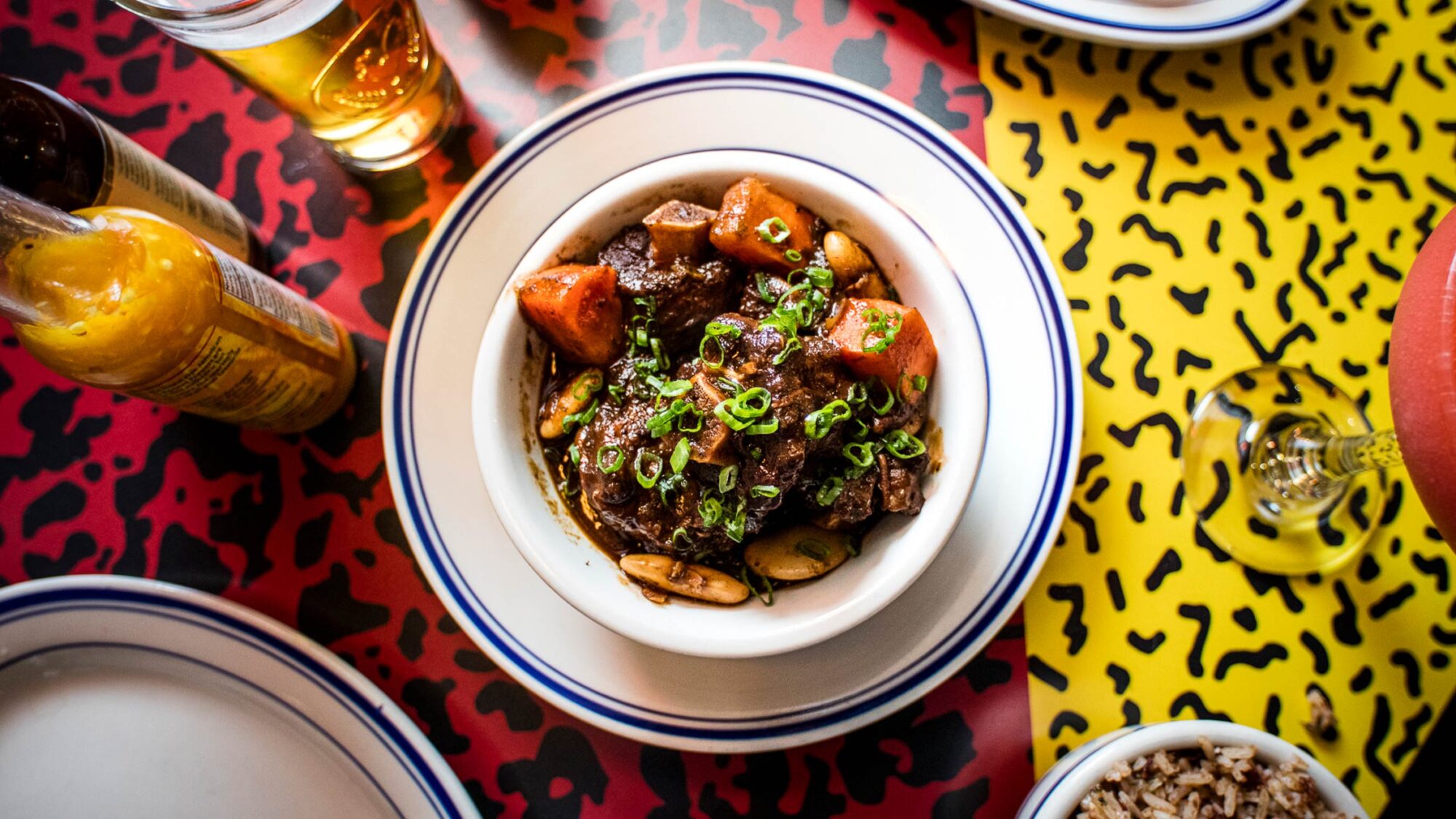 On the crowded Caribbean plate, fall-off-the-bone oxtail stew steals the show.
Many cultures have inventive uses for oxtail, the tough, sinewy, historically cheap—and often discarded—posterior appendage of the cow. But for most New Yorkers, the meat invokes a specific dish: a Caribbean stew of tender, gelatinous meat on the bone in a spicy brown sauce served with rice and boiled peas. Although most Caribbean islands lay claim to some version of the dish, like the curried oxtail popular in Trinidad, or Cuban rabo encendido cooked down with red wine and tomato, the one you're most likely to encounter has a Jamaican influence. Found in the steam-table trays of jerk chicken and roti restaurants all over town—with a particularly high density in Brooklyn—stewed oxtail, bathed in a glossy brown sauce, is one of the most reliably comforting meals to pick up on your way home or to set simmering on your stovetop.
"Oxtail in Jamaica is an everyday item," explains Andre Fowles, chef de cuisine of Miss Lily's, a Jamaican restaurant that grew from a single New York City location to four restaurants, including outposts in Dubai and Negril. "Back in the day, it used to be a special-occasion kind of a treat, but now it's more current." It's something of a flagship dish at Caribbean spots like Gloria's in Crown Heights and the Islands in Prospect Heights. Even if you don't order oxtail as your main protein, the bountiful gravy surrounding the meat can still make an appearance spooned over your rice and peas, fried fish, or jerk chicken.
Each Jamaican chef's technique is a little bit different, but the stew generally follows the same routine as other braised, bone-in dishes, like osso buco, making it an ideal dish to translate to a home stovetop. Fowles's recipe starts by salting and resting the oxtails for at least a few hours beforehand. He takes the same step almost anytime he cooks meat, whether it's curry goat or chicken. "It's always best to preseason before cooking. Especially with oxtail," he says. "Because it's such a tough cut of meat, you want to maximize the flavor." 
When the oxtails are ready to be cooked, Fowles starts the braise by caramelizing brown sugar in the bottom of a Dutch oven. This adds a touch of sweetness, bitterness, and rich color to the stew before the oxtails are browned in the caramel and stewed in beef broth with the classic Caribbean aromatics of allspice, ginger, and Scotch bonnets for about two hours. 
Since a good oxtail must be sumptuously unctuous, the most important part of nailing this recipe is adequate cooking time for the connective tissue to break down. The amount of time oxtail takes to cook can vary based on the age of the cow, so you have to check for doneness yourself after the first 90 minutes. Cook it until the meat is tender but still clinging to the bone somewhat—you want it falling off the bone, not fallen. "While you're cooking, you can tell [when it's done] because you will see that meat slowly, slowly start to pull away from the bone." Fowles laughs and says, "The best way to do it is to grab a piece and bite on it."
To finish, Fowles adds boiled broad beans, which he notes are a Jamaican touch. "Once we roast the oxtail off and stew it down, we add the beans at the very last minute, just to give it that contrast in texture and an extra richness." 
The gravy, darkened with caramel and made buttery by the rendered fat, is almost equal in importance to the oxtail itself. If the meat is cooked perfectly but the sauce is a little thin, you can thicken it with a couple tablespoons of a slurry made from equal parts flour and water. Serve the stew with a side of rice and peas, or treat it like a gravy and ladle it onto a week's worth of meals.