Adventures With Lamb Necks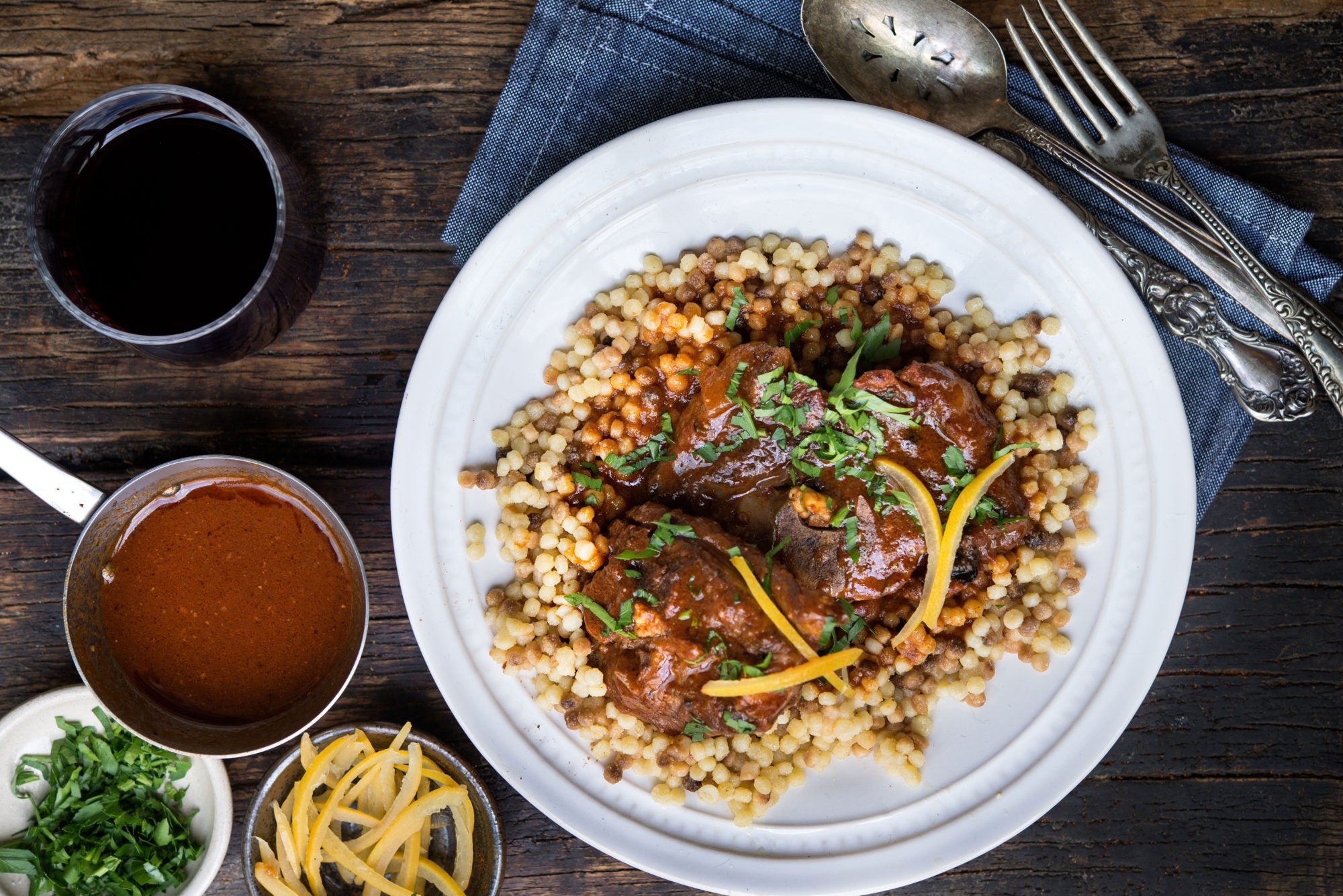 Lamb neck is an underrated and inexpensive cut of meat that can shine when braised in red wine and served with preserved lemons and fresh herbs.
Several years ago, an acquaintance asked if I could re-create lamb neck stracotto, a fragrant pot roast with a Moroccan spin that she had enjoyed at chi SPACCA in Los Angeles. I had never been to the restaurant, nor to L.A. for that matter, and had never had lamb's neck. I was flattered that she thought I was up to the task, but wasn't entirely sure where to begin.
After a bit of online research, I learned that stracotto is an Italian term for a slow-cooked "sublime" stew. The lamb neck at chi SPACCA is braised for four hours and served with olives and preserved lemons—for a briny freshness that contrasts with the rich and gamey meat.
The first question was where to find lamb neck. As luck would have it, I came across some slices at a local farmers' market a week or two later. Lamb neck is considered a scrap cut of meat by most. In fact, the woman in line in front of me was buying some to cook for her dog (a lucky dog, to say the least). As with any meat that you cook on the bone (e.g., oxtail, short rib), it's extremely flavorful, not to mention much less expensive than other, more sought-after cuts of meat.
Since I wasn't able to taste the source material, I went with what I would do for any long braise—sear the meat; add some aromatics, red wine, and stock; and let it simmer slowly until extremely tender. The combination of low temperature, moist heat, and time (in this case two hours) turns otherwise chewy, unpalatable meat into a plate of buttery lamb.
Braising the lamb neck also created a great pan sauce, which I reduced and drizzled over the meat.  I served the lamb neck over fregola sarda, a Sardinian toasted pasta with a nice nuttiness that acts like a sponge in soaking up all those good flavors.
Taking a tip from chi SPACCA, I added thinly sliced preserved lemons and olives, which lend a really nice brightness and pickle to the dish. You can buy preserved lemons at some grocery stores, but you can also make them yourself; all you need are a bunch of lemons, coarse sea salt, a sterile jar, and about three to four weeks to allow chemistry to do its thing.