Sweet Potato Snacks, Cookies, Stews, and Leaves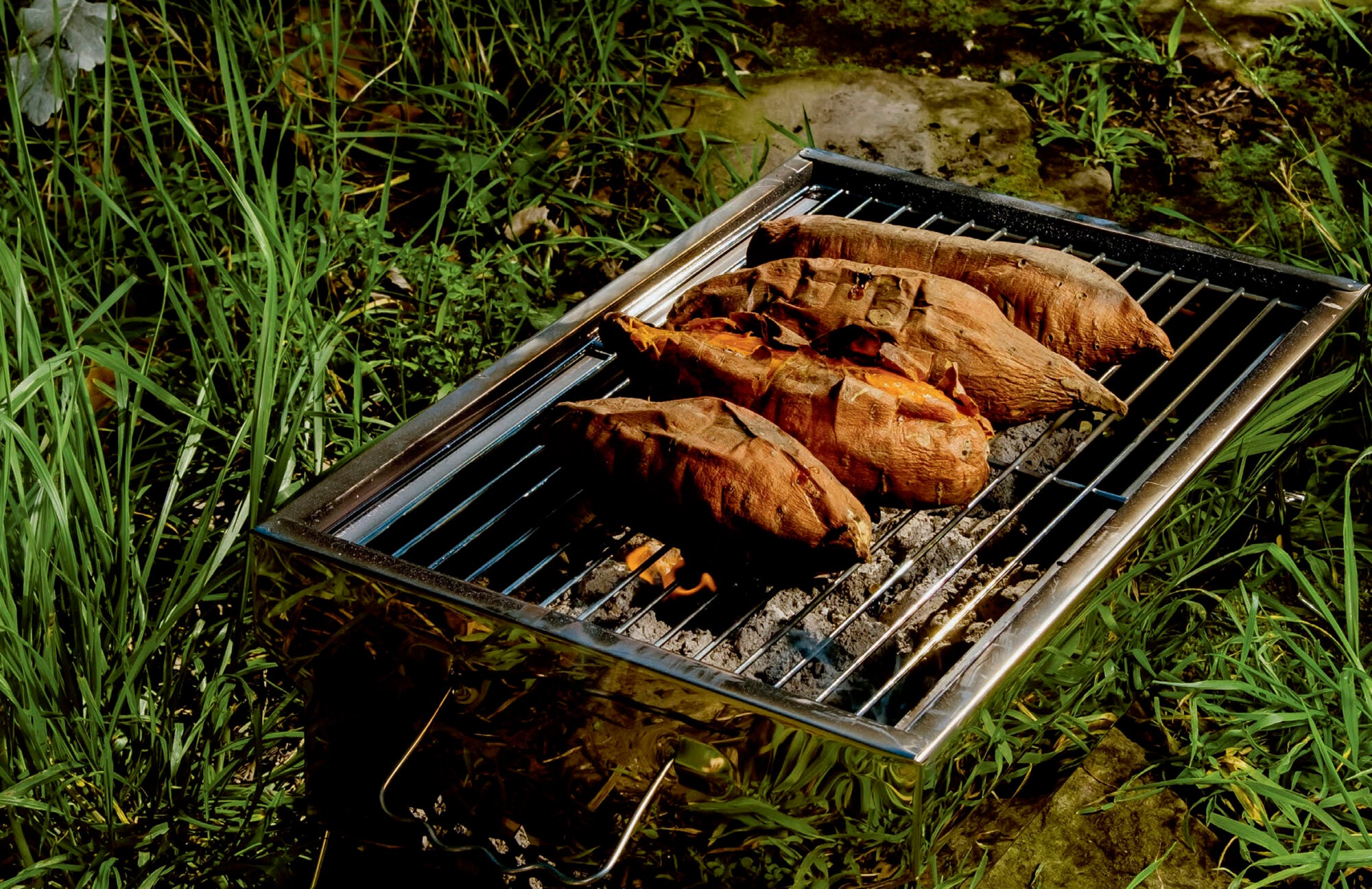 In the new book Black Food, the utility root vegetable is considered much more than a starchy side dish.
The sweet potato is transportive in Bryant Terry's latest book, Black Food, published under his new 4 Color Books imprint. (See our recent interview discussing some exciting plans in the works.) One of the first pieces of writing I landed on while paging through the book was a short essay from rocket scientist and whole-hog pitmaster Howard Conyers.
He tells the story of an heirloom sweet potato ("the sweetest potato I have ever eaten"), and the steps his father took to cultivate and age the tuber as if it were a pricey rib eye. The culmination of the harvest was a tray of the potatoes, cooked in the golden coals of a barbecue pit, served simply (just fire, potato, salt) and abundantly—three to four pounds at a time. To say I craved my own tray of sugary potatoes after reading these lines is downplaying things. A grabbed a clutch on a visit to a local farmers market the next day. Plans were made.
This isn't the sweet potato's only star turn in the book. Chef Kia Damon's contribution to Black Food has home cooks cutting stone-ground white grits with the flesh of roasted sweet potatoes, which ups the custardiness. Lani Halliday, of Brooklyn's exciting Brutus Bakeshop, paid homage to NYC's iconic black and white cookies with a "pink and gold" cookie, laced throughout with sweet potato. "The sweet potato's importance in the diet and history of Black folks in the region cannot be overstated," she observes, an idea that is echoed throughout the text.
In Rahanna Bisseret Martinez's essay, "How Black Intellect Informs the Future of Cooking Shows," the Top Chef Junior finalist imagines the sweet potato as a metaphor for the "Black American existence," using a scene from Ralph Ellison's Invisible Man to build her case. (As an aside, you should also check out Bisseret Martinez's essay on TASTE about the pliable comforts of agua de jamaica.
Yet for me, the greatest sweet potato revelation from reading Black Food is Betty Vandy's recipe and reflection on stewed sweet potato leaves. The roughage is a fixture in Sierra Leone, where the leaves are prepared as a stewy plasas and are "as African as you can get." Vandy's technique for cooking the leaves with okra, eggplant, and butter beans led me down a YouTube cooking video rabbit hole. Now, with America's great sweet potato holiday approaching, it's obvious that it's time to chill with the marshmallows, seek out the greens, and think a little bit more about how sweet potatoes can be celebrated in so many different ways.