The Pliable Comforts of Agua de Jamaica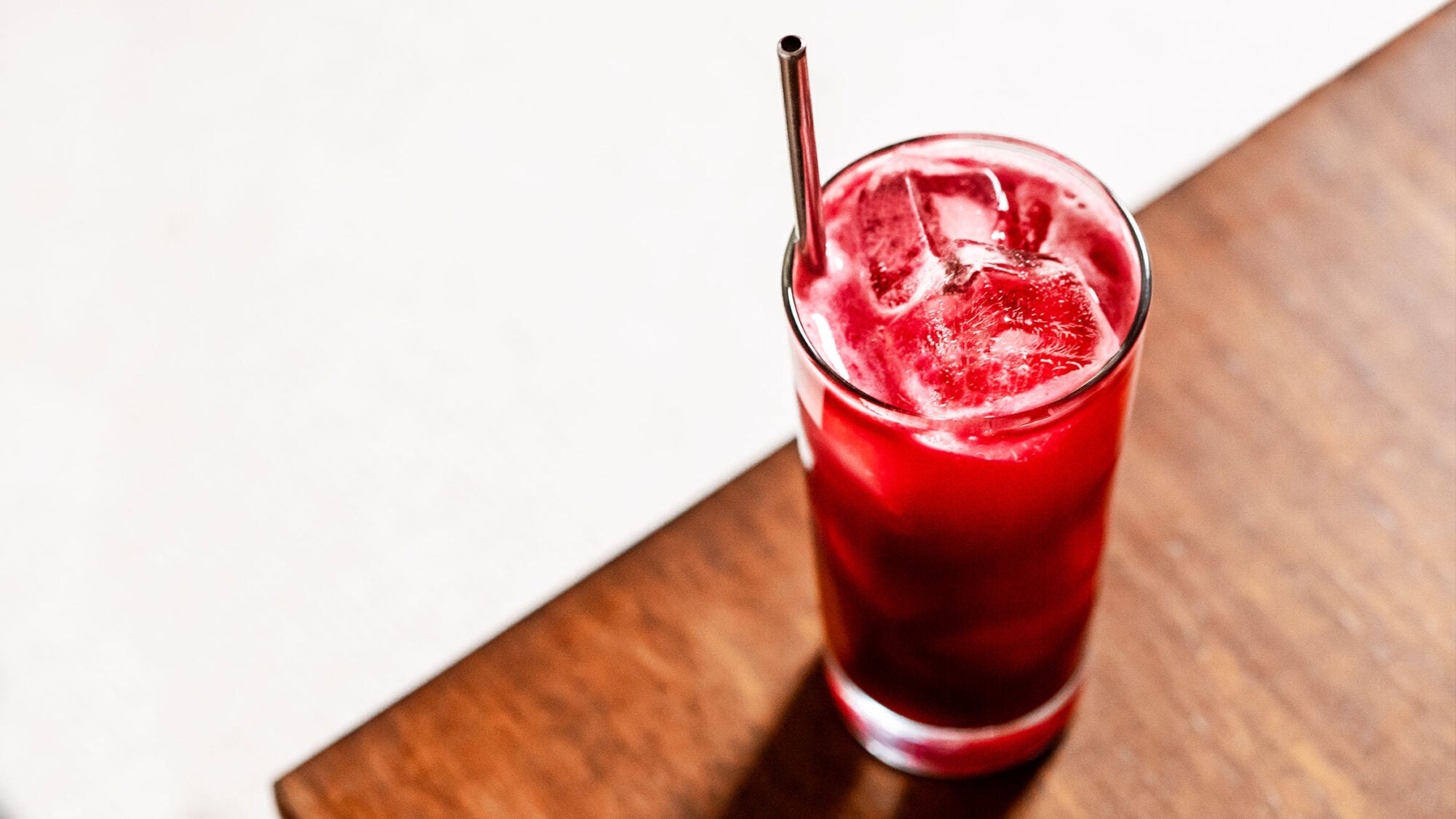 Hibiscus can be sweetened, spiced up, and cooled down for a choose-your-own-adventure tea.
Some of my favorite childhood memories were summer trips from my home in California to visit my abuelita's condo in Chicago. My mom's friends would visit with trays of home-cooked jerk, pineapple upside-down cake, Jamaican-style macaroni and cheese, fried fish, greens, and stewed cabbage. And threaded through it all was the tart aroma of my grandma's hibiscus tea concentrate, or, as she calls it, Jamaica (pronounced "ha-my-kah").
Walking up the stairs and around the wooden staircases to the fourth floor where she lives near the lakeshore, I anticipated the drink before even smelling it. As I said my hellos, and my grandma told me all about her week, the unsweetened, dark cranberry-hued tea was cooled and at the ready to mix with water, a spoonful of sugar, or agave syrup. On special occasions and holidays, we would mix in fresh pineapple juice to this already sweet and tart drink, adding some fruity notes to the floral beverage. Just a sip of this combination brings me back to family celebrations featuring plates full of my mom's spinach and mushroom enchiladas and slow-cooked pinto beans from the pot. Whatever food was on the table, one reassuring constant would be a pitcher of dark purple Jamaica.
Known as flor de Jamaica, the deep maroon fronds that give this tea its flavor and color come not from the hibiscus's petals but from its sepals, which grow around the base of the flower blossom. The plant is native to East Africa, West Africa India, and Malaysia. The cruelty of the Maafa (Transatlantic Enslaved African Holocaust) doesn't keep too many historical accuracies related to the humanity of Africans, but we know that the flower was brought to the Americas by Africans. Plantation records of the 1700s show that it was grown in Brazil and Jamaica prior to that time.
Today, the regional expressions of hibiscus tea vary throughout the world. It's known as sorrel in Jamaica, saril in Panama, grajeab in Thailand, bissap in Senegal, and carcadè in Italy. In Haiti, the drink is mixed with ginger and sometimes a splash of rum. Hibiscus tea can be sipped hot, cold, and with different flavors and sweeteners like ginger, lime, mint, honey, agave, and cinnamon. There are modern approaches that add mineral water to give it a bubbly kick, or that blend it with a tea like chamomile or mint to add more herbal notes.
When I drink this tea, it is a family memory. But I'm also participating in a global family experience and conversation. Black, Mexican, Indigenous, and all women of color have been the food industry's backbone for generations, cooking for their families and communities. I can credit these women (women like my grandma and mom) for really teaching me the love of food. When I get to share these recipes, it brings forth a new kind of history—one where a simple recipe, like hibiscus tea, has an ever-evolving legacy and life of its own. When a person adopts this recipe and serves it at celebrations, the hibiscus tea's story is passed along once again.
As much as we've been led to believe that chicken soup will "heal the soul" for most people, comfort food is its own irrational, illogical, and totally subjective category. In Don't Call It Comfort Food, a TASTE essay series, writers share the recipes (and not-recipes) that define comfort for them. In last month's column, Nico Vera wrote about the Peruvian combinado that brings together spaghetti and potatoes in perfect, cheesy harmony.