Smoke, Grill, and Ceviche Your Way Through Summer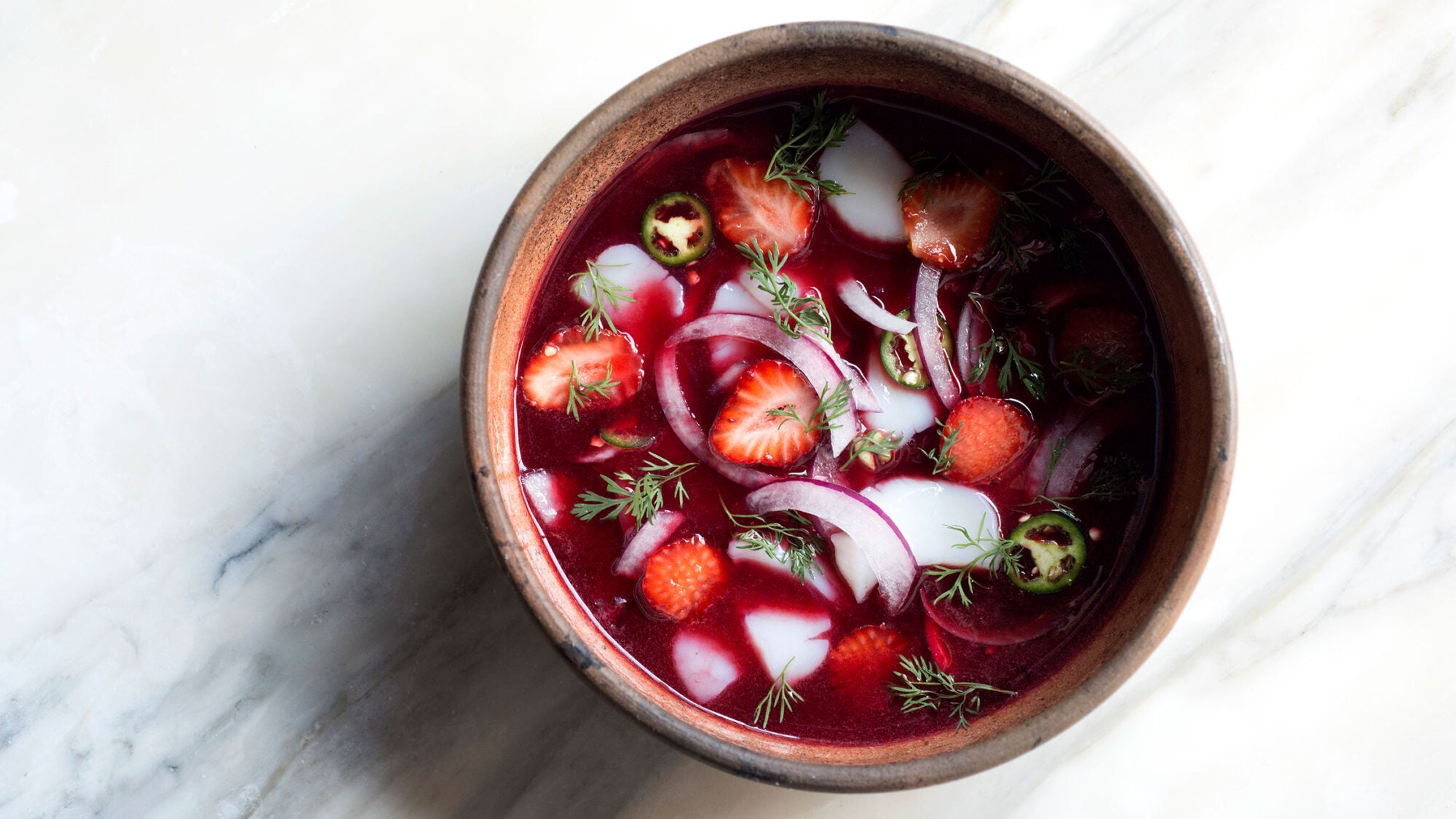 Now is the best time to grab a few limes and a pile of summer's best seafood—and take dinner outside.
It can be daunting to even walk into a kitchen during these humid days of August, when an open window isn't quite enough to counter the heat radiating from the oven, or from a pot of water boiling for tagliatelle. This is where seafood comes to the rescue. You can cook it fast. You can cook it outside. And heck, you don't even have to cook it at all if a poke bowl, or some bracingly acidic ceviche, sounds more your speed. It's a perfect solution to the worst of summer cooking fatigue.
For Leela Punyaratabandhu, author of Flavors of the Southeast Asian Grill, summer is the absolute ideal time to grill skewers of shrimp or whole lobsters over a charcoal fire. "There's often some anxiety around grilling fish, even among people with experience. The fears over the skin sticking to the grate, the meat falling apart, or the inside not being cooked through, in the case of whole fish, are pretty common," she says. "With lobsters, there's no such anxiety. The shells function as a container; there's no delicate skin that will tear. The translucent raw meat turns opaque when done, a very obvious visual cue." And, as a bonus, none of the flavor is left behind in any pots of cooking water—you just get pure, smoky, oceanic flavor. The end result can be eaten with potato salad and grilled corn, or coated in brown butter for a lobster roll.
As Mike Wiley, a co-owner and chef of Eventide Oyster Co. in Portland, Maine, and co-author of Eventide, points out, summer is also a great time of the year to buy seafood. And that old adage about avoiding oysters during summer months? "There is no downside to buying oysters from colder climates during the summer," he advises. "I think the Rs rule stems from before the mass cultivation of oysters, and before Departments of Marine Resources kept an eye on 'red tide,' which is prevalent in the summer months and can make you sick."
Wiley loves to buy halibut and locally caught tuna to turn into approachable crudos. This can be as simple as dicing the fish and tossing it with some vinaigrette before incorporating it into a salad. "Your vinaigrette will serve as a marinade and a cure, and your salad will be the better for it," he says. If you don't live in a place where you can just stroll up to a dock and buy directly from the fisherman, ask the person at your local fish market or grocery store seafood counter what's fresh and in season.
For grilling at this time of the year, Wiley likes to go with Boston mackerel for its nutritional value and sustainability. "I really like gutting the fish, salting it, and letting it sit refrigerated for a couple hours before grilling or broiling it," he says. "If it's fresh, it is incredible."
Robert DeMasco, the founder and owner of New York City distributor Pierless Fish, likes to turn diced raw tuna, hamachi, and salmon (especially the bits left along the collar after the fish has been filleted) into poke to eat with avocado and corn chips. Before this winter, Pierless sold seafood directly to restaurants in the New York area, but when COVID-19 hit, DeMasco got creative and started making home deliveries of the same local, sustainable seafood he's been selling to businesses since the '90s.
Recently, he bought an electric grill for his New York balcony, and he's been making a lot of grilled squid salads. "I use mixed greens, scallions, and endive, a little radish, cucumbers, tomatoes," he says. "Super simple. Nice char on it. Salt and pepper. I love the tentacles."
In New York and Long Island, DeMasco says, the scallops are getting better and better as the season moves into autumn, and it's a great time to buy stripers and black sea bass. "My attitude is, try to support the local fishermen. I'm not saying that I'm opposed to branzini or Scottish salmon, but try to eat what's in your backyard, and support those guys, because they need to make a living." —Anna Hezel
WHERE TO GET YOUR NEXT CATCH:
If you're in the New York City metro area, Pierless Fish will deliver restaurant-quality seafood, from sushi-grade tuna to soft-shell crabs, right to your door.
To get the best of this summer's wild salmon harvest, check out Wild Alaskan Company's subscriptions.
Island Creek has all of the oysters, shucking gear, and even canned fish you need to re-create your favorite oyster happy hour at home.
For all of your hyper-specific seafood needs (think imported fresh sardines and wild langoustines), Citarella does local deliveries in New York City and ships all over the country.