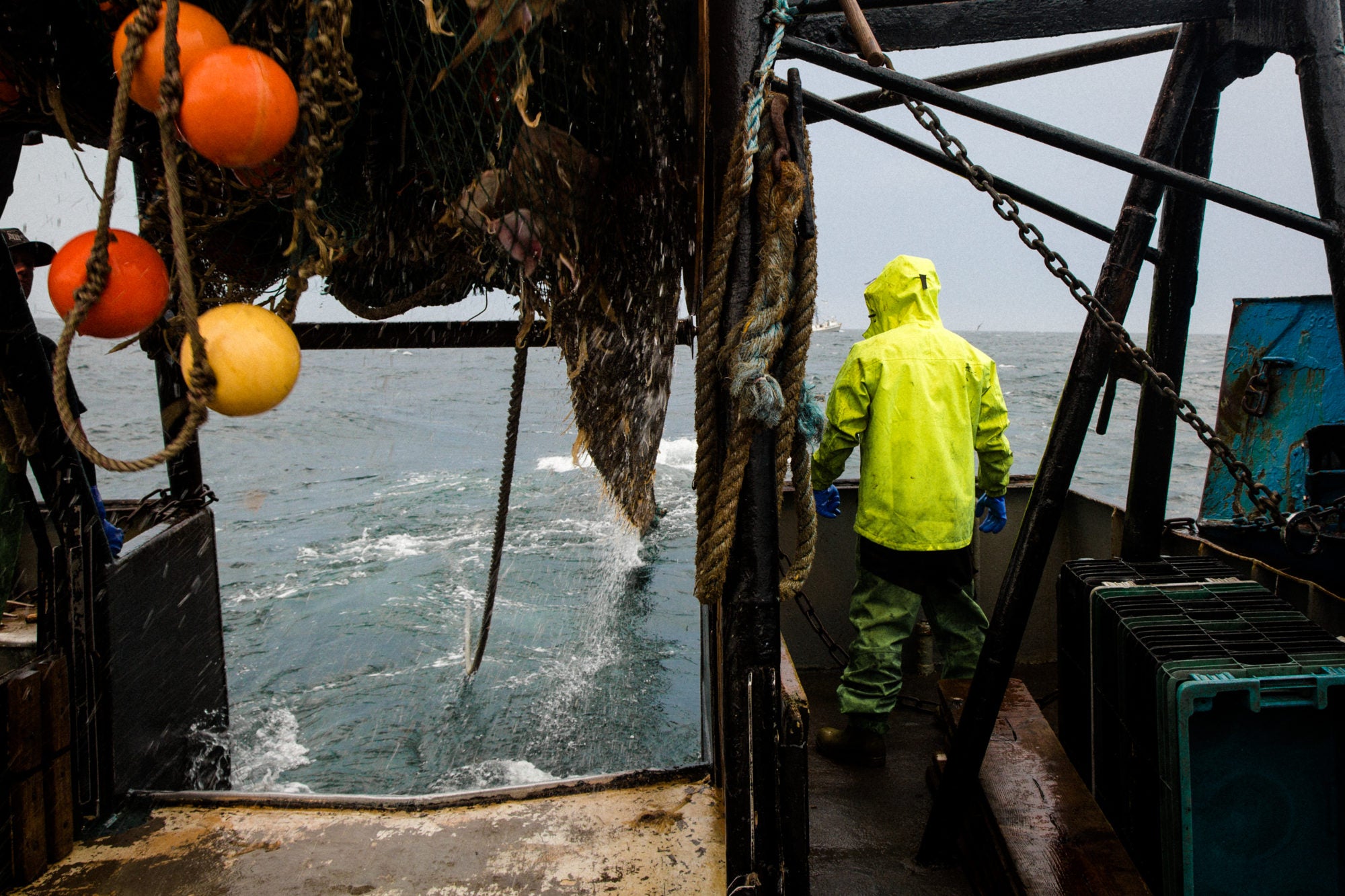 A local holdout in a touristy town, where the fishermen catch—and cook—your meal.
For the last two summers, I've been attempting to fry the perfect piece of fish. My holy grail is the basket of fish n' chips at Montauk's Inlet Seafood. To visualize Inlet's version, picture your average fried fish—mushy and tasteless with an armor-thick, doughy coating—and then imagine its opposite: Light, crispy pockets of heavenly fresh fish with the faintest whiff of brine. Fancier than a fish shack but far from white tablecloth, the two-story dockside restaurant is perched just above the sea-sprayed rocky jetty that forms the thin lip of Montauk's harbor, a busy marina that juts out into the Atlantic Ocean where it meets the Long Island Sound. Inlet is owned and operated by six commercial fishermen, and the fish and sushi (soy-marinated fluke, spicy tuna rolls) on the menu come straight from their boats to your table; some of it never even sees the inside of a refrigerator. What ends up in the fish n' chips depends on what the nets bring in—some days thick chunks of sweet striped bass, others thinner strips of delicate, flaky summer flounder (aka fluke)—and it's one of the most authentic sea-to-table eating experiences left in this part of the world.
Often referred to as "The End," Montauk is the windswept, easternmost tip of Long Island. Come summer, Montauk's population of 3,000 residents swells to more than 30,000, and the posh spillover from the nearby Hamptons has earned it a reputation as a party town for the über-wealthy. But it remains the largest commercial fishing port in New York, and the blue-collar local community is still very tied to its fishing heritage. From whaling to scallop-dredging to trawling for squid and fluke, fishing has dominated the way of life out here since the early 1800s. One Montauk captain I've met can trace his family's fishing lineage back 15 generations.
Yet fewer sons are taking over their fathers' vessels these days. It's not the danger or grueling physical demands of the job, but the rising costs and restrictions that dissuade the next generation from earning their living at sea.
It was the struggle to stay in business that brought Inlet's fishermen together in the first place, when they pooled their resources to purchase a fish-packing house in 1988, at a time when the rest in Montauk were closing shop. Squid is their main catch now—Inlet's dock will receive several hundred thousand pounds on a good day—and if you eat calamari or marinated squid salad most anywhere in the Northeast, there's a high chance it was caught by one of Inlet's three dozen boats.
Montauk locals have always been a salty bunch, but the mention of fishing restrictions taps a well of true outrage. "The U.S. has some of the toughest regulations in the world regarding where and what we can fish, and New York State's are the harshest of all," Dave Aripotch tells me. One of Inlet's owners, Aripotch is a personable clammer turned fisherman who's made his livelihood in Montauk since 1975. A typical five-day trip will take Aripotch and his 90-foot trawler, the FV Caitlin & Mairead (named for his daughters), from Montauk's waters past New Jersey and south toward Virginia. Captain and a crew of four will pull in summer flounder, cod, sea bass, squid, John Dory, and deep-water fish like tuna. They are required to throw much of it back.
"Back in the '80s, federal fishing regulators told us to target squid since it was an 'underutilized' species," he says. "Now we're forbidden from catching much quantity of anything else."
Catch limits, designed to bring back fish stocks that were thought to be depleting in the 1990s, are intended to keep fishermen in the business of fishing, says Jennifer Goebel, a spokesperson for the Greater Atlantic Region of the National Oceanic and Atmospheric Administration (NOAA), the organization charged with setting quotas on overfished species. "Our goal is always to maximize fishing opportunities while still managing the stocks to return to healthy levels," Goebel tells me, citing redfish, pollock, and haddock as examples of fish stocks that NOAA has rebuilt. The recovery of the sea scallop in particular has resulted in commercial fishermen tripling their catch of the highly profitable mollusk over the last two decades, she claims.
Yet quotas are based on "wildly inaccurate and incomplete science," says Aripotch's wife, Bonnie Brady, the executive director of the Long Island Commercial Fishing Association. "It's very difficult to measure the populations of highly migratory fish. A half a degree in temperature difference can drive certain species many miles out to sea, so government surveys miss huge swaths of fish entirely."
Ironically, as the farm-to-table movement thrives, our seafood consumption charts an inverse locavore trajectory: Over 90 percent of the fish we consume is imported from countries with more lenient fishing restrictions—much of it caught illegally or farmed at massive environmental and human cost.
"People want to eat local fish, but it's hard to see a future for New York fishermen when we are restricted to minuscule quantities of 'money fish,' like fluke or hake," says Tyler Maguire, captain of the FV Tomahawk. "Even when the fisheries' studies show a fish stock to be increasing, our quotas stay small—black sea bass is up 250 percent, but we are only allowed 50 pounds a day."
When I spoke to Basil Seggos, commissioner of New York's Department of Environmental Conservation (DEC), he admitted that fisheries management is not "an exact science" and the lag between when data is captured and translated into quotas is problematic. "Fishermen can see changes on the water today, but management changes may not happen for a long time," he said.
Seggos agrees that New York fishermen in particular are unfairly penalized by outdated quotas, and his office is working to bring justice: "New York's quotas were set in the early 1990s using erroneous data from the 1980s. Governor Cuomo is committed to solving this issue and recently filed a petition with the federal government to ensure our commercial fishermen get their fair share."
Striped bass—a metallic-hued, powerful, and tasty fish that draws sports fishermen to Montauk in droves every fall—will often feed in schools so dense and close to the surface that locals describe it as "boiling." But Maguire is only allowed to bring back 21 of them.
What to do with such a small quantity of valuable fish? Open a restaurant. "The idea for Inlet was to cut out the middle man; selling directly is more profitable," says Aripotch. The restaurant's no-nonsense mission statement, "Respect the Ocean, Harvest the Bounty, Feed the People," is printed boldly on all staff T-shirts.
Once upon a time, it was common for fish-packing houses to operate restaurants next door, but Inlet is an anomaly today. It's also a proud holdout in a town under siege by "Rosé All Day" T-shirts and $34 lobster rolls. One of the few restaurants open year-round, it's the Everyman's destination. On clear summer afternoons, you can sit on Inlet's outdoor decks surrounded by sweeping views of Fisher's Island, Block Island, and Connecticut and watch dozens of boats cruising in and out of Montauk's buzzing marina.
Service can be brusque, and even surly, particularly when the staff is slammed. Truth be told, there are times when even the fish n' chips can be inconsistent. But it can be transcendent—each light, impeccably crisped shell encasing a steaming piece of tender, sweet fish.
In my trials to reproduce it, I've learned a few things: 1) Cod can often be mushy; striped bass has a firmer, meatier texture I prefer. 2) Using cornstarch and baking powder in the batter are the keys to ideal crispness—collectively, they achieve a more brittle crust than regular wheat flour alone. 3) Removing all moisture from the fish before battering prevents it from becoming soggy. 4) If the oil isn't hot enough, the crust forms too slowly and the batter soaks up more oil, yielding greasy results. 5) Sugary tartar sauce distracts from the natural sweetness of the fish. A tangy, savory version pairs best.
It's quite possible I've nailed it. But of course, the frying is the easy part. Obtaining pristine, fresh fish from the ocean with a 100-foot net pulled by a boat in rough, frigid seas—that's hard. And it's a job that I hope the Inlet fishermen will always remain in the business of doing for me.