Aguachile, the Quick Fish Cure-All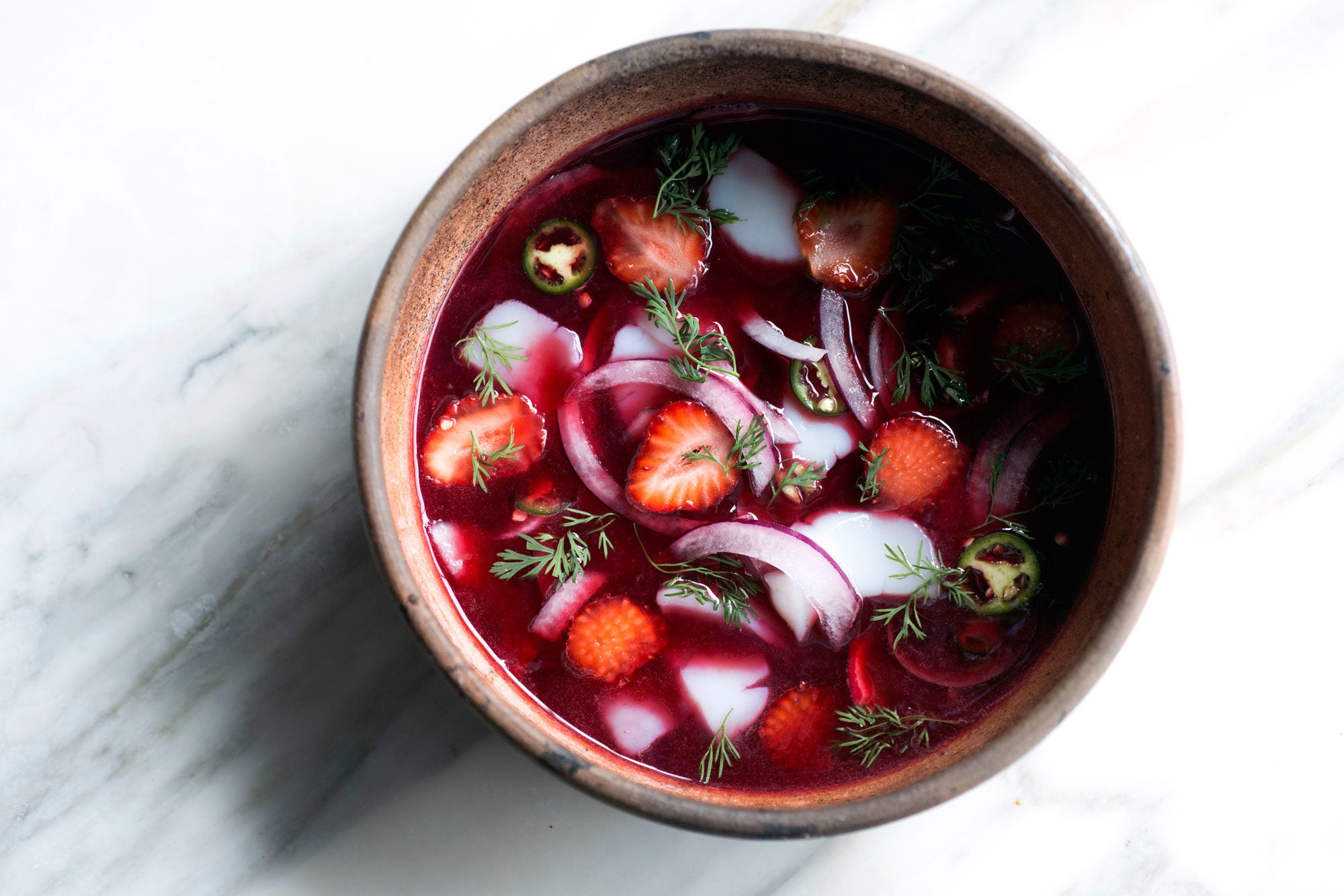 The path to Mexico's almost-ceviche is as simple as water, chile, and fresh fruit.
At Claro, a restaurant whose epithet translates to "of course," chef T. J. Steele slices silky raw sea scallops and swims them into a ruby-red pool of pureed strawberries, habanero, and hibiscus tea. The result is a tart, tannic, and vibrant sauce called aguachile—with roots in Sinaloa, Mexico, and served a bedraggled block away from Brooklyn's murky Gowanus Canal.
What makes Steele's interest in seafood unexpected is his long love affair with Mexico's landlocked culinary capital, Oaxaca, nearly a six-hour drive from either coast. This is where he sources much of the mezcal served at Claro (like El Buho), and the heirloom organic criollo corn, which he steams and grinds in-house for his very own nixtamalized masa to make homemade tortillas to cook on a clay comal.
On the meat-centric Claro menu, seafood finds its way in in the form of raw yellowfin tuna tostadas (layered with chunky guacamole, Cara Cara oranges, pasilla oaxaqueña, and crunchy chicharrón) and smoky chipotle camarones (shrimp) tacos topped with house-made quesillo cheese. But at the tippy top of the menu, you'll always find an iteration of aguachile, which seasonally rotates through all kinds of creatures from the sea: raw jumbo Carabiñeros prawns or yellowtail, lightly cooked cuttlefish and squid.
What separates most aguachiles from other ceviches is that ceviche sees its seafood steeped in acidic liquid until a fish's flesh firms up and becomes slightly opaque, while aguachile is prepared seconds before serving, preserving the delicate, raw texture of the fish. Steele gets his seafood from Greenpoint Fish & Lobster Co., a meticulously sourced Brooklyn seafood market that sells a lot of local fish, driven by the season, not by demand. This is how Steele determines his aguachiles, too. Think of the dish as an introduction to Mexico and the country's culture of chiles, modified for North America's Northeast.
Also known as "chile water," Steele notes that aguachile isn't just about adding heat. "I like spice as a depth of flavor," he says. "Spicy food shouldn't be advertised as only being hot." This concept is kindred to the core foundation of moles, a Oaxacan staple comprised of dried chiles combined with dried fruit, nuts, spices, and herbs, and sometimes chocolate, ground into a paste. The two sauces (aguachile and mole) deliver a similar effect: They elevate otherwise prosaic proteins by balancing out heat with sweet: one with fresh fruit and chiles, one with dried versions. One is a crisp, juicy way to highlight bright, oceanic flavors, and the other is a warm, roast-y sauce that can hold up to richer cuts of meat.
Aguachile has been made for well over a century in Sinaloa by filling a molcajete (mortar and pestle) with small, round, red chiltepin peppers and pouring enough boiling water over the top that the chiles could be mashed into a peppery paste. The heat is called arrebatado, or "speedy"; it comes on strong and fast but doesn't last long.
The aguachile canon has expanded from this original formula to include other styles, making way for red (rojo), green (verde), and Nayarit (a regional style made a little further south down the coast) versions, all of which use fresh chiles and get a good dose of lime juice and salt to balance out the heat, often followed with a handful of chopped cilantro for an herbaceous punch. The sauce serves as a base for so-called "spicy ceviches," traditionally mixed with camarones or callo de hacha (sea scallops) and cooling chunks of cucumber and slivered red onion.
Steele's use of ripe strawberries isn't typical of aguachile, nor is hibiscus's dry, cranberry-like tartness. These ingredients are more regularly seen in Mexican drinks like aguas frescas and margaritas, but Steele knew their fruitiness would work. To boost their presence, Steele adds citric acid instead of lime juice. "I wanted an acid that would balance out the sweetness but wouldn't overpower the flavor," he says. The brilliant magenta result is fruity, floral, and fiery.
Other sets at Claro may include baby squid and summer melon, roasted tomato and hamachi, and in the early fall, the aguachile will likely change to a base of Granny Smith apple juice, a vegetal chile like a green serrano, wild king salmon for color and contrast. Like a fruit-based ocean for raw fish, "almost too sweet, too spicy, like music that's turned up almost too loud," says Steele, "you feel it." It doesn't ring in your ears, but of course you can clearly understand what it's saying.
Photos: Michael Harlan Turkell