A Cookbook Collaborator Writes Her Own Story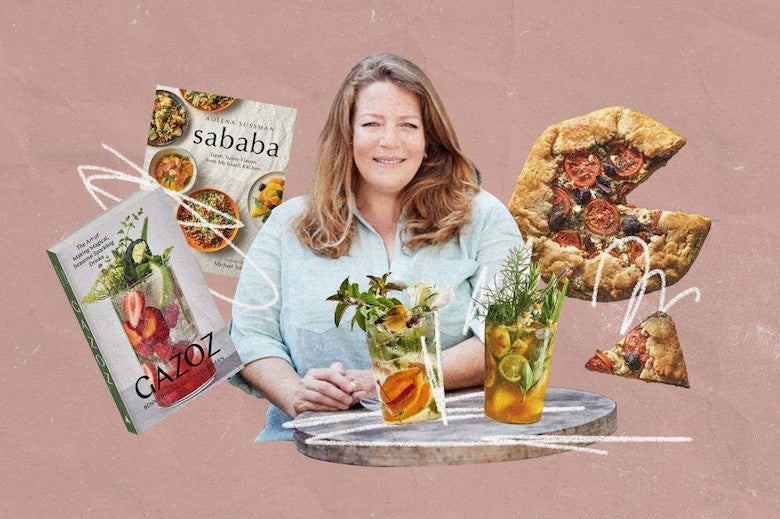 For Adeena Sussman, gazoz is a fizzy, refreshing jumping-off point to tell the story of the modern Israeli kitchen.
Fun to say and easy to drink, gazoz is the light and effervescent drink perfect for these late-summer nights. It begins with a base of sparkling water (soda, seltzer, LaCroix) and adds layers of herbs, fruit, and sweet-and-sour ferments. While the name's origin is Turkish, gazoz rose to popularity in Israel, with the first stall popping up on Tel Aviv's Rothschild Boulevard in 1911. "If you went to somebody's home, that's what they would give you," says cookbook author Joan Nathan, who lived in Israel in the 1970s. (Read Devra Ferst's 2018 TASTE story for some fascinating history.)
Thrusting gazoz into the future can be credited to Benny Briga, the owner of the Café Levinsky 41 stall at Florentine's Levinsky Market in Tel Aviv. Briga is the daddy of a gazoz boom that saw his sweet-fermented pomelos, juniper berries, and Italian plums turned into fizzy works of drinkable art. For real, the IG don't lie. And it was longtime cookbook collaborator and Tel Aviv resident Adeena Sussman's job to coax a book out of Briga, which was released in June and is absolutely stunning. Sussman has coauthored 14 books, including three with Chrissy Teigen (the most recent, Cravings Together, out October 12), and in 2019, she released her own debut, the highly personal tribute to shuk cooking and food life in Tel Aviv Sababa. I recently caught up with Sussman, who helped co-edit TASTE's Israel Issue back in 2018, to talk more about the fizzy life.
Let's start with the new book, Gazoz. What is gazoz, in your words, and how is it tied to the history of Tel Aviv?
The word "gazoz" actually comes from a Turkish term, and if you search for "gazoz" on Amazon, all these imported Turkish flavored sodas come up. Gazoz, to me, is a cool, seltzer-based drink that has some sort of a fruity element. In its initial incarnation, it was very artificial; it was sort of a colored sugary syrup that you added to seltzer to cool off on a hot day. I kind of think of it the way that Americans would think of sidling up to the soda fountain to have an egg cream or a root beer float. In Israel, there were these little kiosks where they would advertise, "We sell gazoz here," which was a way to level up your basic glass of seltzer.
Early Tel Aviv has a very Sephardic, Mizrahi, and Ashkenazi twist. And gazoz, I think, definitely had an appeal for Eastern European immigrants, who were used to drinking bubbly water in their original homes. And over time, as Israel modernized, it became associated with an older generation. Then it started to be called "gazoz shel paam"—"shel paam" technically means "of another era."
But then it had this moment where the old turned new. It became hip.
Like all things in Israel, as Israel has aged and matured as a country, people have started to look back to traditions of the past. About ten years ago, people started looking at food trends that were unique to and local to Israel, and gazoz was one of them. And there was this one man in Tel Aviv, this nature magician, Benny Briga, who opened a little shop in South Tel Aviv.
How cool is Benny?
The coolest dude, coolest vibe—a timeless human being. I kind of think of him as an urban sprite. He's just an incredible person, and I was privileged to know him personally at the beginning of his gazoz journey.
So, clearly, this is just an extension of the massive interest in food from Israel.
I think food and food ideas, you know? To me, gazoz is as much a concept and a vibe as a product. And that is true of, I would say, Israeli cuisine as well. It's about casual entertaining and vegetable-forward eating, gathering ethnic traditions and polishing them up and showing them to the world and sharing different things. And gazoz, in its own way, through its deep connection to the Levinsky Market and all of the products that come from there, and all of the cultures that emanate from there, and Benny's personal background as a Libyan Israeli—Tripolitai, as Libyan immigrant Jews call themselves—it all comes together in this unique way. He's doing fermentation and zero-proof cocktails, essentially. He's doing all kinds of things that are happening right now.
Let's talk about the actual home cooking, how it really aligns with the nonalcoholic (NA) drinks movement—because this is just a different version of NA, using sour and vegetal flavors, using fermentation. So how, as a home cook, would I actually use your cookbook?
We tried to figure out how to name what Benny does, and we came up with this term called "sweet fermentation." When people think of fermentation, they think of really sour, vinegary flavors, but Benny uses sugar as the base of his work. He suspends the freshest produce and spices in sugar and allows them to ferment briefly. It's less like making kimchi or sauerkraut that you can have sit in the fridge for a long time or that take a long time to come to life. Within a few days, you can have something that's very seasonal, and you can use it pretty quickly, or you can put it in the fridge for a couple weeks.
Your first solo book, Sababa. I love it. That book absolutely captivated a younger generation of home cooks looking to make the Israeli food they loved from restaurants. What was it like, writing as a full-throated author? You came up through the world of collaboration.
I think it succeeded because of those books that came before it, that really primed the pump for people's interest in this cuisine. People like Michael Solomonov, Einat Admony, Sami Tamimi—and when I talk about the influences of Sababa, obviously, there are Israeli influences, Palestinian influences, and influences of every other culture—and books that came before this one. Why the book succeeded? I think part of it was fortuitous timing. The book came out before the pandemic, and I was able to do a proper book tour and connect with lots of people. I had worked in the food industry for a solid 20 years before I authored my first book, and I really tried in my time to support other authors, journalists, writers, and people, and to just be positive and contribute something positive in the scene, and I feel like it did come back in terms of support from the industry.
That aside, I tried to take a very personal approach and a very home-cook-centric approach to Israeli cuisine. I cook the way that any average home cook cooks. They see a half-finished jar of pomegranate molasses in their pantry, and they want to know, "What the fuck am I going to do with this before it expires?" or, "How can I not waste this?" I just tried to apply a practical resourcefulness to the recipes and also lend people an idea of what it's like to be an American living in a foreign culinary culture.
This interview has been edited and condensed for clarity.
BOOKS TO BUY, READ, AND COOK FROM:
Last week, we spoke with artist Stephanie H. Shih, who turns Kraft Singles and cans of sweetened condensed milk into ceramics worth pondering.
In his insightful memoir, chef Peter Hoffman looks back at every crucial aspect of a restaurant, from the daily farmers' market haul to the lifesaving refrigerator repairmen.
Thinking about trying your hand at South Carolina barbecue? Rodney Scott's World of BBQ will show you the way.
Preorder Vallery Lomas's Life Is What You Bake It, and your September baking will thank you.
Michael Twitty's Rice tells the story of the grain's significance in African diasporic food culture in recipes for dishes like pilau, jollof, Ghanaian crab stew, and Savannah rice waffles.