Meet the Artist Putting Heinz Ketchup in Museums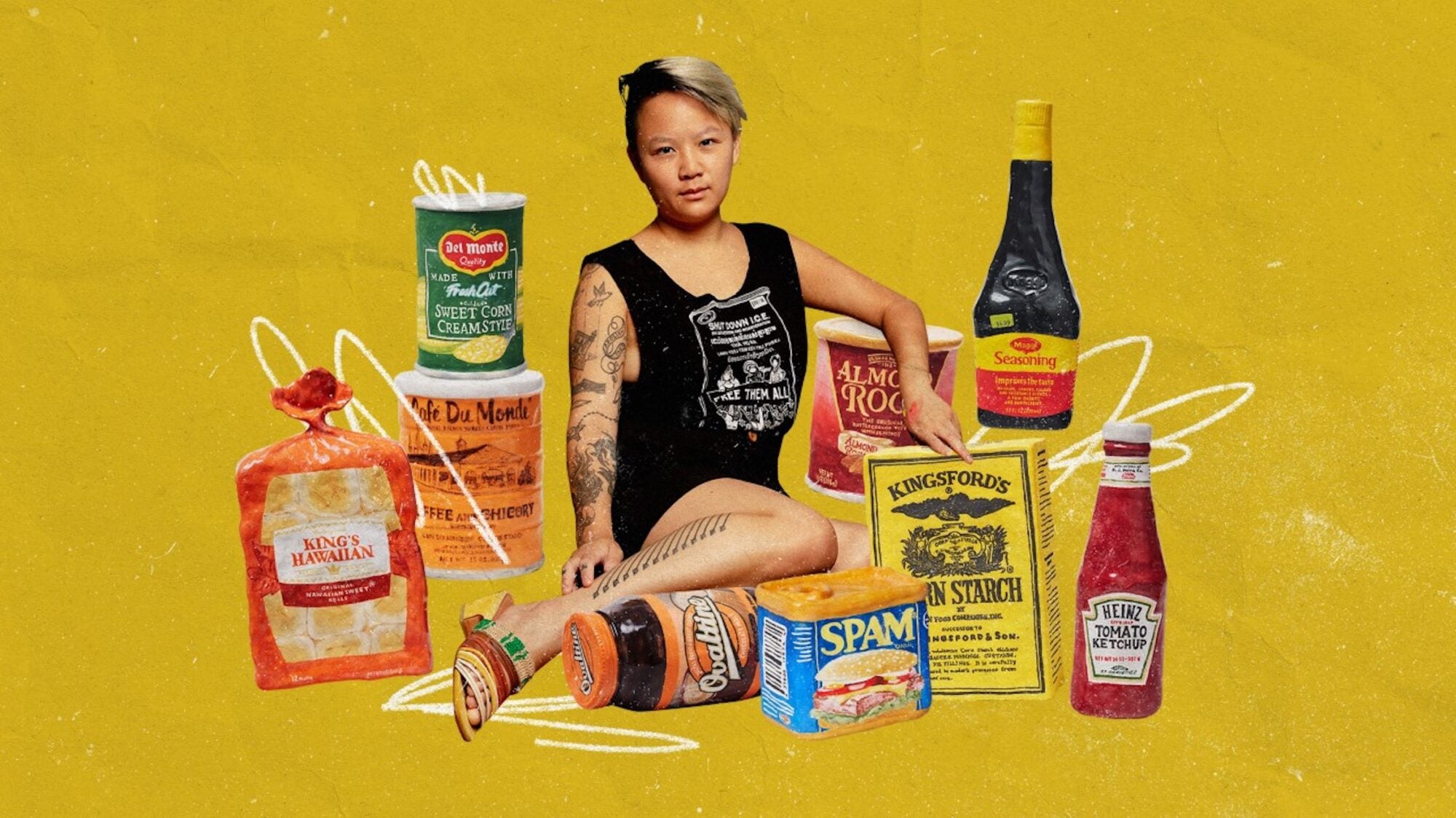 Stephanie H. Shih turns Kraft Singles and cans of sweetened condensed milk into ceramics worth pondering.
The grocery store looms large in the modern imagination. It's been the subject of game shows since Supermarket Sweep first aired in the 1960s. It's been a creative gold mine for everyone from Allen Ginsberg to the Raincoats, the Clash, Raffi, and Wu-Tang Clan. And even at moments during this past year when trips to the grocery store began to feel fraught and dangerous, people began to find comfort by purchasing miniature plastic versions of their favorite grocery items.
For New York–based ceramic artist Stephanie H. Shih, ordinary grocery store products like bottles of Heinz ketchup or tin cans of Nestlé Carnation sweetened condensed milk can be a starting point for talking about immigration, colonialism, assimilation, and Asian American culture. Many of these bottles and cans are common sights in everyday life—not something you would ever give a second glance before grabbing them from the shelf and tossing them in your cart. But Shih's hand-formed clay representations strip the objects of their ephemeral disposability and make you want to stop in your tracks and reconsider them.
Amid wrapping up some activism work (including a cool T-shirt collaboration with artist Kat Eng to raise more than $46,000 for Southeast Asian folks fighting ICE) and a new exhibition at Stanley's gallery in Los Angeles called "New World Mall," I talked to Shih (who's also one of my favorite people to follow on Instagram) about why food is so central to her work.
What made you decide to work with food as a subject matter for so much of your art? When you render a grocery item in clay, what changes for you about that grocery item and what it symbolizes?
Food is incredibly personal, and so it's a part of how we see ourselves. For me, it's a lens through which to explore identity, cultural interchange, and consumerism. My process forces me to think about the role each grocery item plays in Asian American culture and how it got to be that way—whether it was colonialism, assimilation, or good old-fashioned marketing.
Tell me about "New World Mall," your current exhibition at Stanley's gallery in LA!
The show includes 30 hand-painted ceramic replicas of everyday groceries that are Western in origin but, for Asian Americans, somehow uniquely ours, too. The most iconic example is probably SPAM, which made its way to Asia as an American military staple during World War II and is now a vital component in dishes like Filipino embutido (meat loaf), Korean kimbap (rice and seaweed rolls), Japanese chanpurū (tofu stir-fry), and Hong Kong macaroni soup. I wanted to challenge the idea that culture and cuisine are fixed in time by underlining all the ways outside forces have already shaped our "authentic" or "traditional" foods in the past.
I was reading Jean Trinh's story about the show in the LA Times, and it mentions that a lot of the work in the show actually depicts product labels and packaging from the '80s and '90s. It's such a great, subtle way to recast grocery items as enduring relics. What was important to you about portraying products from this era?
There was a huge wave of Asian migration to the United States in the '80s, and so there's this entire generation of Asian American kids born to immigrant parents shortly thereafter (myself included!). I've thought a lot about us as a cohort—how we perceive ourselves, how we're perceived by mainstream culture, what our relationship to our parents' culture is—and, in a way, that's who I'm making the work for. Choosing packaging from this era is a nod to that time of migration.
How have you been going about tracking down these older versions of labels? Has this led you down any weird paths for research? Do you have any white whales in terms of finding these retro versions?
I have an incredible assistant, Alli Gelles (an artist in her own right who uses cake as a sculptural medium), who helped me with the research for the show. Some labels have barely changed since the '80s, and others have well-documented brand histories detailing all the packaging updates through the decades. But for trickier items, we would screenshot old commercials on YouTube or look up old magazine ads. The one that stumped us the longest was Birds Eye green peas, both because there were so many bag variations across regions and also because most of the marketing only showed the peas, not the package. (We did, however, discover this incredible pea car from a UK TV ad circa 2005, so it was all worth it.)
Any favorite grocery stores in New York to shop for food or inspiration?
I love to do my grocery shopping down in Brooklyn Chinatown whenever possible, getting my meat, fish, and produce from whatever storefronts have the best-looking product on a given day, and then heading to Fei Long for the rest of my groceries.
This interview has been edited and condensed for clarity.
BOOKS TO BUY, READ, AND COOK FROM:
Last week, we spoke to author and podcast host Meredith Erickson about Canada's rich and underrated food identity.
Nadiya Hussain, a Great British Baking Show fan favorite, is back this fall with Nadiya Bakes.
Antoni Porowski's Let's Do Dinner is coming this September. A couple years ago, Porowski took us shopping for Polish groceries in Greenpoint.
Thinking about trying your hand at South Carolina barbecue? Rodney Scott's World of BBQ will show you the way.
No matter where you live, you can always visit All the Restaurants in New York with John Donohue's minimalist, two-color line drawings.