Antoni in the Land of Kielbasa and Sauerkraut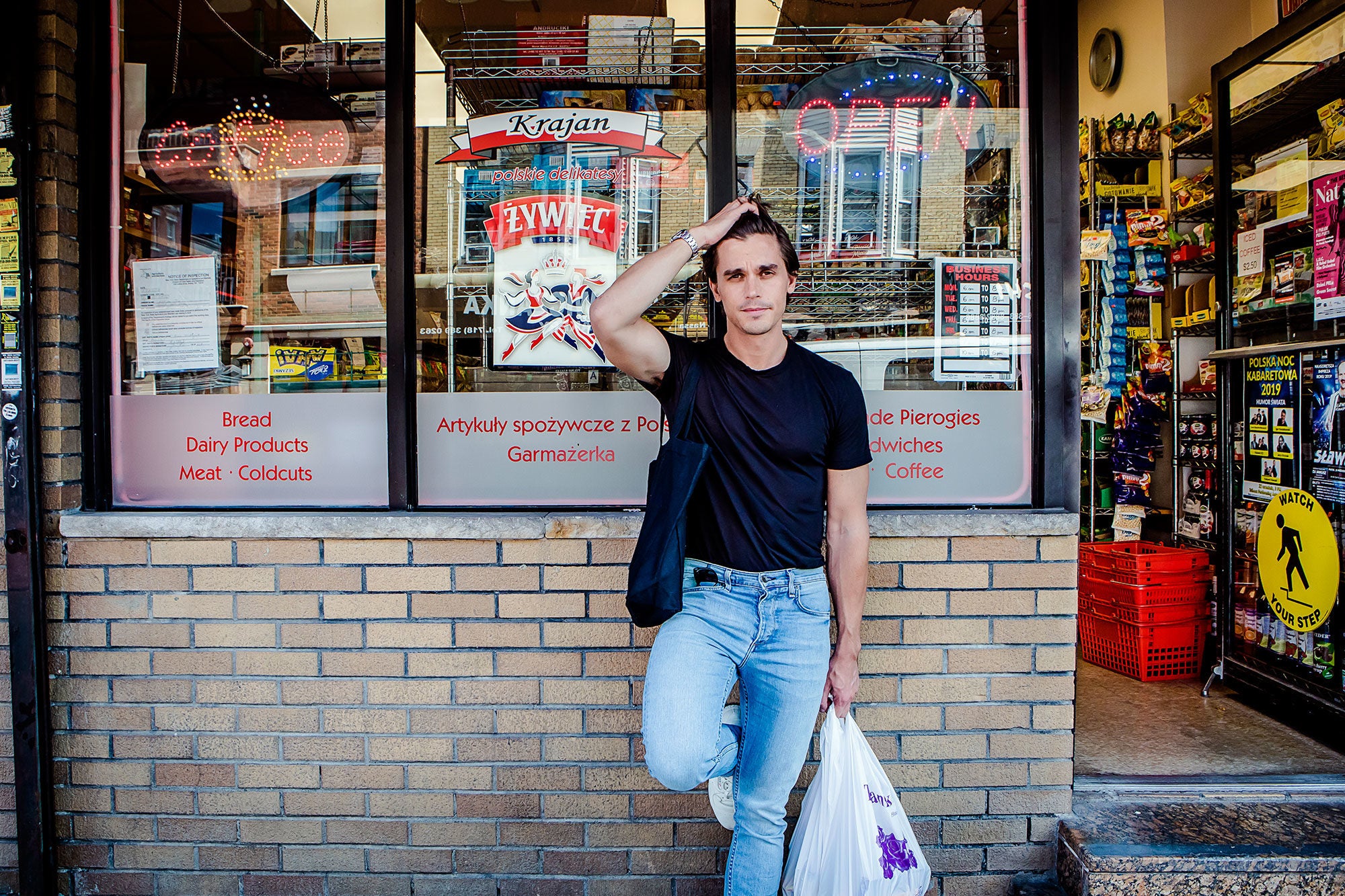 The Queer Eye cast member knows more about food than you think—and he's gone back to his Polish roots to prove it.
"Wait. Oh, my God. Okay. Wait. This is it. This is IT." Antoni Porowski crouches on the dusty floor of Krajan Polish Deli, in Brooklyn's Greenpoint neighborhood, before a yard-long shelf display of mayonnaise.
"This is Majonez Dekoracyjny," he gasps. "I don't know why it's called this, but it's called 'decorative mayonnaise.' That's literally what it translates to. This. Is. The. Best."
With his tailored pastel blue jeans and bronzed cheekbones, the 35-year-old Queer Eye cast member and former model is slightly out of place among the tiny deli's clientele (mostly gray-haired and searching for kielbasa with furrowed brows), but he blends in with the occasional apologetic "przepraszam" when he finds himself blocking someone's way, or a gentle "na zdrowie" when someone sneezes.
We are here on this particular humid Sunday afternoon in August to sample translucent deli slices of headcheese, shop for sharp mustards, and talk about Porowski's new cookbook, Antoni in the Kitchen, which blends the type of accessible everyman cooking he evangelizes on Queer Eye with the dishes of his Polish family. While Porowski's cooking on the show veers toward a TV-friendly cocktail of health-conscious citrus salads, fancified grilled cheese, and guacamole (with yogurt in it for some reason), the book serves up a bit more personality. There's pickled herring, sauerkraut, and strong borscht opinions peppered throughout the hundred recipes.
"It felt a little like a homecoming in a sense," he says as we peruse instant soup packets. "Pork chops and potatoes and sour cream are part of who I am."
A stroll through the tiny shop brings back a flood of memories from his roots in Montreal and West Virginia as the kid of immigrants. There's the unmistakable chicken suspended in jelly that he remembers eating for Easter with a drizzle of white vinegar. There are the Wasa cracker and deli cheese "tartines" he used to bake to resemble pizzas. There are the makings of his childhood signature drink of bottled apple juice and Perrier on ice ("That was my jam"). There is the soup full of beef tripe ("It tastes like a delicious al dente pappardelle") that was beloved until age eight, when he discovered what tripe is.
Passing by the multicolor packets of Kisiel (a sort of fruit-juice-and-Jell-O hybrid) reminds Porowski of childhood summers doing "Polish activities" at camp in Waterloo, Ontario—picking wild strawberries, making popcorn, doing craft projects.
"You know what?" he realizes. "I think they were just activities, and we happened to be Polish."
Standing before a refrigerator case full of pickled herring, Porowski's excitement is infectious, insisting that a jar of the pickled fish in cream would be enough to convert any skeptic. "While most kids, when they go to Ikea, are obsessed with the meatballs, I always went after their selection of pickled herring," he says.
On Christmas Eve, his family would eat the fish three ways (a pared-down version of the Feast of the Seven Fishes)—in sour cream, swimming in oil and allspice, and on little skewers with preserved cherries. For home cooks in 2019, his cookbook reimagines it as rye bread "tartines" (he is a big fan of this word), with sour cream, radish, and crisp apple.
Holiday time spent in the kitchen with his parents and two older sisters seems to inform Porowski's cooking far more than any of his professional experience (before becoming a TV personality himself, he was a personal chef for Queer Eye alum Ted Allen). Hunter's stew, or bigos, is a perfect example of this, building layers of flavor from scraps of leftovers—funky sauerkraut, sweet cabbage, salty kabanos, and smoky kielbasa. "My dad always said, once you make it, you want to heat it up again just to let it cut through, just like you would with a Bolognese," says Porowski, who recommends eating the stew with fresh rye bread piled high with very cold butter.
"My dad will take a bite [of the bigos], and then take a bite of the bread. But I actually like to make it like a tartine. You get the warm caramelized prunes, and then the red wine that's cooked down with little chunks of mushroom, and the meat where the fat's been rendered, so it's nice and crunchy."
Bigos is one of the few Polish dishes Porowski has made while entertaining friends in New York. Even zurek, a starchy, sour soup that he loves (and a hangover silver bullet), is a dish he mostly reserves for visits to his family (although a recipe appears in the cookbook). "It's the type of thing that you want to make in a large quantity," he explains. "And being single in New York…"
While Porowski could speak for hours about all of the smoked sausages that can be found in Greenpoint's handful of remaining meat stores, he recognizes that the melting pot of America encourages cultural camouflage in a way that his Canadian birthplace doesn't. And of course, this applies to food as much as it does to religion, language, or any other piece of culture. "People seem to retain a lot more of their heritage there."
When I ask him the most important question of the day—"Is Polish food cool?"—he laughs nervously. "Polish food does have a bit of a bad rap. It's very carb-y. These are all very humble recipes. High on the starch and the potato."
But a few beats later, he interrupts himself from a reverie about the refreshing chlodnik (chilled borscht) that his father insisted he include in the book, confettied with tiny cubes of cucumbers and pickles and invigorated with heaps of sour cream and dill. "I'm going to go back to your previous question," he says. "I think chlodnik is cool as fuck."