Untangling Canada's Food Facts and Fictions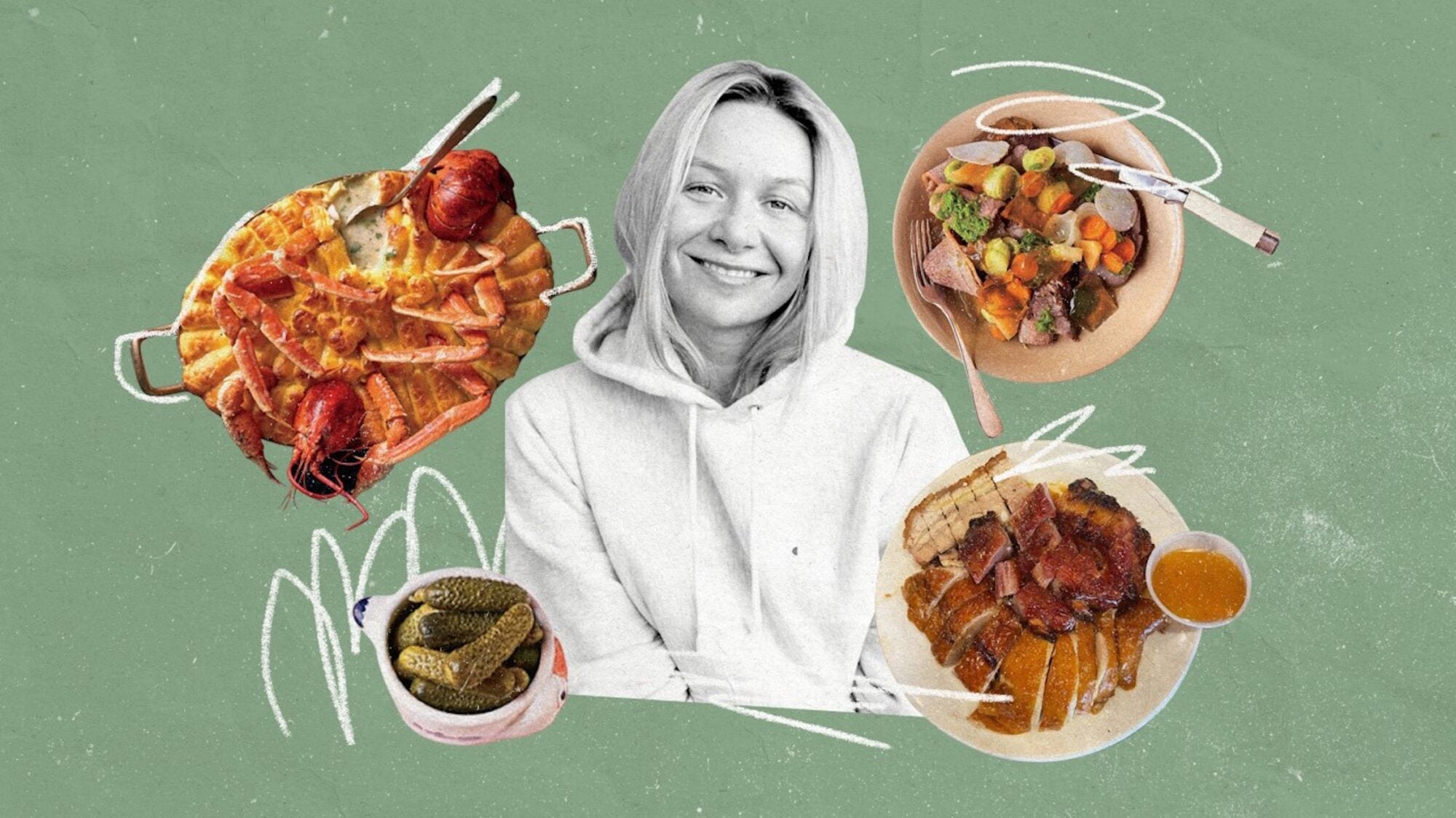 Cookbook author Meredith Erickson has done her homeland justice with the exciting podcast series Field Guide to Eating in Canada.
Simply factoring in the maple syrup, progressive rock, and halibut by the boatloads, Canada—a country of nearly 40 million stretching along America's northern border—has a lot to brag about. But bragging is hardly the Canadian way, especially when it comes to acknowledging a homegrown food culture that rarely gets the attention it deserves. "One realization I had over the last decade or so when speaking with Canadians is that we often reference American food personalities rather than our own," says Meredith Erickson, a longtime cookbook author, skier, and proud Montrealer—who has released an enlightening and action-packed podcast series, Field Guide to Eating in Canada, in partnership with Audible.
"Who are our equivalents on the Canadian landscape?" she says, citing Michael Pollan, Alice Waters, and Dan Barber as big thinkers in American food. The question is answered in the ten-episode series that kicks off in Montreal and snakes through Ottawa, Toronto, and out west to British Columbia—where an episode tackles Richmond's incredible Chinese scene that many have called the best in the world outside its land of origin.
Erickson, who most recently published books covering Friuli Venezia Giulia and Europe's unique alpine cuisine, has lived abroad in a few countries, but she considers herself deeply proud to be Canadian. "The farmers, bakers, seed savers, winemakers, and, yes, chefs and restaurateurs—that's who we're shining a light on." I got in touch to find out about the pressure of covering a country's cuisine, Erickson's Toronto restaurant hit list, and the time she ate fresh cod and drank Domaine Alice et Olivier De Moor Chablis on the edge of a roaring St. Lawrence River.
What is the single biggest misconception about Canadian food?
That Canada has no food identity. That's because, I suppose, we have few "national dishes," which is similar, in a way, to the United States. You have the hamburger; we have poutine and butter tarts. Our identity is really tied to our regional products, and that's where the gold is. I'm talking about oysters from Prince Edward Island; crab and lobster from Gaspé; blueberries from around Lac Saint-Jean; Ontario produce like apples, corn, rhubarb, and wheat from the prairies; viniculture in British Columbia; and more great seafood on the Pacific coast and Gulf Islands. So our identity is inherently woven together with the abundant diversity of products from province to province.
How did you get this ridiculously rich assignment to cover the foods of an entire country, Canada, in a podcast series? Did you pitch it? How long did it take to report it?
I'm working on a Canadian book, and it's going to take me at least four years to create it in my way, but that's what I'm doing. Around the time I signed that book deal, I serendipitously heard from Audible, as they were wanting to go beyond audiobooks and create original content, and they wondered if I would be interested in creating something in the food realm. I said I wanted to do a field guide to eating in Canada. Et voilà! It took about a year and a half from start to finish (research to final audio production) for the first season.
Was there any other choice than starting in Montreal? What do we learn about the eating there?
Montreal was always going to be my first episode. It's the place I got my start, and so it was only natural. There are three interviews in this episode: one with Fred [Morin] from Joe Beef, my close friend and coauthor. Fred's always thoughtful and entertaining, and we talk about the art of dining in Montreal and what that means. Then I have lunch at Olive et Gourmando with another friend and colleague, Dyan Solomon, the chef/owner. Dyan and Fred worked at Toqué! together in the '90s, and that was really a whole other era in Montreal. There are good nuggets in there for restaurant fans, and if you haven't been to either spot—well, I think this episode will make you want to book a train to Montreal as soon as possible. And if not, the third interview, with Pete [Varvaro Jr.] from Smoke Meat Pete, should hook you.
You spend a bunch of time in Toronto and southwest Ontario, locations easily accessible to Americans (when the border opens, of course). Give me your weekend eating plan for Toronto.
My hit list in Toronto is varied and too long to print here, so I'll just say that on the podcast, we have two episodes dedicated to Toronto: one is about Italian food and culture in Toronto, and the other is about Egyptian food and culture. I focus on Forno Cultura (the best biscotti ever, including what I have in Milano, where I live) and Famiglia Baldassarre for Italian, and Masrawy Kitchen (in Mississauga) and Maha's for Egyptian. Eqypt has been on my travel wish list for years, and this only accelerated that dream.
Canadian seafood has a profound reputation. What's the single best seafood item you ate while reporting?
Fresh cod at Le Mini Casse-Croûte in Rimouski. I've never had a fish so fresh. We ate it with French fries and coleslaw and a bottle of Alice et Olivier De Moor Chablis in a parking lot on the edge of the St. Lawrence River, where the river starts to widen and become quite wild. It's a last meal kind of vibe for me. My book will have a map of all the best casse-croûtes so readers can make a summer road trip of it.
Switching gears, what is your next book (or books) project on the horizon?
I'm currently splitting my time between Milano and Montreal, which reflects why I'm working concurrently on two books, the Canadian project and also Alta Italia, all about Northern Italy. It's basically a road trip from Liguria to Venice with all the best stops along the way. Horrible work, I know.
What region of the world would you drop everything to visit (and write a book about)?
It's really freeing to go on a trip and not write a book. To be, like, only passively curious is very relaxing. One of the best trips I ever went on was a five-day trip to Hong Kong with a good friend in 2019. I don't think I slept at all. What an intoxicating modern city—and it's tropical! It really got me out of my own head, which for a writer is such a gift. But I would be remiss not to say that, if you can't get all the way to Hong Kong, you should try going to this little BBQ joint in an underground strip mall in Richmond, BC. It's out of this world, and better BBQ than I had in Hong Kong. We did a Field Guide episode about it—obviously.
This interview has been edited and condensed for clarity. As of this publication, Canada plans to open its border to American citizens and permanent residents on August 9.
COOKBOOKS TO BUY, COOK, AND READ FROM:
Last week, we caught up with Julie Gaines, the owner of NYC's Fishs Eddy, who is collecting dishes to document America's history of roadside diners, airlines, hospitals, and country clubs.
Italian American is the reimagining of classic recipes from the celebrated husband-and-wife chef team of Don Angie in New York City.
The Korean Vegan Cookbook is the debut cookbook from popular YouTube star and hypercreative vegan Joanne Lee Molinaro.
You know that handful of ingredients you somehow always have in your refrigerator? These are the starting points Lukas Volger uses to jump into a slew of never-boring meals to get you through the week in his latest book, Start Simple.
TikTok star Joshua Weissman will release his debut cookbook, Joshua Weissman: An Unapologetic Cookbook this September.
Angular Cookbook features "over 90 recipes to develop your enterprise-scale web development skills with Angular 12 and above," and we don't really know what that means, but color us interested in throwing some of this on the barbecue.