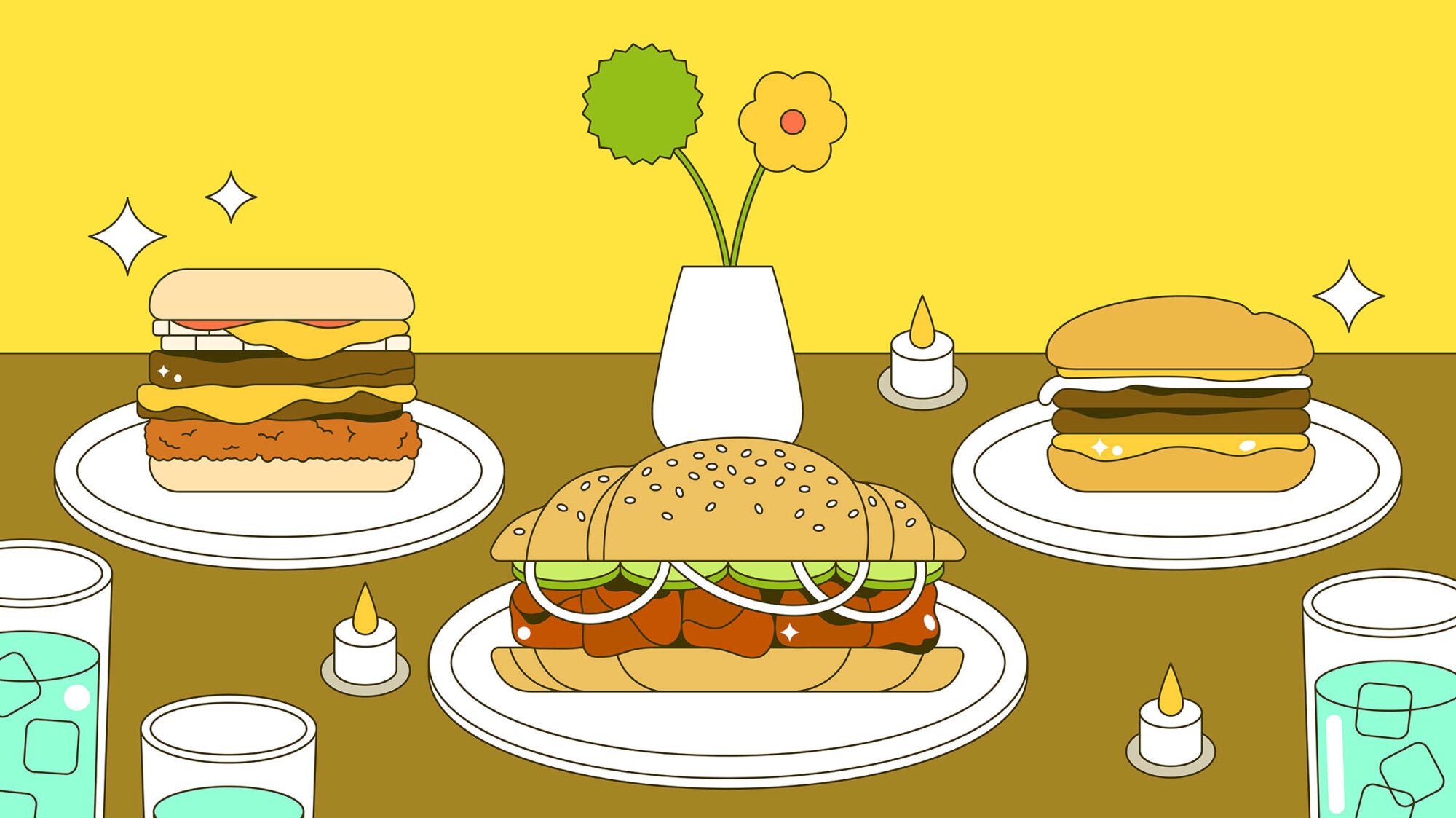 From the Char Siu McRibs to a fishball-inspired Filet-o-Fish, ambitious chefs are merging nostalgic drive-through fare with flavors from their heritage.
At Molly's Rise and Shine, chef Mason Hereford's New Orleans temple of classic Americana breakfast fare, everything, from the crispy fried chicken on a biscuit to the tamales topped with salsa macha, is served with a heaping side of nostalgia. The walls are loaded with what appears to be the top-shelf treasures of a '90s toy box: a life-size reproduction of E.T., a cardboard hoverboard from Back to the Future Part II, and a prodigious number of Mr. and Mrs. Potato Heads.
But perhaps the most potent time capsule is their Grand Slam McMuffin, a delightfully unholy union of the Denny's Grand Slam breakfast and a McDonald's Egg McMuffin. It's a breakfast sausage patty topped with thick-cut griddled onions, melted American cheese, and a fried "McDonald's-style" hash brown patty, all on yeasty house-made English muffins gilded with a delicate squirt of ketchup on each side—a move Mason did while visiting McDonald's as a kid in Virginia.
"We assumed that if we were going to get a cease and desist, it would be funny, and we'd just change the name, but that hasn't happened yet," Hereford admits with a mischievous laugh. "We put the two together because it reminds you of some of your first breakfast experiences outside of your parents' kitchen, or whenever you were first eating breakfast," he says.
Hereford first developed the sandwich as the sole breakfast item at his world-acclaimed (and outrageously trippy) sandwich shop Turkey and the Wolf, where the team went through more than ten iterations to dial in each component (from the condiments to the bun). "We did all sorts of cheffy stuff to try and make it interesting and unexpected, yet we ended up with a regular breakfast sandwich with ketchup, onions, and cheese," he says. "I guess simple and obvious was the best all along." When Molly's Rise and Shine opened in 2018, the Grand Slam McMuffin was the first dish on the menu.
In this late stage of the farm-to-table , it's common to see farm names listed alongside menu items. It's as common of a kitchen ethos as washing your hands: a selection of dishes driven by seasonal produce and thoughtful sourcing. But lately, I've been noticing menu items finding additional inspiration from a place never seen on Chef's Table: the McDonald's Dollar Menu. While there's clearly more care put into the ingredients than the industrial produce and high-fructose corn syrup of drive-through fare, these menu items aren't simply artisanal versions of fast-food favorites, or worse, a high- in joke. Instead, some chefs are combining their McDonald's nostalgia with flavors from their heritage for a new meditation on the meaning of comfort food.
At Bonnie's, a new Cantonese American restaurant currently holding the title of perhaps the hardest reservation in Brooklyn, the dining room is constantly packed with buzzing tables clutching their MSG martinis and digging into plates of fuyu cacio e pepe mein. But since day one, Bonnie's best seller has been a glossy Char Siu McRib. Chef Calvin Eng lacquers steamed pork ribs in a satiny char siu glaze perfumed with Chinese five-spice powder before piling it on a fluffy milk bun baked on Bayard Street in Manhattan's Chinatown. The sandwich, a tribute to the McDonald's sandwich that debuted in 1981, is topped with a trio of raw white onions, bread and butter pickles, and Chinese hot mustard, staples of dim sum restaurants. The resulting bite draws from Cantonese roast meat traditions but adds a heavy dose of Americana.
"It is definitely the most Cantonese American dish we have on the menu, from the idea to the flavors," says Eng. "I always joke that nostalgia is my favorite ingredient. Most dishes on the menu are very personal to me and bring me back to a certain memory or time—this dish brings a lot of our guests back, too." The kitchen makes a staggering 350 McRibs per week, requiring a hefty 117 racks of ribs. And it's not the only McDonald's-inspired dish on the menu.
When Bonnie's was forced to close just two weeks after opening because of New York's Omicron surge in December 2021, Eng knew much of the menu wouldn't travel well enough for takeout, and he couldn't risk a negative customer experience so early in the restaurant's tenure. So the kitchen pivoted to a new theme he knew would (literally) deliver: McBonnie's. In addition to the Char Siu McRib, the team turned Bonnie's signature whole stuffed fish into a fish-ball-like take on the McDonald's Filet-O-Fish, mixing rainbow trout fish paste with minced shrimp, water chestnuts, and garlic chives to create a bouncy texture. It's formed into square patties, seared, then deep-fried before being topped with gingery tartar sauce and American cheese. It was such a hit that it's still on their takeout menu today.
"l cut out fast food in the past six months, but I make an exception for the McMuffin once in a while when I'm feeling nostalgic," says chef Wes Avila, the founder of popular Southern California taco shop Guerrilla Tacos. "That's the beauty of McDonald's: It tastes exactly how it did when I was growing up in the '80s." Avila's parents would drop him off at McDonald's on their morning commute to work in Pico Rivera, where he'd grab a Sausage & Egg McMuffin and a Sprite, no ice, before heading to school. It was more than a routine. It was a way of life.
"I always joke that nostalgia is my favorite ingredient."
A few months after Avila opened the innovative Angry Egret Dinette in Los Angeles Chinatown's Mandarin Plaza during the early months of the pandemic, he put the McTorta on the menu. The homage to his childhood breakfast is loaded up with two fried eggs from Chino Valley farms and several slices of melty American cheese, with a few deviations from the classic. The sandwich is snuggled together with a crusty bolillo roll from La Favorita Bakery, typically used for tortas (instead of the classic English muffin) and heavily seasoned gyro beef (instead of whatever weird hybrid "sausage" you'd usually be served). The modifications touch on Avila's Mexican heritage and his longtime neighborhood, Glendale, which has one of the largest Armenian communities in the country.
The fact that gloriously greasy, nostalgic menu items are a hit isn't exactly surprising. "I think a lot of people are striving for the 'Big Mac balance' in creating a composed dish," says Hereford, acknowledging how the acidic pickles add brightness to fatty meat and cheese in a near-perfect way. Avila adds that, as more and more diners return to restaurants, people seem to be looking for the kind of food they wouldn't dare to make at home.
And for folks who may have quit eating at mega fast-food chains after learning about the dubious labor practices and sourcing that goes into each Big Mac, finding familiar flavors reinvented in locally owned restaurants can be a balm. Sure, salads are nice. But when the time comes for comfort food, we're all craving bloomin' onions and mozzarella sticks, searching for solace in the melty embrace of a Filet-O-Fish.
Photo by Jonathan Hökklo