The Sweet Potato Taco With the Cult Following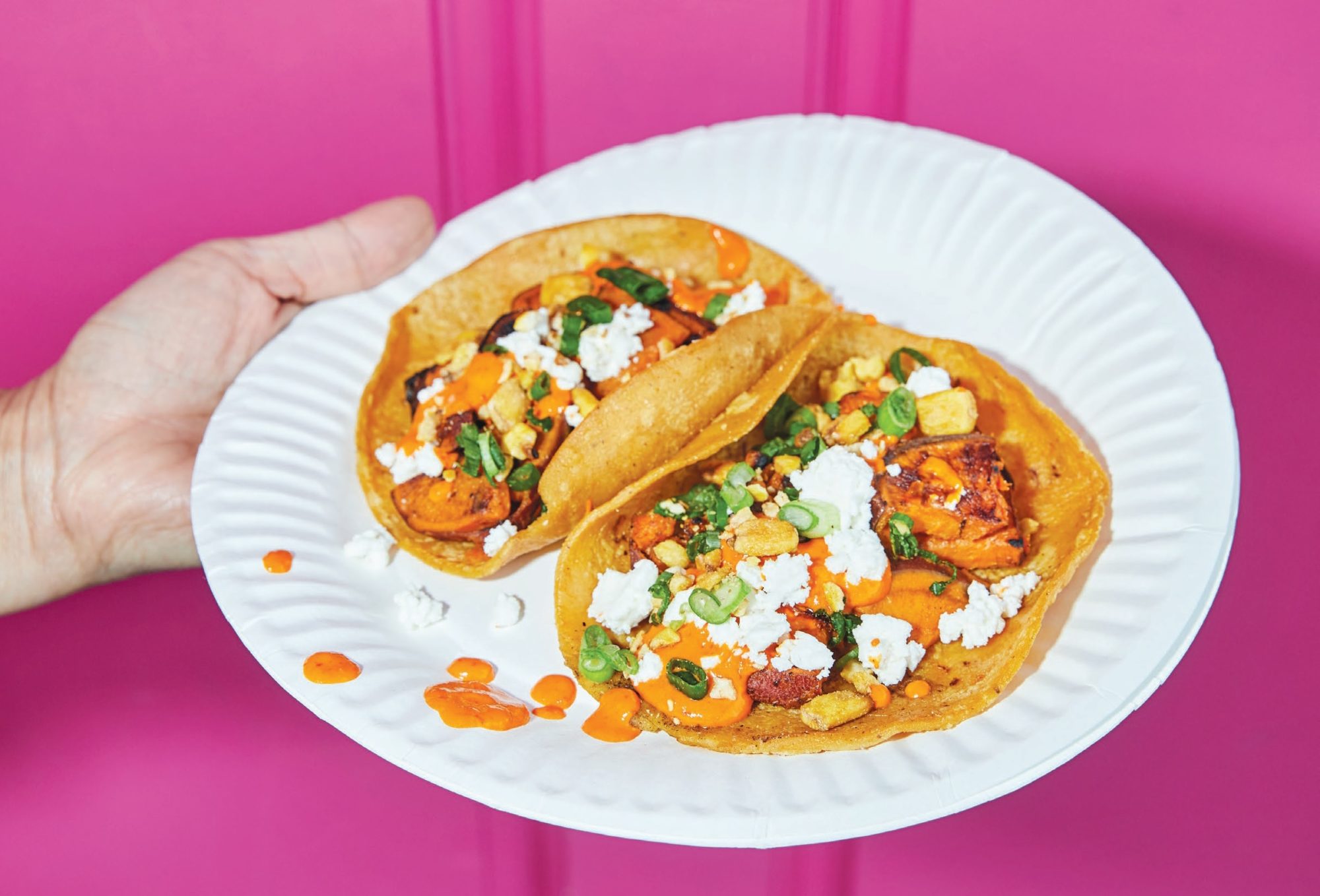 They say there's no such thing as fall in Los Angeles, but we do have Wesley Avila's sweet potato taco.
This autumnal taco is an unlikely favorite in a room-temperature town like Los Angeles: a pile of Japanese sweet potatoes (skins on), boiled in heavily salted water, sliced into coins and cooked to golden brown with thyme and a lot of butter; garnished with fried corn, crumbles of French feta cheese, diced scallions, and a thick, nutty chile de arbol/almond/roasted red pepper salsa that's equal parts romesco and taco-truck salsa verde. Corn tortilla, of course. It is Guerrilla Tacos' best-selling taco and the only taco served year round on a menu that otherwise changes constantly.
Since I coauthored the Guerrilla Tacos cookbook with Avila, people often ask me what to order at his popular L.A. food truck. And I always suggest ordering the sweet potato taco first.
Why? Because it's delicious and absolutely unique. Because when you bite into a Guerrilla Tacos sweet potato taco, you get sweet and fat and crisp and mush from the potatoes, sour from the feta, fresh vegetal bite from the green onions, spice and smoke and tart from the chile de arbol/almond/red pepper/tomatillo salsa—and the unmistakable crunch of a corn nut.
Why else? Because when when you bite into this taco, you're also biting into Wes Avila's life. Because this unlikely iconic dish—and its papery refraction, the recipe that opens our cookbook—are the result of continual influences and experiments and social coincidences that reach back to the chef's childhood.
Avila's mother, Judy, was always the cook in the family, and the Guerrilla Tacos cookbook is filled with recipes reimagined from her cooking. He dedicates the book to her memory. When Avila was still in high school, Judy succumbed to a quick illness and died. While the family was in mourning, Avila's aunt Hermelinda started bringing over reheatable dinners for Avila, his brother, and his sister. This was the chef's first potato taco.
"They were fucking bomb," Avila says. "Super peppery tacos de papa dorados. Mashed russets stuffed into corn tortillas, folded over and pierced with a toothpick to keep it all together, and deep fried in lard."
Tia Hermelinda would bring over Super A grocery market bags filled with these for the fridge, plus a big container of charred serrano and tomatillo salsa. The kids basically subsisted on them, pulling them out of the refrigerator to reheat as snacks.About a year after his mother's death, Avila's tia stopped bringing over as many meals, and he stopped eating potato tacos for the next 15 years.
"I refused to buy them in a restaurant. It was something you'd only make at home," says Avila.
In his 20s Avila started working in restaurants, but he had yet to make a single taco. He was going to be a fine-dining chef. During one unusually cold Los Angeles winter, working at Le Comptoir as a cook, he was making a lot of sweet potato soup with sherry, shallots, and braised leeks. Served with goat cheese and spiked again with sherry after being plated, it became one of Avila's favorite dishes. Several years later, Avila started making tacos at staff meals with leftover sweet potatoes prepped for the soup. He'd sauté them on the plancha with tons of butter and garlic and make a quick salsa: a tomato roasted in the flame of the stovetop, half an onion, a jalapeño, lime, salt.
"I just needed to feed the staff," he said. "So I made potato tacos. I wasn't thinking of my tia or my mother."
The first day Avila sold tacos from a cart on the street, there were just two tacos: chicken and steak, and he soon realized that he would need a vegetarian option.The first iteration was a fine farm-sourced potato—not yet a sweet potato—with roasted corn and a thick roasted tomatillo salsa. Basically, he realized, he was making his aunt's taco.
"They were good, but they were too home-style," he says. "I wanted to make something more unique, more me."
During an unusually cold winter, Avila recalled the sweet potato soup from Le Comptoir, and he based his dish on that. In the next iteration of the Guerrilla Tacos potato taco, he replaced the soup's goat cheese with a thick Oaxacan cheese melted on the tortilla. He kept the leeks, which he'd buy at the farmers' market and braise with wine, herbs, and spices at his apartment the night before service. He was starting out and doing very ambitious food. It didn't matter if it took too much time. It was more than subsistence.
A recent trip to Spain inspired an almond salsa closer to a romesco or ajo blanco than a Mexican salsa. Using a technique he'd learned in fine-dining kitchens, Avila soaked the almonds overnight and removed their skins for a cleaner, smoother texture in puree, and a brighter flavor as a garnish.
The taco was great—but it took forever to make, and cost too much. As the months passed, Avila did away with the Oaxacan cheese, which he'd started using in quesadillas instead. He replaced the leeks with scallions to save cost and the time of braising. And he tweaked the salsa to mimic a roasted red pepper and garlic spread at Carousel, a popular Armenian restaurant in his adopted city of Glendale.
One day he saw a bin of corn nuts in the market and realized he'd found the crunch that was missing from the almonds.
"I knew corn nuts would be money."
Somewhere along the way, Avila's wife, Tanya, suggested he look at the numbers to see which of the Guerrilla Tacos tacos was selling best."I was expecting the lamb or the pig head or the campachana with five kinds of fish and an oyster shucked to order," he said. But it was the taco full of sweet potatoes and corn nuts—a reminder of childhood and a reminder of fall in a city with no seasons.