Home Cooks Are Bravely Embracing the Bloomin' Onion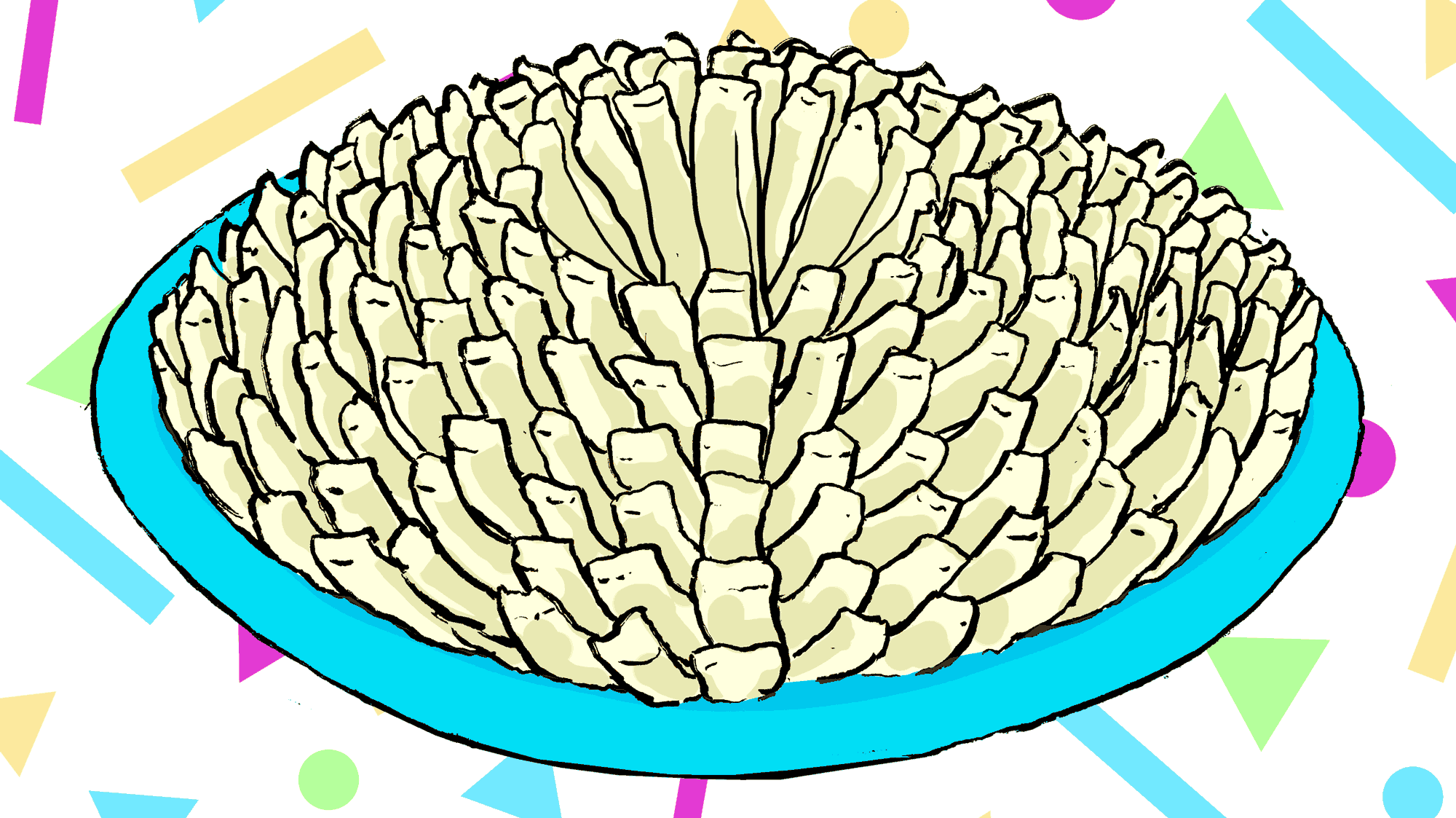 Yes, you can make the gloriously greasy restaurant appetizer in your kitchen.
On August 6, 2021, Zachariah Porter filmed himself frying an onion. To be more precise, he made a two-minute TikTok video in which he finds a Great American Steakhouse Onion Machine at the Savers in New Bedford, Massachusetts, and proceeds to use a plastic contraption that looks a lot like an apple slicer to make his very own, very deep-fried, whole blossoming onion—inspired by the iconic Bloomin' Onion appetizer at Outback Steakhouse (and countless other fast food chains and county fairs).
In the video, Porter cores a peeled onion, places it into the slicer, and prays for the best as he pushes down on the handles. After a successful cut, he coats the onion in batter—dry, wet, dry—then the camera cuts to the onion, bubbling away in a pot of hot oil. In the final seconds, Porter devours the sweet, softened onion and its darkened crust with plenty of Sweet Baby Ray's Secret Sauce, a creamy, horseradish-y dupe for Outback's accompanying condiment. After one particularly large, saucy bite, his eyes roll toward the heavens and his head shakes from left to right. "I can't even frickin' believe it. It's so good," he says. 
The Bloomin' Onion is seeing a resurgence on restaurant menus across the country, and home cooks are exploring a renewed fascination with the dish. Porter's video has a whopping 18 million views on TikTok, with comments like, "you are so inspiring," and "not me running 2 amazon 2 get one." Countless other cooks have shared their own takes on the homemade Bloomin' Onion, from miniature cipollini versions to substantially less greasy air fryer hacks. Clearly, this American classic is having a moment. Again.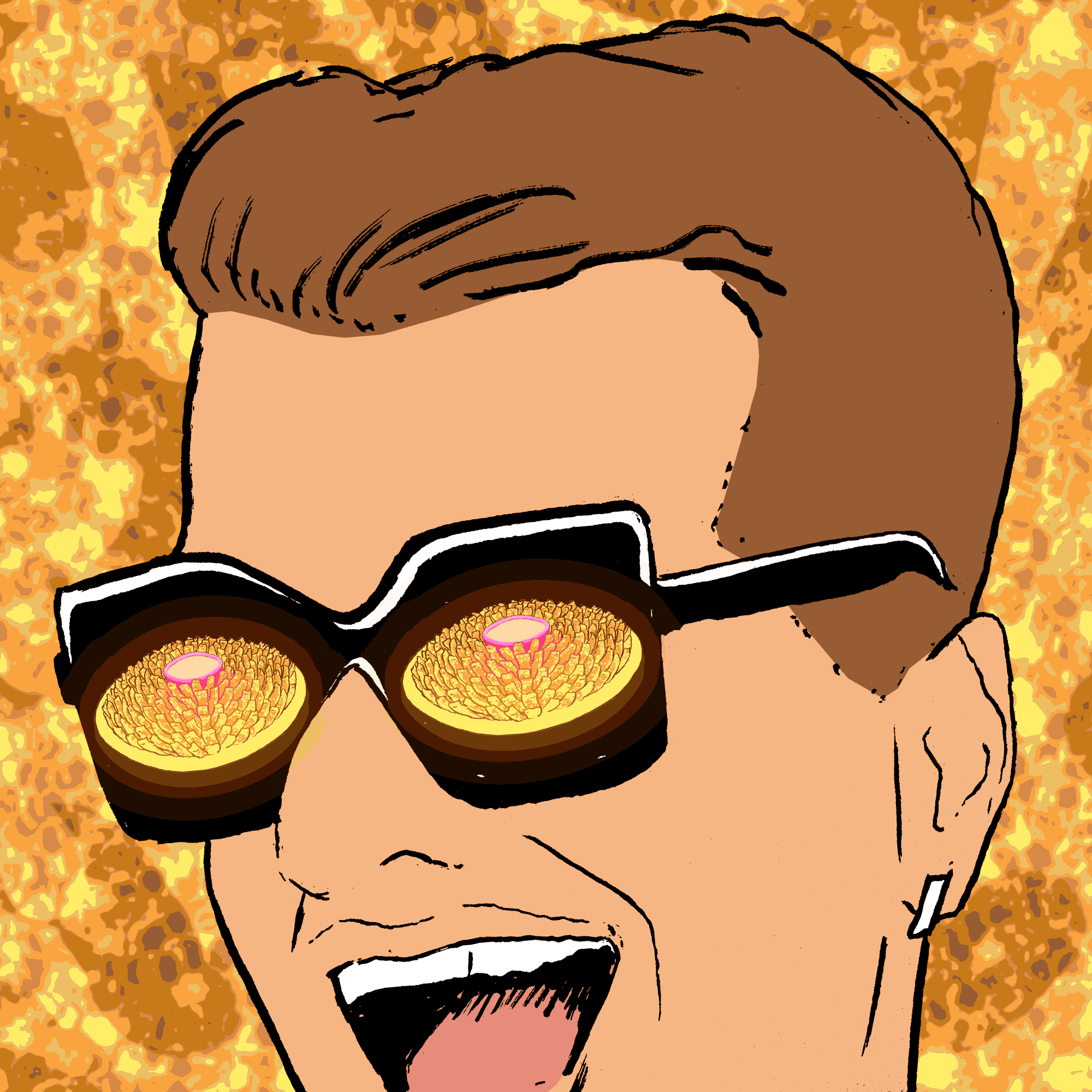 The Bloomin' Onion as we know it today originated in 1988, when Outback Steakhouse opened its first location in Tampa, Florida. It is essentially a whole raw onion, preferably a sweet one like Vidalia, carved up into dozens of individual slices, then battered and fried until the onion "petals" bloom in hot oil, transforming the workhorse allium into an extremely moreish, finger-friendly food. In sum, the Bloomin' Onion and its signature horseradish-spiked sauce are an ideal pairing—hot and cool, crunchy and creamy, fat and acid. 
"It feels like a food you shouldn't be able to make in your own house," said Porter when I reached out about his viral TikTok.
And yet it didn't take long for the Bloomin' Onion to make the leap from restaurant kitchen to home kitchen. Less than ten years after it was printed on the menu at Outback, author and attested "food hacker" Todd Wilbur cracked the corporate code and published a copycat version of the Bloomin' Onion recipe in his 1997 cookbook Top Secret Restaurant Recipes. (Outback has said that its onion batter contains 17 spices, so with just seven, Wilbur's recipe may be more of a close guess than an actual replica).
A few years after Wilbur's book was published, Bloomin' Onion recipes were blossoming across the internet. In 2001, Allrecipes published its own version, and by 2009, the Food Network was getting in on the bloomin' action. Judging from the constant supply of recipes and video tutorials since then, the precarious job of carving up the onion—which most recipes provide instructions for and which can be done with a good sharp knife—and the daunting task of deep-frying haven't been much of a deterrent for the home cook. 
"People are just curious to flex their culinary muscles," says Nicole Enayati, the senior culinary producer at the online entertainment studio Mythical, which released a Bloomin' Onion–inspired video in 2020. In Mythical's version, the onion is coated in crushed Funyuns, creating a mash-up of two beloved onion snacks. "Cooking is cool. You see the YouTubers, the TikTokers, and they're having so much fun. Why wouldn't you want to have fun?" It helps that we are all but hardwired to love the salty, spicy, sweet qualities of a Bloomin' Onion.
In 2013, the video host and recipe developer Brandi Milloy worked on a copycat Bloomin' Onion recipe for the lifestyle media platform POPSUGAR. Her accompanying video was one of the first online tutorials. "It was for the home cook to re-create and elevate, because you're giving the dish a little bit more care," Milloy says. 
Turning an onion, harsh and astringent when raw, into this showstopping dish is a kind of dinner theater.
Turning an onion, harsh and astringent when raw, into this showstopping dish is a kind of dinner theater. It is also a link, for some, to a very formative time. Milloy recounts eating the Bloomin' Onion at Outback Steakhouse as a young teenager. "It's so deeply tied to being in high school, with friends and without parents," she says. For millennials, the association with early adulthood and independence is perhaps the height of nostalgia.  
This nostalgia can show up again and again, tethered to the past but sometimes reinvented with a modern twist. It's the "espresso martini paradox," according to Enayati, referring to another '90s food trend that's recently become popular again. "When something comes back into style, people do some cool shit with it, and then it falls off because people get bored," she explains. It happened to the espresso martini, and it's happening to the Bloomin' Onion. "People are down again."
Chef Carla Kaya Perez-Gallardo is definitely down. At their restaurant Lil' Deb's Oasis in New York's Hudson Valley, a Bloomin' Onion–type dish on the menu is both homage to a rebellious youth and a forward-looking creative expression. "I love the shape and the way it literally opens up. There's just so much you can do," they say. The most recent version, inspired by spring greenery, features a blast of mint powder, verdant lovage aioli, and loads of pickled jalapeños.
The Bloomin' Onion will always have ties to restaurant dining or carnival food, which might explain that aura of specialness that surrounds the dish. But for the home cook, making a Bloomin' Onion at home means tweaking the recipe as one sees fit, whether it's customizing the spice blend to your liking or playing around with different dipping sauces. All it really takes is a little bit of planning, some prep, and you too can bask in the restaurant-quality results in the comfort of your own home. After all is said and done, you have a Bloomin' Onion, and who can say no to that? "It creates this space where people want to gather together, and everyone's pulling from the same plate," says Milloy. 
Never mind the mess, the oily residue lingering in the air, or the sheer number of calories and salt. A Bloomin' Onion is the ultimate party food, game-day food, and feel-good food. And it makes great content.