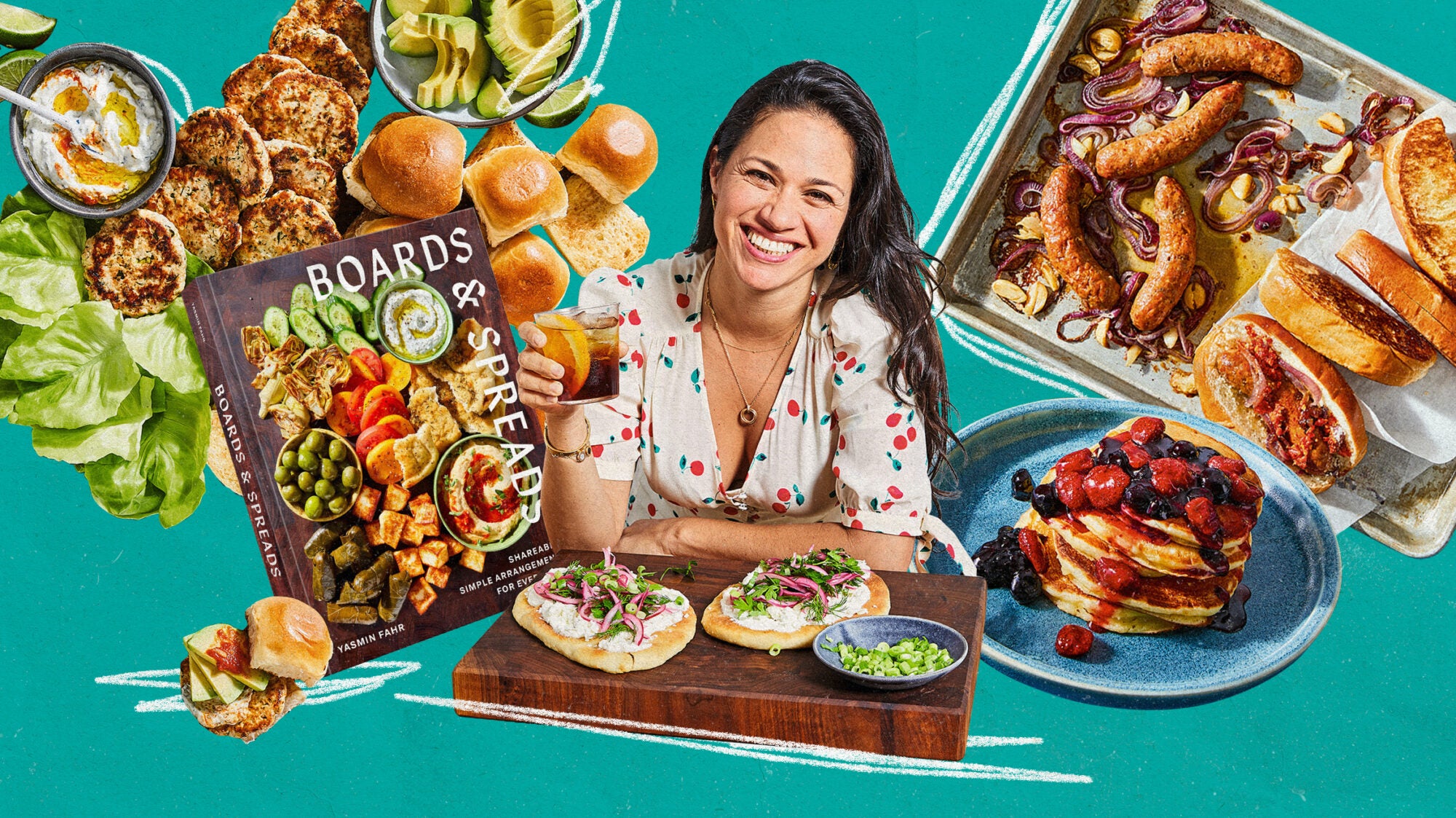 Yasmin Fahr's new book Boards and Spreads has us all thinking beyond cheese and Triscuits.
Two things that cookbook author Yasmin Fahr values in a recipe are fun and ease. And cheese boards, the broad category of board cookery that Fahr captures in her new book, Boards and Spreads, are the "perfect meeting point" of the two. The regular New York Times contributor and Serious Eats columnist set out to distill this plank age we are living in with a delightful and savvy book that includes outside-the-board recipes from a Charred Salad Platter to the Egg Pita Sandwich Board, as well as smart ways to serve potluck classics like chili, tacos, and kebabs—reimagined with the board in mind.
We reached out to Fahr, who recently moved from New York to Miami, to find out about her take on the salami river (we swear it's a real term), how to snazzy up a sandwich platter, and the biggest board mistakes you can make—and how to avoid them.      
Okay, first off, do you call it a salami river?
I had to look this one up, because I hadn't heard of it before, and I am a little embarrassed about that—but I do appreciate the term, and it will forever come to mind when I see a charcuterie board. 
For those who say that they are bored with boards and spreads, you say . . . ?!
Boo! Just kidding, do whatever makes you happy in the kitchen. I will say that this book is fun! And it's not like a traditional cheese and charcuterie book—it's more about taking the ease of that communal serving style and applying it to everyday meals (think turkey chili with lots of toppings, chicken sliders, and so on). There are also tons of recipes for salads, seasonal vegetables, and dips to round out the boards and make a larger spread.
All of the recipes are intentionally in a similar flavor profile, so it's easy to mix and match, but they also come with serving suggestions if you don't want to think too much about it. And all the recipes are super easy, so you don't need a lot of skill to make them, which means they're a great way to impress people and have a good time without having to exert much effort (always a win). Did I convince them?! I hope so!
What's the biggest mistake a board chef can make? How do you fix it?
I would say liquid spillage off the side of the board. It's so frustrating, as it just makes a huge mess and muddles things, so in the book, I suggest a few things. First, anything that threatens to run or spill, should be put in a small bowl or in the center of the board (think olives, tomatoes, capers, and so on). Second, if it's something juicy like chicken thighs, then tuck some toasted pita or bread underneath it to soak up the juices and avoid any mess (plus that pita or bread will be absurdly delicious). Or use a cutting board with a juice groove. But also, board care! I learned this lesson the hard way, as I foolishly did not take care of one of my boards in my early twenties, letting it warp and eventually crack, so please don't let this happen to you! Take care of them so these wooden boards last.
I love the crispy, snacky tortilla board. What inspired this?
My sister! I think we were on the phone and talking about tortillas, as one does, naturally. (She also works in food and owns La Cuisine, a cooking school and catering company in LA.) And we started talking about toasting them in a pan until they are crispy, and how she makes pizza for her clients or cooking classes that way, which led to this idea. They are so much fun for sharing with friends or for a casual weeknight dinner, and I often just make them for myself. My friend Joni tested this recipe for me and has sent me photos of the variations she's made from it with different toppings, which is pretty much my goal with all of my recipes—to have people have fun with it and make it their own, so I hope others do the same! Plus, I think snacking on something crunchy and salty with a little bit of cheese and vegetables is a pretty ideal situation, especially if you add a beer—or any drink, really.
You make the case that a party sub tray is actually a version of a board. Hard agree! How do you spice up the sandwich board?
I would set out a ton of condiments—yes, mustard, mayonnaise, but also herby yogurt dips that double as spreads, harissa or Calabrian chile, lots of pickled things, fresh herbs, and things like that to add flavor, acidity, and crunch to the sandwich. I think this lets everyone make it their own, since we all have our preferences for sub toppings, so this way people can have it their way. No need to compromise here!
What do you like to cook when you are not thinking about boards?
I've been having a lot of fun playing with food recently, which might sound strange, but for a bit, it felt like I was only cooking for work or being concerned about the outcome of the recipes, and it stopped being fun. So I took myself on a cooking/writing retreat to the magical island of Menorca and fell back in love with cooking. I let myself play around with different ingredients and started focusing more on the fun of cooking and combining ingredients by picking up a few ingredients that I don't typically cook with or ones that looked good without a plan and seeing what I could come up with based on the pantry staples I had at home. And it was great! A nice exercise in creativity. Whatever I'm making, though, usually involves lots of fresh produce, spices, herbs, and citrus. And probably feta, too.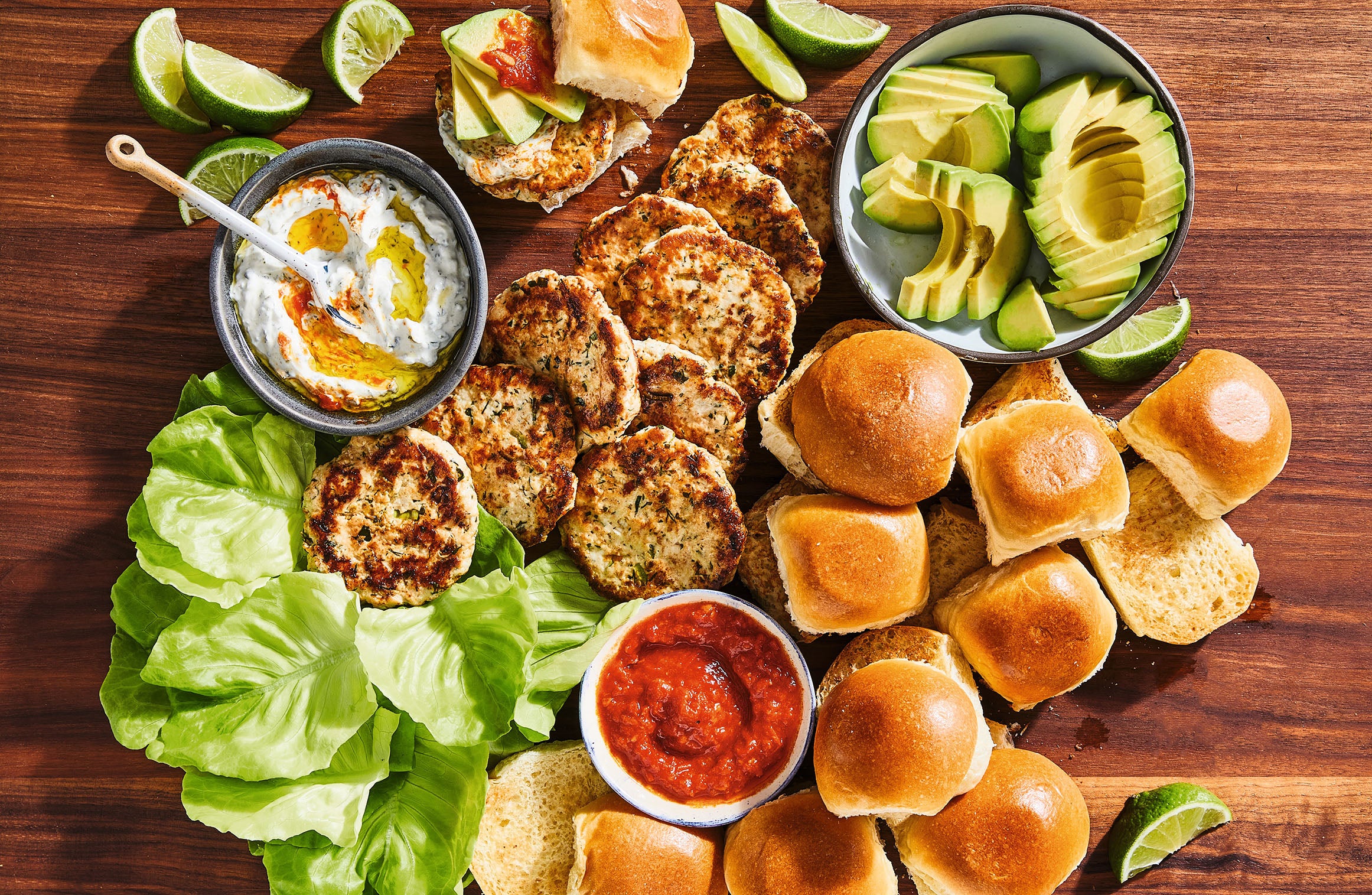 THREE EXCITING RECIPES FROM BOARDS AND SPREADS
The Mini Sliders Board
These smashed, feta-filled, mini chicken patties are the quintessential board-for-dinner, with mini burger buns and all the much-loved toppings (as well as some twists) set out for people to assemble their own sliders.
The Pancakes Board
A twist on lemon ricotta pancakes, this recipe uses labneh in lieu of ricotta or other dairy, so they get the same fluffy, super-moist characteristics of traditional pancakes with a bright, citrusy flavor from lemon and orange juice and a touch of olive oil to smooth it out.
Be Your Own Sausage Hero Spread
While the author personally calls it a sub, you are welcome to say that you're having a sausage hero, a roll, a hoagie, or whatever you prefer.