Moby Has the Vegan Croissant Thing Figured Out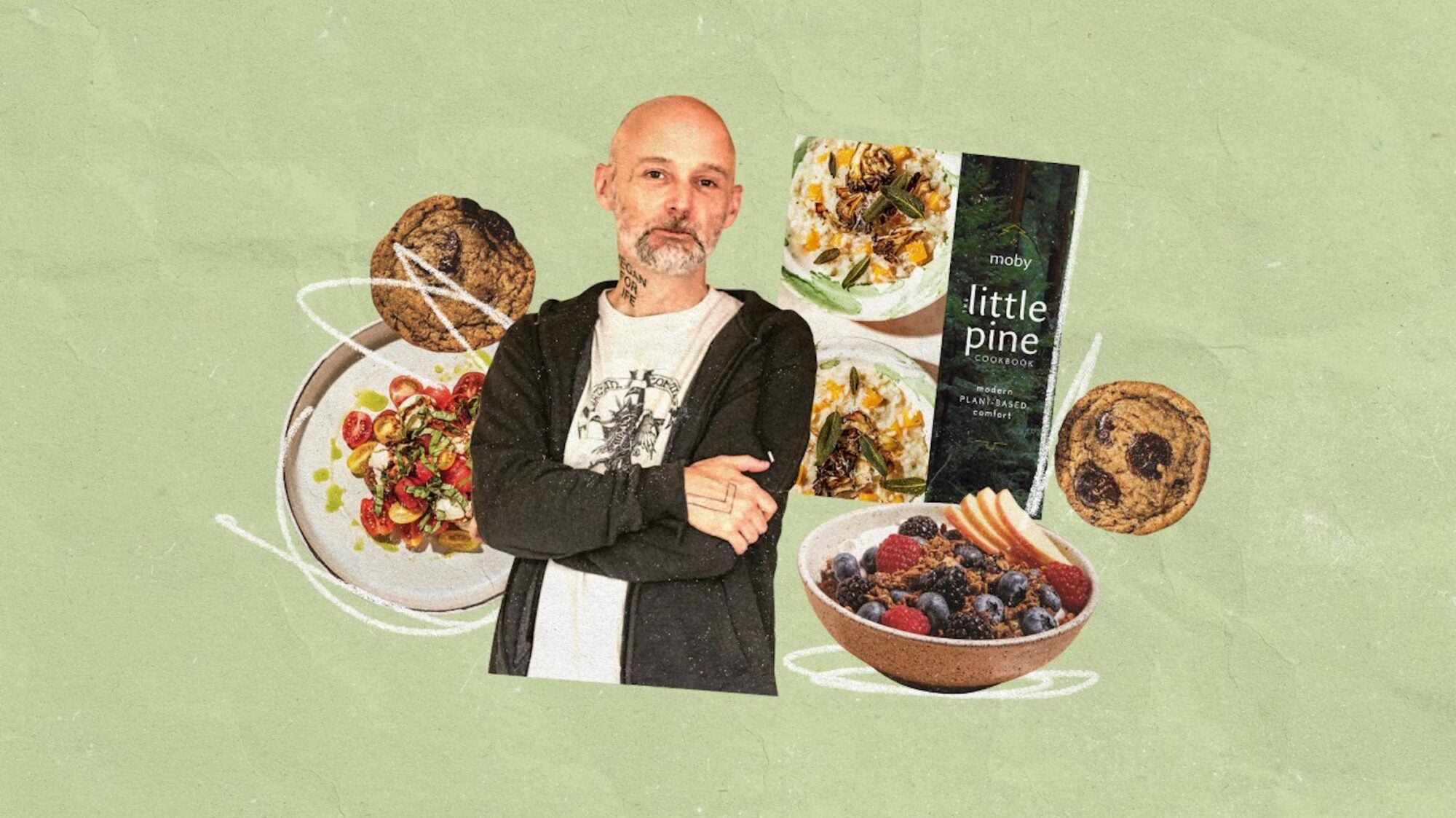 The musician still has a soft spot for the frozen bean burritos of the '90s, but his new cookbook explores a more decadent side of restaurant veganism.
"Restaurants are kind of like airplanes," activist-musician Moby tells me recently via Zoom from his home in Los Angeles. "They should be run by people who know what they're doing." We are talking through these current times of ours, and how the pandemic amicably ended his partnership with the vegan comfort spot in LA, Little Pine, that he had owned for several years. It's now the subject of a cool new cookbook—which serves as a memory book of recipes and stories for the artist born Richard Melville Hall and his Silver Lake canteen.
Moby has been a vegan for over 30 years, starting his plant-based journey when the diet leaned more into soft breads and nut butter, and the Amy's Kitchen frozen meal, than the smart and deliciously egalitarian cooking that's prepared at Little Pine. "It was just kind of a regular thing, where someone would pull them aside in the parking lot and say, 'Hey, I'll give you a hundred dollars if you give me the chocolate chip cookie recipe.'" Now the restaurant's chocolate chip cookie recipe is less of a state secret, and Moby is on to an exciting new project—or three—as we find out in a talk that spans from the "didactic and shrill" moments of activism, to considering the plant-based croissant, to food at the cursed Woodstock '99 music festival.
I saw your "soup in the suburbs" Instagram post in February, which I love because, shit, there's Moby making soup in the suburbs! Are you a big home cook?
I started cooking for myself basically when I became a vegan. Up until that point, I had just had a very conventional suburban diet of Frosted Flakes and Burger King and salami sandwiches, and I never had to think about cooking because there was so much junk food readily available. And then, in 1987, I became a vegan, and at that point, obviously, there were almost no vegan restaurants in the world—and I was broke, so even if there had been vegan restaurants, I wouldn't have been able to eat at them. So I was suddenly presented with this fact that, in order to stay alive and to feed myself, I had to learn how to cook. At the time, I was living in an abandoned factory, which kind of reduced my options regarding cooking even more. So basically, in one fell swoop, I removed meat and dairy, and I had no money, and all I had was a toaster oven and a hot plate.
Which, I am sure, leads to soup…
So that was how I had to live. One of the things I started making, because I could make it very inexpensively, and it was actually surprisingly good, was soup. I realized I could spend $10 and basically buy enough ingredients to make soup that would feed me for a week.
I don't want to reduce it here to a simple quote, but what was your motivation at the time to turn vegan?
Well, at the time, it was the sort of inescapable realization that I couldn't care about animals and also contribute to their suffering and death. I tried to get around that, because at the time I really loved going to Burger King. I really loved, you know, having Stouffer's French Bread Sausage Pizza. So I really didn't want to become vegan. But I just realized I couldn't get around the simple fact that, as someone who had so much love and gratitude for animals, I just couldn't, in good conscience, be involved in anything that caused or contributed to their suffering.
Where do you stand on artists banning animal products at venues? Morrissey comes to mind as somebody who has been quite famous for doing this, and I tried to research if you had done this at any of your shows, and it doesn't seem like you have. Is it something that you contemplate? Are you pro or con?
The guiding principle of my life is vegan activism. And, of course, there's a part of me that understands why Morrissey or Paul McCartney would mandate that venues be vegan. I'm thrilled, in a way, that they do that, but I also like the idea of reaching people where they are, and obviously, we vegans do have a reputation for sometimes being didactic and shrill.
And I'm guilty of being didactic and shrill. Sometimes, you have to be. Sometimes, if you're talking about a passionately held activist belief, you might come across as didactic and shrill. So it's just part and parcel of being an activist, but I have to try to remember who I was before I went vegan and how I would have responded. If I was 18 years old, and I went to a venue, and they told me the whole venue was vegan, I would have just been annoyed at the vegans. It would not have opened me to what they were talking about; if anything, it would have made me more dismissive and defensive.
Are you a dinner party guy? Or do you do more workaday cooking? Or do you hire folks to make your food, which I think is understandable for somebody who's quite busy?
No, I love doing domestic stuff. So I do my cleaning, I do my landscaping, I do all my cooking, I do all my shopping, and, as far as cooking goes, I'd say—especially since the pandemic started—99.99999 percent of the meals I've had have been cooked by me at home.
Little Pine does this vegan croissant, and I'm sorta like . . . vegan croissant? You can make the laminated dough without using butter?
Yeah, well, okay . . . so, in 1987—actually, right before I went vegan (I went vegan in November of 1987, so the summer of 1987)—I had a French girlfriend who lived in the States, and I saved up money and went with her to France. And we lived in Paris for a month. Luckily, we lived rent-free, and we made most of our own food there, but at that point, I was a vegetarian, so I could still eat French pastries. And I just remember, we had this ritual, she and I, which was, on an almost daily basis, we would go to a different tea salon—I didn't even know there was such a thing as a tea salon, but we found these different adorable tea salons.
Our favorite was called L'Ébouillanté. And we would get pots of tea, and croissants with different spreads, and just sit there for hours, and it was really idyllic. Reading books, talking, with maybe Erik Satie or Debussy playing in the background of the tea salon. So that, for me, was my basis of comparison regarding croissant. And I remember, when the chefs at Little Pine invented the Little Pine croissant, I was like, "Wow, this is legit," and I remember Dita Von Teese, the performer, she's not vegan, but she would come into Little Pine regularly just for the croissant.
"By 1999, the freezer on my tour bus was filled with Amy's, and it felt magical."
When you see somebody have that invention and ingenuity in a restaurant setting, and you start reading the recipe, you're like, "This is really special." That must have taken you back, when you tried it for the first time.
Yeah. And it's true, with a lot of the food in the cookbook and a lot of the Little Pine food; there's a danger element to it, because a lot of it is very indulgent. And it's why, when I owned it, we were always really busy, because it was inventive and indulgent.
Which wasn't always the case with vegan food…
The vegan world, as we know, for the longest time, tried to make everything virtuous. Which is why you had carob chip cookies with spelt flour that were borderline inedible. But then there was a shift when many vegan chefs realized, "Oh, just because it's vegan doesn't mean it needs to be austere." So, something like a chocolate chip cookie, when we developed it, we threw out any notion of virtue—apart from the fact that it's vegan. But it's sugar, and it's fat, and it's white flour, because that's what makes a great chocolate chip cookie.
 You're right, the carob moment from the late '80s was dark days for pastry in America.
It was—I made peace with it, but I have to say, it's nice to be virtuous and healthy the vast majority of the time; if you go out to a restaurant, and you order dessert—we're all adults, we know what we're doing. And when you order dessert, you're looking for that exceptional, indulgent experience. And if you don't want that, don't order the chocolate chip cookie.
You really stole some scenes in that Woodstock 99 HBO documentary, which was great. I would just like to know, what was the food like at that festival? Do you recall anything?
[Laughs.] Clearly, with Limp Bizkit and Metallica being the headliners—and also, this was 1999—it's safe to say, now, any festival you go to, there's bound to be a couple vegan food trucks. That was absolutely not the case in 1999. We played on the first day, and, as I say in the documentary, it was a hellhole by the end of the first day. It was a disgusting, overrun, filthy refugee camp by 7 p.m. on the first day. And I remember walking around with the hope that maybe there was one place serving vegan hot dogs or veggie burgers or something like that—absolutely not. Luckily, I learned a long time ago, as a touring musician, that you always travel with your own food. And so I had plenty of food stocked up, so I was able to . . . maybe not eat well, but certainly eat.
Take me there—was it like a trail mix or nuts for protein?
Really, a big mainstay was Amy's. I don't know when Amy's started selling frozen foods in health food stores, but by 1999, the freezer on my tour bus was filled with Amy's, and it felt magical. Being in a terrible parking lot somewhere, in a terrible place, having a delicious, organic, vegan microwaved tamale with brown rice and black beans.
Oh, their enchilada is legendary.
Yeah. By 1999, I'm pretty sure that what I had at Woodstock was microwaved enchiladas on the tour bus.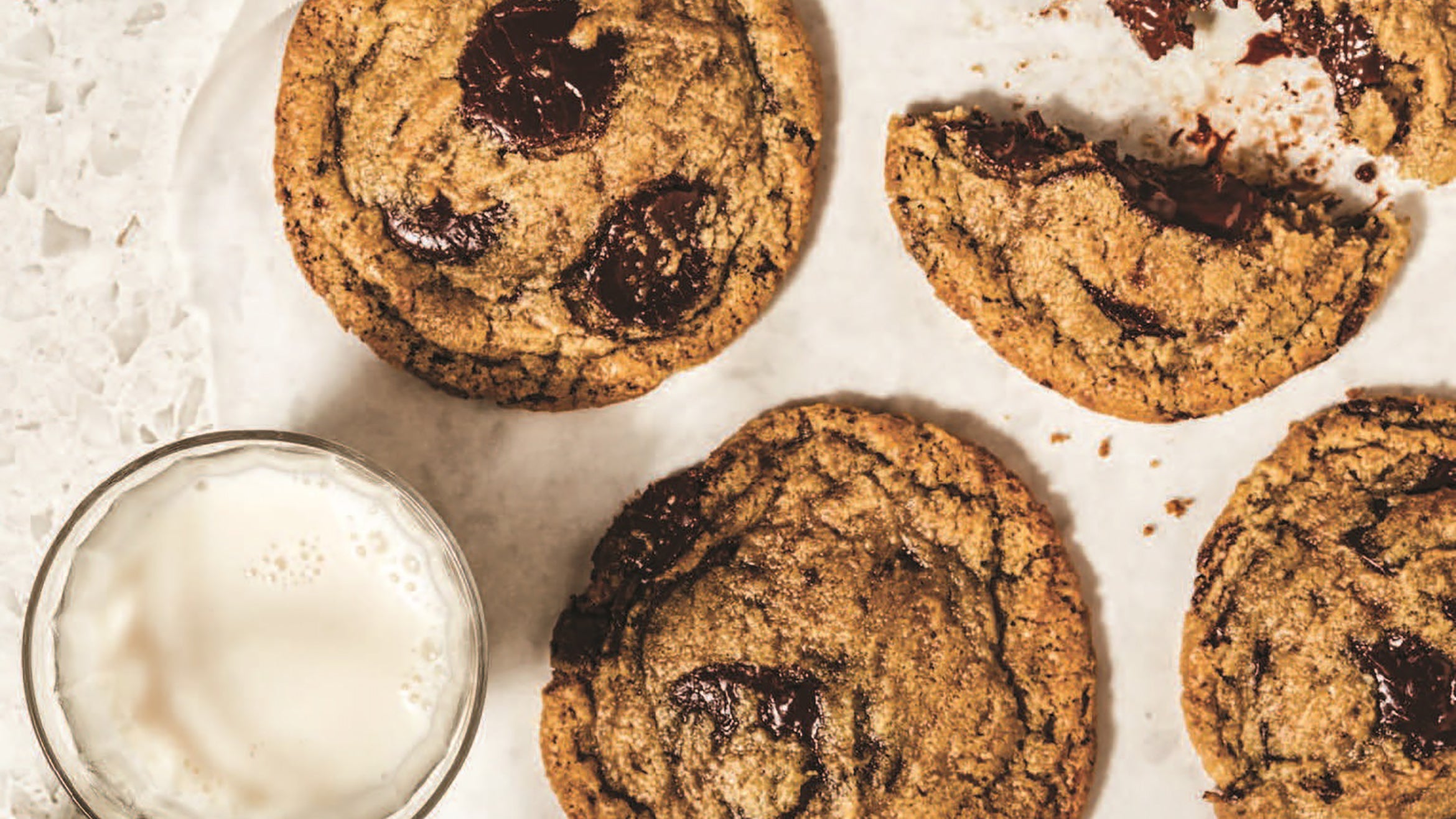 THREE EXCITING RECIPES FROM THE LITTLE PINE COOKBOOK
Little Pine's Vegan Chocolate Chip Cookies
When made right, they should be alternately gooey and crisp in all the right places.
Kimchi Pasta e Fagioli
A go-to for a quick, interesting, tasty, and exceedingly healthy meal at home.
Vegan Hard Butter for Baking
A perfect plant-based recipe for all baking needs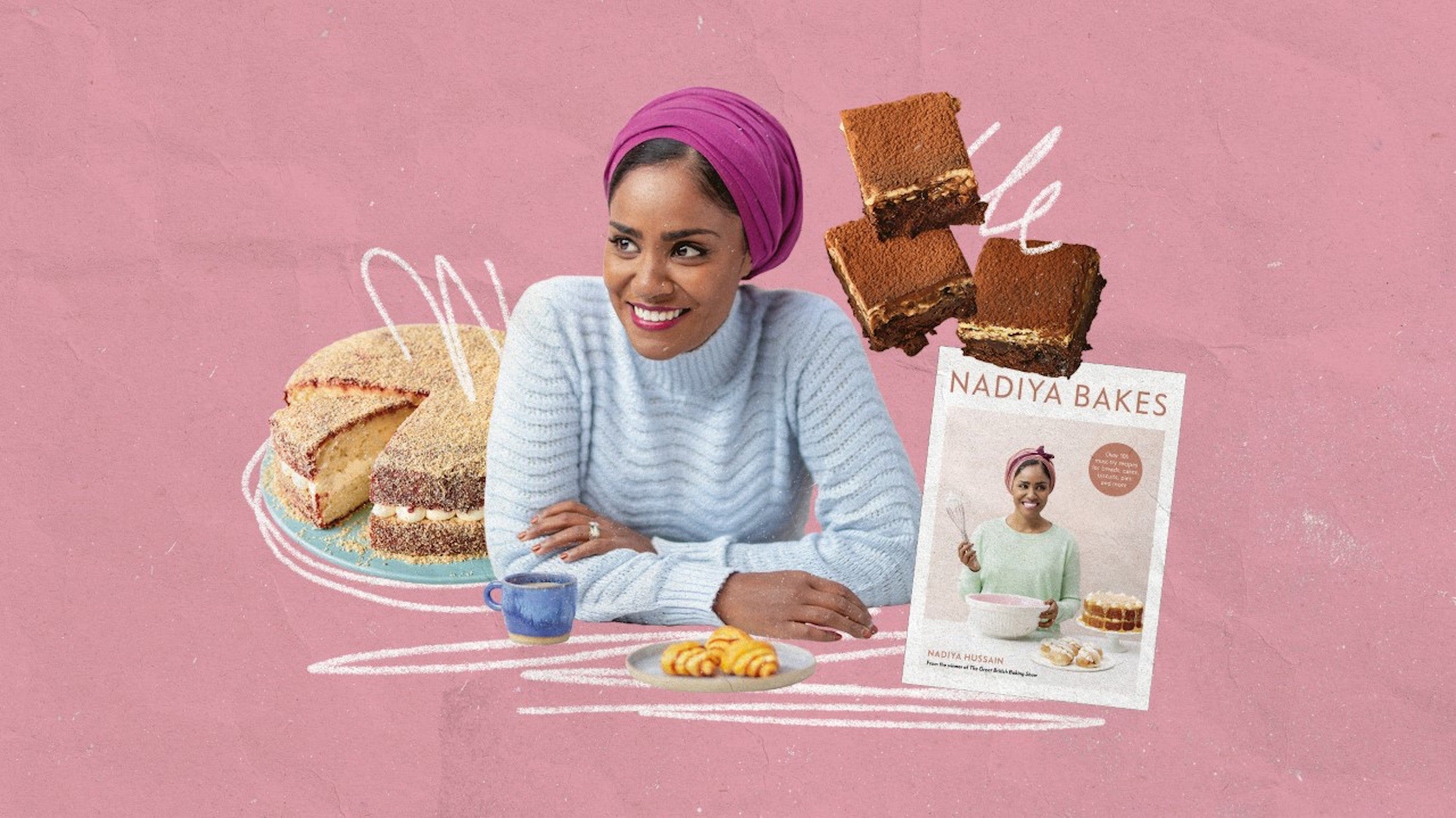 MORE BOOKS TO BUY, READ, AND COOK FROM:
Last week, we talked to British cookbook author and TV star Nadiya Hussain about giving the classic baked goods the refresh they deserve.
From one half of the cult comedy duo Tim & Eric comes Foodheim, Eric Wareheim's culinary bible for modern food freaks, showing you how to throw epic parties, suck the marrow out of life, and cook better than your grandmother.
Inspired by the popular Food52 column, Emma Laperruque's Big Little Recipes features 60 new recipes that'll deliver wow-worthy results in five, four, three . . . or even two ingredients.
In A New Take on Cake, author Anne Byrn, of the best-selling Cake Mix Doctor, updates her beloved approach to creating show-stopping desserts, with 50 modernized classic recipes and 150 brand-new recipes featuring simple variations for different diets and using today's most popular flavors.
Whether you participate in meatless Mondays, weekday vegetarianism, or just simply want to cook more delicious things without meat, Jenny Rosenstrach's The Weekday Vegetarians has you covered.
From the New York Times best-selling author and his superteam of chefs, the first edition of Ottolenghi Test Kitchen, christened Shelf Love, features 85-plus irresistible recipes for relaxed, flexible home cooking that will bring the love to every shelf in your pantry, fridge, and freezer.