British Baking for the 21st Century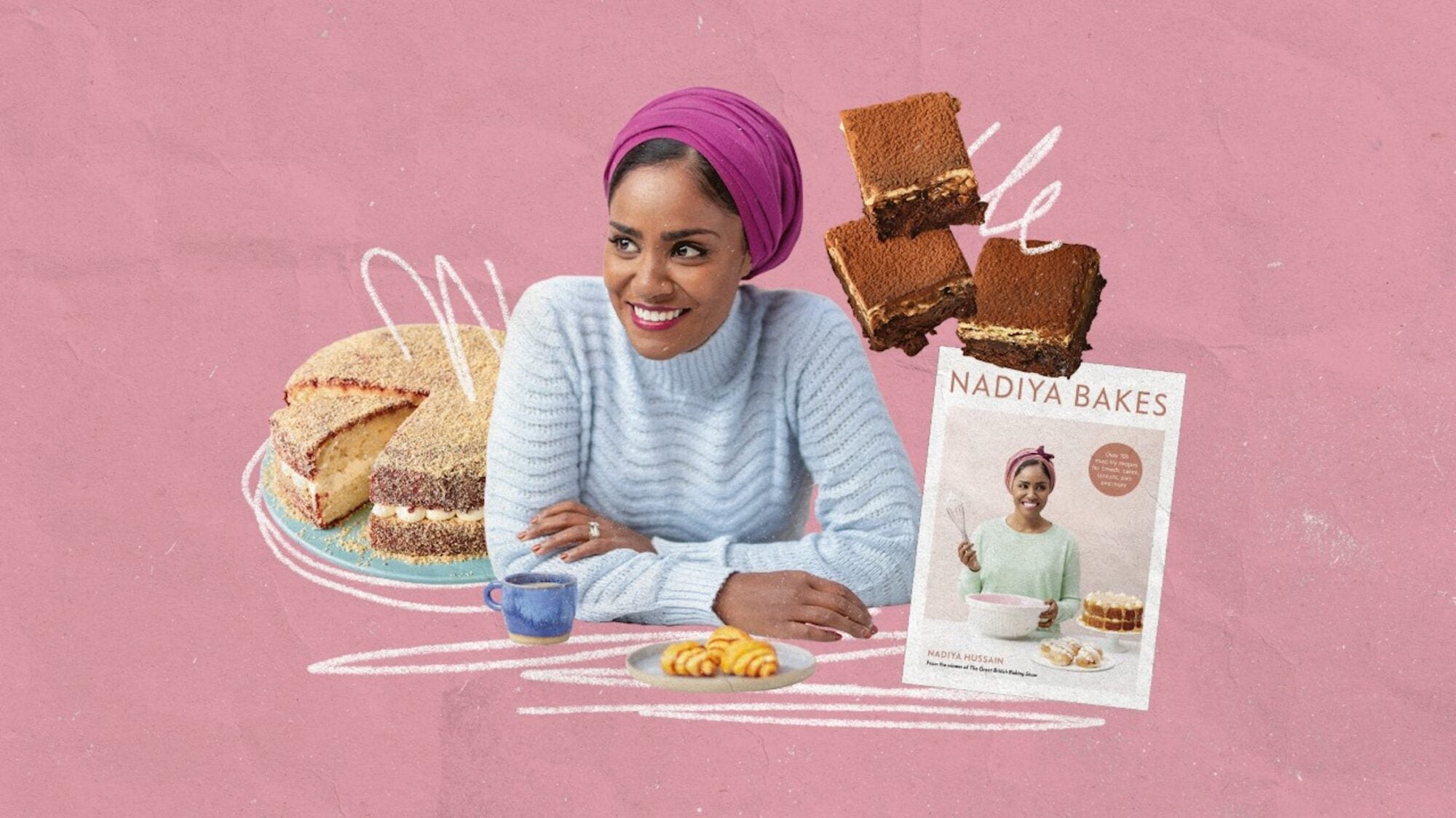 Cookbook author and TV star Nadiya Hussain is giving the classic bakes the refresh they deserve.
Many know her as the star contestant from 2015's Great British Bake Off season who triumphantly came in [redacted] place (I don't want to spoil it if you haven't seen it), or as the baker who made international news in 2016 for making the queen's 90th birthday cake. But in addition to these qualifications, Nadiya Hussain is also just really good at making baking look effortlessly fun.
In her latest book, Nadiya Bakes, Hussain infuses a clever sense of playfulness into British and Scottish dessert classics. Scotch eggs are reborn as a creamy, lemon-flecked dessert. Bite-size Lamingtons are recast as a big, regal layer cake. And cranachan, a sort of Scottish berry trifle, becomes a layered parfait of mango, cream, and butter-toasted cornflakes. It's a sense of inventiveness that makes you want to get in the kitchen and shake up some of the dusty desserts from your own childhood.
I talked to Hussain about why she decided to revisit some of these traditional recipes, why she's a big fan of frozen puff pastry, and how the queen's birthday invitation came with a firm "no fruitcake" rule.
As you've been publishing books in the United States and your shows have been airing here, have you noticed any big differences in the way Americans and Brits think about baking (and eating)? Have there been recipes that really resonated in the United States that surprised you?
There are so many things that make us different, but, due to the pandemic, I haven't really been able to engage with my American audience how I would have liked. Having traveled to America, I think there is an openness to trying new things. What is also similar about the UK and the United States is that there is an inherent and deep love for baking, something that has certainly been enhanced since the pandemic. And with more of us at home, baking is a universal language in the UK and the US.
I was so blown away by the Scotch Crème Eggs idea. Have you tried this with any other egg-shaped candies, or any other combinations of coatings? How did you land on the combination in the book?
I suppose it's just the way my brain works—if we can have something savory, why not sweet? Often, that is a good enough jumping-off point to start creating something fun and new. You can really use any round truffle, like a Lindt ball or Ferrero Rocher, and you can vary the coating and use cereal or cookie crumbs—trial and error, and you can come up with something new.
Likewise, I loved the mango and cornflake remix of cranachan, a traditional Scottish dessert. What drew you to cranachan as a template to riff on, and why did you feel it was due for a refresh?
I'm not a purist, so I really enjoy changing up traditional recipes. That being said, it's not because they need changing—I just enjoy making variations and using the original recipe as a stepping stone.
There are so many inventive uses for frozen puff pastry in the book (like in the chicken, brie, and cranberry pithivier and the Portuguese custard tarts). Why do you love premade puff pastry? And what should people keep in mind when they're shopping for puff pastry?
I love ready-made puff. When I'm making it from scratch, it is a labor of love, and it's a skill I'm so pleased I have. However, I love the convenience of buying pastry. It's frozen, and it can sit in the fridge or freezer till you need it. When buying it, I would recommend buying good-quality pastry, and buy some ready-rolled, too, which is a step closer to some more convenience.
A few years ago, you got to make the queen's birthday cake. Leading up to the celebration, were you given any parameters for the cake or suggestions about the queen's preferred flavors?
I literally had no guidelines when it came to the cake, in terms of size or flavor. All I was asked was that its wasn't a fruitcake, as they can be quite dense and tough for the queen to cut into. In the end, I went for a three-tier orange drizzle.
Obviously, baking competition shows create a pretty tense environment for contestants. Are there any dishes you made on Great British Bake Off that stress you out too much to ever make again?
There was a soufflé recipe that I vowed I would never make again, and, untrue to my words, I have made it since. So apparently nothing will put me off baking anything! Not even the most intense baking show.
This interview has been edited and condensed for clarity.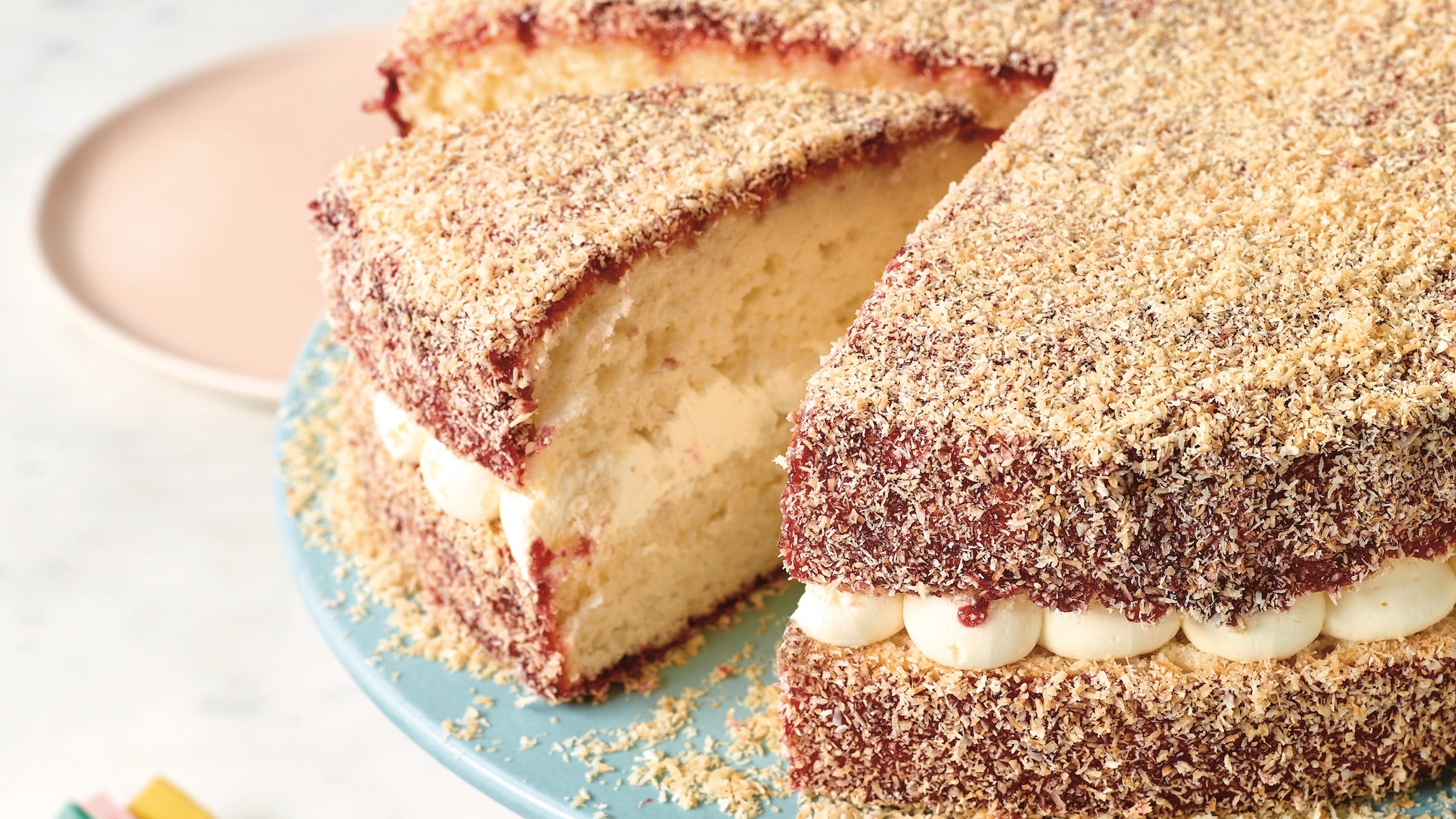 FOUR EXCITING RECIPES FROM NADIYA BAKES:
Scotch Crème Eggs
If you can coat a hard-boiled egg in sausage, why not coat a Cadbury crème egg in a mixture of icing and cake crumbs?
Mango and Black Peppercorn Cranachan
The classic Scottish berry trifle gets a makeover with mango, black pepper, and cornflakes.
Covered-All-Over Lamington Cake
Ice your next layer cake with raspberry jam, and give it a powdery coating of shredded coconut.
Money Can't Buy You Happiness Brownies
These brownies are filled with dulce de leche and hazelnuts, then topped with a cocoa-dusted cheesecake layer.
MORE BOOKS TO BUY, READ, AND COOK FROM:
Last week, we talked to Eva Tringali and Christina Mauricio about why they decided to open an Asian grocery and Filipino deli in Woodstock, New York.
Whether you participate in meatless Mondays, weekday vegetarianism, or just simply want to cook more delicious things without meat, Jenny Rosenstrach's The Weekday Vegetarians has you covered.
Talking to dozens of Anthony Bourdain's former colleagues, family members, and friends, Laurie Woolever pieces together a powerful story in Bourdain: The Definitive Oral Biography.
Turn your apartment into a red sauce restaurant this fall with Italian American, by Angie Rito, Scott Tacinelli, and Jamie Feldmar.
In New Native Kitchen, Freddie Bitsoie takes a broad look at modern American indigenous cuisine.