Once a Small-Town General Store, Now a Thriving Filipino Deli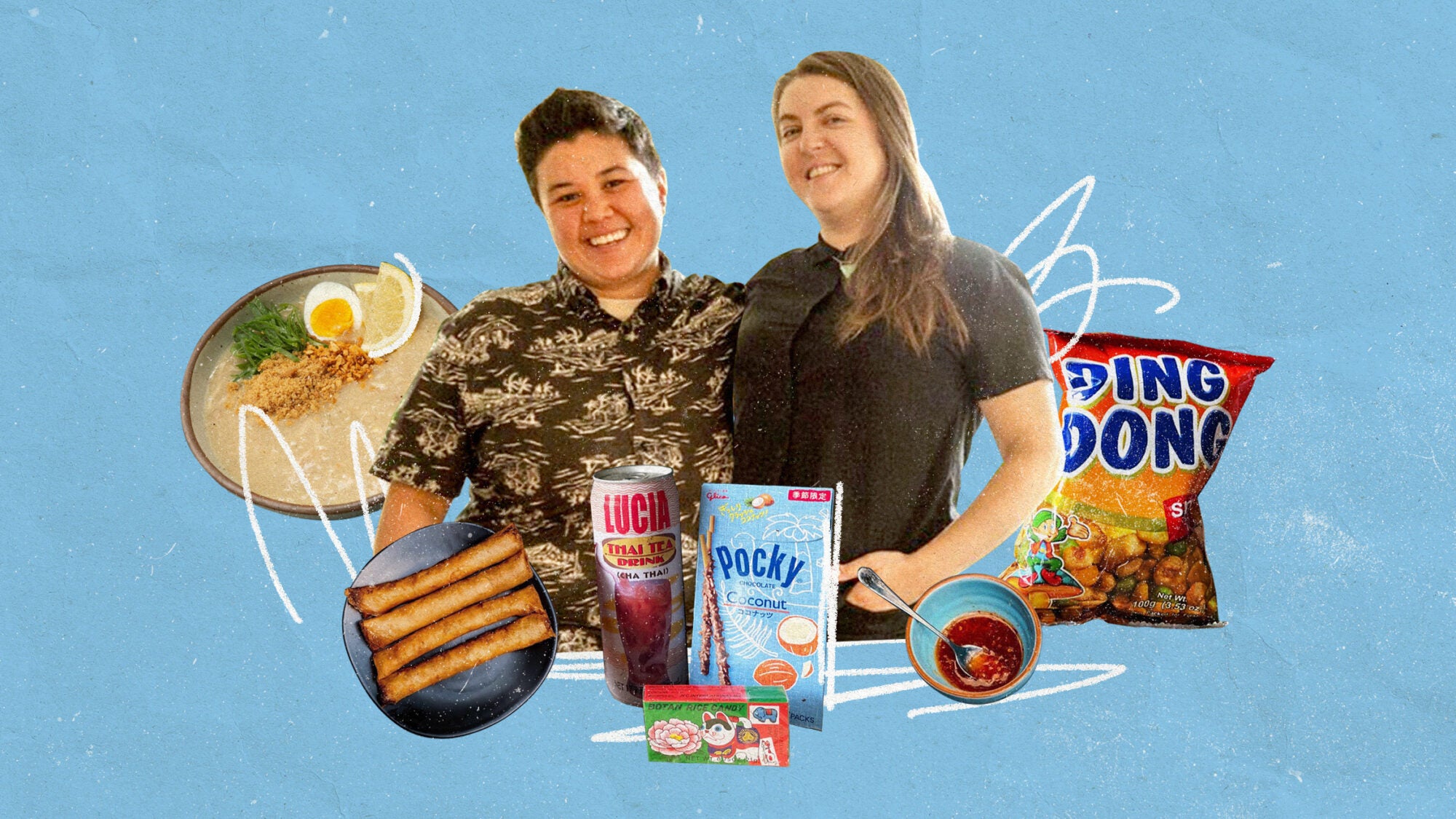 Harana Market, in New York's Catskill Mountains, is more than just a one-stop destination for Asian pantry goods.
At Harana Market in Woodstock, New York, you'll be welcomed with thoughtfully sourced Asian groceries and Filipino cooking from the heart. But to really understand how those values hold true to co-owners Eva Tringali and Christina Mauricio, there's an intentional, multilayered approach to how they run their family-owned business.
"Harana Market is a manifestation of many dreams we have had both individually and as a couple," Tringali tells me. "While we didn't realize we'd be running an Asian grocery and Filipino deli in Woodstock, New York, we did know our mission was to gather people around food and music, in a fun, enriching, and community-based way." That vision plays out in their rotating menu that reflects the deeply personal cooking of Mauricio's dear lola—from tortang talong to arroz caldo—as well as in their commitment to stock their shelves with fellow minority-owned businesses both big and small. Though only opened earlier this year, Harana has become a fixture of the surrounding Catskills community as a reliable source for culturally relevant ingredients that used to be upward of a two-hour drive away.
I recently got in touch with Tringali to hear more about the crowdsourcing that went into stocking their shelves, running a business that reflects the world they want to live in, and their exciting future with pop-ups and ticketed dinners.
How did the idea behind Harana Market come to be? And why Woodstock?
We are housed in an almost-100-year-old general store building that had been sitting empty for 12 years, formerly known as the Wittenberg Store. When we first stopped to peer into the shop after seeing the "For Lease" sign in the window, we literally gasped and immediately felt drawn to it as a potential place to hold us and our vision. When we moved from the Bay Area in 2019, and eventually to the Catskill Mountains in 2020, it was immediately obvious that there was a major void in terms of access to essential Asian grocery items and homestyle Filipino food. The three things combined (a longtime dream, a beautiful vacant country store, and a drastic need) propelled Harana Market into existence as you know it today.
Woodstock chose us. We didn't expect to end up starting a business here, but the building charmed us, and the community was vocal that they'd support us if we took the leap. Our customers have been so supportive and viscerally happy to see us open in their community. They're some of the most creative, inspiring, lovely humans we've had the pleasure to meet.
It can be a daunting task to stock Asian groceries, as it's such a vast category. What sort of process went into curating the selection? And what has the response been from the local community?
We take up a small footprint and have limited shelf space, so the quality of curation is even more important to our shop. One of our top priorities is supporting AAPI (Asian American and Pacific Islander) family-owned brands. Placing purchase orders with these small (and not-so-small) companies is a privilege, and we're proud to contribute to this ecosystem of AAPI makers and business owners.
Beyond stocking artisanal, small-batch Asian products, we also seek to provide access to otherwise hard-to-find culturally relevant grocery items. We carry a variety of essentials that can be found across various Asian cultures. Soy sauce, vinegars, rice, fermented things, dried fish, chile oils . . . these things are universal to Asian cooking.
Part of our initial market research was a Facebook survey that received almost 300 positive responses from community members, most of which included a list of items they'd like to see on our shelves. We crunched the data to stock the most requested items, and much of our original inventory came from these crowdsourced recommendations. We also take requests and do our best to source those items—many of the items currently on our shelves are thanks to requests from a customer.
The local community has been very vocal about the importance of access to these goods, especially our customers who are of the Asian diaspora. Many folks were previously driving two to four hours round trip to Albany or New Jersey to get some of these items that they can now get a few minutes' drive down the road. We have a lot of regulars, many of whom we see multiple times a week, and this is the fabric of our store. We appreciate our customers so much.
What are some of your favorite brands and products you're proud to stock?
We carry a variety of items in partnership with Narra Studio, all of which are handmade by indigenous tribes throughout the Philippines. Each item is unique to the tribe that makes it, and they include handwoven, hand-embroidered fabrics, hand-knit stuffed animals, brass jewelry, and more.
We proudly work with CEE Enterprises, family-owned and woman-run, to stock our Filipino food products.
As for the deli portion of Harana Market, how would you describe your cooking philosophy? What's on the menu right now, and what colder weather dishes are you excited about in the coming months?
Christina grew up in their lola's kitchen learning Filipino ingredients and techniques. Our menu is very much based on the food that Christina made alongside their lola during childhood. Our food is lutong bahay (homestyle) Filipino food, and everything we put forward is representative of the experience that Christina had eating around the table with their family. The food we put out brings the traditions and rituals of our family into the present and future moments.
Food is one of the vessels we choose for sharing ourselves with the world. Putting forward Christina's grandmother's recipes is an opportunity to educate people and to share our family's culture. We open our doors to anyone willing to come in. Breaking bread with people is one of the ultimate things we share with other human beings, and we're honored to feed our community.
Our menu rotates daily/weekly and is always posted on our website for the week. Right now, some of our rotating specials include tortang talong (grilled eggplant omelet), ensalada tagalog (green salad with a patis [fish sauce] citrus dressing)—and on Sundays, we've been having fun doing barbecue skewers. We also have halo-halo on the weekends and will keep it on the menu until it's just too cold to eat shaved ice. In the colder months, we're excited to bring back heartier soups and stews like arroz caldo (chicken congee) and munggo (mung bean stew) as well as expanding our hot beverage selection.
Woodstock and the surrounding Catskills area has such an exciting food scene—what has your relationship been like with these other local businesses?
We regularly talk about how lucky we are to be surrounded by such amazing food. So many of the restaurants here—regardless of the origin of their food—take pride in making it intentionally and using as much fresh meat and produce as possible. And you can taste it. We are proud to be in cohorts with our fellow restaurateurs and businesspeople making the Catskills the food destination it is. And they definitely help to keep us fed! On the days we just can't cook for ourselves, we proudly support the restaurants in the area, and we have some very regular haunts that help to keep us nourished.
Everyone has been so supportive since day one. Our sign maker told us, the day he dropped off our "Coming Soon" sign, that this isn't a "dog-eat-dog type of place," and that we all "lift each other up." And that has been true every single day of our operations. All the local businesses—restaurants included—have been so vocally supportive and gracious with offering their perspective and support. New York, and this area especially, is such a collaborative place that is really encouraging for young business owners like ourselves to take the leap.
What does it mean to you both to be mission-driven and family-owned? And how does that message play out in practice?
Being mission-driven and family-owned gives us an opportunity to directly contribute to the type of world we want to live in. We get to choose what our priorities are and make business decisions in support of that. What does this look like to us? We center and hold space for people of the Asian diaspora and provide visibility to the Asian-American experience in the Hudson Valley. We prioritize our people and have created a work environment for our employees that is inclusive, empowering, and supportive. We celebrate our employees and business partners and who they are in all facets of their identity and experience. We prioritize working with AAPI-, BIPOC-, woman-, and trans-owned businesses. This isn't always the cheapest or easiest route, but it's one of our means to ensure that our "rising tides lift all boats" ethos is lived every day.
And last, are there any exciting projects or drops in the works?
We will be doing a pop-up at the Woodstock Farm Festival on Wednesday, September 15, and we plan to do private/ticketed dinners in the fall and winter. We are in talks to do a few collaborations, and we hope to host more live music events. Follow us on Instagram for the most up-to-date news!
This interview has been condensed and edited for clarity.
BOOKS TO BUY, READ, AND COOK FROM: