Rethink Your Whole Fish Strategy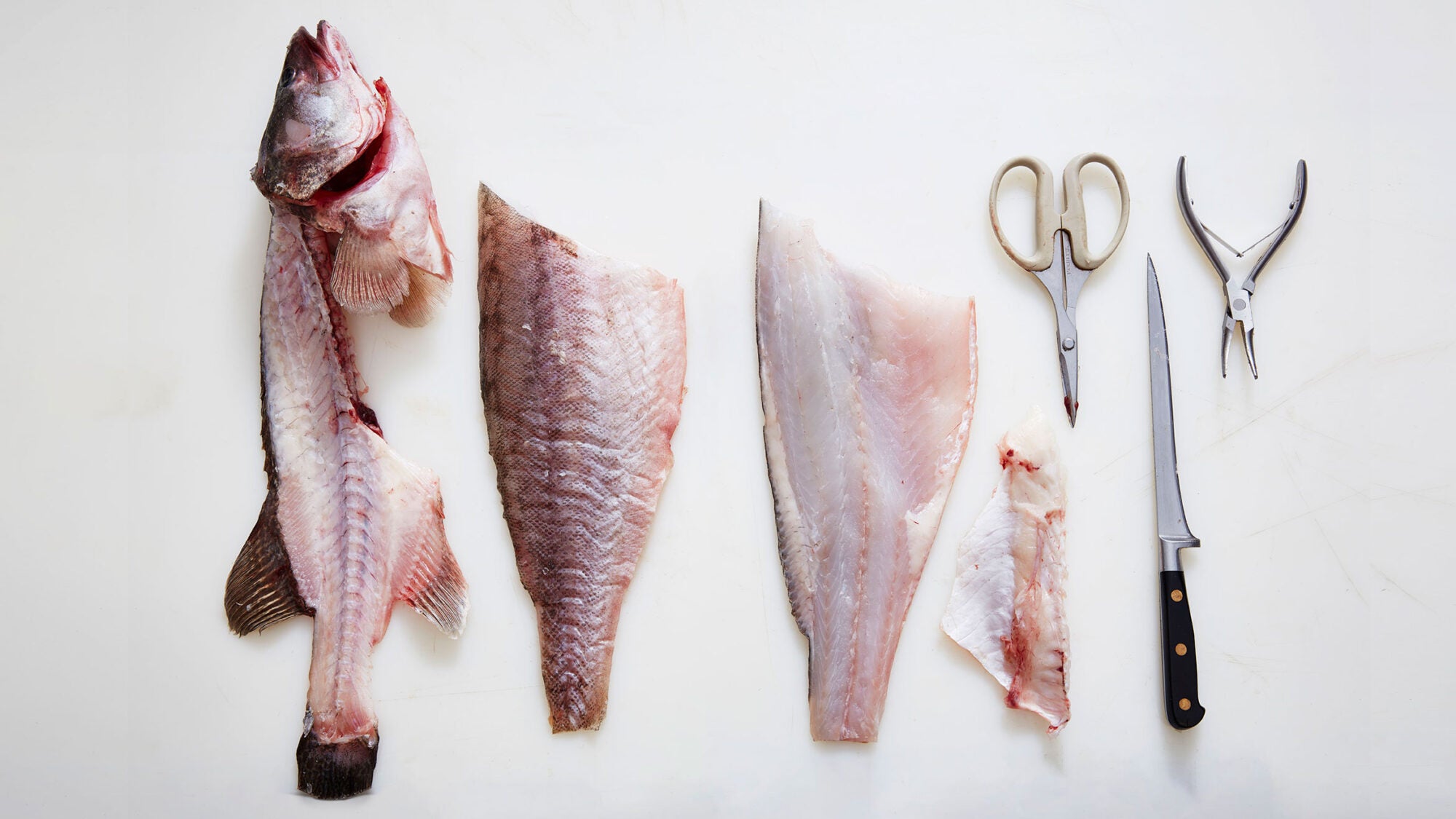 Josh Niland's tips on buying, aging, and cooking nose-to-tail at home.
If you've been to Sydney, you might know Josh Niland as the chef serving macarons filled with cod fat caramel at Saint Peter, or as the person transforming octopus into terrines and striped marlin into sausages at Fish Butchery. In his recently published The Whole Fish Cookbook Niland—who applies a whole-animal philosophy to fish—lays out some of the techniques and recipes featured at his restaurant and retail shop, including dry-aging and curing. I talked to Niland about some of the ways home cooks and chefs can rethink our approach to cooking the whole fish, from the way we buy it to the plate we serve it on.
1. Ask your fishmonger what they would want to eat. "Most people who work in fish markets, they start their day at two or three in the morning. And if you've got that kind of lifestyle, there's a part of you that really cares about the product, that has passion," says Niland. Lean into that passion when you're buying fish, and find out what your fishmonger is excited about, whether it's the box of snapper in the corner or the red mullet you've never cooked with before.
2. Look your fish in the eye. Look for fish with bright red gills and clear eyes that are raised up, not sunken into the fish. Cloudy eyes and grey-ish gills can be a sign that the fish is not at its freshest.
3. Seasonality matters with vegetables, but it also matters with fish. Instead of falling back on farmed salmon and halibut, look for wild fish that are in season. "Wild fish always offer up something different, and it's often seasonal," says Niland. "There's a reason why asparagus tastes better at the beginning of spring—yes, you can get that shit all year round, but it's better when it's in season. The same is true for fish. There's a reason why King George whiting tastes amazing in spring; there's a reason why John Dory in the depth of winter has a huge liver in it and it tastes awesome."
4. Moisture is a fish's enemy. Paradoxically, rinsing or soaking a fish in water actually speeds up a fish's deterioration and brings out those "fishy" smells. Ask your fishmonger to avoid using a hose, and simply clean out the cavity with a paper towel.
5. Keep the skin on. "We try to get people to eat fish with the skin on," Niland says. "They're going to benefit more from the Omega-3 [a nutritious fatty acid present in fish skin] and the gelatinous quality that the skin brings, and the flavor. All of the flavor in fish sits between the flesh and the skin."
6. Warm your plate. If you cook your fish until it's just barely cooked through, then serve it on a warm plate, the warmth from the plate will help finish the fish and keep it at a pleasing temperature. "It's so much better than getting a dry, overcooked piece of fish on a cold plate," says Niland.
7. Get your tools in order. At Saint Peter, most tasks are done on the stovetop, in an oven, or over a charcoal grill. Beyond these, home cook should try to track down a few basic pieces of equipment: a saucepan with a fitted lid, some boning pliers and tweezers, a fish weight (this will help you achieve crispy skin), and an offset palette knife.
8. If you're going to dry-age, do your research. If you're considering dry-aging fish, you will need special climate control equipment, like an aging room where you can control the moisture and temperature (and keep it in a 0–1°C range, just barely above freezing). But also, the fish must be treated properly before aging is even attempted, avoiding rinsing or submerging in water during the butchering process. Niland says that fish with high fat content (like mahi-mahi, Spanish mackerel, and kingfish) gets the best results, with the flesh firming and intensifying in flavor over time. Small fish are stored in perforated trays, and large fish are hung on hooks so that moisture never accumulates on one side.