When Did Peanut Butter Get So Cool?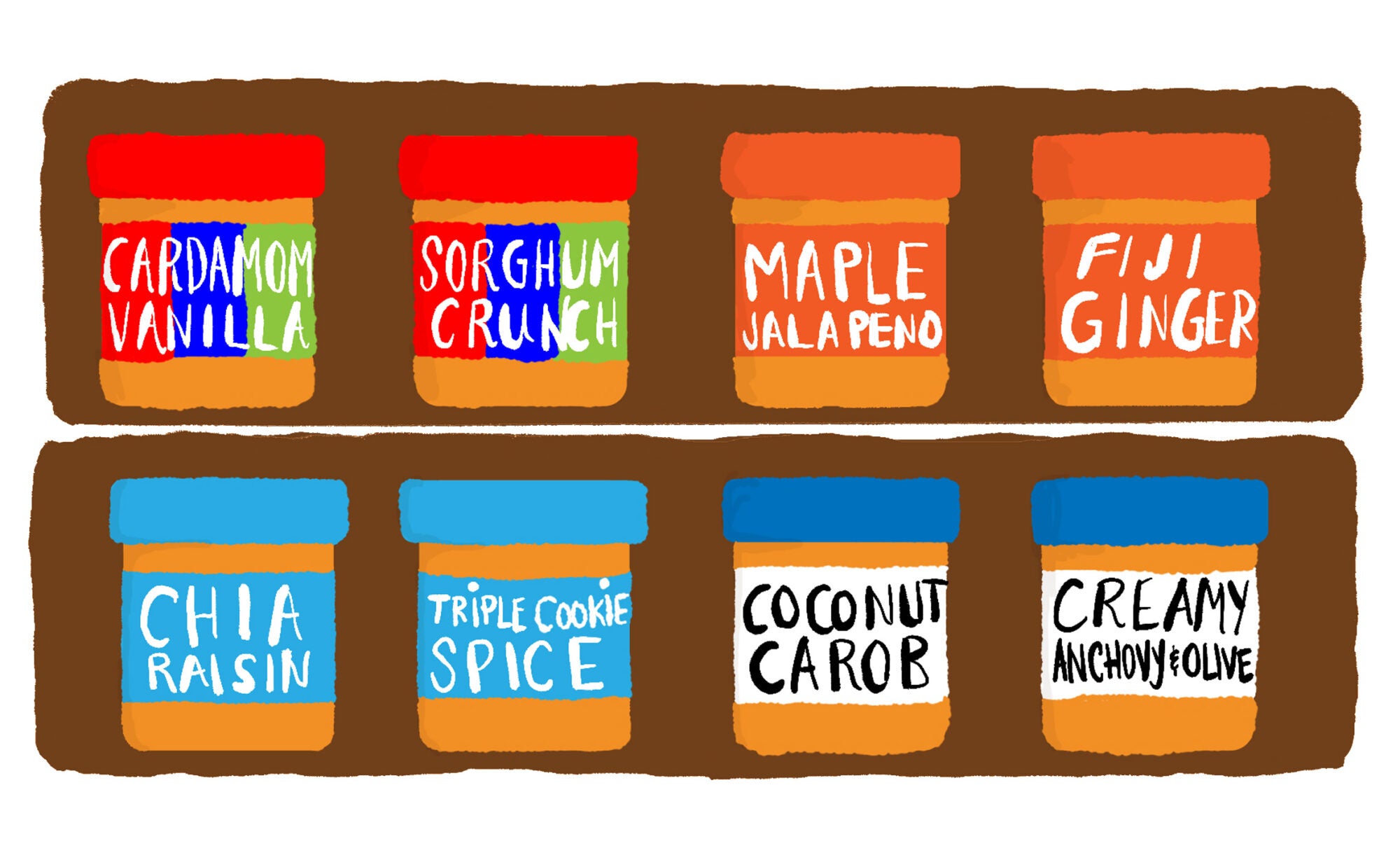 Like coffee, ice cream, and chocolate, nut butter is having its connoisseur moment.
Peanut butter is a Proustian paste. Virtually no serious discussion about peanut butter can take place without evoking childhood memories, so we might as well get this out of the way: my family bought Skippy. The jar of extra crunchy super chunk, to be specific. This was the brand my mom picked up at Albertsons, without fail or derivation, and when I was old enough to start hanging around other kids' houses, I was astonished that a whole world of peanut butter existed outside the Michelman family monoculture. Who's Jif? I don't know her. 
If only eight-year-old me could have tagged along to the grocery store today. Somewhere on the way, perhaps ten years ago, a new paradigm emerged. The nut butter shelf, traditionally jammed with the standard mass consumer brands (Jif, Peter Pan, Adams, and a few other "natural" types), has today become one of the most intriguing in the grocery store. A new crop of nut butter options has appeared, offering culinary whimsy, multiculturalism, and a farm-forward approach to ingredient sourcing, from nuts to a never-ending coterie of mix-ins like chocolate, vanilla, Scotch Bonnet pepper, and sorghum. Once upon a time, the defining question to ask of this category was creamy or crunchy. Today it sounds more like, "Fiji ginger macadamia, or toasted cardamom cashew chia?" 
"So many foods, and their ingredients, are treated like commodities," says Mark Overbay, cofounder and president at Big Spoon Roasters, a North Carolina–based nut butter purveyor that has helped reshape the nut butter market. "We exist because we believe nut butters don't have to be commodity-grade foods." The brand is emblematic of the explosion in artisan nut butter, and as an early adopter of the model, they're majorly responsible for its growth. Overbay was inspired by the locally roasted peanut butters he tried as a Peace Corps member in Zimbabwe; alongside his wife and business partner, Megan Lynam Overbay, he's bootstrapped Big Spoon over the last decade from a home operation selling jars and bars at farmers' markets into a nationally distributed brand producing 20 different flavors each year. Big Spoon runs a thriving direct-to-consumer subscription service (the limited batch club starts at $15 per month) and is stocked by more than 800 retailers nationwide, with shelf presence everywhere from Erewhon and Bi-Rite to Whole Foods and Eataly. 
Food trends are never identical, but they often rhyme. Nut butter's move away from commodity status—and toward something more thoughtful, mindfully sourced, and delicious—sounds awfully similar to narratives in the worlds of ice cream, coffee, tea, spices, chocolate, craft beer, and so many others that I'll be covering in this column. It's a sign of the booming golden epoch of culinary inquiry. Like so much that's delicious and good in the United States, the Overbays grew their brand first from farmers' markets into what it is today. 
Like coffee or feminism, Overbay frames how we've thought about nut butters in America over the last hundred years with a kind of "wave" structure. The first wave began with mass-market, additive-enriched brands like Skippy and Jif in the early to mid-20th century and rolled into the second wave of organic co-op brands like MaraNatha and Santa Cruz Organic in the 1970s and '80s. Then came the sweet-treat mix-in days of the early aughts (the third wave—think Justin's), before we arrived at the culinarian moment we're in now: the fourth wave. It's fair to look at Big Spoon as a major early influencer in nut butter's culinary rethink, which has focused on small-batch production, mindful sourcing, and the total avoidance of palm oil, due to issues both environmental and flavor-related. "Unquestionably, many more people 'get' what we're doing now," says Overbay, who is today actively crowdfunding for Big Spoon's next phase of growth, which will include a new production headquarters.  
Along the way, the wider space for culinary nut butters has grown precipitously, with brands like Eliot's Nut Butters, Ground Up Nut Butters, and JEM Organics making for a spreadable arms race of ever-more-intriguing flavors and combinations, much of them with very little in the way of added sugar, and all of them sans palm oil. There's also been an influx on the North American market of peanut butters made in the traditional Haitian style, infused with Scotch Bonnet peppers for a sweetly fragrant, creepingly numbing kick. Haitian-born entrepreneur Stanley Dumornay and his business partner Jason Delis produce a particularly good version of this style out of Montreal called Manba, available in escalating heat levels from a low tingle to a hot roar.
As a kid, roughly 100 percent of the peanut butter I consumed was done within a PB&J context, and when it's supercharged with one of these new-wave nut butters, I assure you that the combination remains wildly good. (Homemade rhubarb jam and Ground Up hazelnut butter was the winner, per my discerning five-year-old.) But part of what the gastronomic turn for nut butter means is a reimagination of its place in your kitchen and an embrace of the product's deeper roots around the globe—peanut sauces and soups are nothing new, but the cooking possibilities offered by these products are profoundly delicious.  
The original, and still the greatest, peanut product scientist and hype man, George Washington Carver, developed the first-ever peanut butter cookie recipe in the early 1900s; try subbing Big Spoon's Pistachio Crunch almond butter in one of his classic cookie recipes. Meanwhile, Eliot's makes a particularly recommendable lemongrass-laden Spicy Thai Peanut Butter that's begging to be cooked with—my wife combined a great big scoop with a frozen cube of my homemade chicken stock, then added it to sautéed zoodles with fresh prawns, with stirring results. (We're up to something similar elsewhere on TASTE, but try subbing Big Spoon's Peanut Pecan Butter in for Jif.) 
I think the best way to eat the new wave of nut butter is by doing it straight. My kitchen counter is stacked right now with jars of Manba Spicy Creamy and Big Spoon Lemon Coconut cashew butter, as well as Big Spoon's Crunchy Sorghum peanut butter and Tigerwalk Espresso butter (the product of their excellent collab with Equator Coffees), to name just a few. I keep a little wooden spoon on top of the jars for a dunk here, a dip there, and a bite of something interesting and unusual. 
Childhood me would have collapsed in rapture, and as a parent now, I feel like I'm rewriting the boring binary code in a way that feels therapeutically maximalist. Choosy moms of yesteryear may well have chosen Jif, but today? At my house, there are a dozen jars and counting.   
How to buy the Proustian paste:
Big Spoon Roasters
Big Spoon Roasters of Durham, North Carolina, helped kick off the modern culinary moment for nut butters. Their subscriptions include an "R&D Club" option that lets you test exclusive jars each month. If you're just getting started, try these. 
Pistachio Crunch almond butter: a perfectly creamy-crunchy hybrid butter made with California nuts and Oregon sea salt. Make cookies with this.

 

Lemon Coconut cashew butter: This jar won the all-important Michelman household taste test, and my daughter refers to it as "the frosting butter"—it does kind of taste like lemon buttercream frosting, but it actually has very little sugar.

 

Fiji Ginger almond butter: emblematic of the wider culinary moment for nut butters, with Fijian caramelized ginger and sea salt balancing the California almonds. Beautiful on a whole grain waffle.

 
Eliot's Nut Butters
Another farmers' market nut butter narrative, this time from Portland, Oregon, with several standout flavors for your home chef needs. 
Oregon Hazelnut Chocolate:

Spread

: like a grown-up, palm-oil-free version of Nutella. Put it on a croissant, use it in a milkshake, or eat it straight from the jar.

 

Spicy Thai Peanut Butter: like a ready-made satay sauce in a jar, with lemongrass, makrut lime leaf, a healthy dose of cayenne, and roasted peanuts. Cut it with your best homemade chicken stock and serve with noodles, zoodles, or grilled meat.

 
Rabbit Hole is a column that digs deep into nodes of culinary inquiry, from the recipes and products that expand our home routines to the food culturalists and content creators that make us hungry and curious. Along the way, we're exploring the ever golden gastronomic moment in the 21st century: never boring, always peckish.