How Erewhon's Head Grocery Buyer Shops for the Future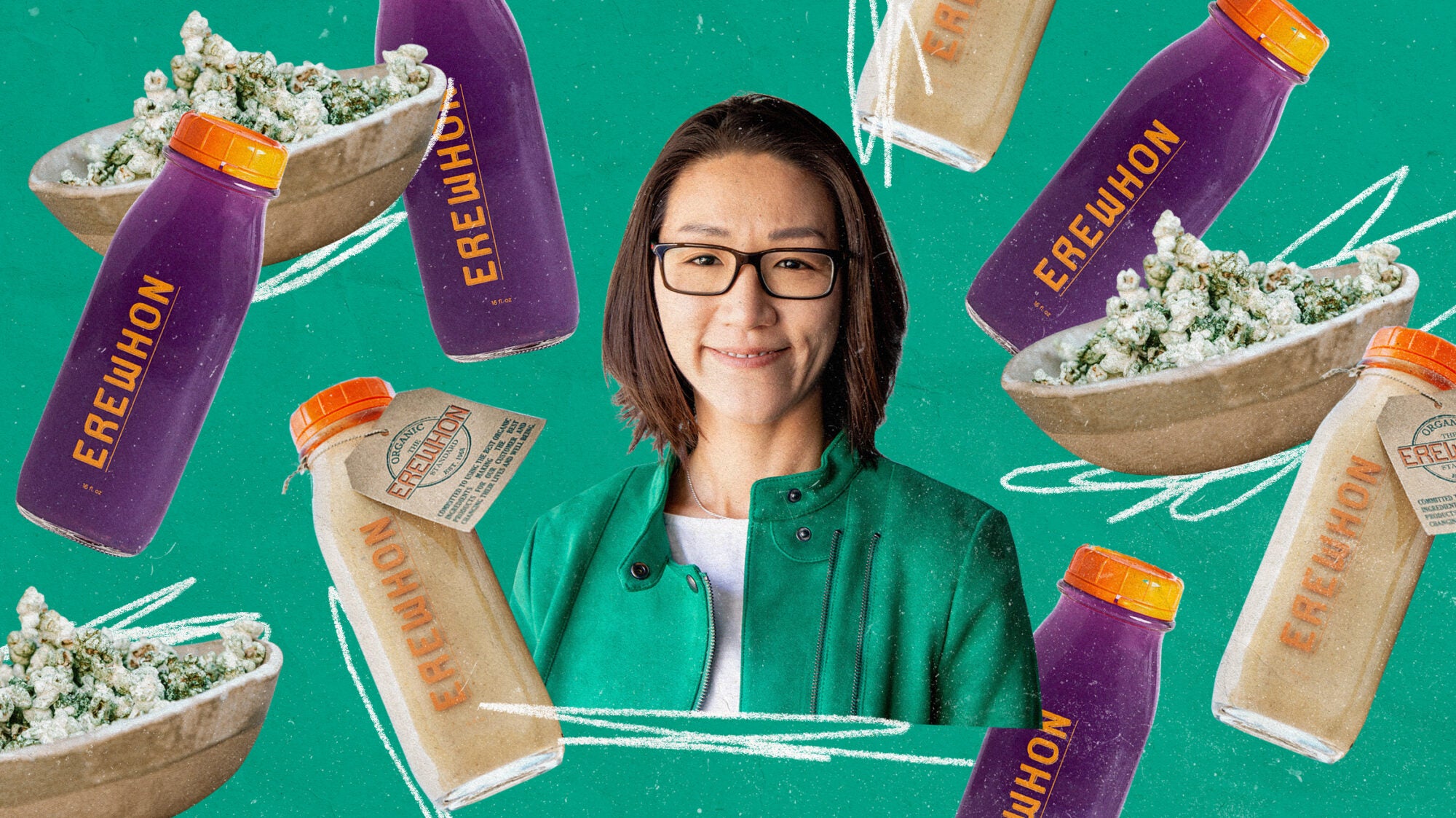 Ana Yoo sees the booming grocery chain's cold, fizzy, monk fruit-obsessed future.
Walking into an Erewhon Market feels like entering a Saturday Night Live sketch with crosshairs on a particularly luxe version of Los Angeles—but it's all so real. The expertly illuminated aisles are filled with every immaculately packaged, vaguely healthy snack you've ever seen on Instagram and many you couldn't imagine. It's the land of cassava flour tortillas, CBD-infused kombucha, and "activated" maca-dusted mesquite walnuts. And is that a Kardashian in line at the juice bar, ordering a $17 spirulina-spiked smoothie?
The upscale organic grocery store was founded as a Boston natural foods stall by macrobiotic diet advocates Michio and Aveline Kushi in 1966. The Kushis moved to Los Angeles in 1969 and opened Erewhon West, which remained the only location until new ownership came on in 2011 and the hype era began. Today, Erewhon has seven locations across LA, where it's unsurprising to spot paparazzi-bait celebrities like A$AP Rocky and Miley Cyrus roaming the aisles. Looking at the $25 bottles of "hand-purified, hyper-oxygenated" water and chewy coconut jerky, it's easy to wonder: Who finds this stuff? That's Ana Yoo, Erewhon's purchasing director. 
Yoo has worked in the natural food industry for over 15 years, starting as a regional grocery buyer at Whole Foods before moving to the online grocer Thrive Market. She's seen—and in some cases started—many of the trends you read about on TASTE and in other publications, from the oat milk boom to the rise of actually-good dairy-free yogurt. Here, Yoo gives us a rare look inside Erewhon's product review process and gazes into her (organic) crystal ball.
You've seen so many trends come and go. How has what you're buying evolved?
I'm pretty sure it happens in all industries, but the natural foods industry is constantly changing. For example, sweeteners started moving from cane sugar to agave syrup to Stevia. Now it's sugar alcohols and monk fruit. When it comes to gluten-free baking, products that simply excluded wheat have evolved to legume-based and quinoa-based flours. Now I see a lot of oats. Lately, I see a lot of adaptogens too. The big boom started with mushrooms a couple years back, with a lot of knowledge and acceptance of reishi mushroom and cordyceps.
How do you go about selecting new products?
The vendor submits product info through our website, and we ask them to send samples to go through our tasting process. Every two weeks, we taste through the products, and because each brand will send multiple flavors or products, it definitely numbers in the hundreds. We approve less than 10 percent of them. Then we go through the tasting process: whether we like the ingredients, the taste profile, the labeling. Nice packaging matters a lot at Erewhon, because I think a lot of people are shopping for the cover sometimes.  
Does price factor in at all?
When we come to our product review, we don't necessarily look at the pricing. What I'm essentially looking to do in the review process is curate the best product, and the best ingredients, for our customers, so they can trust what they see on the shelf. Price is not what triggers us. It's more about the ingredients, the look, and all that. Pricing tends to be considered at the later stage [in our process] than for some other grocery stores.
I feel like the kombucha case doubles in size each time I go. Do you have a big focus on buying beverages?
Beverages are one of the biggest shares of the products that come to us, and we focus a lot on the category, because we have really good prepared meals sold in our store that people take to-go or eat at the store. They buy a beverage to accompany it, whether it's Erewhon water, kombucha, or tea. That's why I think we have more linear footage to our beverage area than other stores. 
When I started in the industry 15 years ago, there was no kombucha in main grocery stores at all. Only hippie mom-and-pop stores. There were literally a handful of kombucha brands over a decade ago—including GT's Kombucha, which is still going strong—but now there are a ton. I cannot even count how many kombucha brands we have.
Beverages are also one of the easier products to make, because it's easier to mix liquids than make solid products. On top of that, there may be a hundred brands but maybe less than five manufacturers making them. It's all done by the co-packers—almost no brands make it themselves.
Do you prioritize different products for different stores?
The Calabasas and Palisades stores are very family-oriented. I see more baby and kids' products sold there than at the Silverlake store, which is very much young singles. I see Silverlake sales more on products that cater to trend-driven customers than Calabasas moms. All new products go out to all stores. We try to give every brand a fair share on our shelf for six months for new products. Then I monitor how the products are performing before discontinuing them at select stores or all stores.
Are there any big trends in the natural foods space right now that you'd credit to Erewhon?
I think we are really on top with our house-made fresh food and fresh juices, which we sell in a reusable Mason jar and bottles. I see other retailers trying to copycat us. Our chef is constantly inventing new products and trends that attract the customers, and we collaborate with other brands for our tonic bar, for example, so that is for sure on the trendier side.