Choosy Noodles Choose Jif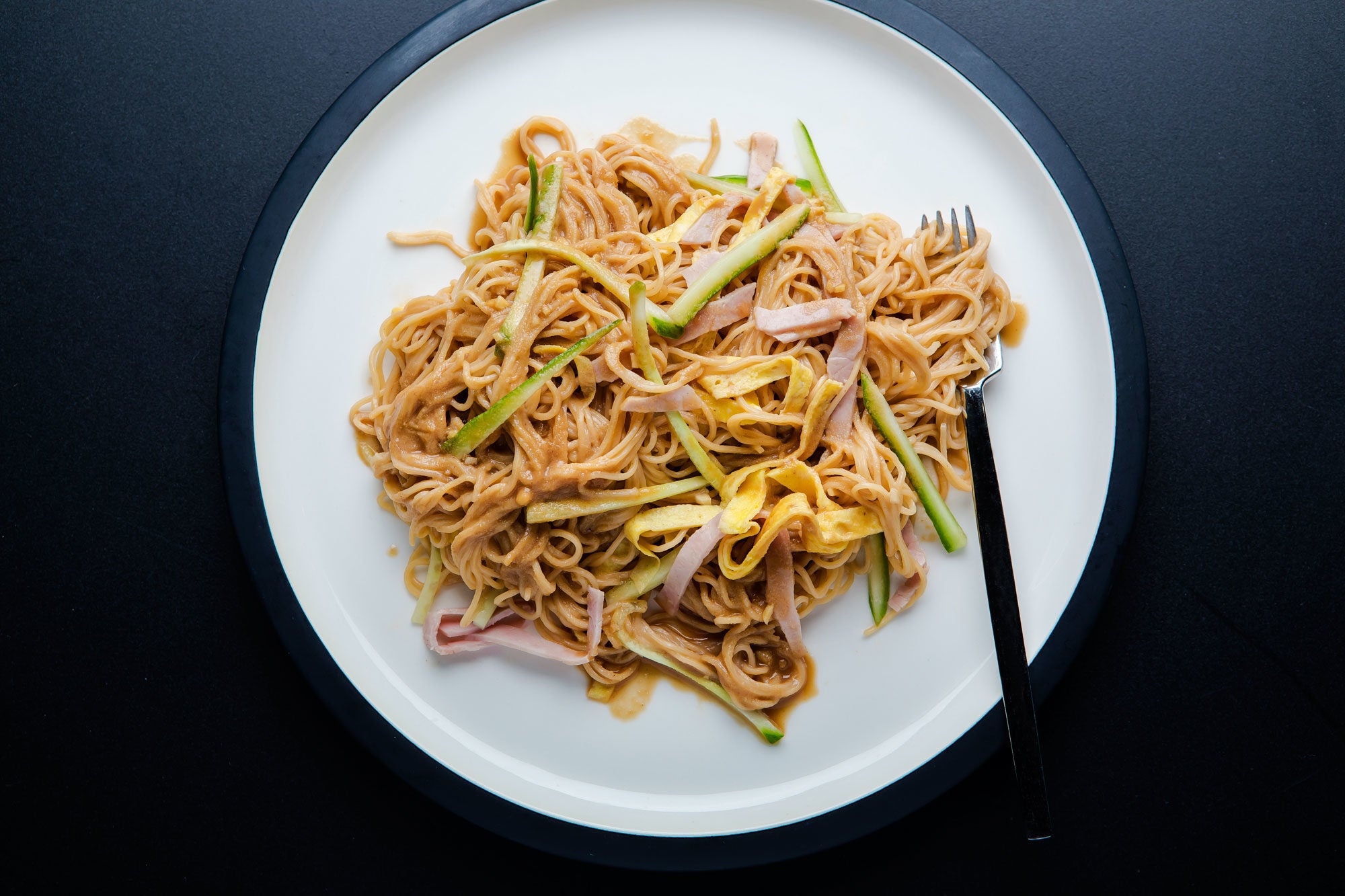 The key to silky, rich cold noodles? Industrial peanut butter.
At the janky backyard cookouts and church picnics of my Asian-American youth in suburban New Jersey, we hardly ever ate hot dogs or hamburgers. Instead, if we fired up the grill, it was to cook pork chops and drumsticks marinated in soy sauce and garlic, charring the meat until the edges were crunchy and caramelized. In between impromptu games of volleyball, my friends and I, most of us first- and second-generation immigrants from Taiwan, Hong Kong, and China, would load up paper plates with sticky rice studded with shiitakes and little dried shrimp—or tea eggs or hybridized maki rolls filled with pork floss and imitation crab.
One thing was certain: If the weather was even a little bit warm, we would eat cold noodles slicked with peanut sauce and topped with thin slices of cucumber, deli meat, and shredded egg. It was the kind of dish that bowled you over with big flavors—nutty and creamy and deeply savory, with a garlicky kick that lingered on your breath for hours—but still managed to feel refreshing and light. On a muggy summer day, these noodles, pulled straight from the fridge or cooler and served bracingly cold, were nearly impossible to stop eating. They made for a better complement to grilled meat than any potato or pasta salad.
Cold noodles, or liang mian, are, of course, a hot-weather staple in many of China's regional cuisines, though traditionally it's sesame paste, and not peanut butter, that serves as the base of the sauce. Some versions are blasted with numbing Sichuan chile oil; in others, the noodles share the spotlight with velvety poached chicken.
The way my mother always made her cold noodles involved just one guiding principle: You needed to be able to make the dish using ingredients you could buy at any American grocery store. So she would leave out the sesame paste in favor of plain old Skippy or Jif. Instead of fresh Chinese noodles, she'd boil boxed spaghetti. Instead of poaching chicken breasts, she'd dice up whatever inexpensive cold cuts she happened to have in the fridge. A splash of hot water helped bring the sauce together without any need for sautéing or simmering, and a spoonful of vinegar kept the flavor light.
In that way, these peanut butter cold noodles are a great example of what San Francisco Chronicle food critic Soleil Ho has called "assimilation foods"—the kinds of half-improvised dishes that immigrants make when they're far from home, using whatever ingredients they have on hand to help re-create familiar tastes: fried rice with ketchup and kielbasa, or Thanksgiving turkey stuffed with sticky rice, or my father-in-law's greatest culinary creation, "Campbell's soup mian." What greater testament is there to immigrant resilience and ingenuity than to use a jar of Jif and a packet of supermarket ham to make something that still somehow tastes purely Chinese in spirit?
The truth is, I've rarely encountered a cold noodle I didn't like. At home, I've tried making the peanut sauce from scratch, grinding freshly roasted peanuts into a thick paste. I've made tahini-based versions, versions that incorporated tea in place of the water, and versions that were spicy enough to make me sweat. They all hit the spot. Lately, though, I find myself gravitating back toward the simple, comforting version that benefits from the slight sweetness and smooth consistency of store-bought peanut butter. It's the perfect thing to pack in the cooler to bring along on a beach day or camping trip, or, even better, to eat as a leftover straight out of the Tupperware on a sweltering night while standing barefoot in front of the open refrigerator door.