We Pay Attention to What Podcast Host Jason Stewart Is Roasting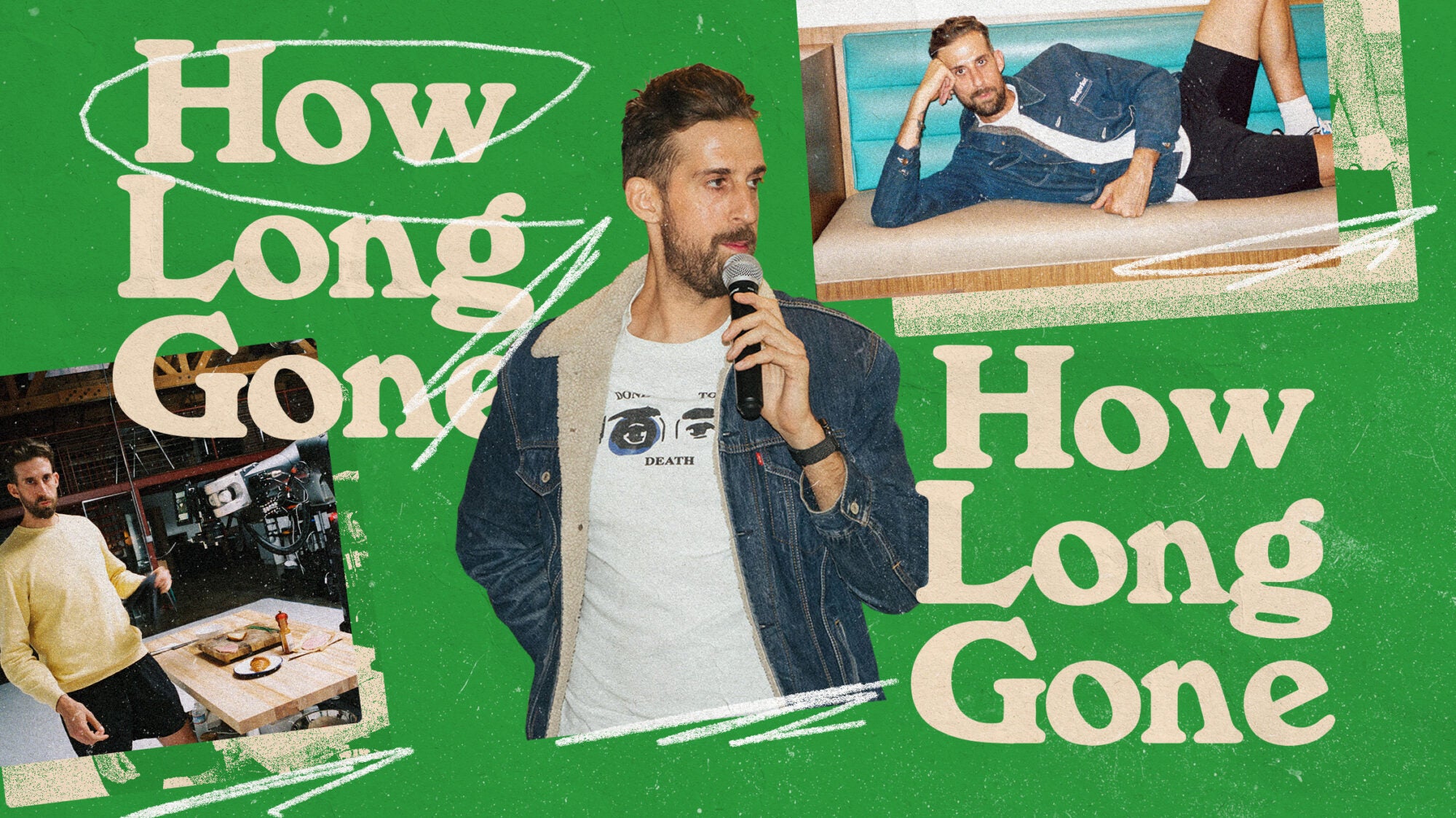 The co-host of "bicoastal elite" podcast How Long Gone is a food media outsider with strong insider opinions.
On a recent episode of How Long Gone, the acerbic and sharply observant "bicoastal elite" podcast Jason Stewart hosts with his friend Chris Black, the genius comedian John Early joins as a guest in what is a bit of a sweet spot for the fellas. Breaking free from the semi-absurd, slightly catty conversation about the hotness of queer country singer Orville Peck and why cable is still cool, the hosts engage in several instances of extremely relatable food talk: The merits of Harmless Harvest over Vita Coco. Smashing burgers on the plancha. "Scuffing up" potatoes before frying them. Natural wine, an ongoing theme on the three-times-weekly program that launched early in the pandemic, is both celebrated and hated. The terms "chuggable" and "orange fatigue" are dissected. 
Throughout HLG's three-hundred-plus-episode run, many zeitgeist food groups and behaviors have been roasted (typically by the sober and sometimes food-hating Black) and revived (by Stewart)—a gifted home cook and relatively optimistic fan of cookbooks, restaurants, and the great food bounty found in his hometown Los Angeles. "Tahini did need a disruption," Stewart deadpans when speaking, quite smartly, about the shift from grocery store sesame paste to more outrageous flavors (yuzu comes up), while explaining a Japanese tartare recipe he worked out that featured rice wine vinegar, shiso, and (naturally) tahini. I reached out to find out more about Stewart's interest in home cooking and semi-forgotten cookbooks and his dabbling in restrictive water consumption.              
Is there a cuisine you are especially interested in cooking at home?
I'm into cooking anything deceptively simple and with a challenging technique that I can slowly perfect over decades. Flour tortillas with different leftover animal fats, high-heat egg scrambling, vegetable steaming, meatballs, and pasta Amatriciana.
Your brother works in restaurants, and you have a strong sense of what you like and don't like when dining out in LA, New York, or around the world. What's a restaurant experience that really made you happy?
Since I cook so much at home, I try to only dine out at places where they're making food that I can't make myself—or when I want a comfy booth, a martini, and a server with a sense of humor who's ideally older than me. Some friends and I recently went to Animal, Jon & Vinny's original restaurant on Fairfax that recently reopened after a COVID hiatus. They were the first people in LA to popularize dishes that still appear on menus across the city, like chicken liver toast, bone marrow, and sharp, high-end spins on things like poutine or tres leches without pulling out the tweezers. It was so lovely to revisit a bygone era of dining that I grew up on: high-end without being fussy, wine that's there to balance the food and not be "chuggable," and a staff who knows how to read a room and isn't afraid to crack a joke to a table that's having a fun night. 
I always get thoughtful service at The Grill in New York as well. I can't get their tuxedoed career servers to break character, but once I told a server how nice their pretzel sticks are in the bread basket and how they'd go great with some mustard, like at a ball game. He quietly returned to the table 60 seconds later with half a dozen pretzel sticks tucked into a cloth napkin duvet with a side of spicy mustard that made us all happy.
I try to only dine out at places where they're making food that I can't make myself—or when I want a comfy booth, a martini, and a server with a sense of humor who's ideally older than me.
What are most or many restaurants doing wrong right now?
Restaurants are having a tough time finding staff who want to be part of a team, and the operators who know how to run a good team are aging out of the system. Why would a line cook make $19 an hour shucking oysters for TikTokers when you could be making $100k a year private cheffing at a TikToker's house, vaping with impunity? Now that we're all semipro chefs, thanks to Bon Appétit's YouTube page, we all know what goes into the food we're buying at restaurants. 
Our standards as customers have shifted now that we have a better understanding of what goes into making excellent food. So the value proposition of restaurant food has moved from "Is it delicious?" to "Will my followers be so impressed by how this food looks that they will be envious of me for a brief moment?" If enough people stop caring about how the food tastes as long as it looks cool, the whole game is over. At that point, it becomes an exhibition, which is fine—as long as you don't charge anyone money for what you're creating.
Name a few favorite restaurants you've visited in the past six months.
Spicy BBQ, a tiny BYOB Thai restaurant in Hollywood; Animal has a few great bites right now; Raffi's Place; Raising Cane's; The Corner Place in Koreatown for cold noodles; and the desserts at Quarter Sheets have been extraordinary. [Note: Read our Monday Interview with Quarter Sheets pastry chef Hannah Ziskin.]
What's a favorite cookbook or two on your shelf that you turn to more often than not?
I like Brooks Headley's Fancy Desserts because it showed me how you could grow up a shitty little punk and obsess over something so much that you become an actual master, and from there, people will support you, no matter how you decide to express yourself. That said, I tried making one dessert out of it and failed miserably. It's for reading, not for cooking. Also, The Flavor Bible ensures that "the science checks out" on the ideas in your head. It's an excellent way to spark ideas in a rut. Find your ingredient, piece together three common links, and go from there. I made a strange but cool panna cotta once because it told me that grapefruit, mint, and cashews all had some crossover appeal.
How Long Gone has booked some fun food guests—Andy Baraghani, Alison Roman, Bill Addison, Claire Ptak, me. What do you want to know most from a food person on your show?
Whenever we have a food guest on the show, I want to figure out their avoidant style when asked frank and uncomfortable questions about the industry. Everyone in the food world is as gossipy, catty, and shit-talking behind closed doors as any other art form but people rarely ever speak ill of others in public. To stay on the top, you have to get innovative about how you skirt around, over, or through certain subjects, and how a person does that shows you so much about one's personality—and if we'll end up friends or enemies by the end of it.
Who's a dream How Long Gone food guest?
Paul Hollywood because he's a dick, Nigella Lawson because I want to flirt with her, Ina Garten because she's chic, Gordon Ramsay because he's an asshole, and Wolfgang Puck because I think he can out-talk most "talent" today while keeping his station clean.
The value proposition of restaurant food has moved from "Is it delicious?" to "Will my followers be so impressed by how this food looks that they will be envious of me for a brief moment?"
One of the themes on the show is fitness, and you wisely call BS on a lot of wellness trends, while also subscribing to others. What is one that is bull and one that you legit follow?
I love all wellness trends, because even if they're bullshit, enough people believe in them to make me wonder if anything is going on that could be beneficial for me—or at the very least amusing. People who avoid fruit because it's full of sugar are weird. I don't eat or drink anything "diet" or low-fat, and I try only to drink martinis if I'm getting drunk. If you're going to eat a big dinner with dessert, skip breakfast and have a smoothie for lunch.
I'm also reducing my water intake as a fun experiment in muscle memory and dependency. I drink my water like meals, not snacking sips throughout the day from the Nalgene tethered to my body. I stopped bringing water into the sauna because, much like pee-pee, once you break the seal, it's hard to stop the train of fluids, and all you can think about is rationing your supply to make it through the shvitz. That doesn't sound very meditative to me. 
You are on a quest to perfect the banh mi at home. What's the root of this journey, and have you gotten close?
I am no banh mi expert, but I have a general fascination with sandwiches, and I've always considered the banh mi to be extreme. It pushes the dynamic range of a typical sandwich, either filled with funky headcheese shards, liver pâtés, or fat coins of raw jalapeño and cilantro stems. Also, banh mi is either priced questionably low or offensively high. It's not my place to say that the banh mi fits into the category of "it's better when it's cheap," like so many other grab-and-go foods, but I believe it does. Canned pâté smeared on one side of a $1.99 baguette, mayonnaise mixed with Maggi or plain butter spread on the other side. 
The pickled carrots and daikon must be pickled in distilled vinegar from a plastic jug; no Meyer lemon–yuzu shit over here. I prefer the cold cuts inside to be rich and funky, but if they're not accessible, try some thicker-cut mortadella from the deli. Last, the banh mi is a perfect battleground for sandwich homogeny. Is it better to get a little bit of everything in each bite or to have wildly overpowering peaks and valleys?
You once spotted Nigella Lawson and Anthony Bourdain dining together at Trois Mec (RIP). If you had invited yourself into that dinner party, how would it have gone down?
I'd make that dinner all about me. Tony and Nigella need a break from answering questions. Bourdain probably had to answer so many inane questions his whole life, and the poor guy needs a night off. I'd tell my best drinking stories and laugh at all of Tony's jokes so he could close after the nightcap.