Pastry Chef Hannah Ziskin Seasons Her Sweets Like Salads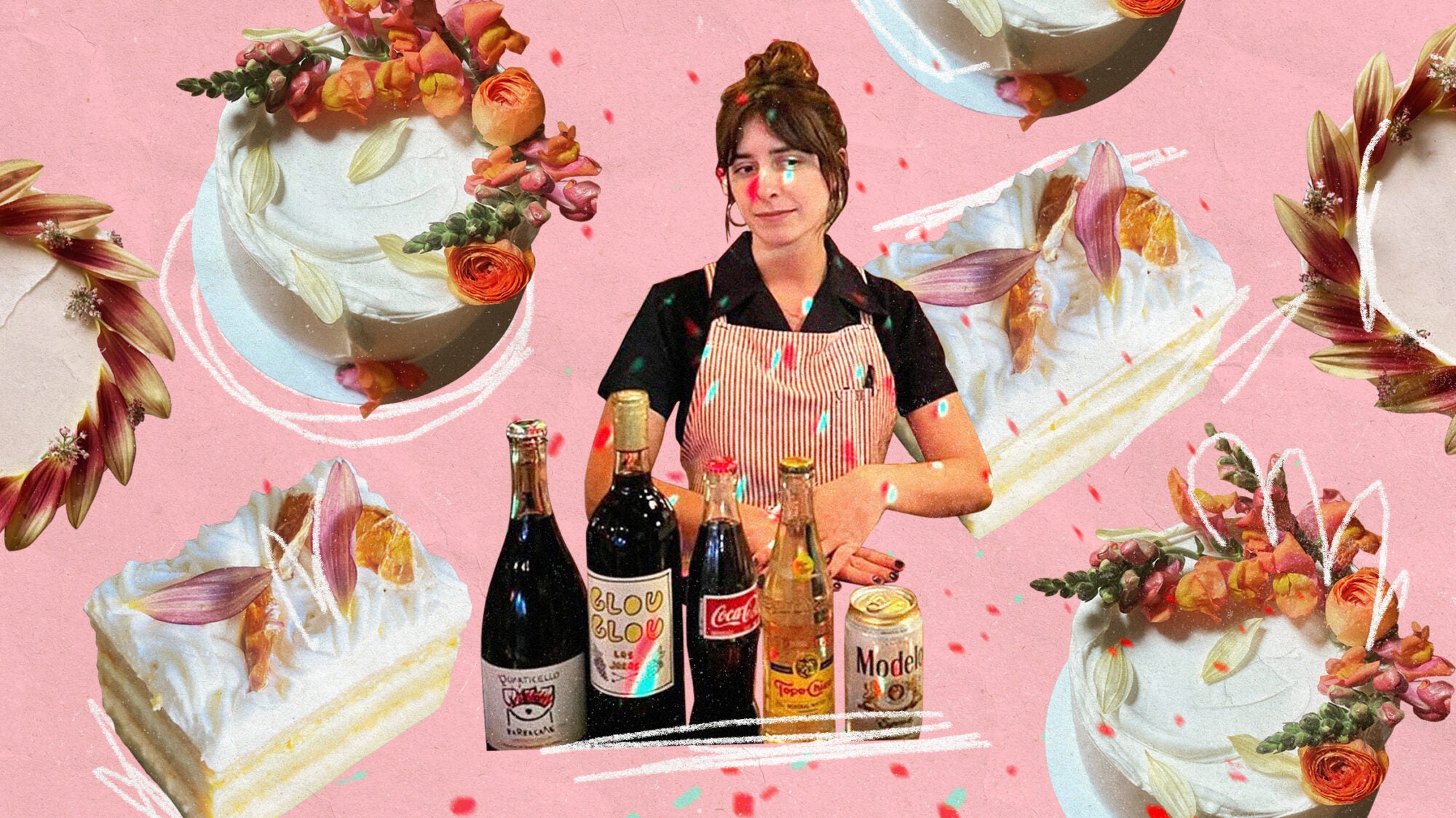 The Los Angeles pastry chef at smash gluten hit Quarter Sheets breaks some rules, and re-writes many.
Pastry chef Hannah Ziskin has spent her entire life in California, where fruit bowls can pile up with passion fruit and plums at the same time of year. So it makes sense that seasonality is her guiding light when it comes to creating slab cakes, princess cakes, and fruit custard tarts at Quarter Sheets, the pizza and cake restaurant she runs in Los Angeles with her partner, Aaron Lindell. "I look for things that grow together at the same time or have just a tiny bit of overlap. Blood oranges and strawberries are one of my favorite things to put together," she says. 
When Ziskin worked at the sometimes experimental, always fermentation-forward Bar Tartine in San Francisco (which has since closed), the kitchen's unusual and totalitarian ban on chocolate, white sugar, and vanilla extract helped her realize that "desserts don't have to be what they always are"—as in super sugary and buttery. Since then, she racked up pastry chef gigs at some of San Francisco's most acclaimed restaurants before moving back to her native LA in 2018, where she started a one-person home bakery (House of Gluten) and cofounded Quarter Sheets—originally as a pop-up—over the course of the pandemic. Angelenos have responded extremely well to her desserts, which are classic yet subversive and full of flavor but not all that sweet. In her words, they're "intellectual comfort food desserts."
I called her up to find out how she builds nuanced flavors, her thoughts on internet cake trends, and her ideal cookbook topic.
Quarter Sheets offers a simple menu: pizza and cake. What is it about the pairing that works so wonderfully?
We have this ongoing joke that it's like a child's birthday party. I was already making cake, and Aaron was like, "Oh, Quarter Sheets pizza, why don't you make a quarter sheet [tray] cake?" Then it kind of took on a life of its own. We didn't think about that pairing beforehand, but it makes so much sense because every pizza party ends in cake when you're a kid. I always think the most powerful connection to food is memory and nostalgia. We've always loved things most because they remind us of something.
You've said before that your specialty is "building layers of flavor into a seemingly simple dish." Can you talk about how you do this?
I'm very inspired by the dynamic nature of a delicious salad, which is savory but needs a little sweetness, acid, and salt to be balanced and texturally pleasing. I want all of those same things. You can have a dessert that's almost sour, but it needs to be balanced by an element that's sweet to keep it from going to a place where it's like you're eating a WarHeads. Things can be salty, but you don't want your chocolate chip cookie to be only salty. It also needs to have that deep caramel richness.
Princess cake—a dome-shaped Swedish sponge layer cake made with pastry cream, raspberry jam, and marzipan—is one of your signature items at Quarter Sheets. What drew you to start making it?
I grew up eating princess cake every year for my birthday—that is the cake I selected as a child. There's a Hungarian bakery in LA inside of Gelson's called Viktor Benes where we got them from. Even into adulthood, Aaron gets me princess cake every year for my birthday. It's very unlike me to like it so much, because it's sweeter than a lot of the stuff I usually enjoy. I'm not a huge dessert person. I almost never order dessert, but I hold space for a princess cake. I take great joy in introducing people to that cake year after year. Not a lot of people have heard of it. 
When I started doing this cake business about two years ago, I did one experiment early on with princess cake. It did not go well, because I used premade marzipan, which has so much almond extract it hurts your throat. When I made all the elements myself exactly how I wanted, everything fell into place. So now I make the [raspberry] jam, and I make it as acidic as I want. I make the custard as salty as I want. I use olive oil in the chiffon cake, which reads a little more savory and is a natural pairing with berries and almonds and mascarpone. To me, it's still very nostalgic and tastes super classic. People are very, very into it.
If you don't like sweet things, what drew you to pastry in the first place? And how does that restriction affect your baking style?
I used to like sweet things! I feel like it's because I've been eating it all for so long that I don't crave it anymore. I have a reverse addiction. I actually think it's benefited me, because the majority of people don't like supersweet things. I get a lot of feedback from people who tell me they don't usually like cake or dessert, but they like this version of it. I think that's because I'm so sensitive to sweetness that I do everything in my power to avoid making things too sweet.
There have been a lot of recent cake trends, like kookily decorated cakes, or the fact that in most major cities, we can now order amazing cakes from local bakers we follow on Instagram. How do you think this has changed how people understand what cake can be, or what they desire in a cake?
The assumption about desserts for a long time was that people were seeking sugar and butter in this insane way. All of the pastry chefs I am friends with and know who are making cakes now have worked in restaurants where you have access to these other ingredients that you wouldn't necessarily have in a bakery, and I think that's made a huge difference. Bronwen [Wyatt] worked in restaurants for years and years, as did Sasha [Piligian], Rose Wilde, and Kassie Mendieta. I recently made some desserts at Octavia in San Francisco because I was working with [the chef-owner] Melissa Perello at M. Georgina before it closed in the pandemic. I was trying to think of an element to add to a strawberry tart with ricotta, and I got to look at her chef's pantry. The thing that caught my attention was this dehydrated olive crumble. I would never have that, but because I was in there, I tasted it, and I was like, "That's going to be so good on there." 
"I'm so sensitive to sweetness that I do everything in my power to avoid making things too sweet."
Have you thought about writing a cookbook? What would it focus on?
I could probably write a cake cookbook about how to combine [dessert] elements based on seasonality and what you're going after. I really like this beautiful cookbook from a bakery in Australia called Beatrix Bakes. The author, Natalie Paull, will have a recipe and then, at the end of the recipe, there's a little wheel. The center of the wheel lists a few different approaches to making the base of the dessert, and then each part of that wheel goes out into two toppings, which goes out into three more toppings.
It shows all of the possible combinations you could do from other recipes in the book. I think that's really cool, because people feel bound by recipes, but once you know the rules, you can break all of them. If you understand the science of why something sets up the way it does or why something tastes good with something else, then you can apply that knowledge to other things, and it's forever expanding. You can forever learn. It's just about being curious. "Curious Cakes."