There's Never Been a Better Time for Campfire Cooking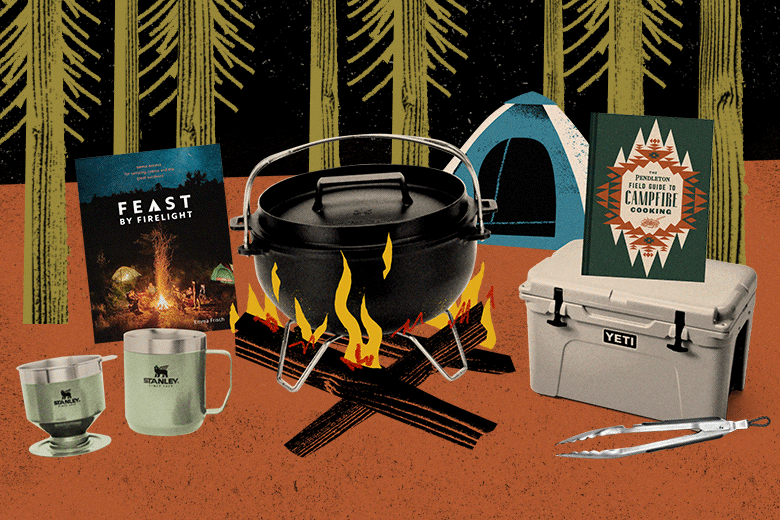 We're in the midst of a boom in gear, books, and brilliant ideas for what to eat while camping.
Exactly one year ago, I wrote a story for TASTE about a big shift I was noticing: Outdoor companies, historically known for rugged mountaineering gear or high-performance athletic apparel, started to become very interested in food. Chalk it up to a pandemic-prompted spike in camping—or chalk it up to the fact that everyone in today's culture (even the most extreme outdoorsmen) care about food—but suddenly all these outdoor companies have started to look a lot like cookware companies.
In the past year, the fervor has intensified, and the possibilities for campfire grilled trout and whole roasted pineapples feel endless. Kitchenware brand OXO announced a collaboration with REI, full of sturdy, lightweight cooking and cleaning tools designed for preparing food in nature. Stanley, a company famous for its insulated bottles and drinkware, bulked up their selection of camping cookware and partnered with chefs like Yardy's DeVonn Francis to show how their products can help facilitate luxurious picnics full of conservas and Basque cheesecakes. And just a few weeks ago, Japan's legacy mountaineering brand Snow Peak rolled out a sleek new modular stove, offering the perfect flat iron griddle for pancakes and fried eggs.
And beyond the tools themselves, there are more recipes and cookbooks about camping than ever before. Last summer, Eater published a full prepping and meal plan for a camping trip, bringing together tips from Lucas Sin, Kirsten Kirby-Shoote, and Kena Peay. Just this year, I've counted six new cookbooks on the topic so far, including Dutch Oven Camp Cooking by Vernon Winterton, Outside by Gill Meller, and The Pendleton Field Guide to Campfire Cooking.
If you can nab a campsite (hurry—bookings shot up by about 500 percent in 2021), get out there and get cooking. Everything tastes better outside!
More Reading About Perfecting Your Campfire Cooking:
Cool Things to Buy for Your Next Campsite Meal: