The Great Camp Cooking Boom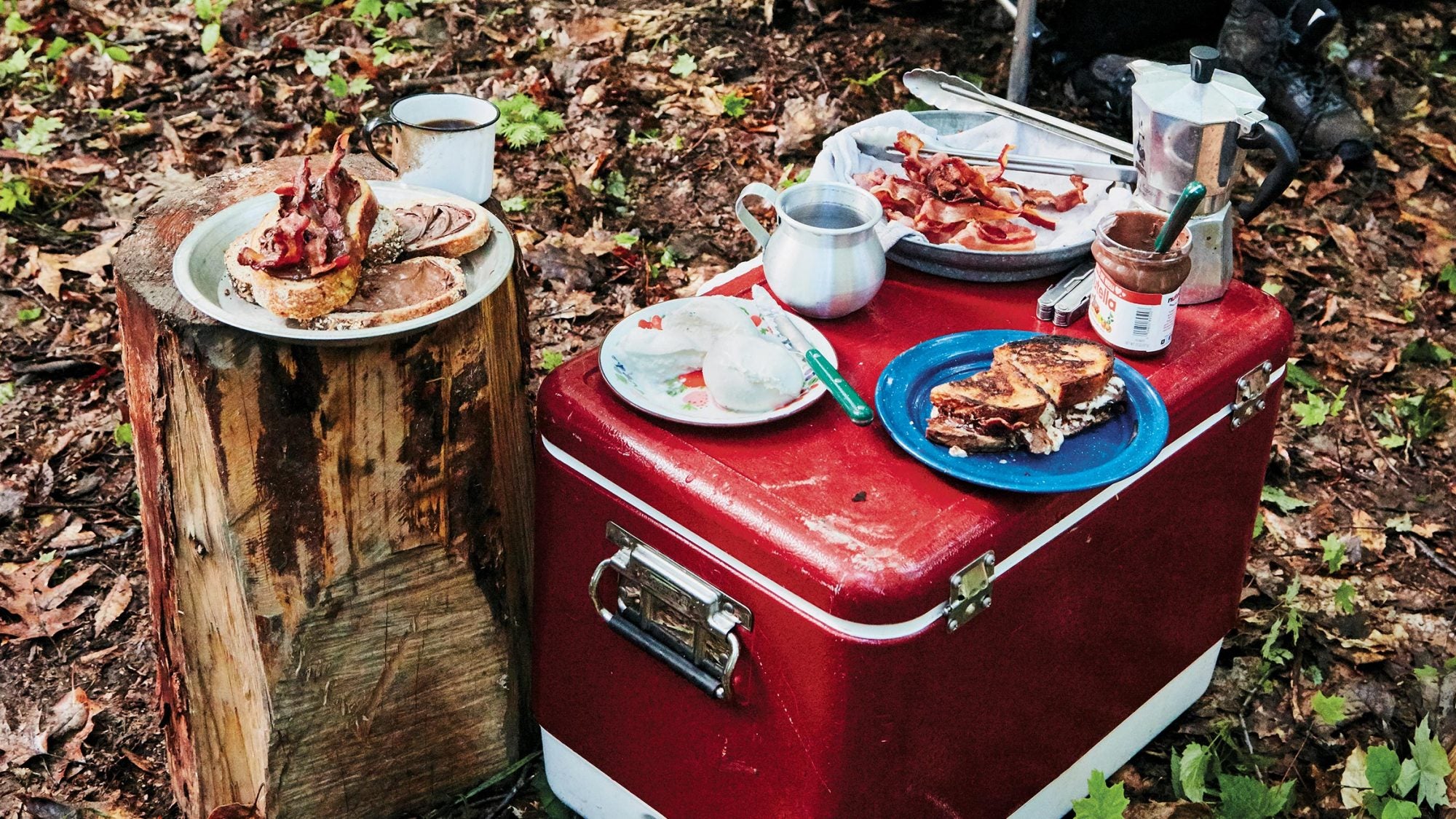 It's time to grill some trout, eat conservas, or make pour-over coffee . . . in nature.
If you haven't been camping in the last decade, you'd be forgiven for thinking that the pastime is mostly fueled by trail mix and burnt hot dogs. But the camping trips of today exist on a different plane entirely, particularly when it comes to cooking. You can now arrive to a state park and unpack a sink, faucet, and yakitori setup from the back of your car. You can reach for a whole trout stuffed with lemon slices and herbs, or a pack of ice cream sandwiches from your solar-powered electric cooler. You can even shake your fireside dinner cocktail under the ambient glow of portable string lights. You can watch the sun rise with a cup of freshly AeroPressed coffee while a raspberry crumble bakes in a miniature nonstick cast iron pot, specially designed to circulate heat over the campfire. Wherever your camping whims fall on the spectrum of exhaustingly survivalist to relentlessly twee, there is a product for you.
You could chalk it up to a culmination of the last decade of prepperism and #vanlife creating a group of adults who want to be able to pick up their lives (and kitchens) at a moment's notice and hit the road, whether they're fleeing disaster or chasing the perfect sunrise vantage point. Or you could credit it to a generation raised on the Food Network and grocery delivery seeking that ever-elusive break from the internet, equipped with books like Emma Frisch's Feast by Firelight. Whatever set it in motion, most outdoor brands agree that the inclination was kicked into hyperspeed by COVID-19.
"Everybody is probably telling you the same story," says Matt Liddle, the COO of Snow Peak USA. "When this thing first hit, we were batting down the hatches, rocky road ahead, prepare for a rough year, cut the expenses, slow down the inventory. And within six to eight weeks, we were like, 'Wait a second, nope, turn it all back on, because the demand's gonna be massive.'"
Impromptu, and even mobile, socializing (like the "walktail party," as the New York Times nicknamed it) became a way to meet people at their comfort level without sacrificing the experience of good food and drink.
Snow Peak was founded in the 1950s in Japan as a mountaineering supply company, making the durable crampons, ice axes, and carabiners that athletes needed for serious climbs. In 2020, their highest-revenue product in the United States was a portable charcoal grill that doubles as a fire pit.
Terence Reilly, the global president of Stanley, a company whose insulated bottles were used by US pilots during World War II, describes the past year as "unprecedented."
"What we started to see almost immediately in April and May of 2020, as lockdown started to take hold and people started to understand what this meant for their lives—and, of course, with the end of travel, certainly international, and even domestic—is that people started to go to their backyard, or their rooftop in Brooklyn, or a local park, or the state parks and national parks. Van camping and all of that began to take hold."
For these thousands of newbie campers, food preparation was top of mind. The company struggled to keep their popular cook sets in stock, and a new tumbler sold out within eight hours. For the first time in Stanley's 100-plus-year history, there were waiting lists for products.
Small gatherings in backyards and public parks became stand-ins for restaurant meals and dinner parties during the pandemic. Impromptu, and even mobile, socializing (like the "walktail party," as the New York Times nicknamed it) became a way to meet people at their comfort level without sacrificing the experience of good food and drink. For my part, I carted coolers of beers to Brooklyn's Prospect Park, made paella next to a creek in New Jersey, and ate grilled sausages huddled around a friend's wooden garbage enclosure, all in the name of keeping the party mood going during a year with no parties.
When the events industry effectively shut down overnight last March, Rashad Frazier decided to pivot from his Afro-Asian catering company Yoshi Jenkins to follow a dream and cofound Camp Yoshi with his wife and brother. The Portland, Oregon–based company leads all-inclusive camping trips with a mission of creating space for Black campers and allies to unplug and connect with nature, and Frazier has occasionally collaborated with Snow Peak.
"Folks think of us as adventure guides, but I find we're more like epic hosts," says Frazier. To him, eating and drinking well is a huge part of the appeal of camping, and an easy way to get a first-time camper hooked on the experience. He's grilled fresh, local oysters from Oregon's Netarts Bay with miso butter for his guests. For a recent lunch overlooking a canyon in Moab, Utah, he pulled a blowtorch out of his bag to make some toasts with olive oil, fresh tomato slices, and a sprinkle of Jacobsen sea salt. He's even baked individual strawberry cobblers with drop biscuits in the embers of the campfire—which got a little burnt but were nevertheless happily devoured by his fellow campers.
Frazier has embraced this mobile, often improvisational style of cooking. "I think that the challenge of cooking outdoors is also the thrill. These are our recipes I love and know, but even with the same process, the outcome isn't always the same. There's something about the adrenaline rush, or the thrill of that."
"When I think about the pandemic, the thing that people got comfortable with was: 'I can have family over or friends over if I'm comfortable with them, but we're going to gather in the backyard.'"
Brands that traditionally make camping and athletic gear are starting to wise up to this broadening demand for products that let people cook and eat meals together outside, wherever that may be. "Where do we feel safe?" asks Birgit Cameron, the cofounder of Patagonia Provisions. "We feel safe saying, 'Okay, family, let's go and do a car camp, or let's go out into the wilderness and hike and bike and do trails, or go to the beach, or whatever it is, because those feel safe to us right now.'"
As Liddle puts it, "When I think about the pandemic, the thing that people got comfortable with was: 'I can have family over or friends over if I'm comfortable with them, but we're going to gather in the backyard.'"
Chris Gayomali, a Brooklyn-based GQ editor, bought one of the popular Snow Peak Takibi grills last year during an REI sale. "I love the outdoors and the beach, but storing camping equipment is kind of tough in New York, so I've settled for becoming an occasional glamper," he tells me. The small, fold-up grill was a good compromise for this lifestyle—and multifunctional. "It's been a godsend during the pandemic, especially during nice days. I can just set it up on the roof, spread some chairs out, and ask friends if they're free to hang—and, weirdly enough, they usually are!" Shishitos grilled with butter and salt were a highlight of these cookouts last summer.
Capitalizing upon the recent success of the Takibi grill, Snow Peak released a $500 tentlike tarp last year, designed to shelter a small group of people sitting around a grill from rain, snow, or wind, so those gatherings aren't limited to sunny days during the summer. The exterior fabric is water-resistant, and the interior layer is made from a fire-resistant textile that's used in Japanese firefighter uniforms. "It folds flat; you can throw it in your car, take it out to Rockaway Beach. You can take it up the Hudson," says Liddle.
The past year brought plenty more pieces of gear that were perfectly tailored to this moment in outdoor cooking. Yeti introduced their Roadie 24—a compact picnicking cooler that boasts the ability to fit upright bottles of wine. Last summer, Stanley introduced a pour-over coffee system in their signature Hammertone Green shade that's a substantial upgrade for anyone who's used to packing instant coffee for camping trips. REI is planning to announce a new partnership with an "industry-leading" cookware company in the coming months.
Reilly partially credits the popularity of this gear to a growing excitement around adventurous cooking and eating well in the last decade. With a laugh, he cites the arrival of words like "foodie" into the collective consciousness. "With COVID, people are bringing those tastes outdoors," he says. "So that thoughtful preparation of food and beverage—people appreciate that anywhere, but with restaurants closed, or with reservations difficult to get now, people have found a way to do that on their own patio or rooftop, or in their state park or national park."
Legacy outdoor brands that have spent decades, and sometimes generations, making equipment for serious athletes are starting to look a lot like lifestyle brands.
Incidentally, for the restaurant business, bringing those tastes outdoors often looks a lot like camping: tabletop stoves, branded wool blankets, and rows of tents lining the sidewalk to accommodate the new reality of outdoor dining. And, in turn, legacy outdoor brands that have spent decades, and sometimes generations, making equipment for serious athletes are starting to look a lot like lifestyle brands. They're publishing recipes and working with chefs to produce clever cooking videos. Their Instagram pages are full of tastefully appointed camp kitchens in nostalgic color schemes. They're also starting to embrace the growing customer base that comes with the territory—people who may not spend their weekends fly-fishing or training for an Everest trek, but who simply want to eat well (and fashionably) outdoors.
Melissa Paul, a merchandising manager for REI, says, "Even before the pandemic, our customer demographics were evolving, but this year has really expedited that trend." REI has expanded its cooking products far beyond the traditional coolers and two-burner camp stoves (although those, too, are becoming more efficient and stylish). They now sell grills, pizza ovens, and a wider variety than ever of coffee gear.
Cameron tells me that when Patagonia Provisions was founded in 2012, it was a two-pronged approach to balance its new mission with the outdoor legacy of Patagonia. "You need to fortify yourself every day to go out in the backcountry and do those things that you want to do. It isn't just one or the other. We wanted to cover both of those areas—everyday lifestyle and outdoor lifestyle." The company also sees the benefits of marketing products for both camping and domestic use. The tinned mussels, mackerel, and anchovies they sell would be equally at home at a cocktail party or in a packed lunch for a long hike.
As Liddle points out, the math is simple in catering to both camps. "If I took the US population and said, 'How many people are campers?' Well, there's a percentage there. How many people like to enjoy a meal outside? There's a much larger slice."
Snow Peak is in the process of opening the brand's first US restaurant, Takibi, in Portland, Oregon, in mid-May. Liddle says he's trying to avoid creating the "Epcot Center version of camping," but food by chef Alex Kim and cocktails by Jim Meehan will be showcased on tableside camp stoves and in double-walled titanium mugs furnished by Snow Peak.
According to Frazier, the promise of a solid meal and a well-made cocktail might not be a bad place to start when you're trying to warm people up to the idea of camping. "Once you get out to some of these remote spots that you would never really go to on your own, you start realizing, 'Oh, I get it now. I can come out here and thrive. I can live my best life with a full belly, an amazing sidecar cocktail, and I can see the stars for the first time.'"