The Cookie Tin Will Not Be Put in a Box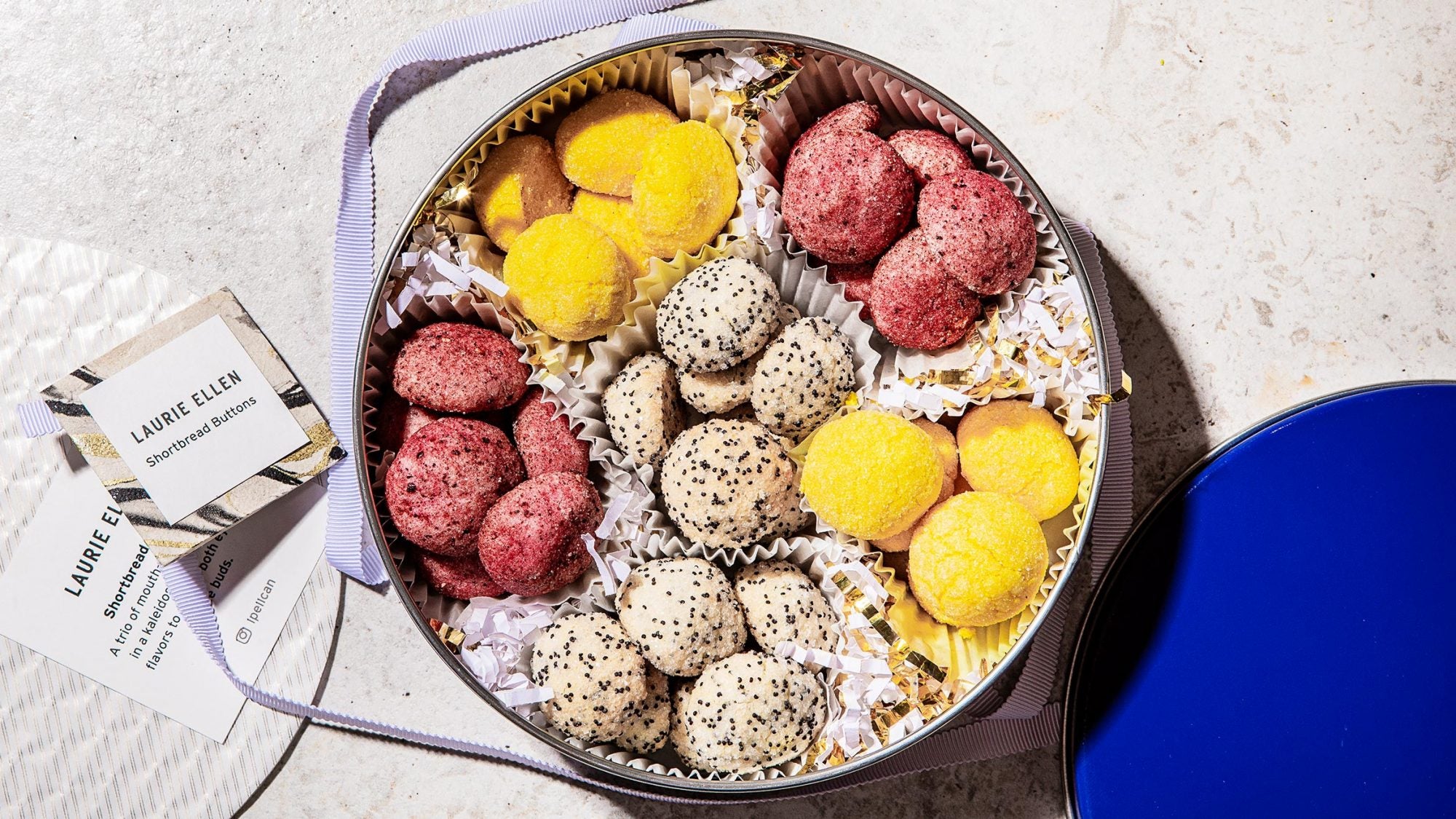 Ambitious cookie bakers are set on extending the tradition well beyond the holiday season.
The cookie tin has come a long way from the days of Royal Dansk—ubiquitous tins filled with butter cookies molded by factory machinery into a variety of cheerful shapes. On account of a pandemic that put pastry chefs out of work and forced restaurants to build new revenue streams, bakers have started to curate carefully designed boxes filled with creative combinations like lemon honey butter mochi next to miso butterscotch cookies, or browned butter snickerdoodles next to cashew-coconut-date bars. They're breaking free from the month of December (and all the obligatory stale gingerbread that comes with it) to deliver year-round treats that are handmade, oftentimes seasonal, and far more unique than what you can find in the cookie aisle of the grocery store. In other words: it's the cookie tin's time to shine.
"Over the last year, we've all tried to figure out ways to connect to each other remotely," says Laurie Ellen Pellicano, a baker, recipe developer, food stylist, and pastry consultant who cut her teeth at the original Tartine in San Francisco and launched her namesake cookie tin business in early December of last year. "And that's created an interesting food economy." Pellicano's impetus for the project, which sells trios of cookies for $45 and ships them nationally (in addition to offering local pickup and delivery in Brooklyn), came from a desire to meld her cross-disciplinary culinary background into a fulfilling year-round business. She decided to go all in on building imaginative cookie recipes, like a shortbread inspired by the orange-flavored Milanos she grew up eating, or buttons flavored with raspberry, hibiscus, and the cured sumac she adores from Burlap & Barrel.
When the acclaimed baker Melissa Weller closed High Street on Hudson, the West Village bistro where she was the head baker and partner, at the beginning of the pandemic, she found herself in a similar headspace to Pellicano. "I was really frustrated in terms of what to do, because I've been in the restaurant industry for such a long time, and I'm a baker. Baking programs were always getting cut because of budget, and I always felt like [my job] was on the line," she recalls over the phone. Furthermore, Weller was burnt out from years of managing teams tasked with making fresh, jam-filled kouign-amann and baguettes every morning. "I thought, this is really exhausting, and I'm getting older, and I want to have my own business, but I wanted it to be a really smart business," she says.
As she was exploring the possibilities of creating a scalable, packaged baked good, she did a one-day pop-up at the Musket Room where she produced a Japanese-inspired holiday cookie tin. "It was so much fun, and it was so creative, and I actually made some money on it," she remembers of the event that sold 49 tins and 1,000 cookies in total. "Why don't I think about how I might want to do this myself?" Funk Foods Bakery was born in April as a cookie tin company with monthly rotating flavors, offering local pickup in Brooklyn and nationwide shipping. The first iteration was bar-themed and featured items like pretzel shortbread and tahini-halva blondies, while May focused on Mother's Day with double chocolate drops, violet sugar swirls, and lemon bars.
Why cookies, and why now? Unlike other semi-viral, and specific, sweets like Basque cheesecake and cardamom buns, cookies are extraordinarily extensible in nature. "It's like a blank canvas that is both comforting and unassuming," says Dave Dreifus, the chef who cofounded Best Damn Cookies with entrepreneur Mo Sahoo during the pandemic. "I'm blown away by how many different ways you can make cookies." And, as Pellicano notes, "Cookies are a tradition that spans across the entire world."
"Our conversations became about what we could do to tangibly help this moment. How can we raise money to raise awareness? The idea for dessert boxes came to be because they're discreet, they're sellable, you can pass them off and stay socially distanced."
This is why Bowl Cut Table, a cooking collective of eight Asian American female friends whose professional backgrounds traverse a variety of different industries (which includes TASTE editor Tatiana Bautista), started selling dessert boxes in September of 2020. Prior to the pandemic, Bowl Cut Table's focus was on hosting family-style dinner parties and ticketed cooking workshops, but as the Black Lives Matter movement gained steam last summer, they were motivated to activate within the ongoing struggle for racial justice. "We felt like we needed to implement our feelings and our commitment within our identities into action," recounts Sophia Rhee, a collective member who is an environmental social science researcher by day. "Our conversations became about what we could do to tangibly help this moment. How can we raise money to raise awareness? The idea for dessert boxes came to be because they're discreet, they're sellable, you can pass them off and stay socially distanced," she says.
Bowl Cut Table's thoughtfully assembled dessert boxes are released monthly in editions between 50 and 90, depending on the group's capacity. Each box is a collaborative process between all eight women; members switch off baking duties in addition to other administrative and logistical tasks. And 100 percent of the proceeds go to a different organization every time—in September, they raised $1,767 for Equality for Flatbush with Vietnamese coffee macarons and pandan chiffon cake, whereas in February, a Lunar New Year–themed box with lapsang souchong shortbread and mini matcha donuts raised $1,404 for Heart of Dinner.
What's most important to the collective is the ability to reconnect with the ingredients and childhood flavors they feel strongly about. "We're not trying to whitewash our ingredients; we're not trying to appeal to someone else's palette; we're creating the desserts that we want to see, on our own terms," Rhee says. None of the members are professionally trained bakers, which makes each dessert box particularly personal. "We're really just drawing on our own experiences," she adds.
With Warm Welcome, a New York and Los Angeles–based community organization whose mission is to amplify Asian Americans in the restaurant industry through content and experiential programming, debuted their own Bakers Box in March as a way to champion women bakers for Women's History Month. But when hate crimes against Asians and the subsequent outpouring of efforts to Stop Asian Hate began to rise, they decided to donate half the proceeds to Apex for Youth, a nonprofit that provides educational programming for underprivileged Asian and immigrant young people. The box, which contains 18 cookies and bars like mandarinquat sablés and gochugaru brownies from different Asian American pastry chefs and bakers, was so popular in New York that they chose to create one for Los Angeles in April. Now Chicago is up next, and "the idea is to go to a new city every month," says founder Arnold Byun, who also runs NAEMO, a Korean takeout restaurant in Los Angeles. A limited number of boxes (just 100) that cost $100 a pop are made in each city, and they've been selling out quickly.
For the bakers who've battled with the challenges of shipping, moisture is an obsession. Dreifus of Best Damn Cookies is hell-bent on achieving a product with chewy insides, crunchy outsides, and nuanced flavor throughout—even after taking a 3,000-mile ride. "I view it like a medium steak, so I bake at a high temperature to make sure [the cookies] are crispy and the insides have a bit of moisture," he says, adding that "the lower your moisture content, the higher your stability."
"I wouldn't buy a dozen croissants for someone, but I'd buy a dozen cookies and send them as a gift."
One of their cookies, called Cofresí, contains coconut flakes, lime zest, and pineapple, which Dreifus braises in dark rum and spices, then dices and desiccates for seven hours "until it becomes like a gummy," he says. "If I were to put the pineapple in as is, it would be like a crepe because of the moisture content." Dreifus and Sahoo claim their cookies last about a week and a half. Each box, which costs between $25 and $28, includes a half dozen cookies (either a variety or a single flavor) individually wrapped in a wax-paper-like pocket made of recyclable glassine.
Pellicano, on the other hand, aims for a six-week shelf life by focusing on shortbread-style cookies that have a high ratio of butter, sugar, and flour, and not many other additions, so as to avoid adding too much moisture. "I actually think cookies get better with time," she says. "Especially in the format I make, where the ingredients continue to gain flavor as they sit, and don't deteriorate in textural quality." She adds that it's crucial to pair cookies that "play together well, because you don't want something to be included that's going to take moisture from anything else, or that will add odors or other things that are in conflict." Aluminum tins, Pellicano says, are the best vessel for ensuring that the texture of the cookie remains intact for a considerable amount of time.
Meanwhile, in Los Angeles, the chef Ria Dolly Barbosa of Petite Peso makes Filipino polvorónes in flavors like crème brûlée and white chocolate macadamia (which are then wrapped in colored foil and shipped nationwide) that last for up to three weeks in the fridge. Polvorónes are a no-bake cookie that have a similar makeup to shortbread: toasted flour, milk powder or butter, sugar, and flavoring. "It makes this loose, wet sandy texture that we then press and compact into a rosette shape," Barbosa explains. She first started offering them during the holiday season but decided to keep at it, since they ship well in macaron containers and stay good for a while.
Perhaps the key factor driving the attraction to cookie boxes, for consumers and bakers alike, is what's central to the success of those produced by Bowl Cut Table and With Warm Welcome: that cookies are personal. Barbosa used to make polvorónes for her grandma, who always encouraged her to find a way to sell them. And with a name like Best Damn Cookies, Dreifus and Sahoo have heard from a lot of customers that their favorite cookies are still their mom's or their grandma's.
It's this desire for connection and stirred emotion that the new crop of cookie entrepreneurs is banking on. Outside of local bakeries and your boxes of Chips Ahoy!, the direct-to-consumer cookie business has been infused with truckloads of private equity and venture capital money. Companies like Levain Bakery, Milk Bar, and Crumbl Cookies are opening shops and making their way into grocery stores at a rapid pace.
Both Pellicano and Weller agree that there is an opening in the market for special and thoughtfully crafted direct-to-consumer cookies. While the big boys offer assortments of classic cookie flavors in hyper-branded packaging, bakers like Pellicano and Weller aim to create cookie tins that are more artisanal in nature by infusing whimsy, seasonality, and experimentation into their process. Pellicano is thinking through coordinating flavors with specific holidays while also building a line of items "that people are going to want year-round, and that they're going to be excited about receiving and giving." She says that her goal isn't to be in grocery stores but to sell her tins in smaller local markets while focusing on direct-to-consumer growth. Weller maintains that cookie tins are wonderful gifts for all types of use cases. "I wouldn't buy a dozen croissants for someone, but I'd buy a dozen cookies and send them as a gift," she says. One of her many ideas is for an end of summer back-to-school box with different types of chocolate chip cookies.
The question of widespread consumer adoption remains, but Pellicano is hopeful. "We don't have a problem putting a lot of gift energy and resources toward candy and chocolate—that's already very much in our lexicon," she reasons. "We do it with fancy macarons, too, but we haven't made the jump over to cookies, which have a more historical, domestic tradition for us. And to me, that's a real gap."
Contemporary Cookie Boxes That Ship Far and Wide
Laurie Ellen Pellicano's May cookie tin contains shortbread buttons in three flavors: raspberry-hibiscus-sumac, lemon–poppy seed, and turmeric-ginger. Keep your eyes peeled for new releases.
Each of Ria Dolly Barbosa's Filipino foil-wrapped polvorónes are a gift in and of themselves. Buy an assortment of five for now (boxes of 25 will be shippable soon).
Expect a new theme of cookie variety each month from Melissa Weller's Funk Foods Bakery cookie tins.
It's worth deciding for yourself whether Dave Dreifus makes the Best Damn Cookies. Be sure to try "The OG," which is layered with brown butter, three sugar types, and chopped dark chocolate.
Do blondies count as cookies? Regardless of your take, Auzerais Bellamy's Blondery creations—think Brooklyn Blackout, birthday cake, and pecan–salted caramel—are delicious.
Kirstyn Shaw of LA-based The Very Best Cookie makes chocolate chips, snickerdoodles, and strawberry crinkle cookies in packs of six or twelve.
If you're in or near New York, check out Bowl Cut Table's upcoming pop-up at 27 Greene Street on June 5 and 6, and check out their Instagram for more updates.