Regional Mexican Cooking, the Rick Martínez Way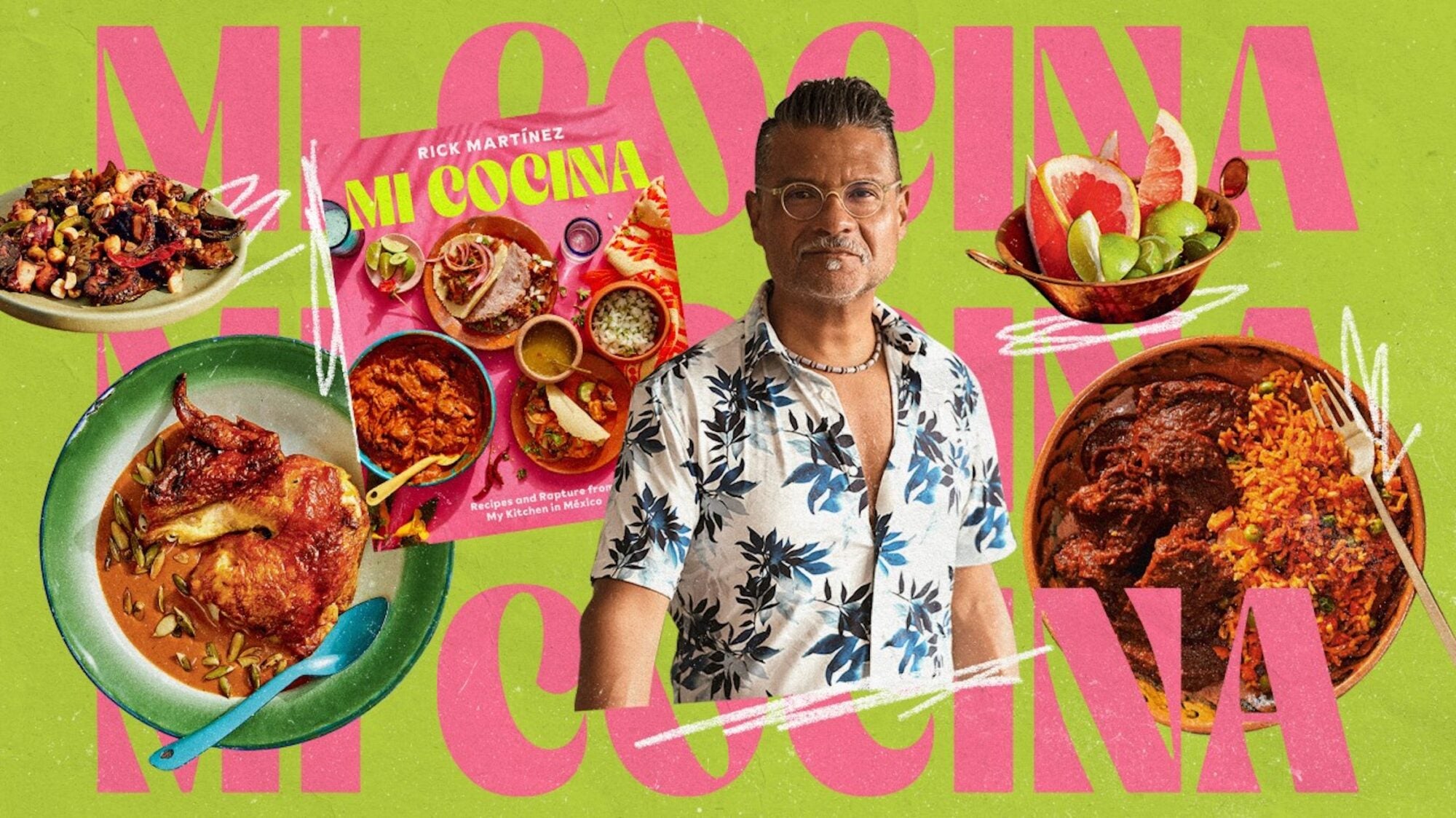 In a new cookbook, Mi Cocina, the Mazatlán-based, New York-spirited writer and recipe developer travels through 32 states and 156 cities of Mexican cuisines. 
Mi Cocina: Recipes and Rapture From My Kitchen in Mexico is the kind of cookbook that you almost need two of—one for the kitchen and one to keep by the bed to read.
It's the first book from Rick Martínez, the former Bon Appétit test kitchen star who moved to Mexico's Pacific Coast during the pandemic, and it's full of big ideas about identity and our assumptions about cuisines and cultures—starting with Martínez's childhood growing up in a small town near Austin, Texas, where he was the only Mexican American in most of his classes. It's also packed with headnotes that go way beyond the ordinary peppy patter about deliciousness, each one a short story from the three years Martínez spent driving across Mexico, figuring himself out as much as the terrain and the regional cooking.
As for those recipes? It'd be a shame to skip over the former, but yes, you could buy the book just for Martínez's version of horneado tabasqueño, pork shoulder braised with tomatoes, fresh chiles, and raisins—or his pescado a la talla, grilled snapper butterflied and bathed in a brick-red chile-seasoning paste, inspired by the breakfast he ate on a beach in Oaxaca after buying the fish right from the fishermen returning to shore at 9 a.m.
Earlier this spring, I Zoomed into Martínez's home in Mazatlán—where you can put a pineapple crown in the ground and it just grows, he told me—to hear about his approach to the book, which took several years to refine. Martínez, who also hosts the Babish Culinary Universe YouTube series "Pruébalo" and the Borderline Salty podcast with his former BA colleague Carla Lalli Music, told me how, as a recipe developer, recipes are his canvas, his medium, his way to translate the world, and a love letter to all those who have cooked for him.
The best cookbooks have a real point of view behind the collection of recipes, but that's usually behind-the-scenes work. In your book, you talk about how you struggled to define that as you worked, and I was curious about whether you had an epiphany or whether it came slowly over time.
I think it began, honestly, with George Floyd and [Black Lives Matter] and this heightened awareness of what we, as people of color, have had do for so long. Everything started to happen at the same time. George Floyd was killed, and then the protests began. And then more police brutality and the video, and then Adam Rapoport left BA because of the brownface photo, and then Sohla [El-Waylly] spoke up about unfair pay.
Up to that point, I had lived without a contract with a very meager salary, knowing full well that my coworkers made more than I did, but I was okay with that. When [Sohla] had the courage to speak up, in the context of everything else that was happening, it was like, "No, I'm not gonna do this anymore." All those collective moments made me reevaluate all the compromises I have had to make in my life.
That's a big realization.
As a person of color, you're always asked to write the authentic version of some dish. We have been taught, I think by publishers and media, that "authentic," relative to non-American food, is the gold standard. I use this example of Claire Saffitz, a good friend of mine. She can write her book, Dessert Person, and many of those recipes exist in dessert canon, right? They're just her takes on existing desserts, and that's fine. We don't need to say that this is an authentic kouign-amman, an authentic lemon pound cake—it's just Claire's 2020 version of that particular dish. But when I write a book and I want to include an enchilada recipe, I am asked to create the most authentic version of that dish. It's a lot of pressure.
And now that I've traveled here, I don't know what ["authentic"] means, because there are 150 million people in this country, and every single one of them has a different version of that recipe—and that's okay. Nobody here in Mexico goes around, like, "That's not how you do it." If I invited ten people to my house to make an aguachile, which is an iconic dish here in Mazatlán, there would be ten versions of that dish. And they would probably all be super delicious and imaginative and reflect the individual and their likes and their preferences and their own personal flair or sazón in the kitchen. And to me, that's a beautiful thing. Why don't we celebrate that? The reality is that we do, if it's a white author—it's "so-and-so's salad"—but if it's a person of color, then it has to be somehow more real, more true, and more authentic to the place of origin.
Now the recipes reflect you, not exactly what someone taught you or what you think is true to some ideal.
My intellectual and professional currency is my food and my recipes. There are a number of authors who have researched food in Mexico and published books that use other people's recipes. And I did not want to be one of those people. These recipes are mine. They're my love letter to the people who cooked the food for me; they're made with my personal sazón and what ingredients were available to me in Mazatlán. There are some ingredients that I can't find here, and if I can't find them here, there's no way an American home cook is going to be able to find them in the United States—and I also wanted to make it easy for an American home cook to make these recipes.
Okay, here's a random semi-related question about chorizo. You use allspice in yours. Is that just what you like in there? Or was that your mom's way of making it in Texas?
When I was in the state of Veracruz, I was in a small town. It's very lush, it's higher altitude and in the mountains, and in addition to coffee, they grow vanilla and mandarins, cinnamon, allspice, clove. One night, I was staying in this little eco-hotel, and it was open to nature. I was asleep, and I woke up to this aroma—it actually smelled like somebody was smoking a clove cigarette and blowing it in my face. It was so intense and so pungent, and what was happening is they were harvesting allspice berries at the top of the mountain, and the wind was blowing that aroma down the side of the mountain and into my room.
Most allspice that I'd had in the United States was old and almost flavorless. I didn't really understand it; I certainly never really used it. I was like, "I have to know what this is." And then I bought bags and started using it in everything. I love the flavor of good allspice now, and so it appears in many of my recipes.
THREE EXCITING RECIPES TO COOK FROM MI COCINA:
Pipián Rojo estilo Jalisco
Pumpkin seed, peanut, and sesame seed sauce served over roasted chicken.
Horneado Tabasqueño
Braised pork shoulder with tomato, chile ancho, fresh green chiles, and raisins.
Pulpo Kung Pao
Stir-fried octopus with peanut and poblano in a soy-agave sauce.