Carla Lalli Music Doesn't Stress a Missing Spice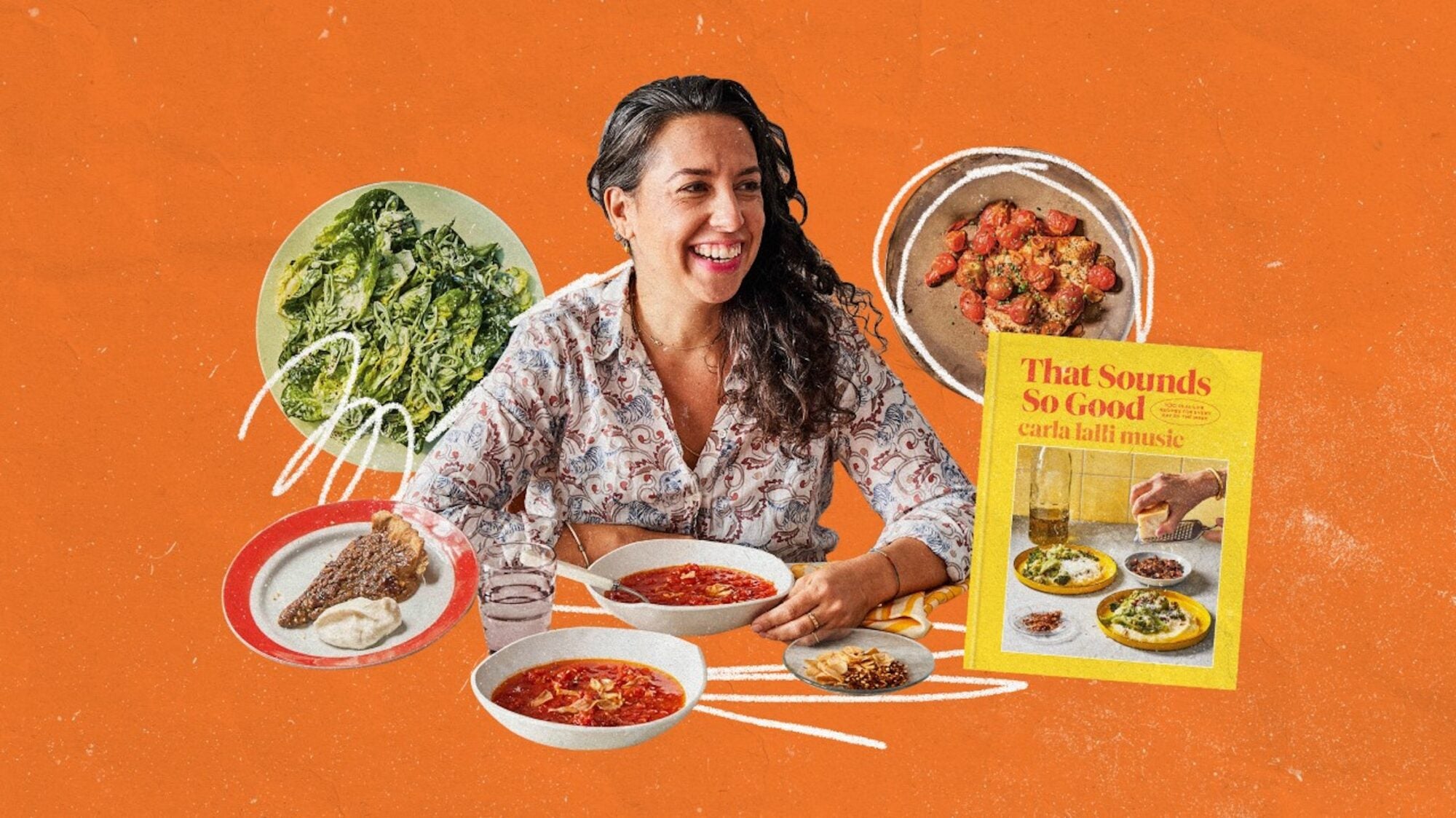 With the former Bon Appétit staffer's exciting new book That Sounds So Good, quarantine cooking became inspiration to revise a few of cooking's tired golden-fried rules. 
When Carla Lalli Music left her full-time food director position at Bon Appétit to be an editor at large in December of 2019, she was staring down a book deadline in the middle future and ready to enjoy a more flexible schedule to allow her the time and space to write. (This, unlike burning the candle at both ends to complete her 2019 James Beard Award–winning Where Cooking Begins while running the test kitchen at BA.) "I was working at home—some days I was going in to record a podcast or do a video, but the rest of the time was mine to structure however I wanted. My kids were at school, my husband was at his office." That lasted for six weeks. "My spouse was home, my kids were home, I was cooking three meals a day for them, and I was still trying to write the book."
The book that came out of Music's quarantine cooking life, That Sounds So Good, is the author's strongest to date. The pages, naturally, are loaded with sound cooking advice, pragmatic details, and creative takes on the recipes you want to make on weeknights or for flexing on the weekend. Classic canary yellow sheet cake incorporates beaucoup egg yolks and…polenta. Nice. Maitake mushrooms are fried and dusted with cayenne and MSG, in the style of Korean fried chicken. Double nice. And, as I found out in this recent interview conducted from the author's Brooklyn home, unless it's listed in the recipe title, most dry spices are optional.
Did you have to get excited about writing a salad chapter?
No.
You didn't feel like you had to do this because it's on trend these days?
No. A big salad has been my dream thing since Elaine was talking about having a big salad in those early Seinfeld seasons. All I want is a big salad. And salad for dinner is just great! You don't have to cook, it's really easy, it's voluminous, there's lots of veggies, you get your protein—as far as a one-pot meal goes, it's a one-bowl meal. It's a salad. So, no, I really enjoyed writing that chapter, and I was kind of surprised when I started doing some tallies of stats for the book and realized that half of the book is vegetarian. I didn't set out to do that, but it's a way that I enjoy cooking at home, for sure.
Last time we talked, it was for the TASTE Podcast, and you spoke very articulately about how, for home cooks, there are farmers' market days, and there are big-box grocery store days—meaning that you don't always have time to find the ideal cut of meat or heirloom tomato, and that's okay. Since the pandemic happened, what has changed?
People got much more comfortable with online shopping for groceries! People who had been agnostic about it, or just not sure—all of a sudden, it was really fully embraced, to the point where you couldn't get delivery slots, and it was very tough. From my perspective, I was like, "Great! This is good." Because I think that, in the long term, in my life, having those things that are in a box, a can, a jar, and a pouch delivered is a game changer. On the other hand, the pandemic was also a time when certain ingredients were not available. Like, there were stretches where you couldn't get ahold of a chicken. Everybody was roasting chickens. There was a flour shortage. There were some things that, no matter how hard you tried, you couldn't order them to save your life.
Absolutely, and I think the fact that we, as a society, embraced cooking so much more during this lockdown is great for folks like us who create recipe content, but the question is, are these habits here stay?
I thought a lot about the people who had never cooked before the pandemic. I thought about the people who maybe stored books in their oven, you know? [Laughs.] All of a sudden, they were like, "I'm screwed." I hope there are more home cooks as a result. There are so few bright sides to the pandemic, but that was definitely one—having the ability to do that. Then we were coming out of the pandemic, now we're going back into the pandemic, and it's going to be fall again. I hope people feel like they learned a skill that is useful going forward.
You write about the "psychic and emotional barriers that get in the way of home cooking." What are they, and how do you overcome them?
I think, most of the time, it's time. Time, and feeling like you don't have what you need to make something. And I tackled both of those in the book.
Time was a really important concept for me as I was working on the book. I really wanted to teach people about inactive and active times, and how to prioritize the steps of a recipe, so that you feel like, on a weeknight, you can cook straight through something, understanding the right order to get something into the pan. People think it's going to take forever. And they aren't sure if they should prep everything before they start cooking, because most recipes are written that way. Four carrots chopped, mushrooms cleaned and cut into quarters—unless you're doing a stir-fry, you don't need to do all that prep before you start cooking.
And, speaking with TASTE readers and other people in my life, it seems like not having an ingredient can be a huge barrier. This turns into meltdown mode.
I don't necessarily think about it as skipping an ingredient so much as being able to replace an ingredient through a very simple set of questions you can ask yourself. If you don't have the grain that a recipe has called for, but you have other grains, you're good. It might not be rice, and I have definitely served barley in the form of rice, or brown rice in the form of farro, many times. I think that was another great thing about the pandemic—people didn't want to go out and get something that was slightly different than the thing they had. People started figuring out how they could use what they already had.
Thinking about the texture something's bringing, and the flavor something's bringing, and how long it's supposed to be cooked for, will make you realize that a hard, crunchy vegetable is a hard, crunchy vegetable; it doesn't matter if it's fennel or a carrot or even an onion. You can start to play around. And as far as leaving things out completely, unless it's a curry or the word "spice" is in the recipe title, most dried spices are optional.
You write: "Trying to love zucchini is like forcing yourself to finish a very long, boring book that everyone else loves. So you keep plodding away, even though you aren't into it." What's the book that comes to mind? Please tell me.
[Laughs.] This is going to be so controversial, because nobody else had this experience, but the Elena Ferrante series—my mom and my sister read them all back-to-back and were trading them, and I was like, "I gotta read these books." And then I was like, "I maybe don't get it." I don't know. And giving myself the permission to not finish a book is just not a thing I have. If I start a book, I feel like I have to finish it, no matter what.
"Unless it's a curry or the word "spice" is in the recipe title, most dried spices are optional."
Right, especially if it's being forced into your hand by others. You just feel like you have to get through it.
You have to get through it.
Mine is A Little Life. I couldn't do it. Is that wrong?
[Gasps] I read that book when I was in Sicily, three summers ago. It's such a weird book to bring on vacation, because it is so fucking dark. And I read it and was like, "It's so upsetting, it's so hard to read," and then, months later, I heard or read a description of it by a cultural critic, I think, who described it as, like, pornography of pain. And I was like, exactly. Did it need to be so horrific?
The pen on the page is amazing, but the arc of it—I couldn't.
But I'll stick with the [Ferrante], I'll give it another try. The same way I keep trying to like zucchini, I will eventually read the sequels.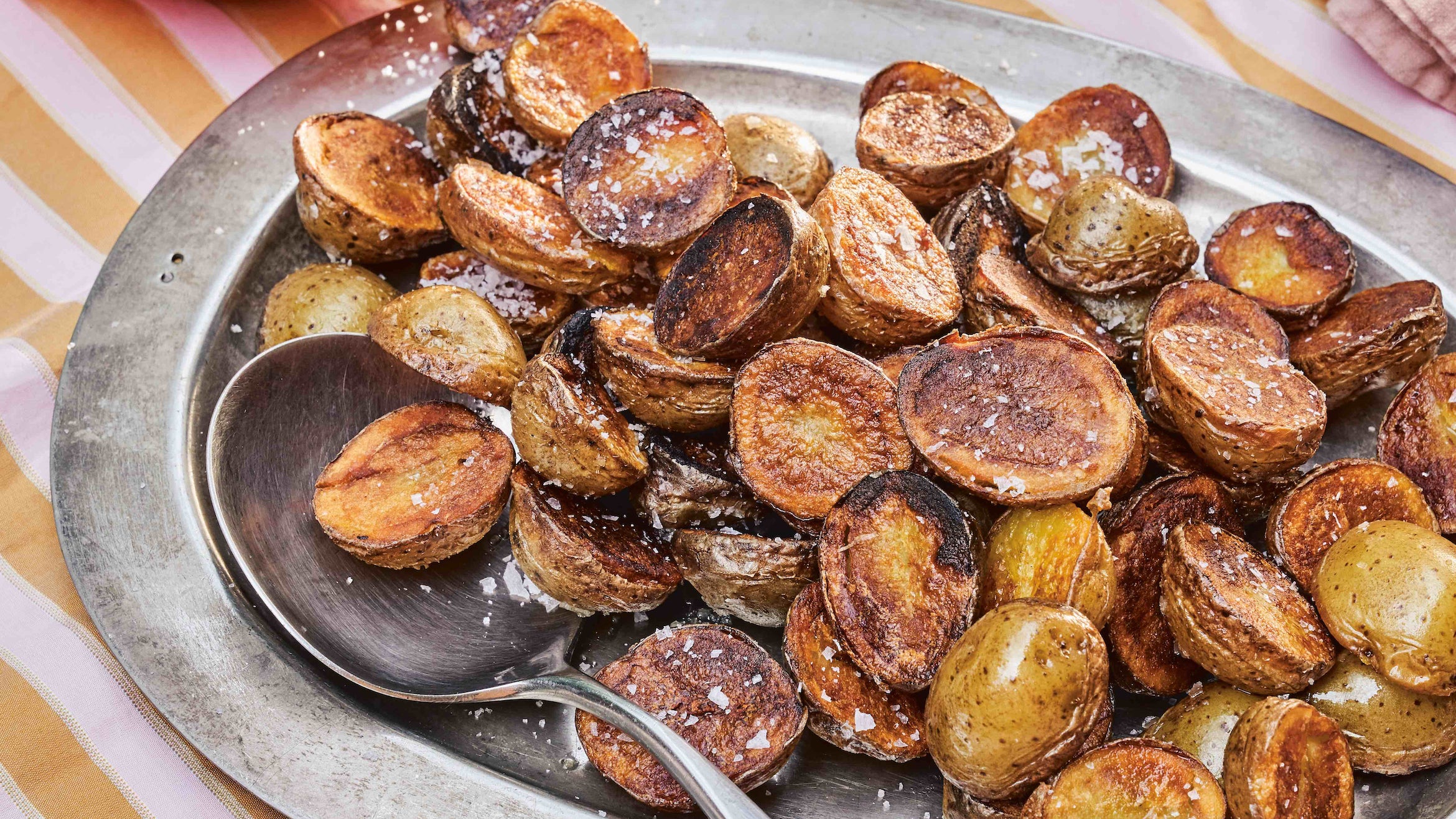 THREE EXCITING RECIPES FROM THAT SOUNDS SO GOOD
Flash-in-the-Pan Chicken
When boneless, skinless chicken breasts are good, they're good, and they bring power to the paillard. Cooking them almost all the way through on one side will result in a chewy crust and superlative browning, while preventing the chicken from overcooking.
Sorry, I Like Celery
All the flavors of a Caesar salad are here: garlic, anchovy, Parmesan, and olive oil. The difference between this and a more textbook Caesar is not only that Music has swapped out the romaine for fantastically crunchy celery, but also that this dressing is more of a free-flowing vinaigrette that coats every slice.
Potato Insanity
"I love a steamed potato, especially when eaten hot, broken open, and glossed up with some softened butter and salt. And that's the primary reason I found myself with cold leftover steamed potatoes one day; I cut them in half, then reheated them in olive oil until they were robustly browned on the flat side. The two-step cooking process is a little involved, but the results are crazy good and absolutely foolproof."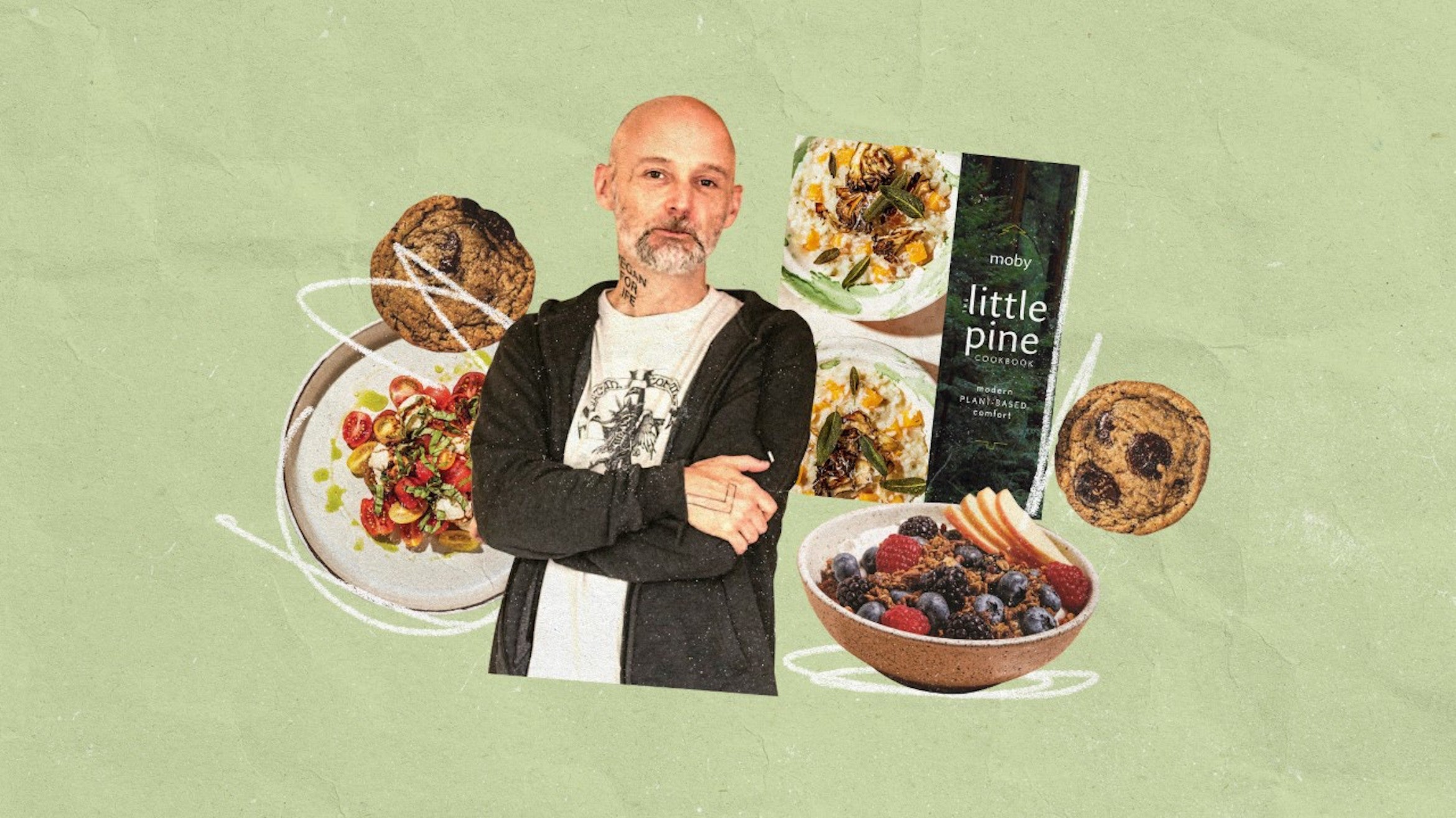 MORE BOOKS TO BUY, READ, AND COOK FROM:
Last week we caught up with Moby and found out that the musician still has a soft spot for the frozen bean burritos of the '90s, but his new cookbook explores a more decadent side of restaurant veganism.
Turn your apartment into a red sauce restaurant this fall with Italian American, by Angie Rito, Scott Tacinelli, and Jamie Feldmar.
From one half of the cult comedy duo Tim and Eric comes Foodheim, Eric Wareheim's culinary bible for modern food freaks, showing you how to throw epic parties, suck the marrow out of life, and cook better than your grandmother.
Whether you participate in meatless Mondays, weekday vegetarianism, or just simply want to cook more delicious things without meat, Jenny Rosenstrach's The Weekday Vegetarians has you covered.
Have you preordered Cookies: The New Classics, a new book from Jesse Szewczyk that introduced 100 bold cookie recipes that take the gold-star standards beyond what you've ever known?