Ranch Isn't a Dressing. It's a Lifestyle.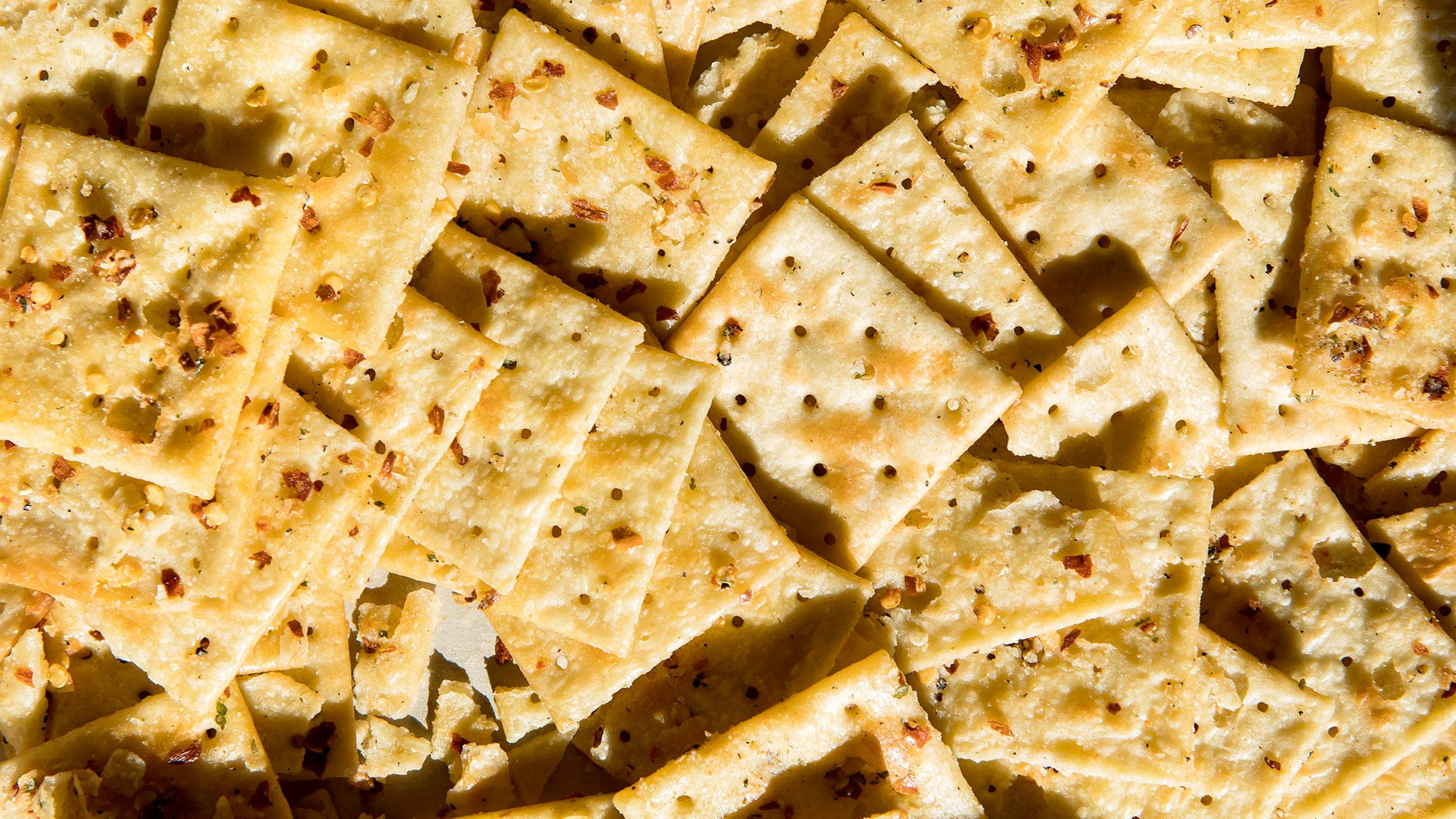 For many, it's a topping for pizza or a flavor for snack foods. But for some, it's just a way of life.
I wanted to write about ranch dressing because I felt ranch dressing needed a little PR to pull itself out of the junk food gutter. To break free from the salad bowl. Ranch needed a tailwind to help it sail evenly with the star sauces and condiments of the day: chile crisp, gochujang, and preserved lemons, to name a few. This is because ranch dressing, a creamy blend invented by an Alaska plumber turned dude ranch operator in 1950, is not simply to be squeezed over a limp salad of iceberg lettuce and shredded carrots. Ranch is exciting when you look closely, and it has expanded well beyond its Midwestern pizza topping roots, a process well covered in a great Julia Moskin article in the New York Times a couple years back. Ranch is seasoning pickles (in some corners of the internet, at least) and finding its way into fried rice made by one of New York's most exciting young chefs.
Ranch, with the familiar flavors of dried green herbs from the grocery store (dill, chives, parsley) colliding with dairy (mainly buttermilk but sometimes yogurt or mayonnaise), dry mustard seed, and black pepper, is one of the "American mother sauces," says journalist and author Rachel Wharton, who wrote about it in her wonderful book American Food. Wharton groups ranch into the American condiment canon, along with barbecue, ketchup, and crudité dipping sauce rival blue cheese. She points out wisely that, as a rule, ranch complements basically anything with bacon, anything with tomatoes, and is "even better when it is both," meaning it can be subbed in for mayo on a BLT or drizzled over the meatiest of pizza slices.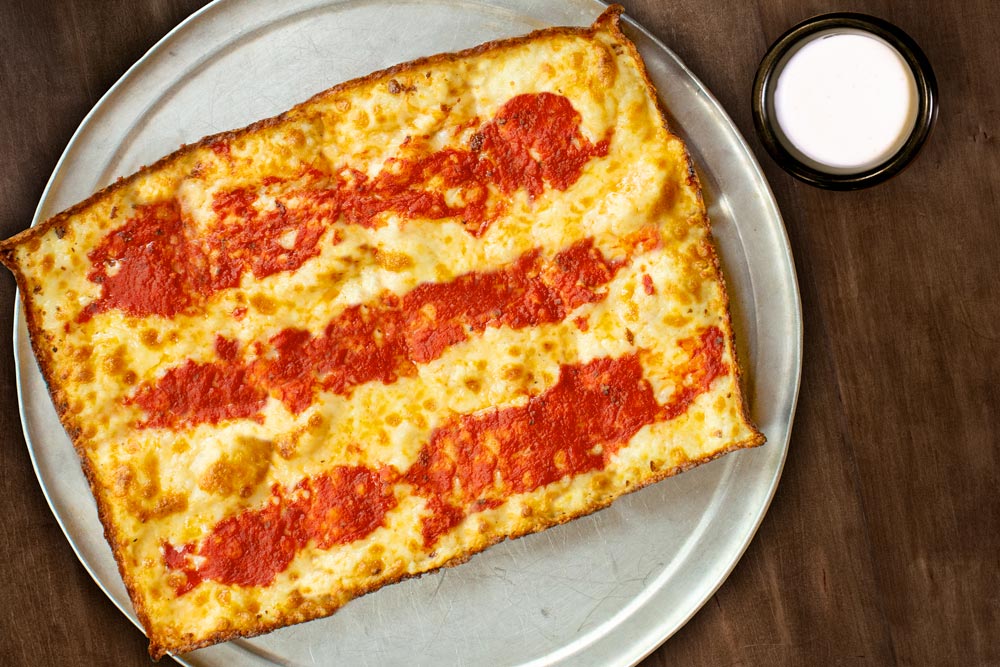 When it comes to Detroit pie, I'm personally a Buddy's dude, mostly because they will sell you a full freaking bottle of ranch with each frico-crusted pie. In Detroit, particularly, but also in other parts of Michigan, ranch is a pizza default. "Our homemade dressings are almost as famous as our pizza," says the company's marketing director, Michelle Lawton.
Lucas Sin is a chef, activist, and entrepreneur based in New York, and when I interviewed him earlier this year, we spent ten minutes talking about the ranch at Detroit's Jet's Pizza. I checked in with Sin last week to find out more about why ranch inspires him as an ingredient. "Ranch, in a lot of ways, is a perfect equalizer to the acidity and heat of hot sauce. Buffalo sauce and ranch is the most obvious pairing, but it can be fun when it's used in less obvious, non-wing contexts, like pizza and fried rice," he says, pointing out that rice plus white sauce and hot sauce is hardly rare, observing the analogous halal chicken.
But why is it a natural pairing? "The buttermilk, mayo, and sour cream base of ranch is high in fat-soluble protein, which, when mixed with the fat-soluble protein of capsaicin in the hot sauce, binds and surrounds the capsaicin to tame the heat." Thus, the cooling you feel when applying ranch to something spicy is real, even on the molecular level.
On April 22, 2021 a food and fitness TikToker named Jen Curley set in motion a new era for ranch crossover when she introduced the world to the ranch refrigerator pickle. The recipe is more of an assembly. Take a freshly opened Vlasic pickle jar, add the contents of a ranch dressing packet, shake, and refrigerate overnight. The result is a velvety, creamy, ranchy dill spear that has today gone certified viral on the social media platform—with some 42 million streams to date under the #ranchpickles hashtag. This, along with fried pickles dipped in ranch—a Southern American fixture—makes the kosher dill one of ranch's most frequent collaborators. "Delicious plus delicious equals delicious," says Abby Reisner, author of Ranch: An Ode to America's Beloved Sauce in 60 Mouthwatering Recipes, when I pressed her about the link between ranch and pickles.
When Wharton was researching her chicken wings chapter, many folks suggested that she write about the ranch/blue cheese divide, which, according to her research, starts near the spicy wing's birthplace of Buffalo in Western New York, bordering Lake Erie. "I was told that, west of there, it's all about the ranch with wings." As for Buffalo proper, I checked in with my colleague Anna Hezel for the local perspective. "In Buffalo, dipping wings in ranch is unthinkable," she says. "As far as I'm concerned, ranch is a Doritos flavor and a dipping sauce for crudités."
Ranch 101
Coverage of ranch's giant leap out of the salad bowl is nothing new, and many interviewed for this story pointed to Julia Moskin's definitive 2018 piece in the New York Times as the dressing's long-deserved close-up.
Turn that $2 box of saltines into ranch fire crackers. Anna Hezel writes colorfully about the Southern tradition of dumping crackers into bags, with all sorts of seasoning, and shaking the flavor into them.
From the book Cook Real Hawai'i, chef Sheldon Simeon serves blistered shishito peppers with furikake ranch.
Looking for a homemade ranch recipe? Ree Drummond has a good one that includes sour cream, mayo, the usual spices, and . . . wait for it . . . Worcestershire sauce. The New York Times has adapted a version by Abby Reisner with equal parts buttermilk and sour cream. Writing in Bon Appétit, Clarie Saffitz only has one green herb in her ranch life: dill.
Check out Lucas Sin making fried rice four different ways, including with ranch—which he served late at night at his restaurant Junzi.
Thrillist once put ranch on a bunch of foods that didn't ask for it. The results were what you would expect.
Minimally related, but still quite good: Who invented king ranch chicken?
How Ranch Water became the unofficial cocktail of West Texas.