Pepperoni Crumbs > Bacon Bits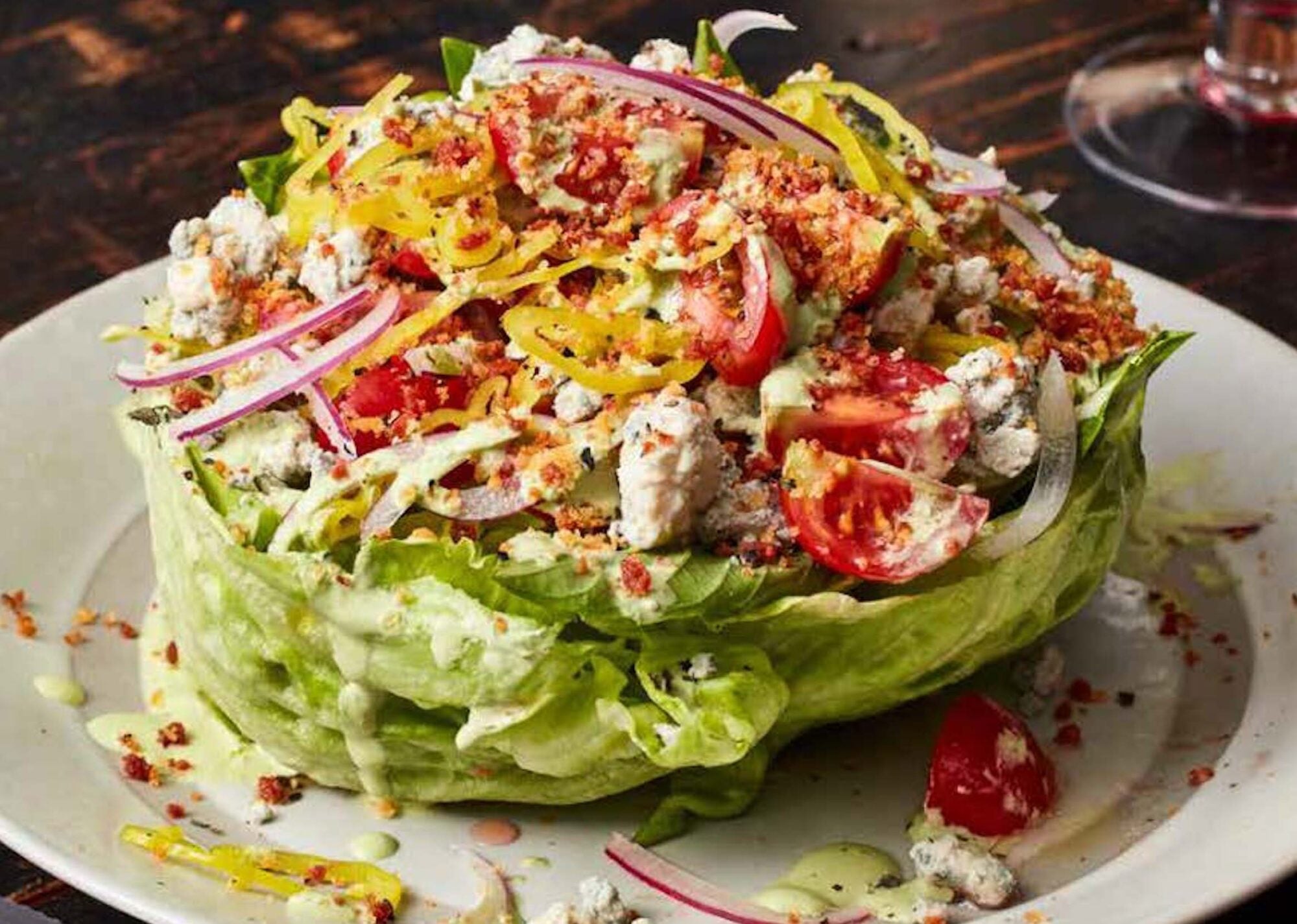 In a new cookbook, the chefs behind Don Angie share a very Italian American trick for giving your salad a crunchy, salty upgrade.
Pepperoni gets the most guff of the cured meat family—always the Lunchables, never the crowning glory of the charcuterie plate. But these compact rounds of salumi have so much more to offer for the savvy home cook. They're peppery, salty, and full of fat that can be rendered to turn them into crisp miniature UFOs.
"It's a quintessential Italian American ingredient—pepperoni is one of those things that people in the United States always associate with Italian food, but it's rarely seen in Italy," says Angie Rito, the co-owner of Manhattan's Don Angie and the coauthor, with Scott Tacinelli and Jamie Feldmar, of Italian American. "The flavor profile of pepperoni is spicy and garlicky with a hint of smoke, and the ingredient has a familiar and nostalgic vibe to it."
In Italian American, pepperoni comes into play in small, square, Cheez-It-like fontina crackers, and in mussels stuffed with pepperoni rice. For a wedge salad, pepperoni bread crumbs are a pleasantly spiced surprise for anyone who was expecting the obligatory one-note bacon bits that are usually sprinkled onto wedge salads.
Finely chopped pepperoni is crisped in a pan, and then panko bread crumbs are toasted in the flavorful fat, and the resulting pepperoni crumb mixture becomes the crispy, golden finishing touch to the salad as a salty, smoky counterpoint to the creamy herb dressing and crumbles of gorgonzola. "We think varying textures is one of the most important elements of a good salad, and the crumbs add both texture and flavor here," Rito tells me.
Tacinelli and Rito also recommend giving the pepperoni crumb treatment to pastas, both fresh and baked. You could coat the top of a mac and cheese, or even a simple cacio e pepe. I've certainly been known to fry pepperoni to use as a crackly topping for quick pantry pastas thrown together with canned tomatoes, and I have to imagine it would do wonders for a batch of clams oreganata. "We love the way that the spicy, garlicky pork flavor pairs with shellfish, so we have also used them on top of dishes like our version of linguine and clams," says Rito.
Tacinelli and Rito's favorite pepperoni is made by Vermont Smoke & Cure, incorporating fennel, paprika, and red pepper flakes (and it's available to order online). But, really, any leftover pepperoni from your last pizza-making session has the potential for a victory lap on your next salad or tray of stuffed shells.
RECIPE: Italian American Wedge with Creamy Herb Dressing, Gorgonzola, and Pepperoni
RECIPE: Pepperoni & Fontina Crackers