Cured Meats Have Left the Sandwich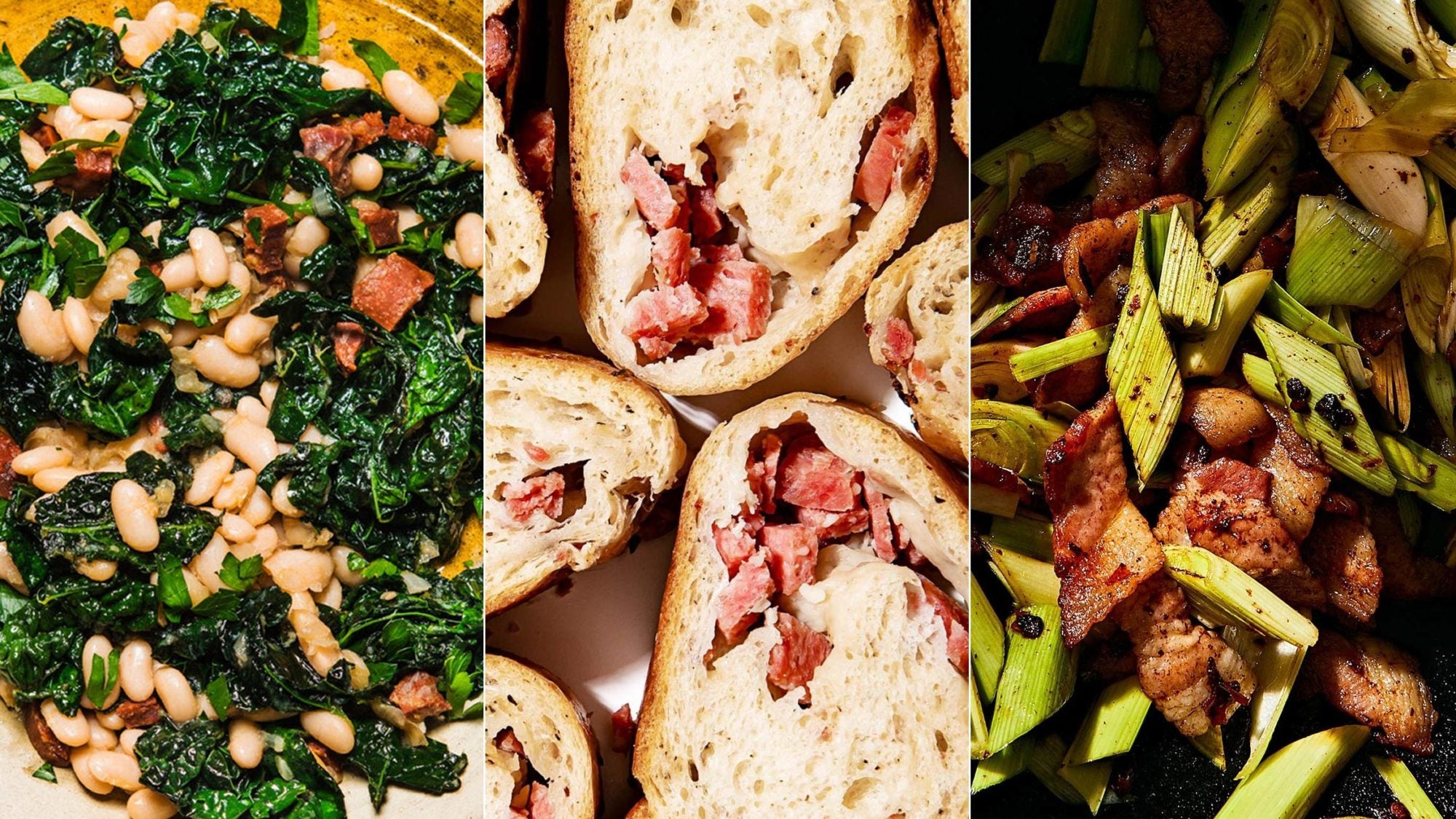 Ingredients like chorizo, guanciale, and salami are showing up in stir-fries, pots of beans, lard bread, and a lot more.
I'm not packing sandwiches for any sprawling park picnics anytime soon, and I'm not making any artfully arranged concentric circles of cheese and charcuterie to serve to friends before dinner parties. And yet, the salami picante and finocchiona keep making their way into my periodic grocery orders.
For the same reasons that they make great snack standbys for impromptu gatherings, cured meats like pancetta and hard salami should have a regular slot in your pantry rotation. Packed with salt and fat, they're designed to stay good in your pantry for several months at a time. (Before there were refrigerators, there were legs of prosciutto hanging from ceilings.) And because these cuts are packed with so much salt and fat, a little goes a very long way, whether you're stir-frying some leeks with bacon, tossing together a panzanella with some softened radicchio and crisp strips of soppressata, or using bits of chorizo to create a base of flavor for a pot of beans.
For John Ratliff, the owner of Brooklyn butcher shop and salumeria Ends Meat, this is second nature. "This morning I made a really awesome quick sauté of pressed spinach, shitake mushrooms, and diced-up guanciale, and then I just fried some eggs sunny side up and put it over the top of it and had it with a little piece of toast," he tells me. A few days earlier, pancetta made an appearance in a chicken soup he made when he roasted a whole chicken and pulled all the meat off, collecting all the rendered fat and cooking with onions, garlic, and diced pancetta for the soup's base.
"Cured meats are a powerhouse of fat, richness, seasoning, and flavor, and almost all of the work has already been done for us by the producer," says Daniel Gritzer, the culinary director at Serious Eats. "Even something as simple as yellow onions and garlic gently fried with chorizo is enough to turn boiled potatoes, chickpeas, or other beans into a beautiful dish, or make a simple sauce for pasta."
Chris Spear is a chef in Alexandria, Virginia, who swears by his technique for roasting broccoli (tossed in a little bit of olive oil) under a blanket of thinly sliced salami. While the broccoli cooks, the fat from the salami renders and seasons the vegetables below. Once the salami is crisp, he reserves it until the broccoli is finished roasting, and then serves the whole shebang with a few squeezes of lemon juice or a drizzle of balsamic vinegar.
"Surplus salami is actually the best quarantine mistake I've made."
Since the pork fat in salami is full of flavor, it's a good idea to cook it in a way that preserves some of that fat in the final product. One way to do this, Ratliff says, is to incorporate the meat into a focaccia or bread dough, like a classic Italian lard bread. At Ends Meat, all of the half-inch nubs of various cured meats that are left when the slicer can't go any further without cutting off someone's finger are turned into a lard bread, rippled with peppery fat.
When it comes to spreadable meats like 'nduja, a spicy, rusty-red sausage with a creamy texture, that fat can add not only a flash of flavor to a dish, but also a silky richness that's hard to achieve with your average household olive oil or butter. "Last week I made a big seafood stew and stirred 'nduja into the pot, adding a deep layer of porky funk and some subtle chile heat to the mix," Gritzer tells me. Personally, I've melted it into countless pasta sauces and spread it across rolls for egg sandwiches. At Larry's, in Montreal, the house-made 'nduja is repurposed for business-card-sized anchovy toasts. And Ratliff likes to simply spread 'nduja on both sides of a slice of sourdough and toast it in a cast-iron skillet, the results of which he describes as "fucking bananas."
Although the meats' shelf life varies from maker to maker, most salamis and other cured meats do not technically require refrigeration (but storing them in the refrigerator can help them from drying out, since certain animal fats melt at room temperature). This means that they're a great candidate for mail-ordering from spots like Ends Meat, Olympia Provisions, Elevation Meats, and Despaña.
It also means that stocking up isn't a bad idea. As Kaitlyn Bray, TASTE's director of audience development, told me after a grocery-ordering snafu resulted in an accidentally massive delivery of salami, "Surplus salami is actually the best quarantine mistake I've made." There will always be more pizzas to top, more pots of bean to flavor, and more off-the-cuff sautés to spruce up. And someday? There may even be parties with charcuterie plates again.