Meatballs With a Chance of Clouds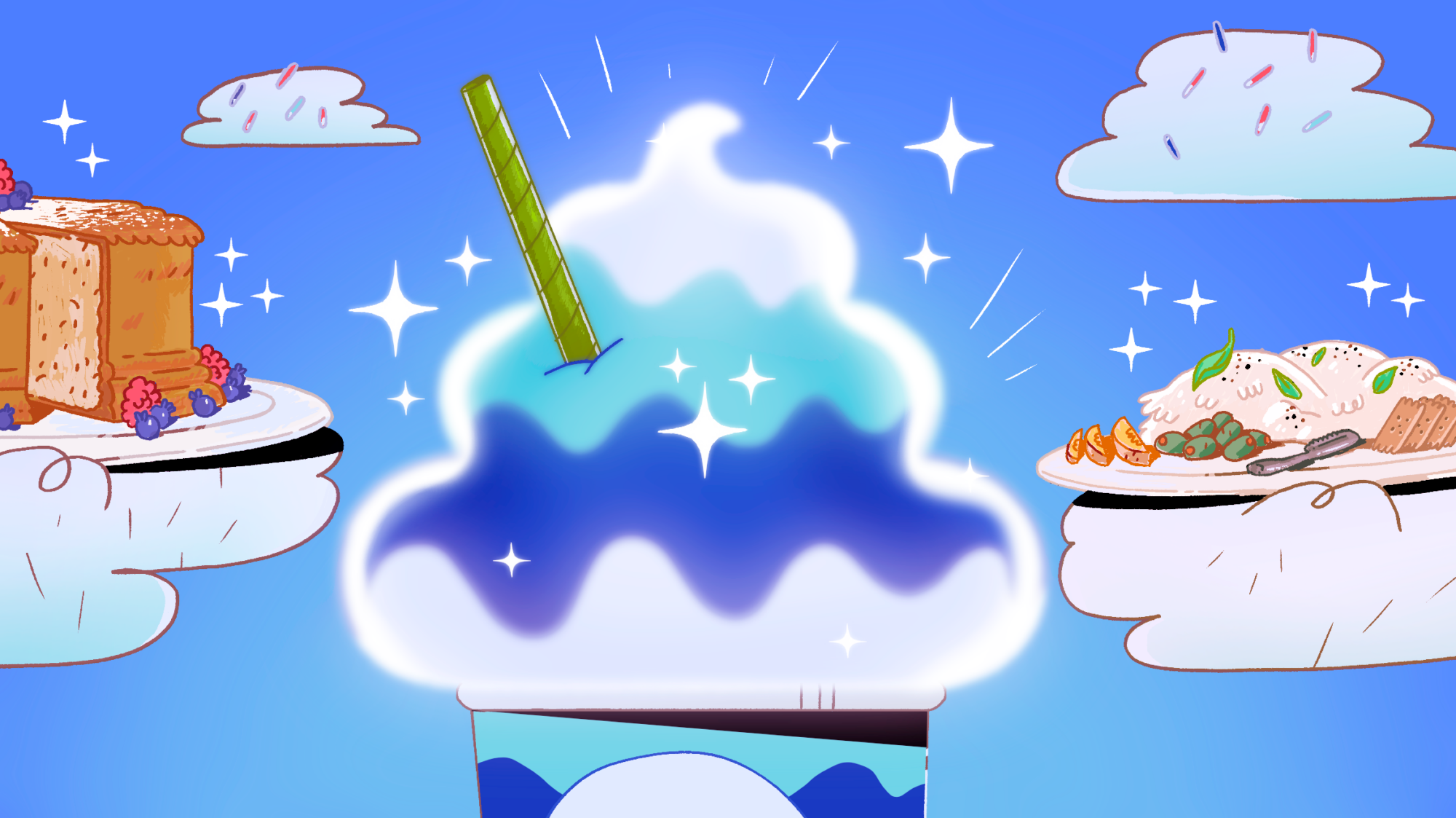 From smoothies topped with whipped coconut cream to salads crowned with clouds of Pecorino, cloudlike textures are all over coffee shops, restaurants, and TikTok.
Last March, the cult-favorite Los Angeles grocery chain Erewhon debuted a thick, fluffy smoothie capped with a cloud of whipped coconut cream. The 16-ounce drink was marked by an alluring indigo ripple, produced by a dried spirulina extract known as Blue Majik. A collaboration with the beauty influencer Marianna Hewitt dubbed Marianna's Coconut Cloud, the ultracreamy smoothie quickly rose to viral fame on TikTok. I first encountered it at the Silver Lake location of the luxury health food store, which now has eight outposts across LA. It was $17, but everyone seemed to be ordering it. I wasn't counting, but I would estimate that there were upward of 20 Coconut Clouds being made in an hour. Obviously, I had to try one. Once the smoothie was in my hands, I snapped a shot and put it in an Instagram story. Then the DMs came tumbling in. "How is it?!" asked friends as far away as New York and Mexico City. That's when I realized it had gone viral. But why?
For one, there was the visual sensation of the royal blue spirulina streak, an edible iteration of the tie-dye trend that has captured the fashion world in recent years. Second was the pleasing nature of the drink's soft, luscious texture. Marianna's Coconut Cloud contains several creamy ingredients like avocado, pineapple, and almond butter, but its velvety mouthfeel largely comes from a cold-pressed coconut cream made by the Malibu-based brand Zuma Valley. Reviewers on TikTok described the smoothie as reminding them of banana pudding and as being "super, super creamy." Others were unimpressed, going so far as to say it "tastes like absolutely nothing." Mostly, they said that although they couldn't recommend spending $17 on the drink, they still enjoyed it.
As is often the case with viral food trends, like butter boards and fluffy Japanese cheesecake, people were drawn in by the aesthetic of the smoothie—then were keen to offer their own analysis of what the experience of consuming one is like and how to DIY at home. In this instance, that also involved weighing in on whether Marianna's Coconut Cloud was worth the hefty price tag. As one TikToker put it, "Before you come at me for spending $17 on a smoothie, this is purely a social experiment." 
Fluffy, cloudlike textures have become a trend stretching beyond smoothies to include coffees topped with cold foam, salads showered with mountains of shaved cheese, pastas dolloped with whipped dairy, and creamy-crunchy pavlovas. Of course, these dishes are perfectly suited to the TikTok era, because the prized texture contributes to a visual aesthetic in addition to the eating experience. But the appeal of these cloudy consumables is also about comfort food—think playful, nostalgic marshmallow fluff and the inherent coziness of soft, indulgent textures.    
Marianna's Coconut Cloud was the breakout sensation in a steady subsequent stream of hyped-up Erewhon influencer smoothies that incorporated Zuma Valley's coconut cream. It's the go-to ingredient for visual and textural appeal, from the nutrition influencer Rebecca Leigh's pink-and-teal Summer Mermaid to perhaps the most viral of all, Hailey Bieber's Strawberry Glaze Skin Smoothie. Unlike most available canned or boxed coconut creams on the market, which are homogenized—a process that uses heat to evenly disperse fat particles and create a more shelf-stable product—and thus less conducive to whipping, Zuma Valley's coconut cream is cold-pressed for extraction and then frozen, which allows it to emulsify into cloudlike textures. Health-minded influencers also love it because it's keto-diet-friendly and tastes sweet while containing only one gram of sugar per serving. Zuma Valley founder Julie Labin attributes the virality of these smoothies—and therefore the success of her product—to "Erewhon reinventing what a smoothie is through texture." 
The prevalence of dreamy, cloudlike textures in food and drink doesn't stop at the checkout counter of an aggressively expensive grocery store. Remember the early days of the pandemic, when everyone was making fluffy Dalgona coffee, the Korean drink made by whipping instant coffee, powder, sugar, and milk? Along with what food writer Serena Dai deemed the "bobafication" of American chain drinks, Taiwanese cheese tea—cold tea with a frothy topping of milk and cheese, plus a bit of salt—has become increasingly popular stateside. The same is true for coffees topped with cold foam, which is made with a frother or blender and without heat (such as the frothed milk you'd get in a warm cappuccino) to achieve a bouncy, foamy texture. 
My local LA coffee shop, Maru, offers a drink called the Cream Top, a slightly sweetened iced long black coffee topped off with cold foamed cream. It's been a signature drink of theirs since 2017, but recently, I've noticed that every other person seems to order it. No surprise: It's also all over TikTok. 
"This is the [new] Frappuccino," observes Paris Starn, a New York–based chef and content creator who readily admits to having tried to emulate cloudlike, drippy textures in her creations. Starn posits that the cloudy-textured drinks—both the Erewhon smoothies and the cold, frothy coffees—trend has to do with contemporary consumers desiring indulgence, while also trying to eschew orders that are known to be unhealthy. "A lot of people don't want to drink a Frappuccino because it's now been labeled as a glorified milkshake, so what's the next Frappuccino? One made out of [fruit] instead of coffee—that's just as pretty and fluffy," she says.
The combined interest in health and indulgence isn't the only driving factor for cloudy foods, however. Other fluffy foods, be they savory or sweet, are crafted to achieve airiness, balance textures, and produce a spectacle. Pavlovas, vacherins, and Eton mess—all desserts made with light, crunchy meringue and velvety dairy elements like pillowy pastry cream and ice cream—have made a comeback in restaurants and at dinner parties. Everyone seems to be craving tiramisus and tres leches cakes. I'm predicting lots of pies decorated with pools of salty whip throughout the holiday season this year, at least if my Instagram feed is any indication. 
In the savory vein, there are salads topped with mountains of shaved cheese and pastas finished with dollops of whipped ricotta and oozy burrata, like at the restaurant Cento, which is also in Los Angeles.  
Another example of this style of cooking is at the popular Italian American restaurant Don Angie in New York City. There, a chrysanthemum salad is finished with a mound of finely grated Parmesan cheese, and lasagna is decorated with pipings of whipped Robiolina cheese. "There's something exciting about receiving the cheese-covered salad and revealing the layers of dressed greens and crunchy sesame breadcrumbs beneath as you eat it," the chefs Angie Rito and Scott Tacinelli wrote over email. It's almost like when the sun slips out from under a cloud, and then comes sunshine. For the lasagna, they chose Robiolina instead of ricotta "because its flavor is tangy, and its texture is fluffy and light," which cuts through the richness of the dish—and because "there's something deeply comforting about fluffy, creamy cheese in general," the chefs said.
Starn agrees that the prevalence of fluffy foods connects with a cultural desire for childhood indulgence, especially on TikTok, which is a platform dominated by Gen Z users. "There's [that] running joke where the waiter comes over and asks how much Parmesan cheese I want sprinkled on top of my pasta, and I never say stop, and the whole room is covered in Parmesan cheese," she recalls. She also sees the cloud trend playing out beyond the edible world, in fashion and lifestyle, nodding to Selkie's cloud puff dresses and the Mario Bellini Camaleonda sofa.
Labin is in the process of figuring out how to get her coconut cream directly to consumers to use at home (instead of having to pay the hefty fees at Erewhon). As thrilled as she is that her product has taken off at the celebrity-favored grocery chain, she wants more people to have access to her product, not only for its fun nature but mostly because of its health benefits. The reason that Labin started Zuma Valley in the first place was because coconut helped her heal from a serious health event. The fruit is both super hydrating and rich in MCTs (a fat-based supplement that helps manage weight and boost energy). 
There's a difference between an Erewhon smoothie with whipped coconut cream and a radicchio salad showered in Pecorino shavings, to be sure. "Is it candy? Is it healthy? Is it adult? Or is it too childlike?" Starn asks. The answer, like these foods themselves, is cloudy. But the pure pleasure of devouring fluffy condensation is clear.