Just Add Koji: Growing a Plant-Based Lunch Meat Empire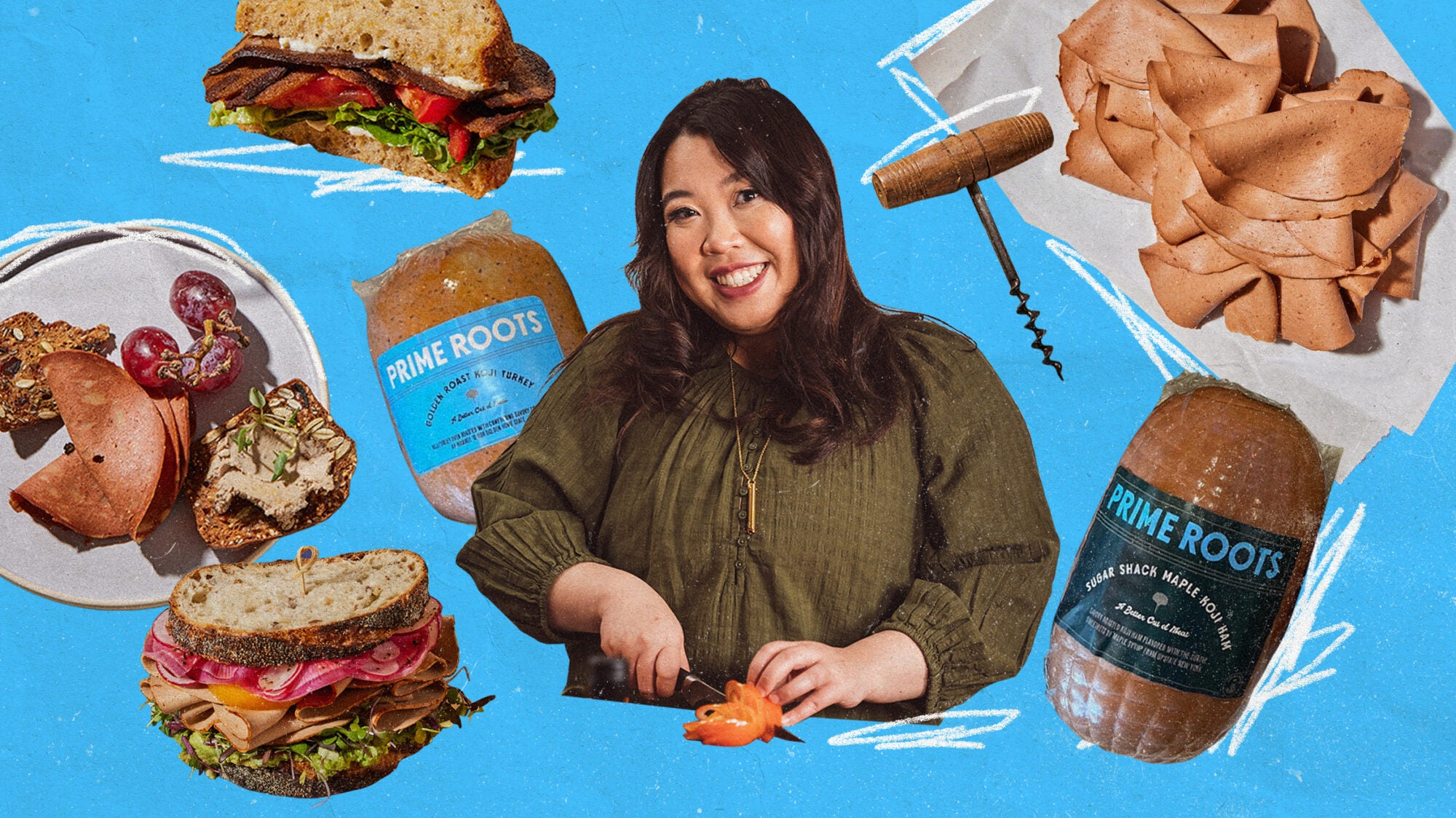 Prime Roots founder Kimberlie Le thinks the future of vegan food tastes a lot like bologna.
"We've been able to make textures of everything from whole-muscle flaky fish fillets all the way to lobster, bacon, and deli meats, of course." I'd written to Kimberlie Le, cofounder and CEO of Prime Roots, to find out how the meatless lunch meat her rep sent me to sample was so, well, extraordinary. I've had a long history with faux meat, zapping packages of fake chicken nuggets in the early 2000s (thank you, MorningStar Farms) and recently dipping my toe into the world of Impossible (ick) and Beyond Meat (slightly better). Prime Roots's roster of spiced turkey and thinly sliced ham was by far the best I'd tried in terms of texture and truly seemed to represent a giant leap for plant-based meat. 
I wanted to get in touch with the founder to find out the inside track for the koji-based products, but also to learn more about the company's grand ambition to live a little better—and possibly longer—through food science.
Your products are super impressive. I've spoken with friends, and we all agree that the texture is spot-on. This is the lunch meat I want to eat! How do you get that texture?
Koji! Our koji meats are made from koji, which is a Japanese fungus that is traditionally found in miso and soy sauce (so, surprise, you've probably already had koji before). Koji grows in a form that is like the roots of a mushroom—called mycelium, in fibers the same size and shape as animal muscle fiber. Putting those together enables us to create textures and mouthfeels that are identical to those of meat. 
You approach meat alternatives not with a meatless agenda but from a point of view that celebrates all sorts of meat—including the Boar's Head and Oscar Meyer classics. Why is this so important to note?
To drive change, these products must be made for everyone—and that means they must be made for meat eaters. Today, the percentage of people who are vegan or vegetarian is still in the single digits, and they alone will not drive the change we need to see. (When a vegan opts for a Prime Roots product, there isn't much of a net benefit for the planet. But when a meat eater makes a swap, it makes a big difference.) We want to encourage swaps, not dramatic lifestyle changes that are hard. We know people enjoy better versions of what they already know. It's important to meet people where they are and provide options that are empowering without making compromises to drive change.
What is your own personal approach?
I consider myself a flexitarian (surprise—I still eat meat!). The vast majority of our team members at Prime Roots are also meat eaters, and we are all passionate about driving simple swaps and changes for people who eat like we do. We don't necessarily target vegans or vegetarians—we want our products to be enjoyed by everyone. Our goal is not to force people to cut out meat, but rather to give them an option when they're shopping or eating at a restaurant to do better for themselves and the planet.
We celebrate those who are doing better. While we ourselves will never make a product that is animal-based, we will stand by those in the industry and consumers who are trying to do better, wherever they are and whomever they are. Celebrating and honoring meat rather than shaming and blaming meat is the answer to drive inclusive change, and providing a solution like koji meat is how we are going to be active in driving that change. Our goal is to make a product worth celebrating in the same way as meat from a culinary perspective.
How are you different from Beyond Meat and Impossible, which some people have a generally icky feeling about?
"Gen 1" meat alternatives like Boca or Tofurky have historically not been focused on the meat eater and have been very veggie-forward. A lot of the "Gen 2" meat alternatives, like Beyond Meat and Impossible, are using ultra-processed plant proteins and ingredients that are not clean. As the daughter of a chef, I grew up going to farmers' markets, and I knew that there was another way, using better ingredients, but that it would take time to perfect recipes and methods to create products that were better for people and the planet—we don't use shortcuts like GMOs when there are better ways that just take more time.
What brands do you model yourself after and admire?
Patagonia and Sweetgreen—we love the ethos and commitments to our planet through better-for-you and better-for-the-planet products. Their products are no-compromises and have questioned the status quo about what it means to be a consumer business and what place they have in the world. We're excited to build Prime Roots into something that outlasts us all and leaves a positive impact for many generations to come.  
We gotta ask about home cooking—what is your go-to recipe for home? Do you have a flex recipe—that is, something more complicated?
Since I'm usually very strapped for time, my go-to approach to home cooking is usually anything I can cook in my Instant Pot or in one pot or pan. For flex recipes, when I have more time, I like to replicate things from memory and from travels. For example, there's a peanut tofu I had on an island in Taiwan, baked tapioca pudding from Vancouver, Mont Blanc cakes from Japan. Usually, it's a fun thing to do, since it's an art and a science to make things without a recipe, especially desserts.     
How do we buy Prime Roots products?
We'll be coming to delis and sandwich shops across the country soon! Stay tuned for more info (and join our mailing list on our website if you want to stay in the fold).
What's next, in terms of the categories you're working on?
We'll continue to expand in the deli space, and one day, we'll have replacements for all of your favorite deli mainstays. And long-term, we're excited to use koji and make our way around the store in all the places meats are. Our vision from day one has been to take over the meat case—we're starting with the deli meat case, but the sky is the limit.