Japan's Obsession With the Mont Blanc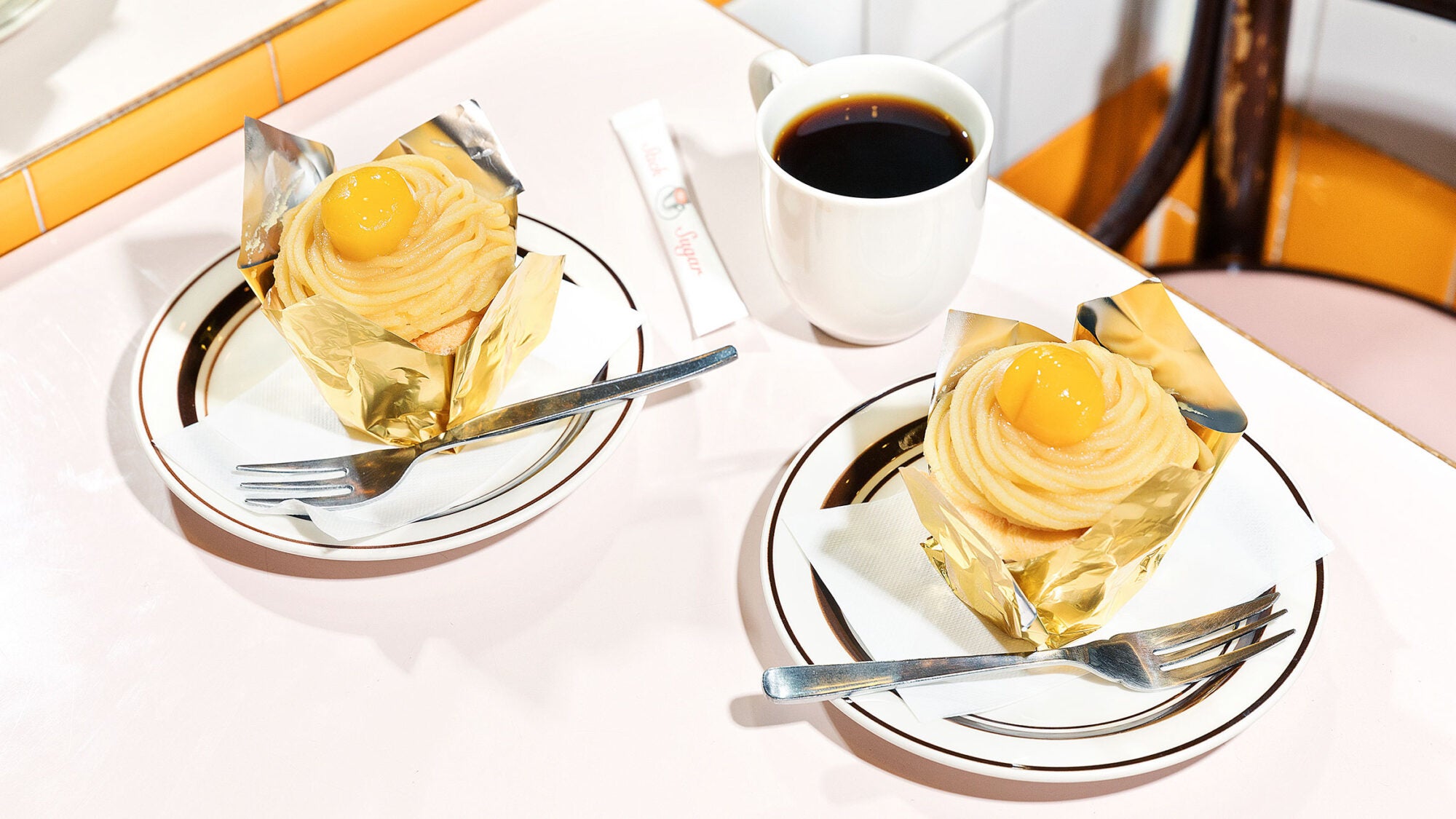 The chestnut-tinged French pastry found a new home, and a few new colors, in postwar Japan.
Mont-Blanc aux marrons, or the Mont Blanc for short, is a pastry that is made from, as its name suggests, a mountain of creamy chestnut paste. While the flavors of the cake base vary, spiraling strands of this mild paste are always present—cutting a provocative image when lined up with more austere mochi desserts. And somewhere, either hidden inside or perched on top, is a single chestnut jewel.
While the dessert has its origins in France going back to the 1600s, Japan is where the pastry is most popular—first appearing on menus in the fall and running through the winter months—and year-round, in many places. In my twelfth year living in the country, I've finally recognized my own love for digging into its golden, vermicelli-esque peaks. In my years leading up to this discovery, I did not understand the hype, viewing chestnuts as overly dry or better served lacquered in Chinese chestnut-chicken. But I'm glad for the revelation.
When thinking about the Mont Blanc in Tokyo, where it is served in high-end bakeries, supermarkets, and convenience stores called konbini, it can be difficult to know where French pastry ends and Japanese pastry begins (or vice versa). It is a symbiosis that began ages ago, a meeting of traditional sweets (wagashi) and Western cakes and pastry (yogashi), with chestnuts (kuri) landing at the center of the Venn diagram.
Baker Fumiko Sato presents her Mont Blanc with a clear Japanese point of view. She has incorporated sweet beans (mame, pronounced "mah-meh") into her Mont Blanc, which she has served in her northern Tokyo neighborhood café, Bon Gateaux, since 1976.
To start, she makes a shortcake-style base, which is baked and then topped with a soft yellow bite of chestnut enveloped in whipped cream. Sato adds a dollop of custard to the top, and finally she applies the nest of spaghetti-like chestnut and bean paste, piped with a pastry bag and a special tip.
Western desserts, made with butter or oil, cream, milk, salt, and processed white sugar, arrived in Japan just before World War I, but deteriorating wartime conditions over time made it difficult for any Western cake shops or bakeries to remain in business. It was five years after the end of the Second World War that these Western ingredients became available again, through the opening of import lines, and cafés and bakeries could supplement their traditional menu with Western desserts. "My Mont Blanc has a familiar taste and a sophisticated feel," Sato explains of the nostalgic pastry that regulars request in her retro café, decorated with orange wall tiles and linoleum. The recipe has remained unchanged since she opened.
There is a bakery that claims to have first introduced Mont Blanc to Japan, aptly named Mont Blanc. As the story goes, the founder, Chimao Sakota, hiked Mont Blanc, the highest mountain in the Alps, and was so proud of his accomplishment (or intrigued by the unique spiralized pastry he had sampled), that he is said to have been the first to bring it to Japan, opening his café in 1933 and introducing the cake in the autumn of 1945.
Mont Blanc Bakery and Café remains open today near Jiyugaoka Station. I spoke with Sakota's grandson, the company's current CEO and patissier, Kazuo Sakota. He explains that after the war, they had to abandon making Western sweets, which required ingredients they could no longer source.
"They went back to doing wagashi," says Sakota, referring to the traditional Japanese style of pastry using mochi and anko beans, as well as teas and fruit. "They didn't have sugar, and couldn't make sweets, so they used satsumaimo (sweet potato), the sweetest thing they could find as a substitute." Imagine a cookie factory operating in full production, then having to bake only with rice or corn. Japan adapted, and the Mont Blanc was born, echoing the nation's familiar milder desserts like kanroni, a sweet mashed potato blended with chestnuts and presented in osechi ryori–like compartments (the traditional foods served in special boxes on New Year's Day in Japan).
Today, seasonal spinoffs of the Mont Blanc are available throughout Japan, with strands of the chestnut paste appearing in pastry cases in the shades of sakura pink, matcha, pumpkin, and electric purple—pulled expressly from Okinawan sweet potato.
As for Sakota's current recipe at Mont Blanc, which features European-style meringue, "We try to match a current feeling of what is delicious," he says, adding that the bakery is often tweaking the sugar content and chasing the purest, most aromatic chestnuts found in Japan.
Whichever style a baker subscribes to, the Mont Blanc will always represent the union of East and West with seasonality—and a baker's creativity only adds to it.