Illyanna Maisonet Is Passing the Mic Across the Puerto Rican Diaspora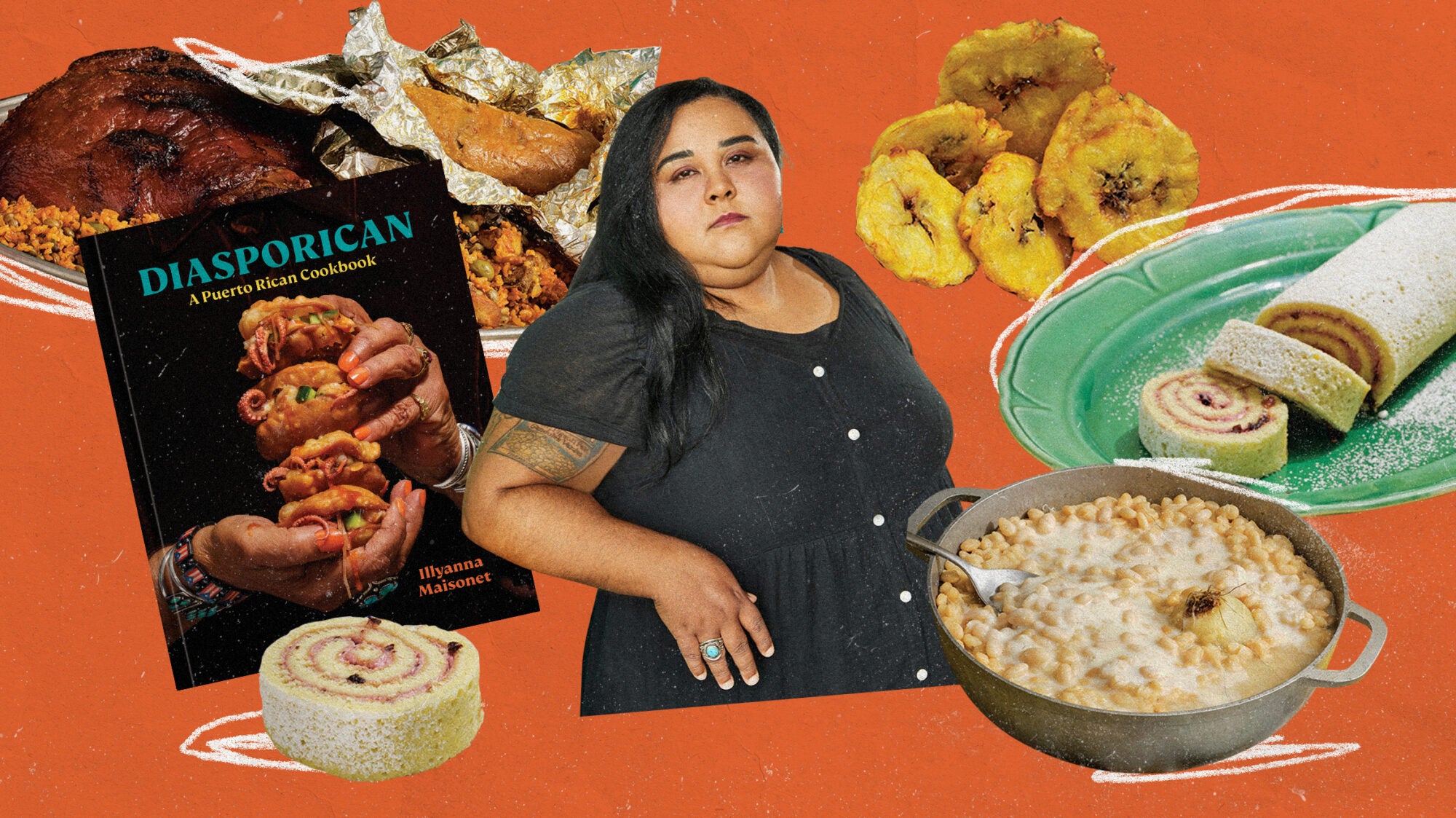 Her groundbreaking new book, Diasporican, gives PR the PR it deserves.
If you're one of the thousands of folks that follow Illyanna Maisonet on social media or Substack, then you already know how the Sacramento chef and food writer has pushed through years of rejections (first from her own father, later from food magazine and cookbook editors) and struggles (financial, familial) to bring her brand-new book—Diasporican: A Puerto Rican Cookbook—to the new-release table. You also know that Maisonet is funny as hell, a great storyteller, and a really excellent cook. 
Named after the idea that many Puerto Ricans living stateside feel like their identities and their cooking are "not from here, not from there," Diasporican blends Anthony-Bourdain-style food memoir and travelogue, meandering through the expansive farmland of Maisonet's central California home turf and small Puerto Rican communities like the Afro-Caribbean coastal town of Loíza. It touches on Maisonet's stints in culinary school and as a Puerto Rican food columnist for the San Francisco Chronicle, as well as on the pop-ups and cooking classes she still runs to make ends meet. 
Maisonet also offers strong explainers on flavors, techniques, and ingredients like the bright orange achiote oil that keeps pasteles from sticking to their banana leaf wrappers; the sweet, pale-yellow flesh of the batata, the Caribbean sweet potato that has been cultivated there for centuries; and a long-overdue shout-out to the iconic Puerto Rican aluminum cooking pot known as the caldero. In between the stories and the education are Maisonet's own kind of Puerto Rican recipes, all of which reflect her family's multigenerational take on a "not from here, not from there" kind of cooking.  
There's Nina Dee Dee's creamy beans from Maisonet's godmother, Dolores Zavala, in Stockton, California, whose trick for creating ultracreamy beans (other than time) is a generous pile of California's own Monterey Jack cheese stirred in at the end. You have the crunchy Puerto Rican salted cod fritters called bacalaitos, fried until they shatter in the manner of grandmother Nana and, Maisonet discovered at the age of 15, her maternal great-grandmother Abuela Emilia, who lived in Philadelphia and cooked them for Maisonet when they met for the first time in 1997. Maisonet's coconut-soda pineapple upside-down cake, meanwhile, is also a riff on her Nana's, made with Jell-O coconut cream pudding, Pillsbury Moist Supreme yellow cake mix, and, if you can find it, a can of Puerto Rico's Coco Rico coconut soda. (If not, 7UP is fine—that's what Nana always used.) 
I spoke to Maisonet just before her book came out to discuss her journey from rejection emails to solo publication celebrations, as well as her very practical dreams for fortune and legacy over fame. 
This book has been a long time coming. Does it feel like you thought it would feel to have it (almost) out in the world?
It definitely doesn't feel like I thought it would. I legit thought the brands who wanted to pay to work with me would be knocking on my door by now, and they're not. But I'm still happy and elated that it'll live on in the world. Hopefully it does really well, so it'll outlive me, because that was kind of the point of making the book: that pieces of me and my family would live on, but in a positive legacy type of way. 
Does your book look like you dreamed it would look?
Yes and no. I love that it has photos from both my worlds: Puerto Rico and California. I'm absolutely floored that it has my mom's hands on the cover. However, I wish it had more photos. People don't realize that more photos in a book equals more money you have to spend. It just wasn't in my budget.
What are you doing on October 18, your book publication date? How are you planning to celebrate? Where will you be?
I'll probably be chilling by myself and watching Bad Bunny's new movie, Bullet Train.
Have you found a Diasporican posse on the West Coast as you've gotten more well-known or "famous"? Have people come out of the woodwork to connect with you?
I'm not famous. I don't want to be famous. I want to be rich. I'll take fortune over fame any day. "Internet fame" comes too easily to people these days. Somehow, fortune still eludes most of us. I always had my posse on the West Coast. I'm from the West Coast, I was raised on the West Coast, and my career was built on the West Coast. Lots of people have and will rear their heads. I just ignore them.
Despite the incredible impact and influence of Puerto Rican food and culture, it seems to me that mainstream food culture/media/hype/buzz has not paid a lot of attention to Puerto Rican food. You get lists of places for southern Thai or chopped cheese sandwiches, old-school Italian and Filipino pop-ups, and on and on, but there's rarely an article saying, "Here's five great places for cuchifritos."
I don't think the cuchifritos are in neighborhoods that are being gentrified yet. Once those neighborhoods do become gentrified, I feel like you're gonna be hearing a lot more about the cuchifritos. Which leads me to the next response. You only get news on those topics when they're new, trending, or buzz words. Chopped cheese and Southern Thai are relatively new to the United States, which means their "newsiness" aligns with the recent influx of every Infatuation-style writer that continues to appear and disappear during that company's high turnover of writers. 
I feel like maybe because Puerto Ricans and Puerto Rican food have been in NYC for a long time (which is historically where most publications and their writers have also been), they just became background noise. A lot of New Yorkers grew up with it. To them, it's just a part of life. Maybe it's because there aren't a lot of Puerto Rican restaurants. Why that is, I don't know. Lack of access to traditional ingredients combined with an inability to compromise on alternative options? Lack of funds? No access to loans? I don't know. But when there is a new Puerto Rican restaurant opening or a PR food pop-up, you will see people writing about them!
To me, most writers write about something they see value in: how can I profit off this, how can we make this go viral? Very few write with the businesses' best interest at heart. The writer would have to see value in Puerto Rican food or its presence. That's why I came along.
3 EXCITING RECIPES FROM DIASPORICAN: A PUERTO RICAN COOKBOOK: